Welcome to this post about Nnamdi Kanu Biography, Activism, Controversies and Net Worth in 2023 Via Afrokonnect.
If you're an activist or aspiring to be one then be ready for controversy, hate and Love,
Kanu has had his fair share of backlash over the years,
But one good thing about him is despite all the storms and waves that tried to end him he still never gave up,
Nnamdi Kanu is known by most Nigerians and people outside Nigeria for several reasons,
Some of these reasons are positive while others are not so good,
To the people he represents he is regarded as savior and a prophet destined to take his people to the promise land,
While in the eyes of the government and people who see him otherwise he is a propagandist and a traitor.
However, we're not here to discuss what is right or wrong,
So in this Publication we're going to reveal to you information about Nnamdi Kanu Biography, Activist works, Criticism & Net Worth,
So without wasting your precious time let's dive into the business of the day.
MUST READ:- Bobrisky Biography, Controversies and Net Worth 
Nnamdi Kanu Biography, Early Life and Net Worth in 2023
First of all before anything, Kanu has been recognized as the 'Supreme Leader' of the Indigenous People of Biafra (IPOB),
He has god-like status and commands a cult-follower-ship as the leader of the IPOB group,
He is the director of Radio Biafra as well as a British political activist,
But one might be wondering before all these status, achievements and Position Who is Nnamdi Kanu?,
Well to answer that question let's go back to as far back as 25th September 1967 when Nnamdi Kanu was born,
He was born as Nwannekaenyi Nnamdi Okwu Kanu in Isiama Afara Ukwu, Umuahia, Abia State, Nigeria.
Nnamdi Kanu's father known as HRM Eze Israel Okwu Kanu (JP) who also made a name for himself but we're not here to talk about him today,
His mother goes by the name Ugoeze Nnenne Kanu, those are the two people that gave birth to Nnamdi Kanu.
While Nnamdi Kanu was growing up as child he attended Library Avenue Primary School,
After finishing his primary school he went to Government College Umuahia for his secondary education,
He graduated successfully from secondary school then proceeded to University of Nsukka (UNN),
Though he left the institution two years later without graduating,
Different sources online claim Kanu was rusticated from UNN while others claim Kanu's grades were poor,
Which lead to his withdrawal from the institution, this hasn't been verified yet,
But not long after his withdrawal Kanu gained admission and studied Political Economics at London Guildhall University.
Activism
In the beginning of this article we promised you we're going to reveal the activist work done by Kanu,
So now that we've seen a bit about Nnamdi Kanu Biography, Early life and education then let's proceed to his activist works.
Over the years we've seen activist like Nelson Mandela, Fela Kuti, Bob Marley, Angelique Kidjo among others,
But it has been a very long time since anyone demonstrated the kind of activism Kanu is exhibiting,
Other people perceived his style of activism as treason,
During Goodluck Ebele Jonathan, former vice-president and later president of Nigeria,
Kanu believed in the Nigerian project and was captured on a video claiming 'Nigeria is one' in 2012,
As you can see in the Video below when he was preaching One Nigeria;
During that time he wasn't as popular and influential as he is today,
In one of his podcast in his UK studios on Radio Biafra Kanu referred to all Igbo ladies as prostitutes,
a claim which sparked outrage among non-Igbos who were more than interested in knowing if Kanu's accusation about Igbo ladies was true.
99.9% of Igbo girls are prostitutes and whores!
                 – Nnamdi Kanu (2016)
Nnamdi Kanu Biography, Early Life and Net Worth in 2023
Imprisonment and Arrest
Nnamdi Kanu was arrested in Lagos State by Nigerian secret police, the Department of State Services (DSS) On 18 October 2015,
This was after Kanu sneaked into Nigeria using a fake name but credit to the DSS for locating the hotel he was lodged in and captured him.
Below are the words of Temisan John, the DSS operative who led the arrest:
However, relying on accurate intelligence, the team decided to conduct a physical search on all the hotel rooms, leading to the arrest of Kanu in Room 303,
where he was caught hibernating with a young girl named Maryam Ibezimakor, with all his broadcasting and communication gadgets set for use.
It was then discovered that Kanu checked in under the name Nwanekaenyi Ezebuiro.
He was subsequently arrested and taken to the command headquarters.
 – DSS Operative, Temisan John.
On 19 October 2015, it was reported that Nnamdi Kanu had been granted bail after a secret arraignment at Magistrate Court, Wuse 11.
However, the bail seemed "controversial" and there were claims the DSS announced the bail only "to calm the angry people of Biafra".
Also Read: Don Jazzy Net Worth and Biography 
Disappearance and Exile 
Kanu disappeared from public view after his home was raided by the Nigerian military in September 2017,
There had been speculations regarding his whereabouts for over a year with members of his IPOB accusing the Buhari government of masterminding his abduction.
In October 2018 photographs and videos of him in Israel were widely circulated on social media,
It was widely speculated that Nnamdi Kanu had made a secret deal with the Federal government who in turn moved him secretly away from Nigeria, to Israel.
Nnamdi Kanu Biography, Early Life and Net Worth in 2023
Controversies and scandal 
Kanu is the leader of the separatist group, IPOB and has been in a long-standing feud with the Nigerian government,
More Significantly, under Major-General Muhammadu Buhari (retd).
Some people regard Nnamdi Kanu is one the most controversial activist ever in Nigeria,
This is because of his Usage of unfounded ideas, multiple name-callings and derogatory words to describe not only the government but other parts of Nigeria and her people.
Below is a list of some controversial statements made by Kanu, which can all be found on the internet:
Nnamdi Kanu in 2016 made a podcast on his Radio Biafra, announcing that 99.9% of Igbo girls are prostitutes.

Sometime in 2017, a video of Kanu was released wherein he issued an open death threat to former Nigerian president Chief Obasanjo.

Prior to Nnamdi Kanu's first visit to Nigeria, he made a call that Igbos should boycott 'Yoruba churches' and possibly attack 'Yoruba pastors' who visited the East.

Kanu had promised members of the IPOB and his father's kinsmen shortly after his release that he would go to Aso Rock and severe the head of the president, Major-General Muhammadu Buhari (retd).
Does Nnamdi Kanu Have a Job?
A lot of people have been asking what Does Nnamdi Kanu do for a living or does he have a job ?
Officially No, Kanu doesn't have an Employer,
Aside being the director of Radio Biafra and the 'Supreme Commander' of the Indigenous People of Biafra (IPOB),
Nnamdi Kanu has no job, our sources believes he makes money from donations by Igbos and investors across the globe who believe in the Biafran struggle,
The IPOB also levies its members monthly for N1,000 fee monthly which is supposedly used to fund the Biafra agenda.
Lastly on this Nnamdi Kanu Biography and Net Worth article, we'll round up with this net worth section.
Nnamdi Kanu Net Worth in 2023
Earlier we stated that Nnamdi Kanu has no employer, however, That doesn't change the fact that he's a multimillionaire,
Remember Nnamdi Okwu Kanu is the Director of Radio Biafra and the 'Supreme Commander' of the Indigenous People of Biafra (IPOB),
Kanu's major source of wealth is donations from across the globe,
The same is being used to periodically cater and manage Radio Biafra,
Of course he has his own private businesses unknown to the public,
From our findings Nnamdi Kanu has an estimated net worth of $12,000,000 (United States Dollar) which equals around 4,920,000,000 Nigerian Naira.
Profile Summary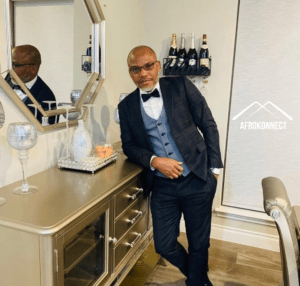 | | |
| --- | --- |
| Birth Name | Nwannekaenyi "Nnamdi" Kenny Okwu Kanu |
| Career | Activist & Politician |
| Date of Birth | September, 1967 |
| Display Name | Nnamdi Kanu |
| Net worth | $12 Million |
| Endorsement deal | None |
FAQ
Is Nnamdi Kanu married?
Yes, Nnamdi Kanu is married to Uchechi Okwu Kanu and she has been supporting every move he makes.
Who is the real leader of Biafra?
Nnamdi Okwu Kanu who was born 25 September 1967 is a Nigerian Biafra political activist, who is also a British citizen,
He is the leader of the Indigenous People of Biafra (IPOB).
Which school did Nnamdi Kanu attend?
Below are the list of recognized schools attended by Nnamdi Kanu
University of Nigeria, Nsukka

Government College Umuahia

London Metropolitan University
MUST READ:- Nengi Biography, Endorsement Deals and Net Worth 
Who created Biafra nation?
On May 30, 1967, Lieutenant Colonel Odumegwu Ojukwu and other non-Igbo representatives of the area established the Republic of Biafra, comprising several states of Nigeria.
See Also:
On that note, this brings us to the end of this post about controversial Nigerian activist, Kanu,
We hope you enjoyed the publication and picked a couple of information. Kindly let us know what you think via the comments section below.