In this article we'll discuss Fela Kuti biography & history, his Music, Activist Works and more.
Fela Kuti biography & history.
Fela Kuti, legally known as Olufela Olusegun Oludotun Ransome-Kuti. 
He was a Nigerian musician, human right Activist and the Pioneer of Afro beat music genre.
Also known as Fela Anikulapo Kuti, he was born on the 15 October 1938.
Anikulapo Kuti lived an impactful life and died on the 2nd August 1997.
SEE ALSO – Tiwa Savage Biography, Net Worth, Endorsement and Music
Fela was born in Abeokuta, Ogun state and later died in Lagos, Nigeria.
Fela Kuti grew up in a middle class family, his father 'Israel Oludotun Ransome-Kuti' was a reverend and a school teacher.
His dad was the first president of the Nigeria Union of Teachers.
While his mother 'Chief Funmilayo Ransome-Kuti', was a feminist activist in the anti-colonial movement.
Fela had two siblings, Beko Ransome-Kuti and Olikoye Ransome-Kuti who were both medical doctors then.
Anikulapo Kuti is a first cousin to the Nigerian writer and Nobel laureate Wole Soyinka.
SEE ALSO – About Jaaruma Empire, Biography and Philanthropy
Fela started his education at Abeokuta Grammar School, he was sent to London in 1958 to study Medicine.
Howevery Fela absconded and later studied Music at the Trinity College of Music in London.
Fela Kuti History
After a while, Fela came back to Nigeria and founded a recording studio and rehearsal space he called the "Kalakuta Republic".
Not only that, Fela started a nightclub called "The Shrine" when he came back to Nigeria.
According to Fela his middle name "Ransome" was a slave name.
He changed it to "Anikulapo" (meaning "he who carries death in his pouch").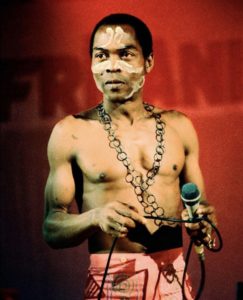 Fela Kuti Music Career – Afro Beat Genre.
During Fela's Music career between 1958–1997.
His sound comprises of majorly Saxophone, keyboards, trumpet, guitar, drums and his crips vocals.
The combination of this instruments gave birth to the Afro beat/Highlife genre today.
Most times fela uses the call-and-response technique within the chorus and figurative of his songs.
His songs were also very long, at least 10–15 minutes in length.
Fela  would last up to 45 minutes when performing live.
According to Fela: "Music is supposed to have an effect.
If you're playing music and people don't feel something, you're not doing shit.
That's what African music is about.
When you hear something, you must move.
I want to move people to dance, but also to think. Music wants to dictate a better life, against a bad life.
When you're listening to something that depicts having a better life, and you're not having a better life, it must have an effect on you."
Many people referred to Fela as one of Africa's most "challenging and charismatic music performers".
Some of Fela's songs that went global includes but not limited to,
Fela Kuti Shakara below:
An instant classic. #Shakara pic.twitter.com/p6gVdysUeX

— Fela Kuti (@felakuti) September 26, 2019
Fela kuti water no get enemy
Fela Kuti Human Right Activist 

Fela Kuti was the voice of the voiceless and a cultural rebel.
A lot of Nigerians saw him Like their own Bob Marley.
When Fela came back to Nigeria, it was a hell of a ride for him.
Fela was beaten, jailed, harassed, and nearly killed by a government determined to silence him.
In 1977, 1,000 Nigerian soldiers attacked Fela's Kalakuta compound.
During the attack Fela suffered a fractured skull as well as other broken bones.
Fela lost all his creative content in a fire disaster set by the military, including a movie draft Fela was working on then.
Nigeria was a bit comfortable for Fela during Civilian rule from 1980-1983.
At least he was able to record and tour for a while before the military came back in 1983.
What killed Fela Anikulapo?
On the August 2nd 1997 one of Nigeria's greatest music icon and human right activist "Fela Kuti" died of AIDS-related complications.
About 1 million people went for Fela's funeral service at the Tafawa Balewa Square.
Fela was laid to rest in the front yard of Kuti's home at Kalakuta in Ikeja, Nigeria.
How many times did Fela go to jail?
Fela was arrested on over 200 different occasions and spent time in jail.
In 1984 Fela was sentenced to ten years in prison on charges of currency smuggling.
Pictures of late Kehinde Lijadu, one half of the incredibly talented Lijadu Sisters and Fela's second cousin.

Her legacy lives on.
Fela Anikulapo Kuti Legacy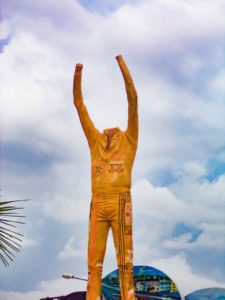 An annual festival "Felabration" is held each year to celebrate the life of this music legend and his birthday.
Since his death in 1997, there has been a revival of his influence in music and popular culture, culminating in another re-release of his catalog controlled by Universal Music.
The full-length documentary film Finding Fela, directed by Alex Gibney, received its premiere at the 2014 Sundance Film Festival.
We hope you enjoyed this article, if there's anything we forget or any contribution.
Please let us know via the comment section.