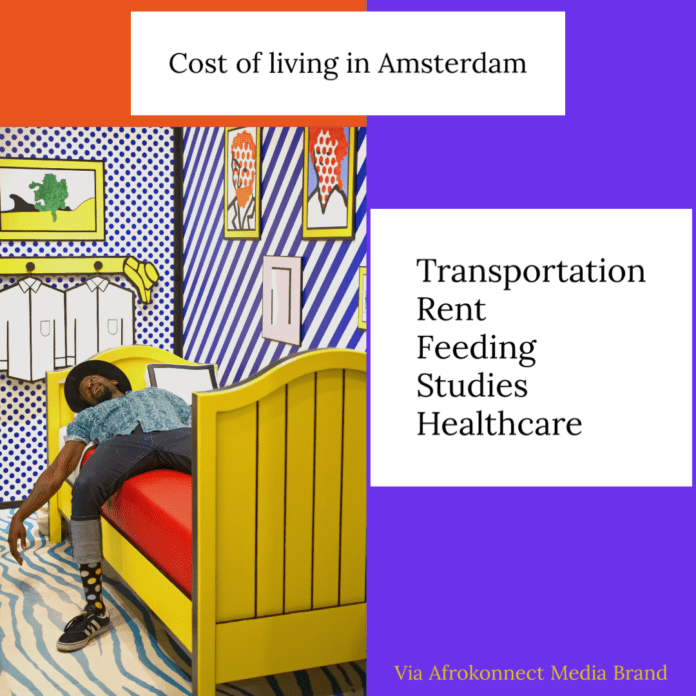 Welcome to this article about Cost Of Living In Amsterdam, the industrial center and the nominal capital of Netherlands in 2023 via Afrokonnect.
Living in one of the Netherlands main cities, particularly in the nation's capital, is the reality of many people's dreams.
The Netherlands is consistently ranked among the nations with the highest quality of life in the world.
But how much does it cost to live in Amsterdam?
What you're about to read in this post will tell you just that!
The following generalization has to be made before we go any further:
Amsterdam, like other European cities, is not cheap.
If you're looking for a more affordable country,
Then you should check out these 10 Cheapest European Countries to Visit or Live in.
That being said, let's dive into the main business of the day,
Which is to analyze the expensive it is to live in Amsterdam.
Cost of living in Amsterdam, Netherlands in 2023
Average Cost of Rent in Amsterdam
For a room in an apartment in Amsterdam that is shared with several people,
The monthly rental fee might vary anywhere from 490 euros ($489) to 784 euros ($783.22) on average.
Expect to pay an average of 1,280 euros ($1,278.72) per month to rent a one-bedroom apartment in the central part of the city,
If you want to live by yourself and you want to live independently.
In more rural areas, the annual cost of living is estimated to be around 990 euros ($989.01).
How much do you need to earn to live in Amsterdam?
Keep in mind that the average Dutch minimum salary is €1,594 per month,
Which reflects the cost of living across the nation and notably in the capital,
With Amsterdam the most desirable and most costliest location in the country of Netherlands.
In most cases, the cost of utility bills (such as water and electricity bills) is already included into the monthly rent payment.
On average, 39 euros ($38.96) is what you'll need to pay for an internet subscription that supports high speeds.
Cost of living in Amsterdam, Dutch in 2023
Average cost of Studies in the Netherlands
Examine the following for a general approximation of the primary costs associated with pursuing an education in Amsterdam:
Insurance will cost you around 105 euros ($104.9) per month;
Textbooks cost between 70 and 100 euros every semester ($69.93 – $99.9).
The cost of obtaining a visa and a residency permit is a one-time price of 210 euros ($209.79).
Keep in mind that you'll need proof of financial support to remain in the nation if you're an international student trying to get a residence visa.
The precise sum of this payment varies from university to university,
But it has the potential to exceed 5,500 euros ($5,494.51) at institutions with a higher level of academic rigor.
It is reasonable to conclude that the costs of attending university in the Netherlands,
As a whole, are much more affordable when compared to the costs in other countries, such as the United States.
Other places offer relatively more affordable prices,
You can consider the Best Universities in New Zealand for International Students,
Or you look out for some of the Universities in Australia for international students,
All of which are affordable and highly ranked in the world at the moment.
This is one of the many ways in which the Netherlands stands apart from other nations.
There, the typical annual salary is somewhat more than two thousand euros.
Furthermore, several colleges provide financial aid in the form of scholarships.
Monthly Cost of living in Amsterdam – Transport, Fun and Food in 2023
Daily Expenses in Netherlands
Here's a rough idea of what it may cost you to buy groceries, take a taxi, and go to the movies in the Netherlands' capital city:
One movie ticket will cost you around 11 euros ($10.99).
2.75 Euros ($2.75) for a package of twelve rolls of toilet paper.
The cost of one box of antibiotics (including 12 pills) ranges between 10 and 15 euros, ($10 – $15).
The price of a beer at a pub is 5.50 euros ($5.50) for a half liter.
1 drink at a club cost 11 euros ($11) depending on the club's location.
1 liter of milk goes for 1 euro ($1).
The price of one loaf of bread is 1.20 euros ($1.20) per package.
The price of a tomato per kilogram is around 2.20 euros ($2.20).
It will cost you 6.10 euros ($6) for one kilogram of chicken.
1 individual lunch at a cheap restaurant is around 13.80 euros ($13.80).
The cost of a single course for one person at a more upscale restaurant is 32 euros ($32).
1 cappuccino goes for around 2.60 euros ($3).
1 big pizza will cost you 12 euros ($12).
Cost of living in Amsterdam in 2023: Public transportation
Depending on how often and far you go, using public transportation in Amsterdam may be fairly pricey.
Pricing typically ranges from 70 to 100 EUR ($70 – $100) monthly.
A discount of 40% is available for rides taken between 9 a.m. and 4 p.m. and after 6 p.m. using a card that may be purchased for 52 euros ($52) per year.
Check out what the city's public transportation costs on average are like:
The price of a single ticket is 2.80 euros ($2.80).
The price of a monthly ticket is 86 euros ($86).
You should anticipate to pay around 2.15 euros ($2.15) per kilometer if you take a cab (or use an app that provides transportation) while in the city.
The bicycle is without a doubt the most convenient mode of transportation in Amsterdam, not to mention the most economical.
The bicycle lanes are well-maintained and may be found in every nook and cranny of the city.
Used bicycles may be purchased for between 80 and 200 Euros ($80 – $200),
Making them affordable to those with tighter budgets.
However, since bicycle theft is so widespread in the city,
You should also remember to get a lock for it, which should cost about fifty euros ($50).
RECOMMENDED:
The cost of living in Amsterdam in 2023: health and well-being
Do your research before committing to a fitness club; prices vary widely depending on amenities offered,
But the average monthly fee in the city is around 44 euros ($45) if you're determined to stay in shape.
The typical cost of an appointment with a general practitioner in the area is somewhere about 39 euros ($40).
Therefore, purchasing travel insurance before going there is of the utmost importance.
RECOMMENDED:
Cost of living in Amsterdam compared to other European cities in 2023
Have you considered attending school in Amsterdam but are unsure as to whether or not the cost of living in the city is particularly expensive or relatively low?
Comparison of the city in question to other capitals located on the Old Continent is the method that will shed the most light on the matter.
Compared to London, Amsterdam is 11% less expensive – Cost of Living in United Kingdom: London, Liverpool, and Manchester.
Paris: The cost of living in Amsterdam is virtually same to the cost of living in Paris.
In comparison to Berlin, the cost of living in Amsterdam is 29% more.
Cost of living in Amsterdam is 54% higher than in Lisbon.
Comparing Madrid to Amsterdam, the latter is 38% more costly.
Amsterdam is 26% more costly than Brussels.
The cost of living in Amsterdam is 7% more than in Stockholm.
Amsterdam is 16% less costly in Bern and 35% more expensive in Vienna.
A trip to Amsterdam is 7% less expensive than a trip to Copenhagen.
The cost of living in Amsterdam is 30% higher in Rome.
When compared to Luxembourg, the cost of living in Amsterdam is 9% higher.
Amsterdam is 8% less expensive than Dublin – Cost of Living in Ireland: Dublin, Galway, and Cork.
Conclusion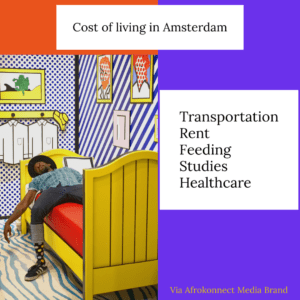 Since you now have a better understanding of the expenses involved in maintaining a standard of living in Amsterdam,
Why don't you begin making plans to fulfill your lifelong ambition of visiting one of the most breathtaking cities in all of Europe?
If your aim is to study abroad then you should also look at Cost of living in Germany for international students.
Let us know what you think about the article, if you enjoyed reading through then kindly share this on social media and tag Afrokonnect. Good luck