Welcome to this post about Rahama Sadau Biography, Controversies, Movies and Net Worth in 2023 via Afrokonnect.
In this article we're going to reveal to you some Interesting facts and information about one of Arewa's Finest.
So take your time and read through this article about Rahama Sadau,
Rahama Sadau is a popular Nigerian actress, singer, model and a producer.
Incase you don't know, Rahama Sadau was born on the 7th December 1993 in Kaduna State, Nigeria.
She came into the limelight and gained her prominence after featuring in Kannywood movie "Gani ga Wane" in 2013.
Today Rahama Sadau is arguably one of the biggest female names in the Kannywood industry and beyond,
She speaks Hausa, English and Hindi Fluently, Only few Nigerian actresses and actors can brag about that achievement.
Before we proceed with Rahama Sadau Biography, career, controversy and Net Worth,
let's take a close look at her educational background first.
Rahama Sadau Biography and Net Worth in 2023
Educational Background
Most people might be wondering why Rahama seems to be so fluent and exposed in her dealings,
Well, the answer boils down to her educational background,
Rahama Sadau went to one of the best schools during her primary and secondary education in Kaduna State where she was raised.
She then proceeded to study Human Resource Management at school of Business and Finance of Eastern Mediterranean University in Northern Cyprus.
After graduating she came back to Nigeria to pursue her career and childhood passion,
Now, this brings us to the phase where we get to discuss about Rahama Sadau career and movies so far.
Rahama Sadau Biography, Movies and Net Worth in 2023
Watch the Video below as Rahama Sadau answer some questions about herself;
While growing up as a kid, Rahama Sadau use to compete in various dancing competition,
This was because of her love for Dancing, Choreography and acting.
Long story short, in early 2013 Rahama decided to officially and professionally join the  Kannywood Industry,
She was encouraged, Helped and motivated to join by one of the Biggest actors in Nigeria "Ali Nuhu".
Rahama Sadau started by featuring in several minor roles in Kannywood movies,
In the Late 2013, she gained popularity after playing a major role in the movie "Gani ga Wane".
The movie featured top Kannywood actors and actresses including Ali Nuhu.
Going forward, Rahama Sadau started  featuring in several music videos and gradually became a household name,
In 2017, she launched her own movie production company "Sadau Pictures",
She produced her first movie Rariya starring Ali Nuhu, Sani Musa Danja, Sadiq Sani Sadiq and Fati Washa.
She has featured in couple of Nollywood movies over the years, she also featured as a class teacher in MTV Shuga series.
RECOMMENDED:
Rahama Sadau Biography and Net worth in 2023
List of Movies by Rahama Sadau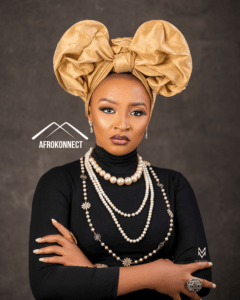 Rahama Sadau has featured in series of movies including but not limited to;
| | |
| --- | --- |
| Movies | Year |
| Zero Hour | 2019 |
| Up North | 2018 |
| If I Am President | 2018 |
| Aljannar Duniya | N/A |
| Adam | 2017 |
| Ba Tabbas | 2017 |
| MTV Shuga Naija | 2017 |
| Rariya | 2017 |
| TATU | 2017 |
| Rumana | 2017 |
| Sons of the Caliphate | 2016 |
| The Other Side | 2016 |
| Kasa Ta | 2015 |
| Wutar Gaba | 2015 |
| Sallamar So | 2015 |
| Wata Tafiya | 2015 |
| Halacci | 2015 |
| Gidan Farko | 2015 |
| Ana Wata ga Wata | 2015 |
| Alkalin Kauye | 2015 |
| Jinin Jiki Na | 2014 |
| Hujja | 2014 |
| Garbati | 2014 |
| Kaddara Ko Fansa | 2014 |
| Kisan Gilla | 2014 |
| Mati da Lado | 2014 |
| Sabuwar Sangaya | 2014 |
| Sirrin Da Ke Raina | 2014 |
| So Aljannar Duniya | 2014 |
| Suma Mata Ne | 2014 |
| Farin Dare | 2013 |
| Gani Ga Wane | 2013 |
| Da Kai Zan Gana | 2013 |
| Mai Farin Jini | 2013 |
Rahama Sadau Biography, Movies and Net Worth in 2023
Awards and Recognitions
During the span of her career Rahama Sadau has been recognized, Nominated and awarded by several bodies,
Rahama Sadau has won couple of these awards including;
Best Actress (Kannywood) at the City People Entertainment Awards in 2014 and 2015.

Best African Actress at the 19th African Film Awards in 2015 by African Voice.

In 2016, she was recognized as "Face of Kannywood

In 2017, Sadau became the first Hausa celebrity to appear in the top ten Hottest Female Nigeria Celebrities.
Rahama Sadau Biography and Net Worth in 2023
Controversies
Rahama Sadau has had some ups and downs during her career and in this section we'll talk about her major controversies over the years,
In 2016, Rahama Sadau featured in a romantic music video by Classiq which lead to her suspension by Motion Picture Practitioners Association of Nigeria (MOPPAN) for a whole year,
However the suspension was lifted after her apology and the intervention of Kano State Governor "Abdullahi Ganduje".
In 2019, Rahama Sadau returned to acting again.
In 2020, an Islamic scholar, Lawal Gusau petitioned the Inspector General of Police Adamu Adamu to arrest and arraign Rahama Sadau before the Sharia Court over indecent dressing.
Northern filmmakers suspends actress Rahama Sadau over her backless dress photos https://t.co/MOo7kLFlqH pic.twitter.com/coCUzzrvKd

— Linda Ikeji Blog (@lindaikeji) November 3, 2020
The petition was after Sadau shared a pictures of her wearing a backless gown on social media.
Her dressing was reported to be blasphemous against Prophet Mohammed.
She later apologized in a video released via her social media Handles;
— Rahama Sadau ✨ (@Rahma_sadau) November 3, 2020
Rahama Sadau Net Worth in 2023 and Biography 
Rahama Sadau has made a name for herself and has also establish a steady stream of income for herself,
She owns a Cosmetic Brand "Sadau Beauty" which brings her a huge chunk of her earnings alongside her "Sadau Pictures" company,
Rahama Sadau also have endorsements deals running with top brands across the country and her movies royalties is another major source of income,
From this multiple streams of income we've estimated Rahama Sadau Net Worth to be around $500,000 which equals over 206,970,000 Nigerian Naira.
Profile Summary
| | |
| --- | --- |
| Name | Rahama Sadau |
| Real Name | Rahama Sadau |
| Date of Birth | December 7th, 1993 |
| Relationship | Rumored to to be Miguel Núñez |
| State of Origin | Kaduna, Nigeria |
| Occupation | Actress, Model |
| Religion | Muslim |
| Net Worth | $500,000 |
Rahama Sadau Biography and Net Worth in 2023
Personal life and Relationship
Rahama Sadau is the daughter of Alhaji Ibrahim Sadau,
She has four siblings with three sisters and a brother namely Zainab Sadau, Fatima Sadau, Aisha Sadau and Haruna Sadau.
Rahama Sadau's boyfriend was rumored to to be Miguel Núñez, An international actor, writer and producer.
Social Media Handles
She's an active social media person and you can follow her on;
Instagram – @rahamasadau
Twitter – @Rahma_sadau
ALSO CHECK:-
This is the end of our article about Rahama Sadau Biography, Controversies, Movies and Net Worth in 2023 via Afrokonnect.
Hopefully, you enjoyed this piece, kindly let us know what you think via the comments section below.