Sughnen Music Career and Background Information via Afrokonnect.
This content is about one of the MUST watch out for acts in 2021,
Most times when you hear the names "Waje" or "Omawunmi", you probably imagine Afro-Pop, curly hair and a distinct sound,
We've got another name for you to add to your list,
Sughnen Yongo-Okochi is the real name  of talented Nigerian Singer and songwriter,
She's a dynamic, soulful and pop-fuelled musician who was born and raised in the city of Jos, Plateau State, Nigeria.
Later on, Sughnen relocated to the United States with her family where she currently resides,
During a recent chat with Sughnen, She expressed how her music can inject more positivity and hope into the world,
She plans on doing this by releasing songs that uplift the soul and illuminate the spirit.
The Sughnen Music Career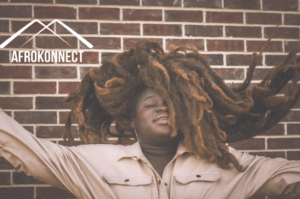 Moving on, Sughnen started singing and writing songs since she was five years old,
However, she ardently started pursuing music professionally in 2011 during her secondary school days in Jos, Nigeria.
In the year 2014, Sughnen attended the Grammy Awards at the Staples Center in Los Angeles, California,
That was where she met other musical acts who inspired her journey and encouraged her to remain relentless in her musical pursuit.
Sughnen is on an active, unrelenting musical journey and is scheduled to be on your radio waves very shortly,
She's definitely one of the most exciting acts to watch out for as she'll be unlocking some new vibes,
When asked who her musical inspirations are, Sughnen mentions Waje, Omawunmi, Whitney Houston, Etta James, and Beyoncè.
Mental Health awareness is very near and dear to Sughnen's heart,
and she has been a happy advocate for people who struggle with mental illness of various sorts over the years.
Her mantra is: "Life is hard. Spread love."
Sughnen would be dropping her first official single titled "Life is a Blessing" on December 16th,
The project promises to be the first of many unique projects she'll be putting out.
ALSO READ:
Social Media Handles;
Sughnen is an active user of the social media, you can follow her and keep up with her activities via;
Instagram:- @sughnen_
Twitter:- @sughnen_
On that note, this brings us to the end of this post about this talented songwriter.