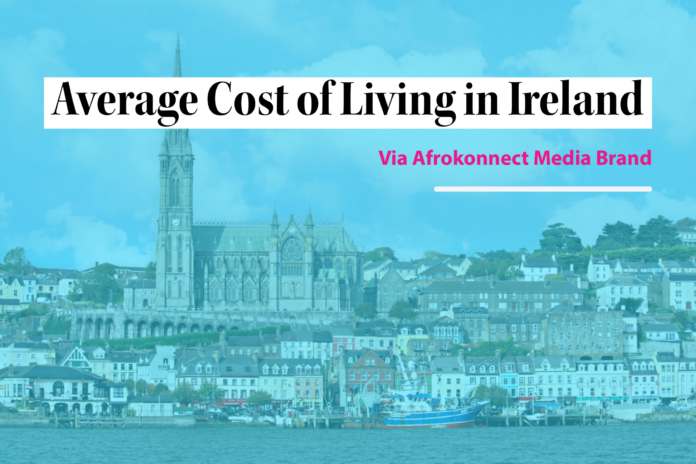 Welcome to this article about the average Cost of Living in Ireland in terms rent, food, transportation and basic utilities for international students and families in 2023, via Afrokonnect.
Many individuals dream of moving to one of the European nations,
One of the strongest reasons for this is the European Union's access to the single market.
Ireland, an island nation in the North Atlantic Ocean, is an example of a country that fits under this category.
In this island nation, Irish is the primary language of communication.
An in-depth look at living expenses in Ireland for families and international students is provided in this article.
Why settle in Ireland?
For a person looking to relocate to Ireland, the country's low crime rate is a good thing to keep in mind.
Compared to other nations, Ireland is a safer and more pleasant location to live and settle down because of the lack of gun violence and violent crimes.
Ireland has one of the greatest healthcare systems in the world,
The infrastructure in Ireland is of high quality and can be reached without difficulty,
In fact Republic of Ireland is one of the top 10 richest countries in the World in terms of gross domestic product (GDP).
An applicant for Irish citizenship who has resided in Ireland for at least five years of their preceding nine years is deemed a resident,
And is eligible for free or reduced-cost healthcare from the Health Service Executive, the country's healthcare system.
Dual citizenship is permitted in Ireland. It is not at all impossible for you to be a citizen of your home country, in addition to Ireland's and still have a family life in Ireland.
The costs of studying or living permanently in Ireland will be discussed in further detail later in this article.
Average Cost of Living for Students and Families in Republic of Ireland in 2023
Before you go to Ireland, the first thing you should focus on doing is getting your financial situation under control.
As a result, if you're thinking about attending university in Ireland,
You should learn about the living expenses of international students in the country.
You should base your decision on where you want to work and how near you want to be to amenities when deciding on a place to call home.
Cork and Dublin are popular choices for residents,
Despite the fact that other Irish cities have expanded and improved in recent years.
Dublin is the capital of Ireland and the most expensive place to live.
In Ireland, there are alternative cities where you may stay for less money.
One academic year in Ireland costs up to €12,000 a year for international students to live there,
Everything from rent to power to food to medication is included,
Now let's look at the breakdown of how that money will be spent:
Housing and Accommodation
Accommodation will cost you around €420-€500,
You should expect to pay between €300 and €600 a month if you want to live on campus.
The rate per person for a shared room is €350. It's possible to pay as much as €850 a month for a premium, private apartment.
A family of four may expect to pay roughly €3,200 per month in living expenses in Ireland, not including rent.
A single person's cost of living will be roughly €900 if they don't have to pay for their own lodgings.
Cost of rent on average in Ireland
The price of a one-bedroom apartment in a city center location is around €1,182,
While the cost of the same unit in the outskirts is close to €1,000.
It costs €1,955 to rent a three-bedroom apartment in the city center,
And approximately around €1,580 to rent one in the suburbs.
The cost of purchasing an apartment in the city proper is €3,870 per square meter, which is the highest price in the country.
An apartment in the suburbs will cost about €2,800 per square meter.
With a monthly rent of €1,800, Dublin is one of the most expensive cities in the world in terms of living standards.
As far as cost of living goes, Donegal and Leitrim offer the best value with an average of €625.
If you're on a budget then here are 10 Cheapest European Countries.
Average Cost of attending University in Ireland 2023
Ireland is regarded as the "Land of Saints and Scholars" because of its rich religious and academic history.
Some of Ireland's most venerable academies, universities, and monasteries date back to the year 500 AD.
Internationally recognized universities and colleges provide undergraduate, postgraduate, and certificate programs in a wide range of disciplines.
Law schools, technical institutions, art schools, and schools of literature and science are all well-known in Ireland.
When it comes to the greatest schools and institutions in the globe,
People from all over the world place Ireland at the top of their list.
Obtaining a legal student visa is the first step to studying in Ireland, which will cost you roughly €65.
With a top education system, Ireland is not just a popular destination for students in Ireland, but also throughout the world.
As a result, students who study in Ireland have a better chance of finding work after graduation,
This is because many Irish colleges have international partnerships.
The educational system of Ireland is regarded as one of the best in the world,
School system is top-notch because of its unique and improved curriculum.
Additionally, Irish colleges provide so many options for study. About one out of every five students in Ireland is a foreigner.
Programs and Fees
The following is a breakdown of the costs associated with each of the available programs:
The yearly cost of an undergraduate program ranges from €9,850 to €25,500, depending on the university.
Postgraduate education costs anything from €9500 to €24500 per year.
Between €100,000 and €35,000 per year is the annual tuition for a PhD degree.
Books, stationery, and other personal items add another €200 to the monthly student budget.
5 Best Universities in Ireland for Foreign Students in 2023
These are some of Ireland's best colleges and universities in no particular order of ranking:
Dublin City University
Galway, Ireland's National University
Cork University
Maynooth University
The University of Dublin
Well, you still consider any of the 10 Best Universities in Australia for International Students,
Or you Can go for any of the 10 Best Universities in New Zealand for International Students.
Average Cost of Transportation in Ireland
There are regional trains, buses, DART, and local taxis to choose from,
To plan your vacation, you may use the internet to check the schedule and pricing of the flights.
In Ireland, the average monthly transportation expense is roughly €140.
A student travel card is a good idea if you are a student, since it will save you money.
It saves you money by 40% and provides you with faster service even if you live distant from your college.
Public transportation is the primary mode of transportation in the city,
Trains, planes, and long-distance buses are all options for moving outside and between cities.
It'll cost you between €60 and €200 for a one-time journey like this,
One liter of gasoline costs €1.40 and it will cost you between €26,000 and €27,000 to buy a car in Ireland.
Availability, features, brand and other variables may all affect the price of a product.
Leap Card for TFI
It's easy to pay for public transportation in Dublin and the surrounding counties with TFI Leap Card that's contactless and simple.
Transport for Ireland's (TFI) public transportation network includes Bus Éireann, Irish Rail, Go Ahead, Dublin Bus and Luas, as well as commuter and rural bus services.
RECOMMENDED:
Average Cost of Living in Ireland 2023
Price of food, utilities and other necessities
It's a heart-pounding prospect to consider how much you could have to spend for basic necessities in Ireland.
However, the cost of living in Ireland is lower than you may expect.
It is not the cheapest country, but it is less expensive when compared to other nations that travelers are interested in visiting.
Everything you need on a daily basis is affordable. Between €250 and €350 is what you spend on food each month.
Utility costs
The typical cost of clothing for either a man or a woman might range anywhere from sixty to eighty euros (€60 to €80).
When shopping from high-end labels, the price might rise to as much as $100.
The cost of cooling, power, trash, and other utilities for a one or two-room flat is around €180 per month.
Nearly €80 is the average monthly internet and mobile phone bill price.
In Ireland, the average gas bill is €805. Summer gas prices are lower, while winter prices are higher.
3 Tips on how to save money in Ireland
When deciding to move out of your own country and start a new life somewhere else,
It is imperative that you take into consideration the obligations that come along with this choice.
Taking care of one's money is something many people take for granted.
Amount of money that foreign students from different countries need to cover the cost of living in Ireland varies,
The vast majority of students and young people are unfamiliar with the concepts of saving and investing.
How to save money in Ireland
In addition to deciding on Ireland's low-cost cities, the following pointers might help you keep a close eye on your spending:
Get a better deal on your cell phone plan;
Your phone cost will be reduced by utilizing a pre-paid sim card and not using it until absolutely required.
Consider switching lenders that provide cash back or a reduction on your mortgage;
Switching to a lender that offers cashback of up to 3% is a good idea.
A third option is to switch energy providers and shop around for a better deal;
Initially, eco-friendly services may cost you a little more, but they will save you money in the long run,
Reduced power expenses are one of the benefits of installing solar cell stations.
Don't allow your credit score dictate how well you can afford your monthly payments,
A credit card with 0% interest can be a good option if you're having problems making payments on your existing debt.
If you're a foreigner in Ireland, you may take advantage of these credit card options.
If you want to save money, it's best to open a separate bank account for that purpose;
Add up all of your savings in this account. You will be able to have a location that is accountable for your funds, and you will be able to access it whenever you require it.
As you've learned, life in Ireland is expensive.
A breakdown of Living Expenses in Ireland 2023
An overseas student in Ireland must also cover a slew of other fees in addition to tuition and living expenses.
Personal costs, utilities, and the amount spent on entertainment such as dining out and going to the movies,
All of these must be taken into account when calculating an accurate estimate of what it would cost to live in Ireland.
List of costs for numerous miscellaneous components are shown below,
However, it's important to remember that costs might fluctuate depending on the market and other unforeseen factors;
€20 for a cell phone (INR 1673, $20, NGN 8,517)
Electricity and gas bills of €30-€50 (INR 2508-4180, $30-$50, NGN 12,776-21,294)
€65-€85 a month for a monthly bus ticket costs (INR 5,433-7,105, $65-$85, NGN 27,682-36,199)
250-300 Euros for food and drink (INR 20,900-25,080, $250-300, NGN 106,470-127,764)
€75 for books and other supplies (INR 6272, $75, NGN 31,941)
Spending on leisure activities costs between €200 and €300 per person every month (INR 16,724-25,080, $200-$300, NGN 85,176-127,764)
€2 for a roll of toilet paper (INR 167, $2, NGN 851)
Movie tickets cost €9. (INR 752, $9, NGN 3,832)
€3 for a tube of toothpaste (INR 251, $3, NGN 1,277)
Washing powder costs €5 (INR 418, $5, NGN 2,129)
Packages of Travel Insurance
Purchasing travel insurance is a must for all International students planning to study in Ireland.
Before embarking on a trip to Ireland, visitors should get a travel insurance coverage for the nation.
They wouldn't have to worry about their finances if something bad happened,
The following is a list of the advantages you'll receive from an Irish travel insurance coverage.
If you're traveling to a new country, you may lose luggage, your passport, or get into an accident.
In all of these scenarios, you'll be glad you have travel insurance,
You would be free from the burden of worrying about the consequences of these events,
Allowing you to take full advantage of your life in the new nation.
A trip outside of Ireland is also covered by an Irish travel insurance policy.
Health Care Insurance
You will require medical insurance to cover the price of hospitalization and other related expenses in Ireland.
Additionally, student must show proof of medical insurance prior to registering and applying for a student visa.
When a person is unwell, medical insurance allows them to select the hospital, doctor, and hospital accommodations they desire.
List of Irish Health Insurance companies in Ireland who can help you receive medical insurance;
Anglo-Irish Healthcare
Student.Insure
Healthcare Providers of VHI
Insurance from GloHealth
The PCC Fee
The Irish police department provides overseas students and working professionals with an official document known as a "Police Clearance Certificate," abbreviated as "PCC."
It is mandatory for long-stay visa applicants to submit the PCC with their application.
This certificate is only provided in certain situations and can be used when applying for visas,
And consular applications to other countries as well as when starting a company in another EU country.
Procedural Requirements for the PCC
Those interested in obtaining a PCC should submit a written request to their local Garda station along with an explanation of their reasons for doing so.
The application should be addressed to the Superintendent in charge of the area in Ireland, and it should be submitted to them.
Attach this to your written disclosure request and deliver it to the Irish Embassy in the country where you are now resident.
The following documents must be included with the application form:
In order to verify your identity, you may need a certified copy of your driver's license, passport, or other official document.
All you need are two passport-sized photos.
Proof of your need for the certificate from an official source.
The cost of obtaining a PCC
It is possible to pay fees in two separate Euro-denomination bank drafts or cross postal orders.
Therefore, it is necessary to purchase two distinct postal orders or bank drafts,
One for the sum of €20 (INR 1,672, $20, NGN 8,526), and another for the amount of €2 (INR 167, $2, NGN 852).
Due to COVID-19, there are limitations on travel in Ireland
A Passenger Locator Form is required for everyone visiting Ireland.
A minimum age of eighteen (18) is required for all applicants.
You'll get an email receipt for completing the COVID-19 Passenger Locator Form online,
Which you'll need to display at the airport before you can board your aircraft.
It is recommended that you submit this form 28 days before to your arrival in Ireland, together with the required papers.
To demonstrate that you have received an EMA-approved vaccine, an EU Digital COVID Certificate (DCC) is required.
Any other document that demonstrates your recovery from COVID-19 within the last 180 days is acceptable.
Cost of living in Ireland's Biggest Cities in 2023
The cost of living in Ireland is considered to be on the higher end of the international scale;
However, the exact amount might differ greatly depending on the region, city, or town in which one resides.
Dublin, Ireland's capital, is regarded as one of the country's most costly cities.
International students flock to major cities like Dublin, Galway, and Cork because of their closeness to the city center.
Here's a look at what it's like to live in some of the country's most populous cites.
Average Cost to Living in Dublin, Ireland 2023
Below you'll find the average cost of living in Dublin, Ireland, on a monthly basis;
Rent costs €585 per month (INR 48,929, $585, NGN 249,393)
€220 for food (INR 18,400, $220, NGN 93,788)
Utilities total €55 (INR 4,600, $55, NGN 23,447)
Clothing costs €39 (INR 3,262, $39, NGN 16,626)
€75 for social activities and other non-essential costs (INR 6,273, $75, NGN 31,973)
€50 in your pocket (INR 4,182, $50, NGN 21,315)
Students pay €333 in fees (INR 27,852, $333, NGN 141,962)
The total amount spent was €1,356 (INR 109,928, $1,356, NGN 578,506).
Before we proceed, here is How to Make Money Online in India for international Students.
Cost of Living in Cork, Ireland – A Comprehensive Guide 2023
The typical amount needed each month to maintain one's standard of life in Cork can be found below;
Cost of on-campus lodging is between €600 and €680
500-600 Euros per month for a private rental home
€600-€1000 for a secluded condominium
€30-€50 per month for gas, electricity, and trash
Prices range from €65 to €85 per month for bus travel
€250-€350 for food
Mobile phone costs cost €20 a month
The cost of textbooks and other study aids is €75
€200 to €300 for personal expenditures
Total: €1240-€1880 including lodging. (INR 100,450–INR 152,295, NGN 528,627-NGN 801,468, $1,240-$1,880)
Cost of Living in Galway, Ireland 2023
The typical estimated monthly cost of maintaining one's standard of living in Galway can be found below;
Rent will cost you €540 per month
€220 for food
Electricity, telephone, and internet charges total €90
Laundry/clothes €50
€160 can be spent on recreation
Books and study materials €40
€15 for heating oil
The cost of transportation is €40
The overall price of expenses that comes with residing in Galway is estimated at €1155. (INR 96,603, NGN 492,391, $1155)
Costs of Student Housing in Ireland 2023:
A Comparison of On- and Off-Campus Options
On-campus and off-campus housing alternatives are available to international students in Ireland,
When we talk about off-campus housing, we're talking about places like houses, apartments,
And homestays that are not located on or near a university campus.
Every single one of these options has its own set of advantages.
For the convenience of attending classes, tests, and seminars,
Students who live on campus have full access to the university's facilities and services.
Students who choose to live on campus benefit from the convenience of an all-inclusive package.
Additionally, you'll have access to 24-hour security and medical care,
As well as assurances concerning the quality of your lodging.
Staying on campus also has the benefit of allowing you to socialize with your peers and form a tight-knit group.
When compared to residing in university-provided housing,
The cost of living in Ireland is often lower for those who opt to reside off campus rather than in university-run housing.
As a renter, you have a wide range of alternatives to select from when renting.
There will be no limitations on the volume of your music, the number of visitors you may invite, or the aesthetics of your space.
If you want to gain valuable life skills, you should consider living off-campus,
These include budgeting, taking initiative, and money management.
While being on campus helps you interact with fellow students,
Living off campus allows you to become a part of the greater community in the city where you live.
Cost of Staying on campus vs. Living off-campus in Ireland
If you want to live on campus, you can expect to pay between €4,000 and €6,000 for the entire academic year,
Which comes out to an average of €500 each month.
The rent does not include the cost of utilities, food and groceries, a down payment, or entertainment costs.
The price may drop to roughly €3,500 if you stay with a friend or two,
Cost of living in university-owned off-campus housing is lower than the cost of living on campus.
However, the expense of getting to the university must be taken into account, annual cost of living in a shared room is at least €3,000.
Getting a part-time job or a scholarship might help you pay for school in Ireland.
It's hard to deny that finances are a huge roadblock to reaching your objectives,
No matter how wonderful the experience may be.
Because of this, you'll need to find creative ways to pay for your education in Ireland.
Scholarships or part-time work might help you achieve your goal of studying abroad.
Scholarships
In Ireland, colleges and the government both provide a wide variety of scholarships.
Scholarships can be found on university websites or government portals.
You'll need to do some research on your own.
Scholarships and grants might make paying for school in Ireland a little easier.
Part-time jobs
In addition to financial aid for your education, you may also require assistance with living expenses while in Ireland,
Which are not covered by most scholarships and grants.
Working a part-time work in Ireland might help you pay your bills while you're away from home.
The following are examples of part-time occupations available to students on campus at various universities:
Assistant in research
Assistant teacher
Mentoring by a fellow student
The librarian's assistant
Campus tour guide
Off-campus part-time work in Ireland include the following:
Barista
Cleaning
Tutor
Customer service representative
Waiter
Employee of a non-profit organization providing assistance to the locals
House-help
The parking attendant
To further your research, here are top 10 Countries with Highest Salary for Workers in the world.
Frequently asked questions (FAQ)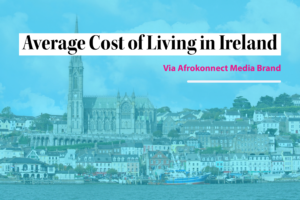 Is it costly to study in Ireland if you're from India, Nigeria, Ghana or a foreigner in 2023?
The expense of attending university in Ireland is higher for overseas students than it is for Irish citizens,
On the other hand, the typical tuition costs are a lot lower when compared to those in the United Kingdom and the United States.
The annual tuition fees for attending a university in Ireland will cost you anywhere between €5,000 and €25,000 on average.
How much does it cost to live in Dublin, Ireland as an International student in 2023?
If you're a college student in Dublin, the cost of living varies depending on where you live.
In Dublin, the average monthly cost of living is estimated to be €1539.
Rent, food, utilities, clothes, mobile phone bills, books & study materials, and leisure activities are all included in this category.
Which country's cost of Living is higher, that of England or Ireland?
The cost of living in Ireland is 13.97 percent more than that of the United Kingdom,
This is due to the fact that Irish consumers spend more money on rentals, automobiles, food, and fashion.
Cost of living in England's capital city may be high, but residents of Ireland spend even more merely to live there.
Here is a comprehensive guide on Cost of Living in United Kingdom's cities like Manchester, Liverpool, London etc.
Cost of living in Ireland – how much does it cost in 2023?
It is predicted that the annual cost of living in Ireland for one academic year for students from other countries will be at least 12,000 Euros on average.
Food, utilities, medication, and other basics are included in the cost of living.
Depending on where you live and what you're paying for a place to stay, this cost might go up or down.
How much does it cost to live in Ireland on a monthly basis in 2023?
When compared to other countries across the world,
The cost of living in Ireland rates it thirteenth overall.
On a monthly basis, the cost of living in Ireland may be anywhere on average between €2500 and €2700 (EUR).
This amount does not include your university's monthly tuition costs.
How much salary is required to live comfortably and save in Ireland?
After graduating from a programme in Ireland,
A new graduate might anticipate earning an annual income of between €30,000 and €60,000 on average.
This figure can range anywhere in between these two figures.
With that said, a family of four needs at least €6000 every month in food and other essentials.
As a result, you need a salary that is more than that each month.
Conclusion
You've probably gotten a sense of what it costs to live in Ireland by now.
If you're thinking of moving to Ireland or going back to school, this article has provided you all the information you need to get started.
Good luck with whatever path you decide to take on your journey.