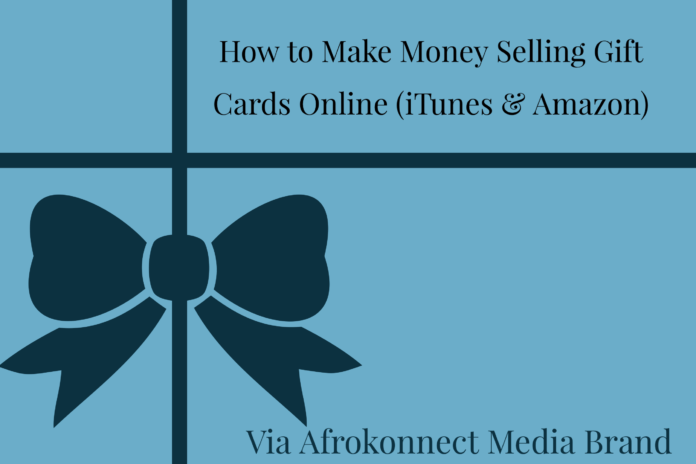 This page is about How to Make Money Selling iTunes Gift Cards online, Buy and sell in 3 easy steps via Afrokonnect.
This method works in Nigeria, Ghana, South Africa and literally anywhere else in the world there's internet connection.
Selling iTunes gift cards is one of the most straightforward ways to get extra income online,
If you are looking for a quick way to get some money, all you need to do is follow these simple procedures,
You will easily be able to make more than N5,000 ($15) in less than three hours time.
The steps are simple to follow, and anyone should be able to complete them successfully.
Although this method is not the only way to get some quick money in Nigeria, it is one that has proven to be successful!,
Here are 10 smart ways To Make Money Online, if you're like me and you will like to make extra bucks from home then check it out.
How to Make Money Selling iTunes Gift Cards Online
Step 1: Determine a Store or Online Shop to Purchase an iTunes Gift Card
In order to start Earning Money by Selling iTunes Gift Cards in Nigeria, Ghana or anywhere else,
You will first need a supply of iTunes gift cards in your possession.
It is recommended that you check online for trusted dealers,
This is in order to avoid falling victim to one of the many types of scams that are out there targeting naive buyers who want a quick discount on these cards.
Some of the offers online appear to be too good to be true, which indicates that some of them are fraudulent,
You should make sure that you only buy from reputable retailers.
There are other sales that occur occasionally at local stores.
A good example of this is GameStop, which will give you discounted cards in exchange for your used video games.
Although these are not assured, it may be worthwhile to look into them if you have some older titles laying around that aren't worth very much money anymore.
You should be aware that Apple only sells physical gift cards at its retail shops and on it's website.
If you wish to make a purchase directly from Apple, you will need to bear this in mind.
If that is not an option for you, most of your choices will require purchasing digital codes from third-party vendors online.
This includes merchants on Amazon and eBay, in addition to those on websites such as Raise and Cardpool.
Purchases of iTunes gift cards can be made at any of these respected locations, where one can often discover attractive discounts.
If you will like to buy gift cards online then the video below is for you;
Step 2: Know Which iTunes Gift Card Is the Best
It is common knowledge that people generally have a strong affinity for musical expression,
Anyone who has ever gone to a party knows that virtually everyone brings a mobile device of some kind, most commonly an iPhone or an iPad.
Therefore, the best way to reach out to these individuals is to sell gift cards for iTunes.
You have the option of reselling these cards on your own or finding work in the sales industry.
Continue reading this article if working in sales is something that interests you.
The following are some of the best iTunes gift cards target customers:
People that have a passion for music
Those individuals who own either an iPhone or an iPad
Users that are now residing in top tier countries like USA, Canada, United Kingdom etc
Business owners who wish to promote their company through the medium of music e.g record labels
Nigerian musicians that wish to record a song without charge and make money off of it by distributing it online
All other iTunes account holders who want to use their iTunes account credit to buy music, movies or games from the iTunes Store
Users who possesses an iTunes gift card that was purchased in the United States and wishes to have their funds converted into Naira
Users who are interested in making a profit by reselling them at a higher price
Internet users who are looking for additional sources of income
International Students who are interested in making their school payments with an iTunes gift card
As you can see, I've given you a few ideas of who you should be targeting when selling iTunes gift cards.
Now that we have everything out of the way, let's talk about how you can sell your cards to other people.
Top 20 Best Gifts Cards to Buy and Sell in 2023 (Ghana, Nigeria, South Africa etc)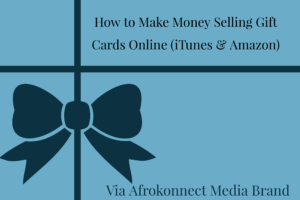 From sources across the web here are the best Gift cards to purchase, sell and trade this year in no particular order;
Amazon Gift Card

Sephora Gift Card
Target Gift Card
Nordstrom Gift Card
Netflix Gift Card
iTunes Gift Card
eBay Gift Card
Starbucks Gift Card
Nike Gift Card
Walmart Gift Card
American Express Gift Card
Chipotle Gift Card
Blue Apron Gift Card
GameStop Gift Card
Apple Store Gift Card
Disney Gift Card
Goldbelly Gift Card
Lowe's Gift Card
Macy's Gift Card
Whole Foods Gift Card
Step 3: Collect Payments from Sellers
It's time to start making some money now that you've gotten the information you need,
Get your website up and running, sign up for Google's AdSense program.
This is the point at which the majority of people become confused, but you shouldn't have too much trouble with it.
Creating a shop and making money is as simple as learning a few basics about websites.
You can even start by selling stuff for just $5.
So, without further ado, let's get right to work.
When you are establishing your online store on whichever website hosting service you decide to go with,
Make sure you check to see whether they offer SSL certificates.
This will ensure that there are no problems with the safety of the data that is transferred between your servers and theirs when it is being transmitted over SSL or HTTPS.
Avoid putting your customers information in jeopardy by letting anyone steal it.
You should hunt for another host if they don't offer SSL,
Since if your website is hacked, you could end up losing everything.
The next step is to decide on the type of store you want to open:
Do you desire a shop where consumers may purchase a variety of different goods?
Or are you more interested in a marketplace in which individuals can sell their own goods?
It is necessary to make a decision regarding everything.
RECOMMENDED:
How to Make Money Selling Gift Cards Online in 2023 – Buy & Sell iTunes, Amazon, eBay
Conclusion
It is possible to get revenue and extra cash online by selling iTunes gift cards or any type of gift card.
You can use the cash you already possess to buy gift cards, which can then be resold for higher rate.
The most important thing is to be knowledgeable about what you're doing,
So before you purchase or sell them online, do your homework beforehand.
For example, if you buy a stock at $10, make sure you are selling it a higher rate like $12, $13 or even $15 on a good day,
It should be possible for you to make money selling iTunes gift cards online with very little to no difficulty at all,
Only if you do your research beforehand and adhere to the advice given in this article. Good luck buddy.