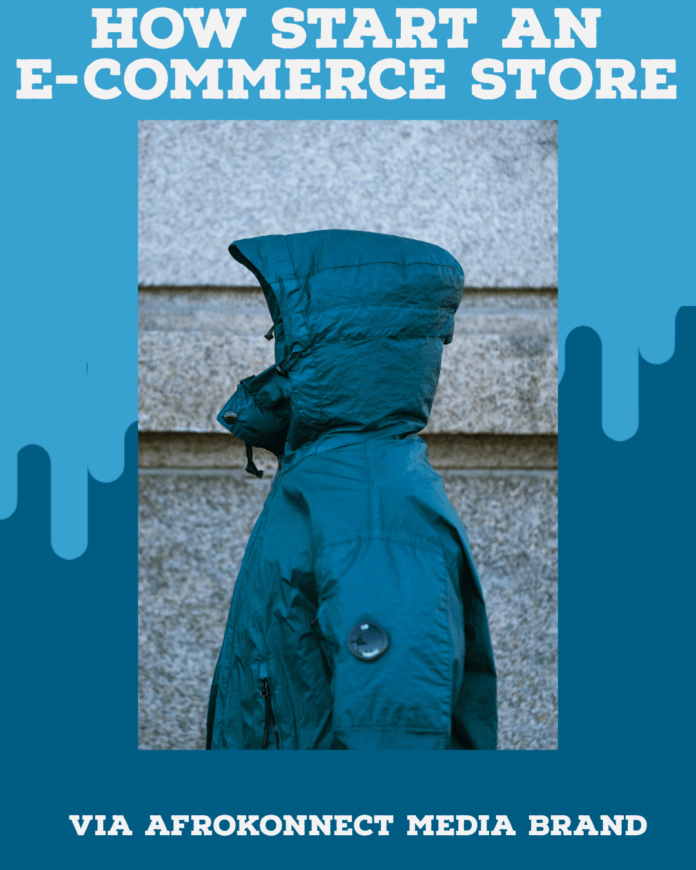 Welcome to this article about How to Start an E-commerce Store and how to Create a profitable E-commerce Business via Afrokonnect.
Do you want to start an e-commerce business but don't know how?
If so, you'll find a comprehensive breakdown of the processes involved in setting up an effective e-commerce site right here.
What's an e-commerce business?
E-commerce refers to the practice of buying and selling products or services entirely online.
The funds and information necessary to complete these deals will be sent electronically by the respective e-commerce companies.
Now is a great moment to launch an online store, as global retail e-commerce sales are projected to hit roughly $5 trillion.
If you're an experienced business owner or expert craftsman, opening your own online shop may be the fulfillment of a lifelong goal.
These articles, tutorials, and videos are arranged in accordance with the most crucial steps involved in planning, starting, and expanding a successful online store.
How to Launch Your Own E-Commerce Business
The first step in building a website is to select a name for your domain, followed by the purchase of server space and the installation of web hosting.
You will require a shopping cart such as Shopify, Bigcommerce, or WooCommerce in order to be able to sell things over the internet.
The significance of business marketing
So you've made the decision to launch an online retail enterprise. Great! Owning a firm in which you are free to make your own decisions is an appealing prospect,
But in order to achieve your goals, you will need to be willing to put in a significant amount of effort.
Keeping this in mind, it is essential to keep in mind that you are accountable not only for the things that you sell,
But also for ensuring that your customers are aware of any new products that you introduce.
You will want to devote part of your time to promoting your products and services before you even begin developing them.
To put it another way, marketing is the process of acquiring new clients.
However, you are the one who will be responsible for selling both your products and services to customers.
To succeed in online business, you must find ways to encourage customers to interact with your products digitally,
Whether by clicking on ads, signing up for your newsletter, or purchasing items directly from your website.
Getting everything ready for your website
Before you can begin to sell your products, the first thing you will need to do is establish a website.
Your website (which is frequently referred to as a "user-friendly landing page") will provide prospective customers with a concise summary of what you have to offer,
And you will use it to generate listings for the things that you sell or to get feedback from existing customers.
You will need to hire a professional web designer or computer programmer to set it up for you,
But after that, you will only need to update it occasionally, such as when you add new content to your website.
If the website is well built and advertised, you can also make it your "Unique Selling Point."
How to Start an E-commerce Store (Ecommerce Business)
Selecting an appropriate payment gateway
When you launch an e-commerce website, one of the first decisions you'll face is selecting a payment gateway.
Customers are able to pay for things using their credit cards or debit cards thanks to a payment gateway.
In order to accomplish this, you will need to have an account with a payment gateway.
It is imperative that you select a trustworthy payment gateway in order to enable payment processing for your online store.
RECOMMENDED:
Check with your chosen payment processor immediately after creating your account to make sure that you can choose an international shipping address.
If you choose a location, your clients will have access to a wide range of delivery alternatives,
Including USPS Priority, UPS, FedEx, and DHL, amongst others, when they make a purchase from you.
You can consider any of these top 10 best shipping companies that handles Worldwide Shipping,
The shipping choices you have will be determined by the product that you are selling.
For instance, local delivery can be handled by any of these 10 Best Courier Services that operates in numerous countries.
Choosing who will be your provider of logistics services
It is essential to be aware of the actions taken by the logistics provider with the goods once it has been delivered,
Regardless of the mode of transportation that you decide to employ in this process.
The majority of online retailers use only the most reputable shipping companies.
On the other hand, you should avoid getting into a partnership with an e-commerce logistics service that does not have a solid reputation.
Choosing a reputable and trustworthy delivery service is essential to ensuring the safe arrival of your order.
Getting your product to clients is crucial to your success as an online retailer.
Developing your product and preparing it for sale
If you are based in a given country and have the necessary resources and connections, manufacturing your items there may be the best option for you.
A good number of these facilities are ready and willing to provide you with reductions in the prices that they charge for production.
Please familiarize yourself with the relevant laws and business practices.
If you live in a developed nation like the United States, the United Kingdom, or Canada,
Acquiring the materials needed to manufacture your product may be as easy as placing an order with a local vendor.
After all, the decline in the cost of delivery is largely responsible for the current surge in online sales.
How to Start an E-commerce Store (Ecommerce Business)
Establishing your system for managing your inventory
First, establish a system for routinely assembling a small selection of products, with sufficient repeat orders to provide a profit margin.
The second step is to draft a business plan detailing your anticipated revenue, profit, and other operating expenses.
In the third step you need to Put the plan to test, take notes, and adjust it as needed.
Step 4: Gradually increase your inventory as your sales and profits increase to prepare for the next level.
Do some research on the other businesses in your industry.
You have identified a product, conducted a feasibility analysis, and identified a possible supplier.
Before you go in, though, you should study the competition so you have an idea of what you're up against and how you might set yourself apart.
How to Start an E-commerce Store (E-commerce Business)
Put together a business strategy
After finishing up your market analysis, you can go on to developing your company plan.
Your business plan should serve as a guide for all of your strategic thinking.
It's crucial for setting priorities and developing strategies for reaching out to customers.
Investors and potential workers can learn more about your company's values and goals by reading the mission statement that is featured prominently in a business plan.
Improving Your SEO Knowledge (Search Engine Optimization)
Just a few more steps and you'll be ready to start constructing your online shop.
To ensure that your site and pages are optimized for Google and other search engines, you should familiarize yourself with SEO fundamentals before diving in.
How to Start an E-commerce Store (Ecommerce Business)
How much does e-commerce startup cost?
One can spend as low as $100 – $300 on a membership and store theme to launch an online retail business.
Since traditional brick-and-mortar retailers must pay for expensive rent and other licenses, the startup costs of an e-commerce business are lower.
The initial investment ranged widely from zero to several hundred thousand dollars,
Depending on the industry, the type of e-commerce business, the number of employees, and whether or not it was a full-time endeavor.
If you run your firm as a drop-shipper, for instance, you won't need to spend money on manufacturing or warehousing any products right away, which means a lower initial investment.
Products are not purchased unless they are purchased by a customer.
It is necessary to invest in tools, supplies, and labor whether you want to make your products from scratch or contract them out to manufacturers.
Many people who get their start in e-commerce do it with very little capital.
You can buy just about anything online these days, including a domain name, hosting space, and the services of a web designer or programmer on contract.
RECOMMENDED:
Expect cost and Expenditure from the following categories when starting an e-commerce website;
Raw materials, stock on hand, suppliers, production, patents, etc.
Running Costs: Incorporation/Legal Expenses, Extra Software, Accounting, etc.
Staff compensation, benefits, incentives, etc.
Promotional things including a company's name and emblem, its branding, advertisements, brochures, business cards, and other printed items.
In the first year of operation, you are likely to spend around 11% on running expenses, 10% on marketing, 18% on staff, and 10% on offline expenses.
Best E-commerce Website Builders
Wix: is the best option for opening an online store in a matter of minutes.
Zyro: the easiest and most intuitive e-commerce website builder to use.
Squarespace: offers ecommerce templates of the highest possible quality.
Square Online: the best integration with traditional stores comes from.
BigCommerce: is the best site builder for selling across several channels.
Shopify: is the e-commerce website builder that offers the most customization options.
Weebly: the most cost-effective option for small enterprises.
Shift4Shop: is the best enterprise-level builder available at the absolute lowest possible prices.
Conclusion – How to Start an E-commerce Store (E-commerce Business)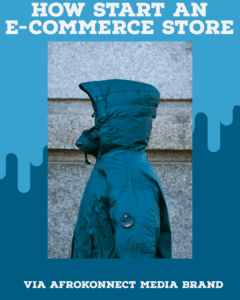 Even though there are many factors that you need to take into consideration before launching an e-commerce firm,
You can get a head start on developing a website to sell products right away if you plan things out properly.
This brings us to the end of this publication about How Start an E-commerce Store,
And, how to Create a profitable E-commerce Business via Afrokonnect.
I would appreciate it if you could share your thoughts in the comments.