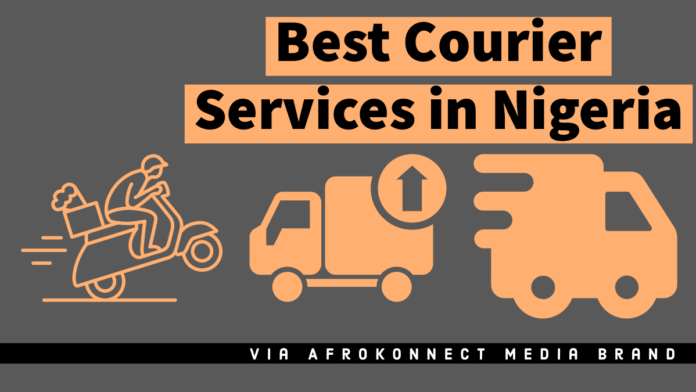 Welcome to this article about the top 10 Best Courier Services in Nigeria, fastest and most affordable companies via Afrokonnect.
You will get the opportunity to acquire knowledge about the top 10 courier services in Nigeria by reading the following write-up.
A good number of them provide both domestic and international delivery services for packages.
So, without further ado let's run it down in no particular order.
10 Best Courier Services in Nigeria 2023
1. DHL
DHL head office can be found on the Isolo Expressway, near the new Airport Road Junction in the Isolo neighborhood of Lagos.
They can be reached via the following numbers: 08039077000, 01-2700908, and (01) 4524531.
They offer courier services, such as shipping and mailing, among other things.
In the same vein, they provide a variety of delivery services for packages and parcels.
It is fairly simple to intercept the package that you send through their website and keep it.
You can visit them online via their official  website.
2. KOBO
Kobo has one of their largest stores in the Yaba neighborhood of Lagos at No. 16, Ikorodu Road.
They can be reached at 08180212345 and 08099334442 via their respective mobile phones.
This is the very first of the asset-free logistic enterprises that are currently operating in Nigeria, and it encourages everyone to look out for one another in the role of their brothers' and sisters' keepers.
They transport a variety of packages and efficiently make the logistics business more accessible to the general public.
You can access their official website to find different delivery packages that suits your order.
3. ABC Express Courier Limited
Their official address is 22, Ikorodu Road, in Jibowu, in the city of Lagos in Nigeria.
ABC express may be reached via the following numbers: 081-42552434, 08063261919, and 08039600958.
This particular provider of courier services is one of the best in Nigeria at the moment,
They operate an airline, but they have also added a courier service to their offerings, and they make use of their aircraft to deliver packages all around Nigeria and even further afield.
4. ABEX Express Parcel Services
Located in Yaba, Lagos, their address is 100 Jibowu Street, which is off of Ikorodu Road.
There are three different ways to reach them through phone: 08075591777, 08033281785, and 01-7741326.
They provide courier services of the highest possible quality, if the truth be told.
ABEX will ensure the timely delivery of your messages and shipments to a wide range of locations, both in the immediate area and further beyond.
You can reach them online via their official website.
Best Courier Services in Nigeria in 2023
5. ABX World International
ABX international can be found at 36, Aromire Avenue, in the Ikeja neighborhood of Lagos.
Their telephone numbers are as follows: +234-014540995, +234-014540991, and 08033327511.
You can visit them online for your orders via this address:
The corporation has its headquarters in Lagos, where it also conducts business in the country of Nigeria.
On the other hand, it is a multinational corporation, and Nigeria is only home to one of its subsidiaries.
6. Express Courier Company of Africa (ACE)
Express Courier Company of Africa (ACE) can be found at 2B Oko Awo Close, which is in the Victoria Island neighborhood of Lagos State.
You can easily contact 08039012600 if you want to call,
Basically, outlet for the courier service is designed to cater for the requirements of a wide variety of customers who have varying requirements for the courier service.
They deliver several different packages, which might be any size or shape.
These packages are distributed to a wide range of areas in Nigeria as well as other countries.
7. Ekeson Parcel Services
Their official address is 33A Ikorodu Road, Jibowu, Yaba, Lagos, Nigeria.
Both 07088685149 and 08174912942 are their associated phone numbers which you can contact them with.
Since a very long time ago, this organization has been providing customers with courier services,
They are able to handle any package and have it delivered to any location in Nigeria or anywhere else in the world.
Ekeson has shown reliability of the company, having been established over the course of many years.
RECOMMENDED:
Best Courier Services in Nigeria (Delivery Companies)
8. Eze Courier Services
Iddo, Lagos is the location, and the address is 9 Otto Causeway, directly across from the A.G. Leventis Building.
The following are some of the available numbers: 08033928873, 07038211449, and 08056301264.
This Nigerian courier service has been around for quite some time.
Eze Courier services is an organization structured to accommodate the numerous courtier requirements that customers may have.
9. Fenway Courier Express Services Limited
Their official address is 11, Bayo Shodipo Street, in the Anifowoshe neighborhood of Ikeja in Lagos.
Fenway is one of the best Courier services in Nigeria and the number  you need to call is 07098040527.
10. Gal Express Nigeria Limited
Gel express Nigeria limited can easily be found on the Lagos Island in the city of Lagos, at the address 2nd Floor, Magabaralewon House, 11A, Cowlane, Off, Igbosere Road.
The following are the four different telephone numbers: 08023061175, 01-2646685, and 01-7927246n.
5 Cheapest Courier services in Nigeria in 2023
This Nigerian firm is the most affordable option on our list, and it is happy to deliver your items from one location to another in the country.
It guarantees customers that their pricing begin at as little as 800 Naira for each light bundle and pledges to offer inexpensive rates.
You can use this company to send documents, packages, invitations, and so on.
When you use AB Logistics's courier service to transfer your 2-kilogram box from Lagos to Abuja, the delivery fee is merely 2,500 Naira.
Since 1986, Nigerians have relied on this enterprise.
It has the necessary expertise to give all customers with timely delivery and high-quality parcel handling.
An excellent service at a reasonable price is what you get here.
It's possible that some customers will mistakenly believe that this business is in some way connected to NIPOST;
Nevertheless, you shouldn't be concerned about this as SpeedPost is equally dependable and trusted in addition to being speedy and affordable.
Best Courier Services in Nigeria – Cheapest Delivery Companies in 2023
GIG Logistics is a well-known Nigerian firm that serves the entire population of Nigeria by providing them with courier and logistics services.
To ship to another Nigerian city, you simply need to drop by any of the company's local office, which makes it simple to do so.
For instance, if you choose not to purchase insurance for your shipment weighing 2 kilograms, you will be required to pay around 3,000 Naira.
On the other hand, purchasing insurance for the same product will cost approximately 4,800 Naira.
RECOMMENDED:
This courier business has been around since the 1990s,
It provides a variety of transportation and courier services to both Nigerian nationals and visitors to the country.
The company offers a wide range of services, including those related to logistics and courier work.
This device has it's own set of terminals as ABC cargo can be used by both private individuals and corporations,
Because it gives all customers the ability to track the delivery of their box or parcel, you won't have to be concerned about the status of your shipment.
From Lagos to Abuja, shipping a two-pound item will cost you almost 4,700 in Nigerian currency.
The UPS courier service won't let you down, and neither will any of the other services they provide.
UPS, much like a great number of other multinational firms, is utilized in a variety of nations, one of which is Nigeria.
If you need your parcels delivered on time and in excellent condition, this is the company for you.
From Lagos to Abuja, a box weighing 2 kilograms would cost approximately 6,400 Naira to ship.
Summary
The video below is about top 7 Logistics Business in Nigeria making millions in Africa by Micah Erumaka;
10 Best Courier Services in Nigeria in 2023
DHL
KOBO
ABC express Limited
ABEX Express Percale Services
ABX World International
Express Courier Company of Africa (ACE)
Ekeson Percale services
Eze Courier Services
Fenway Courier Express Limited
Gel Express Nigeria limited
Cheapest and Most Affordable Courier Services in Nigeria
AB Logistics
EMS SpeedPost
GIG Logistics
ABC Cargo
UPS
Conclusion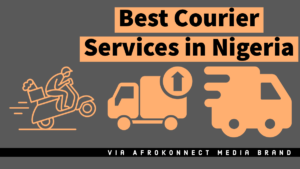 There are so many logistics and Courier services in Nigeria that can handle your delivery without hassle,
In this article to we tried to compiled some of the most popular, trusted and affordable Couriers in Nigeria.
You can pick the ones that best fits into your need and budgets.
On that note, this brings us to the end of this article about the top 10 Best Courier Services in Nigeria, fastest and most affordable companies via Afrokonnect.
Hopefully, you found what you were looking for in this article. Let us know what you think via the comment Section.