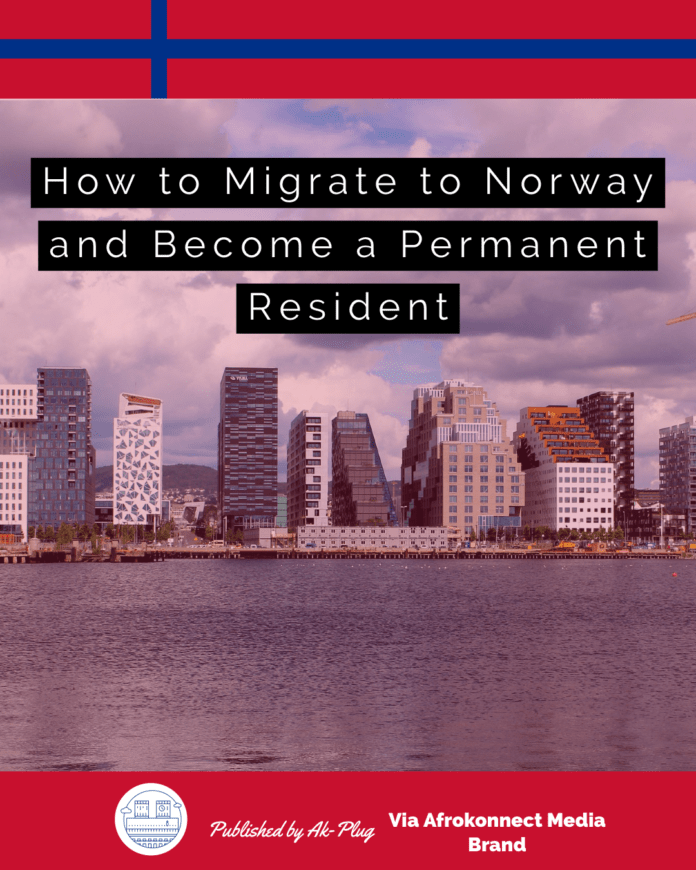 Welcome to this article about How to Migrate to Norway and Become a Permanent Resident via Afrokonnect.
Many people consider Norway to be one of the nations with the highest quality of life in the world,
Norway draws a large number of immigrants who want to start their lives in a beautiful country,
Some immigrate because of it's peaceful and secure environment, as well as its natural landscape, reserves, and parks.
Each year, Norway is visited by thousands of tourists because of its attractive natural landscape,
In addition to it's many natural reserves and parks.
If you now reside in Nigeria, Ghana, South Africa or anywhere else in the world and you are considering a move to Norway,
The following post will provide you with a detailed guidance on how to make this move.
How to Migrate to Norway and Become a Permanent Resident
Migrating to Norway From Nigeria or Anywhere Else: Step by Step Guide
If you're thinking about making the move from Nigeria to Norway for whatever reason (maybe for employment or school),
You probably have a lot of unanswered questions and probably aren't sure where to start.
Although Norway's stunning natural landscapes are a major draw for tourists,
The country's allure as a place to settle down is influenced by a great number of other factors as well.
For instance, businesses in Norway are known for their technological prowess and their willingness to quickly adopt emerging technologies.
Because of this, employment opportunities are notably open to specialists in fields such as oil and gas, energy, maritime, and other related fields.
If you're concerned about employment opportunities then you should probably consider the 10 Most in Demand Jobs in Australia for foreigners,
Better still, 10 Most In-Demand Jobs in New Zealand for Foreigners is also an option for many people who are seeking employment after relocating.
In addition to being a safe and peaceful country, Norway also provides a high standard of living for its citizens.
The labor market is structured in such a way that there is a well-regulated and open relationship between employers and workers,
Employees have the opportunity to advance their careers as a result of this.
You can also take comfort in the knowledge that you will be interacting with other highly skilled individuals operating in the same field as you.
These are just some of the many reasons why someone living in a third world country like Nigeria, Ghana or even South Africa would consider moving to Norway instead,
Don't get me wrong, even people from other European countries and Americans are also relocating to Norway for a number of reasons.
So let's check out the steps involved in relocating from anywhere to Norway.
How to Migrate to Norway and Become a Permanent Resident
1. The Very First Step in the Process of Immigration to Norway
Your best bet for successfully relocating to Norway is to look for a job in the country that pays well,
Similarly, you might want to consider this top 20 Highest Paying Career Jobs in the World.
It is feasible to get work in Norway despite the fact that competition for jobs is stiff,
Largely due to the high level of education already present in the country's labor market.
You can give yourself further benefits in order to make yourself more competitive in the Norwegian job market by acquiring more skills,
For example, skills such as having a solid command of the language will likely serve as an advantage.
2. Get the Appropriate Visa
There are several distinct categories of visas available, each of which corresponds to a particular reason for travel to Norway.
Some of the most popular visas to Norway includes but not limited to;
Those individuals who wish to enter Norway in order to visit family and friends are eligible to receive this type of visa,
Visits to Norway require a visa that is valid for only three months to enable you enter the country.
This is the type of visa that will be issued to individuals who will be traveling to Norway for business-related activities,
Activities such as attending seminars and conferences.
Short-stay visas include those issued for tourism, business travel, and other similar purposes.
You need to submit an application for a residence permit if you want to remain in Norway for longer than three months at a time.
If you intend to relocate to Norway for the purposes of living there, working there, or studying there, then you are required to get a residence permit.
Things to do before Submitting an Application for a Norwegian Residence Permit
First thing you need to do is determine the sort of residency permit that is required of you.
Is your move being motivated by things like work, school, or other obligations?
A residence permit may be granted in connection with a variety of immigration categories,
Including family immigration, job immigration, study permits, permanent residence, citizenship, and so on.
To be eligible to submit an application for a resident visa in Norway from Nigeria or literally anywhere else,
You must either be a citizen of Nigeria, hold a residence permit in Nigeria or your country of origin at the time of your application.
In the event that you only have a residence permit in Nigeria,
You would need to have had that permit for a period of at least six months prior to submitting an application for a Schengen resident permit.
General Requirements for Obtaining a Norwegian Visa:
An application form that has been properly filled out and signed.
A passport in it's original form that has at least three months of validity remaining
Fully-filled photocopies of the original passport.
A residence permit.
Photocopy of both sides of the national identification card or a valid driver's license.
Color photo that is no more than six months old and that shows your complete face.
Payment for the visa fee, or proof that payment has been made.
How to Migrate to Norway and Become a Permanent Resident
3. Gather the Necessary Documents
Be sure that you have access to all of the supporting documents that the Norwegian embassy requires when you apply for a residence permit in Norway.
Your contact in Norway will give you some of the documents,
But, you will be responsible for supplying others, including the ones that were specified above.
4. Online Registration – How to Migrate to Norway and Become a Permanent Resident
You are required to complete an online registration for your application at the application site,
This must be done before you can hand in your passport and any other required papers at the embassy or consulate.
First, you will need to create a user account, and then you will need to register your application on the website of VFS global.
VFS global is the organization that the Norwegian embassy has allowed to process applications,
They handle applications from Nigerians, Ghanaians and host of other counties including those in Europe and America.
Following the completion of your registration,
You will be sent a confirmation letter in the mail, to which a cover letter will be appended.
This cover letter will serve as confirmation that the application form has been properly filled out and that the registration fees have been paid.
Please print this letter and include it in your submission along with the other materials I've listed above.
5. Submitting Application and Application Fee's
VFS global is the organization responsible for receiving application submissions,
You do not need to make an appointment in advance in order to hand in the application at the VFS application center.
RECOMMENDED;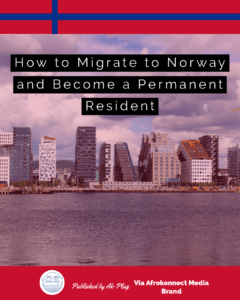 How much does Norway visa cost in Nigeria?
The cost of the Norwegian visa starts at 80 Euros depending on the visa type, which equals around 35,000 Naira.
There is no charge for children younger than six years old.
A visa charge of 40 Euros must be paid by children beginning at the age of six and continuing until they reach the age of 12 years old.
Please visit the UDI website in order to obtain information regarding the various categories of people who are exempt from paying the visa fee.
What are the requirements to immigrate to Norway?
There are not one but two exams that you have to do well on in order to qualify for permanent residency in Norway.
You will need to demonstrate an oral proficiency in Norwegian at the A1 level.
You are required to achieve a passing score in Social Studies
Who the new PR regulations are meant to serve?
If you are between the ages of 18 and 67 when you submit your application, the new rules will apply to you.
Norwegian Citizenship
As of the first of the year 2017, new citizens are also required to complete two exams:
The Norwegian oral (muntlig) test must be completed at a minimum level of A2.
Statsborgerprøven (new test) in NORWEGIAN
The Social studies test for permanent residency is extremely comparable to this test,
However, it is still not an exact replica of that test.
Regardless of whether or not you already passed the Social study test required for your PR,
You will need to take and pass the test once more, but this time in Norwegian.
How to Migrate to Norway and Become a Permanent Resident
Conclusion
In this comprehensive guide we tried to guide you through all you need to know about moving to the highly appealing nation in Northern Europe,
Obtaining Norwegian citizenship is subject to a wide range of distinct regulations,
All of which are contingent on the applicant's previous engagement with the country's immigration system.
On that Note; this brings us to the end of this publication about How to Migrate to Norway and Become a Permanent Resident via Afrokonnect.
I hope this article was helpful to you, let us know what you think via the comment section.