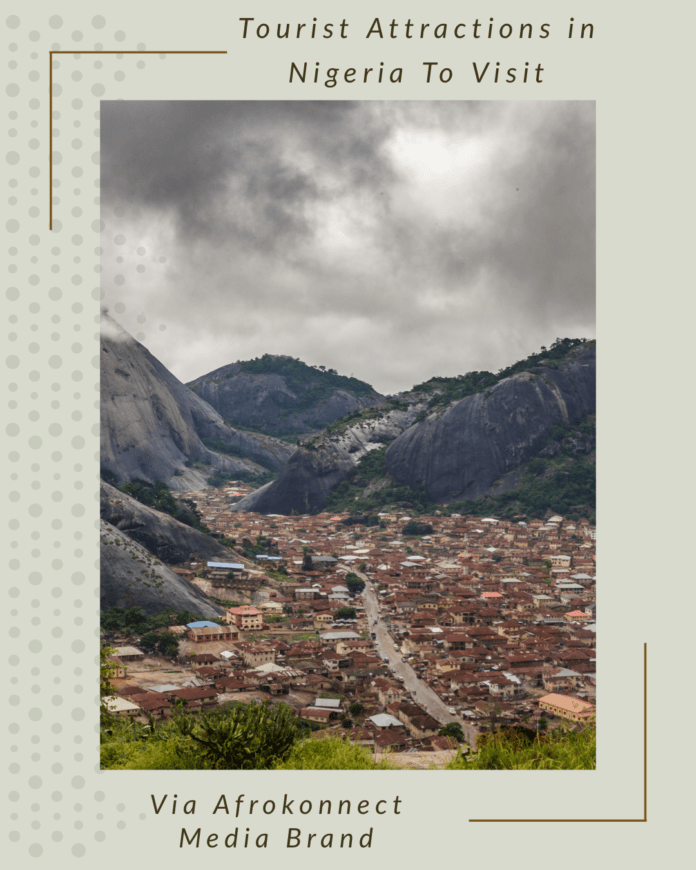 This page is about 10 Tourist Attractions in Nigeria To Visit in 2023 via Afrokonnect.
Numerous places of interest to visitors can be found throughout Nigeria.
Ten of these places listed in this post stand out from the rest as absolute must-sees.
So without further ado, let's check out this must see places in Nigeria.
Top 10 Tourist Attractions in Nigeria To Visit in 2023
1. The Convergence of the River Niger and Benue
River Niger and Benue located in Nigeria, West Africa, are both significant landmarks in Nigeria,
Early European explorers took a keen interest in both of these rivers throughout their time in the region.
The meeting of these two rivers at Lokoja, which is known as a confluence,
Often provides students of geography and those who are interested in nature with a significant illustration of the phenomena of a confluence.
Fishing activities that take place on the rivers also interest a lot vacationers,
Making the river one of the tourist places people visit when they come to Nigeria for holidays.
2. Yankari Game Reserve
The Yankari Reserve is home to a vast assortment of flora and animals that have been preserved in their natural environment.
Within the reserve, there are over 59 caves, as well as a system of 130 wells with interconnecting shafts that were used by slaves during the time of the trans-Atlantic slave trade.
The history of these slaves has been well documented,
In addition, there is an iron smelting works with a furnace that dates back hundreds of years,
As well as a warm spring that offers bathing in water that is crystal clear and heated to 31 degrees Celsius.
The northern part of Nigeria known as "Bauchi State" is home to the Yankari Game Reserve.
Visitor and tourist from all over the world visit Yankari to enjoy family time vacation.
3. Tinapa Business Resort – Tourist Attractions in Nigeria
The government of Nigeria's Cross River State made a concerted effort to develop the scenic area,
It was developed beside the Calabar River into a resort called Tinapa so that businesspeople and tourists alike might enjoy it.
The proximity to the Calabar Free Trade Zone rounds out the picture of a place that successfully combines work and play.
At Tinapa, tourists not only get to enjoy the excitement that the environment provides,
They also get to feel the excitement that is provided by the entertainment that is provided,
While enjoying your vacation you can catch up at the casino, cinema, amphitheater, pubs, and children's arcade.
At pg slot, you have the option to wager or play casino games in an online setting.
4. Obudu Mountain Resort and Golf Course: Located in the Obudu Mountains
The Obudu Mountain resort is located on a plateau 1576 meters above sea level, and it offers breathtaking landscape.
The resort also features one of the top golf clubs in the world for novice golfers.
Scenery, together with it's mild climate and peacefulness, makes this the ideal spot for a variety of outdoor activities, as well as vacations and meditations.
A log fire, a golf course where you may play while bringing in your MGI GOLF accessories, accommodations in African round huts and chalets are all things that the Obudu Mountain Resort offers,
Guests can engage in different activities as a means of enhancing their experience of the surrounding environment.
For example, their most accurate golf launch monitors deliver data that players can utilize to fine-tune their swing and determine which pieces of equipment work best for them.
Lastly, the city of Obudu is located in the Nigerian state of Cross River, welcome to everyone.
Tourist Attractions in Nigeria To Visit in 2023
5. Warm and Cold Springs of Ikogosi
The combination of a warm spring and a cold spring may be found at Ikogosi Ekiti,
Which is said to be the only natural phenomenon of it's sort in the entire globe.
This phenomenon is considered to be a wonder and is something that must be experienced to be believed.
In addition to the marvel, the geography is quite beautiful, and the environment is very lush.
In order to provide travelers with convenience, relaxation, lodging, and facilities for holding conferences, a resort has been constructed close to both the warm and the cold spring.
The town of Ikogosi-Ekiti may be found in Ekiti State, which is located in the southwestern corner of Nigeria.
6. Mambilla Plateau
Mambilla Plateau, located at an elevation of approximately 1,830 meters above sea level is endowed with verdant pasture and a temperature that is generally mild.
The Mambilla Plateau is ideal for the cultivation of unusual plant species that are not typically found in Nigeria,
For instance, plant such as apples, pears, Arabica coffee, strawberries, tea, and Irish potatoes are grown there.
People adore unwinding and enjoying a cup of coffee while visiting their favorite local cafe.
It is a very exhilarating experience to take the twisting, uphill route that is bordered by cliffs that leads to the Mambilla Plateau.
This road allows access to the plateau, neither mosquitoes nor tse tse flies bother anyone on the plateau because of how dry it is.
You can find this astonishing Mambilla Plateau in the state of "Taraba", in Nigeria.
7. Idanre Hills
Idanre Hills are a breathtaking collection of hills that are home to a number of interesting tourist attractions in Nigeria,
They are on the list of UNESCO's World Heritage Sites.
On top of the hills is an uninhabited city that has hitherto inhabited dwellings, an ancient palace, and a shrine, all of which have been preserved in their original state.
It ascent up the 640 steps and via the 5 resting areas to the top of the hills is rewarded with a first-hand view of the settings on the hill,
As well as the Arun River and a clean stream that is said to give individuals who swim in it an odd feeling.
The village of Idanre, which is located at the base of the hills, may be seen in it's entirety from the vantage point afforded by the highest point of the hills.
Idanre can be found in Ondo State, Nigeria.
8. Lake Chad – Tourist Attractions in Nigeria
The following activities and sights draw visitors to Lake Chad:
Boating, birding, fishing towns, and aquatic wildlife like hippopotamuses, crocodiles, and clawless otters.
Well, the largest of Nigeria's naturally occurring lakes is called Lake Chad,
It satisfies the agricultural requirements of not just the Borno State government in Nigeria but also those of the governments of Niger, Cameroon, and Chad,
The lake is of tremendous significance to the economy of the regions.
SEE ALSO:
Tourist Attractions in Lagos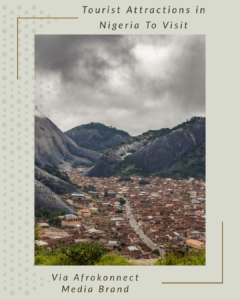 9. Badagry Town
One of the most striking things about Badagry is the live presence of relics that give visitors the opportunity to experience what it was like to be a slave.
It's also interesting to note that Badagry is the location in Nigeria where the first Christian sermon was ever given.
It is home to the first storey building ever constructed in Nigeria, which was completed in 1845 and is still standing today.
The city of Badagry may be found in Lagos State, Nigeria.
10. Olumo Rock
The natural protection afforded by Olumo Rock has been enjoyed by early inhabitants in Abeokuta,
Which went on to become a haven from the onslaught of hostile forces,
Incredible is the word used as the characteristics of the rock, it suitable for use as a shelter.
While the top of the cave serves as a location from which the advancement of the enemy can be viewed,
A number of the caverns have been created to function as chambers, hallways, and bunkers.
A visit to Olumo Rock is now more enjoyable than ever because of the addition of a museum, eateries, a water fountain, and an elevator.
The rock may be found in Abeokuta, which is in the state of Ogun in Nigeria.
Tourist Attractions in Nigeria To Visit in 2023
Thank you for reading through. You might want to check out these 10 best amusement parks in the world based on current ranking.