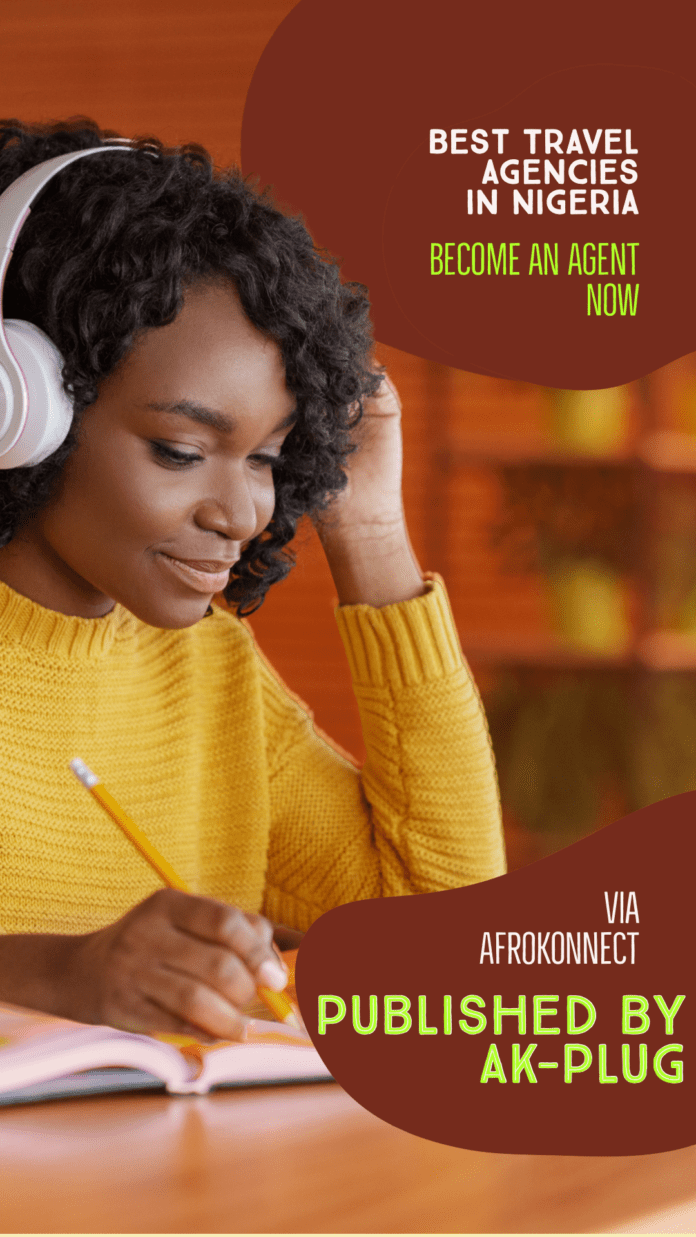 Top 10 Best Travel Agencies in Nigeria, Easy steps to Become an Agent (agents) and own your agency – Via Afrokonnect.
WONDERING HOW CAN I BE A TRAVEL AGENT AND OWN YOUR AGENCY IN NIGERIA?,
With very few jobs and yet, so many unemployed and underemployed people in the country,
It is important to explore other not very common ways of earning a legal income.
Becoming a travel agent or being part of a travel agency is a solid way to ensure a constant flow of income as people are always moving in and out of the country.
But first, travel agents and travel agencies are explained below.
TRAVEL AGENTS AND TRAVEL AGENCIES
Wikipedia explains a travel agency as a private retailer or public service that provides travel and tourism-related services to the general public,
Travel agencies serve as agents and they provide outdoor recreation activities, airlines, car rentals, travel insurance, package tours and the likes.
A travel agent's main role is usually to help people choose and plan their stay in a foreign country.
This article is divided into 3 parts. Each part designed to explain even further, travel agents, travel agencies and what they entail.
The first part explains and answers the question "how can i be a travel agent in Nigeria"?
And, the second part sheds even more light on "how can i become a travel agent in Nigeria"?
Finally, the last part enumerates travel agents in Nigeria that offer sponsorship job to abroad along with some other subheadings and bonus information that all travel agents need to know.
RECOMMENDED:
HOW CAN I BE A TRAVEL AGENT IN NIGERIA?
Becoming a travel agent in Nigeria isn't as much of an hassle as everyone assumes it to be,
You can become a travel agent by following these steps.
1. Do your research and gain knowledge and experience.
To do this you can start off as an independent agent (also called freelance agents),
Do this to gain experience over time in the field and eventually, you will be able to start your own travel company.
Also, you can get training from other seasoned (experienced) travel agents and this would make your journey into becoming a travel agent and owning a travel agency easier.
2. Do not neglect the education aspect.

Travellers would want an agent they can trust and see as knowledgeable in all things concerning travelling,
A degree in tourism or other tourism-related field would go a long way in helping your business thrive.
3. Meet all requirements.

You would need to meet some requirements to help maintain your business from the start,
First is CAPITAL, Legit.ng recommends having a starting capital of at least, #500,000.

You will also need an office to work in and gadgets like computers with high speed internet connection to make your work easier.
Last but not least, you will need people to work with.
4. Have a business plan.
This should include your financial projections, market analysis, funding requests,company description, organization and managemnent etc.
5. Register your business with the apprpriate bodies.
In Nigeria, the body responsible for registration of Travel agencies is the CAC (Corporate Affairs Commission).
6. Advertise your business.

You can do this through various ways, Most popular ways include youtube, facebook, twitter and instagram ads,
And also, hiring brand influencers to promote your business through their varous social media platforms.

You can also advertise through online magazines, newspapers, flyers, billboards, emails and text messages to your target clients.
The various forms of advertising are inexhaustible, find one that works for you.

You should also consider creating a website and all forms of internet advertisement you choose should contain a link to your website where potential clients can learn more about your business and contact you directly.
7. Seek help and Support 
Most important of all, never be afraid to ask for help and and advice from business owners and more experienced people.
FAQS
ARE TRAVEL AGENCIES CHEAPER?
Short answer? Yes, Long answer? Here it is;
Travel agents usually have access to airline fares and exclusive deals that ordinary travellers don't.

So besides helping you save money, travel agents and agencies help take off the stress of planning a complex tripand also offer peace of mind.
ARE TRAVEL AGENCIES FREE?
Using travel agents or agencies, while not completely free, still costs less compared to the cost of planning your trip yourself.

Most times, travel agents wouldn't charge you at all because their commission comes from the hotels, wholesalers, airlines, resorts etc they do business with.
WHO REGULATES TRAVEL AGENCIES IN NIGERIA?
The Nigerian Civil Aviation Authority (NCAA) is the body responsible for licensing and regulating travel agents and agencies in Nigeria,
HOW CAN I BECOME A TRAVEL AGENT IN NIGERIA?
To become a travel agent and own your agency in Nigeria;
You must have a minimum of 4 workers at your firm with at least 

2 that have prior experience and proof   of said experience working in a travel agency and other airline related business.
Also you need to have at least 4 computers (one for each worker) with stable internet connection and power supply.
And, you must register your business with the Corporate Affairs Commission, Failure to do this can force the authorities to declare your business as illegal and close it down.
HOW MUCH ARE TRAVEL AGENTS PAID IN NIGERIA?
The salaries of travel agents differ greatly depending on the travel agent's gender, the business location, the agent's years of experience, skill set etc.
Though there is no nationwide accepted standard commission for paying travel agents, their average salary per month can be estimated.
Salaryexplorer.com explains that with the lowest paid travel agent earning about #111,000 per month,
And the highest paid travel agents earning about #310,000 monthly,
On the average, a travel agent earns around #205,000 on a monthly basis in Nigeria.

This amounts includes transport, housing and other benefits.
From the above analysis, it is obvious that becoming a travel agent in Nigeria  is a very profitable venture.

Imagine earning around #200,000 per month, it's not bad for a start,
That's more or less 2.4 million naira annually! That's way more than what most Nigerians make in 3 years.
WHAT QUALIFICATION DO I NEED TO WORK IN A TRAVEL AGENCY IN NIGERIA?
Although there are no set entry requirements to enable you work in a travel agency,
To put yourself ahead of your colleagues and stand out, here are some must haves;
An high school diploma

A college degree (preferably in a tourism or travel or hospitality related field)
Familiarity with processes involved in booking flights.
Become certified as a travel associate or travel counselor.
Get experience in retail and sales work. This would always come in handy.
Travel agencies usually require thinking on your feet, deep knowledge of how the tourism sector works, reliability and also the ability of meticulous planning and organization.
If you do not already possess these extra advantages in your arsenal, it is advisable that you work on them and master them before you venture into travel agency work.
HOW DO I REGISTER AS A TRAVEL AGENT IN NIGERIA?
To be allowed to run your business without stress from the authorities of your state and country,
It is best to register your business with the appropriate bodies.

You can register as a travel agent by following the easy steps listed below.
Choose a name for your company.
The name should be short, catchy and easy to remember for clients that might want to refer you.

Make sure the name of your company also hints at what you do. Take for example, Genie Travels and Tours.
Register online if there is an online application form.

Gather your application materials. 
This usually includes your bank account statement, you and your employees curriculum vitae, documents of your office space and so on.

Usually, the body you're registering with will inform you of the appropriate documents you have to bring along.
Visit the appropriate offices.

In Nigeria, this is the Corporate Affairs Commission and the Nigerian Civil Aviation Authority (CAC and NCAA)
Fill in your application

Pay the required fees
Obtain your certificate and license
Do business.
TRAVEL AGENTS IN NIGERIA THAT OFFER SPONSORSHIP JOB TO ABROAD IN 2023
There are some travel agencies that help you get your work permit,
Your work permit is an official document given to you as proof of permission that you have to work in a foreign country for a specified period of time.
Travel agencies that offer these services include;
Sortz solution

Migrants advisory limited
Aerovessel Travels and Tours Limited
Crownhub consulting (deal with work pemit for Canada, Australia, Ghana, Cyprus, the Caribbean, Ireland, USA, UK etc.
Jolie global travels and tours limited
Premium consulting services limited
MUST READ: 10 Best Countries To Migrate To From Nigeria
The video below is about genuine travel agent by Afrokonnect, I recommend you watch it too;
HOW TO BECOME A FREELANCE TRAVEL AGENT IN NIGERIA?
Follow these steps to become a successful freelance travel agent in Nigeria;
Connect with a host agency to start with.

Get the neccessary information from them that are important for starting up an agency.
Also, get the tools and support from experienced agents in the field.
2. Acquire the necessary training and certificates.
3. Determine your niche and stick to it.
For example, golf trips, excursions, study and work abroad, caribbean resorts etc.
4. Become an expert by carrying out research on the niche you have chosen and learn all you can about it
5. Remember the golden rule; do unto others as you would like to be done unto you.
In other words, give your clients the same type of service you would want in their shoes.
How to register as a travel agent and own your agency in Nigeria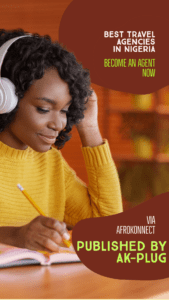 You can register with the appropriate bodies by following the steps addressed previously.
HOW MUCH COMMISSION DO TRAVEL AGENTS GET IN NIGERIA?
On an average, about 200 thousand naira monthly.
TOP TEN TRAVEL AGENCIES IN NIGERIA IN 2023
In no particular order;
Wakanow.com limited

Reward Travels and Tours Limited
City Travel and Tours
Touchdown Travels Limited
Flinchglow Travels
Quantum Travels
Zenith Travels and Tours Limited
Empire Travel Services Limited
Mayfair Travel Nigeria Limited
Aeronaut Travel and Resorts Limited.
Congratulations you've made it to the end of this article about top 10 Best Travel Agencies in Nigeria, Easy steps to Become an Agent (agents) and own your agency Via Afrokonnect, 
We hope this article was helpful and we wish you the very best of luck in your journey to become a travel agent.
Cheers!