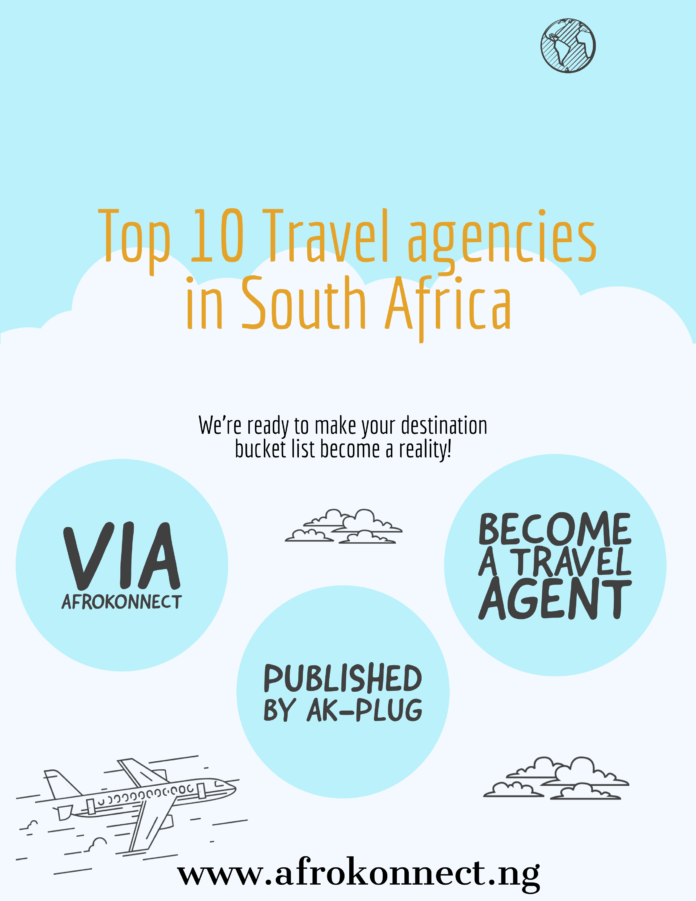 This page contains information about Top 10 Travel agencies in South Africa, How to become a travel agent (agents) from home, how to own your agency in Johannesburg and other provinces in South Africa via Afrokonnect,
Before we move on, I will like us to briefly look at the definition of a travel agency, who is a travel agent and what does travel agents do, so let's move.
Who is a Travel Agent and what does a travel Agency do?
So basically a travel agent has a job of making travel arrangements for end clients on behalf of suppliers,
The suppliers can be hotels, airlines, car rentals, cruise lines, railways, travel insurance, package tours among others,
While the clients can range from individuals, groups, corporations and so on.
The major task of a travel agent is to simplify the travel planning process for their customers in addition to providing consultation services and entire travel packages,
Which is why all good travel agents are expected to have a vast knowledge of their environment especially tourists locations and cost of logistics.
An Agent can be self-employed or decide to work for an independent travel agency, he or she can also be part of a Travel Agency,
Whichever works for you is fine, also note that travel agents may specialize in leisure, business and/or other niche travel markets,
They may be generalists or specialists (i.e. specialise in cruises, adventure travel, conventions and meetings.)
According to Wikipedia a travel agency is a private retailer or public service that provides travel and tourism-related services,
Travel agencies provide this services to the general public on behalf of accommodation or travel suppliers to offer different kinds of travelling packages for each destination.
Now that we've had an idea of what a travel agent means and what the work of travel agencies,
Let's us move to the next section of this article.
Travel agencies in South Africa
1. Kabura Travel & Tours
Kabura Travel & Tours is located at Number 3 Socrates Way, Century City – 7441, Cape Town, South Africa,
Their Response Rate is peaked at 99% with a Response Time of 3 hours.
They provide the Private Tours in Cape Town & Exclusive Safaris in South Africa, Zimbabwe, Zambia, Kenya, Tanzania, Uganda, Rwanda, Botswana & Namibia,
Don't worry they have custom itineraries which are flexible to meet each guest requirements.
TOURS AND HOLIDAYS BY KABURA TRAVEL & TOURS
They offer over 15 exciting luxury and affordable tour packages which includes;
10 days garden route tour for US$ 2,928.
15 days Luxury Private African Safari – Honeymoon Tour package for US$ 5,400.
10 hours Wildlife Cape Town safari at Aquila Private Game reserve for US$ 342.
3 days Garden Route Big 5 Safari Overnight Shared Tour for US$ 419.
8 hours Family fun in Cape Town private tour for US$ 97.
Above are some of the tours and Holidays by KABURA TRAVEL & TOURS.
2. Springbok Atlas Tours and Safaris
Springbok Atlas Tours & Safaris was established in 1946 and is owned by Cullinan Holdings, one of South Africa's leading Tourism and Leisure Groups,
You can easily locate Springbok Atlas at Chiappini Square, 17 Chiappini Street – 8000, Cape Town, South Africa,
They are one of Southern Africa's leading Travel agencies providing an extensive range of innovative, authentic and competitively priced travel experiences.
When it comes to safety, logistics and execution,
Springbok leaves nothing to chance, ensuring that they exceed expectations by creating complete hassle-free holiday experiences.
TOURS AND HOLIDAYS BY SPRINGBOK ATLAS TOURS AND SAFARIS
6 days Garden Route, Safari & Winelands Wonders for US$ 1,230.
Johannesburg/Johannesburg
4 days Kruger Park Explorer For US$ 1,028.
6 days Garden Route Splendour for US$ 1,072.
Full day Hermanus Tour for US$ 78.
Southern Africa is well-known as one of the world's best destinations for guided tours and safaris,
The area is vast, and there are so many diverse attractions that you can get the most out of your holiday,
By accessing professional and trusted advice, itinerary design, planning, logistics and expert guidance.
Springbok Atlas Tours & Safaris' guided holidays are also sociable and fun,
Enabling you to connect with people while enjoying all the enthralling adventure, magnificent beauty and amazing variety that southern Africa has to offer.
Travel agent for South Africa
3. Explore Sideways Travel Agency
You can locate Explore Sideways at A205, 66 Albert Road, Woodstock – 7915, Cape Town, South Africa,
It was founded in 2014 and they already offer over 20 different tour packages, making them one of the best travel agencies in South Africa.
Enjoy enriching and memorable experiences, as highly qualified specialists introduce you to the hidden gems of Cape Town, Stellenbosch, Franschhoek, Constantia, Cape Point, Hemel-en-Aarde and beyond,
Each experience is tailored to individual tastes and preferences and provides exclusive access to the most inspiring people and magical places in and around the Cape.
4. Irina Africa Tours & Safaris
The head office of Irina Africa Tours & Safaris is located at number 3 Old cape Farm Road – 7979, Noordhoek, South Africa,
They are known for offering exceptional value for money, with over 500 happy clients.
They offer two unique tours which are;
9 hours beautiful cape wine lands for US$ 114.
7 hours Addo elephant park day safari for US$ 225.
Irina Africa travel agent is one of the few travel agencies in South Africa that organize and conduct all tours and safaris by themselves,
No hidden costs, Free support and consultancy during your safari.
MUST READ:
5. Aukwatowa Tours (PTY) LTD – Travel Agency
Located at number 47 Flosse Street Nollothville – 8280, Port Nolloth, South Africa,
Aukwatowa Tours is a family business, proudly owned and run by Conrad Mouton.
They are a tour operator/ guide, based in Port Nolloth, doing tours in South Africa, the Northern Cape, Western Cape, Namakwaland, Karoo, Richtersveld, Kgalagadi Transfrontier Park, Diamond Coast, Richtersveld and Namibia.
As a fully operational travel agents in South Africa they also do transfers from Airports in Cape Town and Upington to any destination,
Aukwatowa offers an experience, not just another tour,
They own well maintained vehicles with all the necessary permits and insurances required by the relevant authorities.
Guests can either make the most of enjoying the cool comfy interior of an air conditioned vehicle when the outside temperatures soar,
Or experience the warm breeze and distinctive smells of the bush in an open vehicle – the choice is yours!
Services Offered:
Namakwa Flowers and Botanic Safaris Richtersveld World Heritage Site Visits and Cultural Safaris and meeting with locals.

Diamond mining heritage, shipwrecks and Atlantic coast safaris Kruger National Park/ Pilanesberg Day excursions – seafood picnics & sunset drives
Game viewing Safaris in Kgalagadi Transfrontier Park
Canoe trips on Orange River
Private tailored Safaris.
Travel agencies in South Africa Johannesburg
6. Abang Africa Travel Agency in South Africa 
Located at 104 Piazza building (1st Floor) – 8000, cape town, South Africa,
They are a specialized sustainable tourism company with professional travel agents,
Based in Cape Town and operating in the whole of South Africa, Swaziland, Lesotho, Namibia, Botswana, Victoria Falls and Mozambique.
If you're looking for a stunning holiday in which you combine safaris, amazing natural beauty and true local cultural experiences,
Abang Africa organizes tailor-made tours, self-drives, incentives and small groups, meet & greet, transfers, accommodation, hotel, national train and flight bookings,
They have a detailed route descriptions and national accredited guide services in various languages.
They offer a total of 8 different tours including;
16 days South afric on a Shoestring for US$ 1,748.
3 days Slackpacking Trail: Elands Bay Route for US$ 292.

Johannesburg/Port Elizabeth
15 days Kruger to Addo, eSwatini & Lesotho for US$ 1,132.
Johannesburg/Johannesburg
15 days South Africa & Botswana Self-driving Trip for US$ 2,860.
7 days Venda Cultural Experience & Safari trip for US$ 1,318.
7. Roof of Africa Tours
Located at 1 Clayton Street – 3256, Himeville, South Africa,
The legendary Sani Pass in Underberg is the base of all our Lesotho adventures,
It takes you into the beautiful 'Mountain Kingdom' of Lesotho and is accessible only by 4X4 vehicles.
Roof of Africa as a travel agency is focused on introducing the world to this special place in Africa, where you get the most value for your money,
They offer one destination trip with activities ranging from adventures and Sports, their trip details are;
12 hours Sani Pass Day trip from Durban for US$ 119.

Travel agents in South Africa
8. Chavonnes Battery Travel agent
You can locate their head office at Clock Tower, V&A Waterfront – 8000, Cape Town, South Africa,
The Chavonnes Battery tells about the early History of Cape Town which includes:
The official V&A Waterfront Historical Walking Tour

Opportunity to fire an original 18th century Muzzle Loaded Cannon
40 minutes Guided Museum tour of the Chavonnes Battery for US$ 5.
9. GoVertical Mountaineering Adventures and travel agency
Founded in 2002 and can be locate at Private Bag x31, Postnet Suite 103 – 6570, Knysna, South Africa,
GoVertical Mountaineering invites you to join in exploring the diverse and dramatic natural beauty of South Africa,
All their guided trails and treks make the most of the magnificent mountains and coast of our country.
They offer over 5 Tour locations with Destinations including;
6 days Northern Drakensberg Traverse for US$ 1,150.
6 hours Table Mountain: Skeleton Gorge Route for US$ 77.
6 hours Climb Table Mountain Via Kasteelspoort Ridge for US$ 77.
The Ukahlamba World Heritage Site is beautiful, views from the escarpment are magnificent, spend a few nights in these mountains and refresh your soul.
10. Street Scene Tours
Their head office can be located at number 39 Station Drive, 4th Floor. The Design Factory – 4001, Durban, South Africa,
Street Scene Tours was created by Sthembiso Mbonanbi, Jonas Barausse and Richard Powell in early 2010,
They created it with one unique goal set at its core; to showcase Durban to Durbanites.
They are constantly exploring Durban and its surrounds, ever on the lookout for nuggets of history and the many hidden gems the province has to offer,
The great King Shaka Zulu also spent much time on the very land upon which Durbanites now call home.
They offer one tour and destination which is pretty much affordable;
5 hours Durban city tour for US$ 43.
Top 10 travel agencies in South Africa in 2023
Kabura Travel & Tours

Springbok Atlas Tours and Safaris

Explore Sideways

Irina Africa Tours & Safaris

Aukwatowa Tours (PTY) LTD

Abang Africa Travel

Roof of Africa Tours

Chavonnes Battery

GoVertical Mountaineering Adventures

Street scene tours
SEE ALSO:
FAQ
Did you know you can become a travel agent from home?
Well if you're interested in making extra cash from home then watch the video below;
I also recommend you check our previous post about Online jobs you can start from home with little capital to no capital.
What qualifications do I need to be a travel agent?
You don't really need a specific or special qualifications to become a travel agent,
However, a bachelor's degree is an added advantage and can easily hand you job opportunities,
Those with bachelor's degrees in the hospitality industry or a related field will be more marketable,
Since virtually Most corporate jobs that involve coordinating travel require a bachelor's degree for employment.
What subjects are needed to become a travel agent in South Africa?
Just like there's no specific qualifications to become a travel agent,
There's also no particular subject you MUST study to achieve that, However,
Their are two popular certifications that will increase your chances of securing employment as a travel agent,
The travel institute provides education and training that leads to two certifications: Certified Travel Associate (CTA) and Certified Travel Counselor (CTC).
How much money does a travel agent make in South Africa?
There are no specific amount a travel agent can make in South Africa,
It all depends on agreement and who you work with or work for,
However, travel agents in South Africa usually take somewhat between 10% to 15% Commission from accommodations, transportation companies and attractions for coordinating the bookings of travel.
Travel Agent Salary in Dollars and South African rand
Salaries of travel agents vary unlike in the police where same ranks earns same amount monthly,
Here your experience, knowledge, specialty and other factors contribute greatly on how much salary you can earn,
For example those who earn the highest salaries as travel agents in South Africa have spent years building a loyal base of clients,
The salary of a travel agent in South Africa can range from;
$66,080 ($31.77/hour) which equals 1,014,671 South African Rand yearly and 84,555 South African Rand monthly.
$38,700 ($18.60/hour) which equals 594,217 South African Rand yearly and 49,518 South African Rand monthly.
Bottom 10% Annual Salary:
$22,370 ($10.75/hour) which equals equals 343,475  South African Rand yearly and 28,622 monthly.
Note that not all Travel agency in South Africa can or will agree to pay you that,
However, if you have the capacity, knowledge and what they're looking for then you'll mostly make even more as a travel agent in South Africa.
READ ALSO: Best Investment Visa and Best Investment Apps for Beginners
Which company is best for travel agent?
There's a lot of companies for travel agents out there,
The best here is relative, depending on your location, pay and qualifications,
However, some of the best companies  includes includes Expedia, Kiwi, Hotwire, TripAdvisor among others.
Best Online Travel Agencies in 2023
Overall best goes to: Booking.com.
If you're looking to work with a Budget then consider: Skyscanner.
Best Package Deals always comes from: Expedia.
Best for Reviews try: TripAdvisor.
If Asia is part of your travel destination then try: Hotwire.
If you want to travel to a destination in Europe then consider: Lastminute.com.
One of the most Innovative Online Travel Agencies is: Kiwi.com.
Is it cheaper to get a travel agent?
It is actually almost the same price and rate if you choose to use a travel agent for your next trip or not to use one,
The advantage of using an agent is you get to work with someone that already knows the system and can provide professional advance,
More so, it is not cheaper to get a travel agent however with just a little budget you could get information worth even more.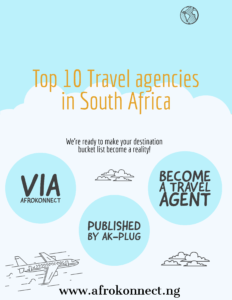 How many travel agents are there in South Africa?
According to reports by ASATA 1741 travel agencies branches have been confirmed in South Africa so far,
In total, there are 1741 travel agencies branches or outlets (including TMCs and ITCs) in South Africa that are members of ASATA of which 1670 are linked to the 13 large travel groups.
How do I start a travel agency in South Africa in 2023?
To start your own travel agency in South Africa you need to follow the steps involved,
First step: Research for an opportunity opening by identifying which part of tourism isn't well explored.
Second step: Develop a business model or a business plan.
Third step: Structure your agency as a professional business and register with appropriate legal instructions. This includes registration of business name, trademarks and other patents,
Registration of business name is done by the CIPC (Companies Intellectual Property Commission) before the operation of the company.
Fourth step: Partner with other established agencies, Suppliers and big clients around you. 
Fifth step: Develop a professional website and create social media accounts.
Sixth Step: Identify a target market and start operations.
RECOMMENDED: Best Place to Live in Canada | Safest & Most Affordable Cities (Top 5)
Where can I register my travel agency in South Africa?
South African Tourism Service Association (Satsa) is located at the 3rd Floor, Petrob House, 343 Surrey Avenue; Ferndale, Randburg,
You can reach them via their Telephone via 0861272872.
Thank you for reading this article about Top 10 Travel agencies in South Africa, How to become a travel agent (agents) and own your travel agency in Johannesburg and other provinces in South Africa via Afrokonnect,
I hope you found what you were looking for and Incase you didn't please kindly let us know via the comment section.