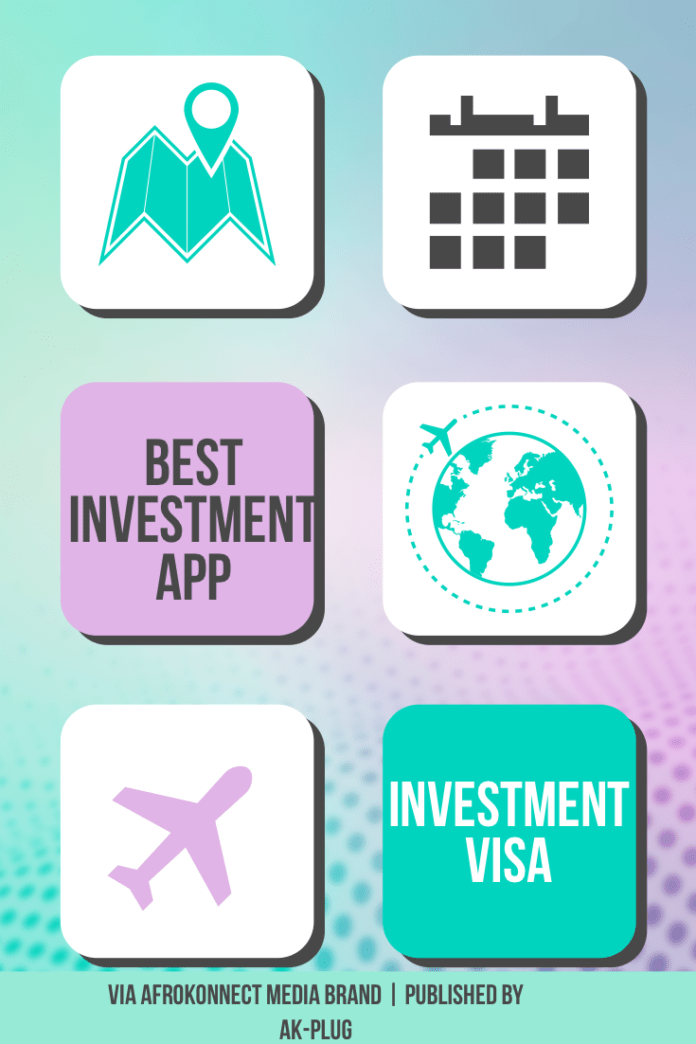 In this article you'll find useful information about Investment Visa Canada, USA, New Zealand, UK, eb 5 Investment visa and the Best Investment Apps for Beginners in 2023 via Afrokonnect.
If you're curious about investment visas for various countries and investment apps,
You've come to the right place, This article sheds light on the following;
Everything about Investment visa

Investment visa Canada
The Investment visa USA
Investment visa New Zealand
And, Investment visa UK
EB-5 investment visa
Best investment apps
Best investment apps for beginners
Investment Visa 2023
What are investment visas and how do they work?
An investment visa is gotten through programs that permit individuals to gain citizenship of a country in return for making qualifying investments.
There are 3 types of these programs;
Citizenship by investment (Golden passport)

Residence by investment (Golden visa)
Hybrid citizenship
i. Citizenship by Investment
This program allows applicants to obtain citizenship without a required residence period,
These are also known as golden passports as individuals that have acquired citizenship by investment have possible tax advantages and visa free travel.

Some countries that run this program are;
Vanuatu

Montenegro
Jordan
Cambodia
Saint Kitts and Nevis: The program started in 1984 and it was the first country to offer citizenship by investment.
Grenada
Antigua and Barbuda
North Macedonia
Malta: It was contracted in 2014. The investor's visa can only be acquired through a minimum investment of $870,000 and a non-refundable contribution of $700,000.
Egypt
Saint Lucia
Dominica: Started the program in 1993. Dominica's investor's visa could be obtained via a contribution to it's Economic Diversification Fund. The contribution is an investment of at least $100,000.
Turkey: Has a relatively new program called Turkish citizenship by Investment (TCBI). Investors can purchase citizenship status either by purchasing real estate worth a minimum of USD 250,000 and hold it for 3 years or deposit USD 500,000 in a bank in turkey and leave it for at least 3 years.
ii. Residence by investment
These programs allow applicants to obtain permanent residency visa for a country by making an investment and meeting other conditions,
Also known as 'golden visas', they do not give the applicant citizenship,
However, using standard naturalization procedures, the individual may eventually be able to apply for citizenship.
Countries that offer this kind of visa includes;
United States, United Arab Emirates, Spain, Portugal, Latvia, Canada, Abkhazia, Australia, Hong Kong, Monaco, Singapore, Ukraine and the United Kingdom.
iii. Hybrid Residence-Citizenship
This program permits investors and their dependent family members including children up to 21 years of age (age limit may vary depending on the country) to first obtain residence before obtaining citizenship.
Countries that run this kind of program includes; Bulgaria, Mauritius and Samoa.
MUST READ:
Investment Visa Canada 2023
The Immigrant Investor Program in Canada is aimed at experienced business men/women that can contribute positively to the country's growth and prosperity by investing in the country's economy,
These visas are for people who are interested in bringing business to Canada or investing in the government.
To invest in the government, you must oroy $150,000-800,000 CAD to the Canadian government

Open a business, you must provide proof of $350,000-800,000 CAD funds.
You also have to provide your net worth and income all of which must be obtained legally.
Although there is no age requirements or educational requirements for the visa program,
Some sort of work experience is needed (either business ownership experience or senior management experience).
Canadian investor's visa has very flexible language requirement and once the visa has been approved, your family (spouse and children) can go with you.
Investment visa Canada – Processing time: The individual could be offered a work permit in as little as 10 days or less,
But getting an investor's visa may take as long as 1-2 years.
To get citizenship, you and your spouse must have a legally obtained net worth of at least 2 million CAD,
And, you must invest CAD 1.2 million for a period of 5 years at no interest, 
The money would be paid in full at the end of the investment period.
Investment Visa USA 2023
As at November 21, 2019, a foreign individual interested in acquiring a USA investment visa must invest,
Without borrowing either $1,000,000 USD or $500,000USD in an high unemployment or rural area, considered a targeted employment area.
For an individual's investment to qualify, the investment must, under 2 years, create jobs for a minimum of 10 US citizens, not including the investor's partner or children,
Getting a USA investor's visa comes with a host of advantages including but not limited to;
No language skills required

No minimum education required

Also, 

No business or managerial experience required

Investment capital can be a gift, inheritance, business ownership or any other lawful activity.
The investor is under no obligation to live in the area of investment, that is, they have the opportunity to live, work and study anywhere and even benefit from lower tuition fees
There is also the inclusion of spouse and dependent children under the age of 21.
Criteria for the Investment Visa USA:
Investor must be at least 21 years of age.

Investor must show legal source of assets and funds.
The investor has 2 investment options, They could either invest in a regional centre or create a new enterprise.
Investment Visa UK 2023
The UK Tier 1 (investor) visa is a residence by investment program,
It allows wealthy non-european union investors who make a substantial financial investment in the UK's economy to live in the UK.
5 Criteria for Investment Uk Visa application
Investor must be over 18 years old

The Investor must have a minimum of £2,000,000 available to invest in the UK
Potential Investor must provide proof that the funds belongs to either the investor or the the investor's partner and that the funds was obtained through legal means.
The Investor should show that the money has been held for a minimum of 2 years prior to investment.
All Investors must show that the money is free to spend in the United Kingdom.
Validity
The UK Tier 1 visa (investor visa) is valid for a period of 3 years and 4 months and it could be renewed for another period of 2 years,
After 5 years of residence, the investor is eligible to apply for permanent residence,
To renew the investor's visa after the initial period, the individual must maintain the initial investment and that includes all investment conditions too.
Upon acquiring the visa, the individual is free, alongside his family, to live, work and study in the UK,
However, they may not be allowed to work as sport coaches, doctors, dentists etc except specific conditions are met.
It is important to note that with more funds, the foreign investor could have access to an accelerated route to permanent residence i.e, an investment of 5 million or more will provide for settlement after 3 years instead of 5,

Even better, an investment of 10 million or more will provide for settlement after 2 years.

The downside to this is that only the main applicant would have their permanent residency process fast tracked,
Spouses and children can only apply after the 5 year mandatory residence period.
Investment visa New Zealand 2023
There are 2 categories of investor visa for New Zealand; Investor 1 and Investor 2.
Investor 1 category visa
Investment of NZ $10,000,000 for 3 years.

There's No maximum age.
No English language requirement.
Investor must have stayed for a minimum of 88 days over 3 years.
No annual quota.
Investor 2 category visa – Investment visa New Zealand 
Investment of NZ $3,000,000 for 4 years.

Maximum age of 66 years.
There are specific English language requirements.
Investor must have stayed a minimum of 438 days over 4 years.
The maximum number of applicants annually is capped at 400 applicants.
Acceptable investments must not be for personal use but rather for the growth of New Zealand's economy,
Investments should be in bonds, equities, property or take other forms like philanthropic investment or angel funds or network investments.
MUST READ:
EB-5 Investment Visa 2023
Wikipedia.org explains an EB-5 visa (employment based fifth preference visa),
Created in 1990 by the immigration act of 1990, which provides a method for eligible immigrant investors to become lawful permanent residents (become a green card holder),
By investing substantial capital to finance a business in the United States that will employ full-time, at least 10 American workers.
This program requires applicants to invest between $900,000 and $1,800,000, depending on the location of the project.
So far, the first part of the article which contains information about;
Investment visa, The Investment visa Canada, Even Investment visa USA, the Investment visa New Zealand, Investment visa UK and EB-5 investment visa, 
Have been discussed and this brings us to the second and final part of the article where the following would be discussed
Best investment apps

Best investment apps for beginners
The Best Investment apps 2023
Below is a list of the best investment apps available for android and IOS;
TD Ameritrade:
Best for experienced investors, Comes with ability to trade OTC, options, futures and fired. Margin trading available. 
Fidelity spire:
Features fractional share investing, Low costs, Access to wide range of account types and investment.
Webull
Known as the Best investment apps for low cost trading.
Betterment
Robo advisor available, Provides professionally managed portfolios using a selection of ETF's and is calibrated against your own risk tolerance.
Fees: 0.25% of assets annually for digital service.
Wealthfront – Best Investment Apps
An independent robo-advisor, Helps manage your money for a small fee
Minimum balance: $500, Fees: 0.25% annually
Investr
Give users $5 when they open an account, Teaches about investing and Users get to play a fun fantasy game
Wealthbase
One of the best apps for beginners, it is User friendly. 
Acorns
It is very Easy to use, Minimum balance: $0 for savings. Fees: $1, $3 and $5 per month depending on the service tier.
Robinhood – Best Investment Apps
Allows you trade stocks, options, ETF's and cryptocurrency for free, the App is simple to navigate.
Stockpile
Allows you buy fractional shares of companies.
Binance.US
Best for cryptocurrency, Industry low trading costs and More than 40 cryptocurrencies available.
Top 8 Best investment apps for beginners in 2023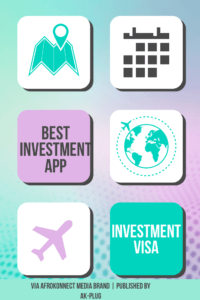 Robinhood

SoFi invest
Commission free trade

Automated investing
Fee-free active trading
3. Public.com
4. M1 Finance
5. Webull
Commission free trades

Best for self directed investor's and intermediate traders.
6. Stash
7. Vanguard
8. Acorns
The video below is about 10 countries that offer Citizenship by Investment;
This brings us to the end of this article about Investment Visa Canada, USA, New Zealand, UK, eb 5 Investment visa and the Best Investment Apps for Beginners via Afrokonnect,
In conclusion, we hope you found this article helpful and that you enjoyed reading it as much as we enjoyed writing it.