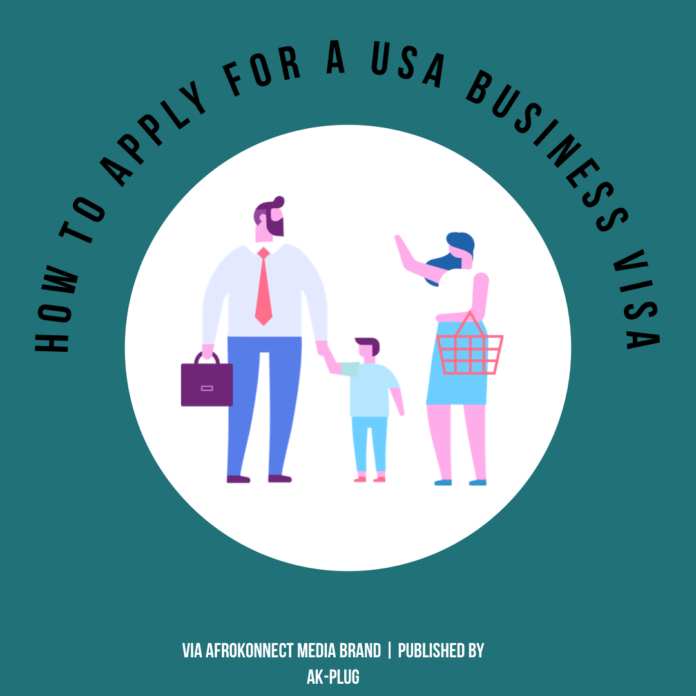 This article is about How to Apply for a USA Business Visa, the Requirements, Fees and different Types of America visas via Afrokonnect.
Before we proceed, it's only right for us to understand some key terms.
Definition of a Visa
A Visa (From the Latin word Charta visa which means "paper that has been seen') is a document which states the approval of the government to a foreigner to either enter, leave or remain within its territory.
In visas, limits on how long a foreigner is expected to stay for are included in it; Also included are:
Areas to enter

The dates they may enter
Number of permitted visits.
In most countries due to high rates of fake visas, they ensure that an Immigration Officer thoroughly inspects it to be sure they are genuine,
If they aren't genuine the foreigner is deported back to his/her home country.

Modern visas take the shape of a sticker on your passport or they take the electronic form.
However, there are certain instances where you may not need a visa before gaining access to another country due to the agreement signed between them.
For instance, Nigeria and Benin Republic, USA and Canada among others. 
Types of Visas
We have a lot of classifications of visas but we will just be mentioning 10 in this article and they are namely:
1. 
Private Visa
This kind of visa is granted to a foreigner who was invited by citizens of the visited country
2. Tourist Visa
It is given to those who just want to go sight-seeing in the visited country and just while away time there
3. 
Medical Visa
This is given to those who seek medical services in the visited country.
4. Business Visa – USA Business Visa
This visa is allocated to those who are engaging in commerce in the visited country.
You can check out Canada Business Visa Requirements and Types of Canadian Investment Visas.
5. Refugee Visa
This visa is for those who fled their respective countries due to war or a natural disaster.
6. Pilgrimage Visa
This visa is issued to mainly tourists who intend to visit religious destinations and partake in particular religious ceremonies.
7. Student Visa
It is for those who are studying in the country either primary, secondary or tertiary level.
Here are Top 10 Best Business Schools in USA for MBA & Undergraduate program, you can check that out if you're interested.
8. Work Visa
This is for foreigners who earn their living in the visited country and as a result they will be needing a work permit.
9. Residence Visa
This is granted to people who opt for a long stay in the visited country and most times it leads to gaining the citizenship of the visited country.
10. Asylum Visa
This is issued to those who face great persecution due to political activities or were exiled from their country.
Best Passports in the World – USA Business Visa
In this segment, we will be highlighting the 10 best Passports in the world right now and the number of countries they can enter without possessing a visa:
Japan and Singapore = 192 countries
Germany and South Korea = 190 countries
Finland, Italy, Luxembourg and Spain = 189 countries
Austria, Denmark, Netherlands, Sweden = 188 countries
France, Ireland, Portugal, United Kingdom = 187 countries
Belgium, New Zealand, Switzerland, Norway, United States = 186 countries
Czech Republic, Greece, Malta, Australia, Canada = 185 countries
Hungary = 183 countries
Lithuania, Slovakia, Poland = 182 countries
Estonia, Latvia, Slovenia = 181 countries
How to obtain a USA Business visa in 2023 – US B1
This type of visa can also be called B1 visa; In order to apply for a US Business visa, you need to follow these short and easy steps:
Complete Form DS-160.

Pay the required B1 visa fees.
Schedule your visa interview.
Prepare your visa documents.
Attend the interview.
1. Complete Form DS-160
The DS-160 Form is an online form for Nonimmigrants to apply for a business visa in the USA.

Before obtaining the visa, you will need to fill in some necessary information like:
Your Background Information

Purpose of visit
Contact details, Etc.
The form can be filled online through the consular electronic application center, or With the help of a visa processing assistant.
Applying for USA Business Visa 2023
2. Pay the required B1 visa fees
The application fee to obtain a USA business visa is $160 and this fee must be paid if you want to continue with your visa application.

Besides paying the application fee, you will also have to pay other fees like: visa issuance fees.
Also, make sure you save the receipts of the payments in order to attach it to your documents
3. Schedule your B1 visa interview
All visa applicants from age 14-79 must attend the interview which will be held at an US Embassy where you applied and it will be conducted by an official.
Make sure you schedule your interview on time because most US Embassies usually have high workloads,
Which means that when you schedule your interview on time it will help you to avoid the long wait and also complete your application process faster.
So, to schedule your interview; ensure you call the embassy and schedule the date that will be okay for you,
Then you will get your interview confirmation letter which you should take with you on the day of your interview.
How can I get business visa for USA in 2023?
4. Prepare your Visa Documents
According to VisaGuide your B1 visa application must contain some important documents which are:
The Form DS-160 confirmation page and code

Your valid passport
Details of your social media accounts
The interview confirmation page
A photo of you that complies with the US Visa photo requirements
A description letter which expatiates on the purpose of your trip
Financial or bank statements which proves that you have the finances to stay in the US
Ties to your home country such as family, job contract, lease, or property deed, which shows that you will return.
Criminal records from authorities that proves that you haven't been convicted before.
If you have visited US before, bring documents which points to your prior visits
For workers, bring a letter from your employer and your pay slips for the last 3 months
A letter from the company that states your purpose of your trip and your job position.
5. Attend the Interview
Now, after getting your required documents and scheduling a date for your interview;
On the day of your interview ensure that you go with the required documents and be prepared to answer questions from the interviewer.

Questions will come from places like: Your Background, purpose of visiting the US, kind of business you intend to partake in when you arrive at the US,
You need to specify also, if you intend to return or not.
Make sure you answer the questions specifically and in details.

After attending the interview, it can take a couple of weeks or a few months for your visa to be processed.
After your visa has been processes, you will be notified if you got the visa or not.
Types of Visas to enter USA legally in 2023
We have a lot of visas offered by the US to immigrants but we will just be mentioning 10 in this article:
1. A = This is offered to foreign government officials and diplomats.
2. A-2, NATO1-6 = This type of visa is offered to military personnel of a foreign country that are stationed in the US.
3. F-1 = This visa is offered to language and academic students.
4. M-1 = This type of visa is for vocational students.
5. I = This visa is specifically for journalists and information media representatives.
6. E-3 = This is for Australian professionals and specialty workers.
7. E-1 = This is for treaty traders.
8. B-1 = This visa is for Business visitors.
9. P = This type of Visa is for Entertainers, artists and athletes.
10. J-2 = This is for children under the age of 21, it can also be given to the spouse of J-1 holder.
USA Investor Visa: EB-5
This type of visa is called the EB-5 Visa and it ensures permanent US residency to people investing in government-approved projects across the United States of America.
Note: The main applicant must reside in the USA for at least 6 months per year.
After you have applied for the visa, it takes 18-24 months for it to be approved.
Companies in USA that sponsor Visas in 2023 (H-1B)
There are a lot of American based companies that offer H-1B visas to post graduate students but I will be listing only 10 companies and the number of slots they offer per year:
Amazon = 4774 visas per year

Infosys = 3512 visas per year
Tata Consultancy Services = 2409 visas per year
Cognizant Technology Solutions US = 2000 per year
Microsoft = 1790 visas per year
Google = 1682 visas per year
Capgemini = 1413 visas per year
HCL America = 1303 visas per year
IBM = 1284 visas per year
Facebook = 1184 visas per year
You can check out the top 10 Best Companies in the World and Most Valuable companies to work for.
FAQs – USA Business Visa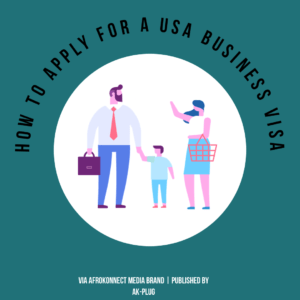 How to register a business in USA in 2023?
You will have to follow these highlighted steps below to successfully register a business in the USA:
Choose your business structure i.e., sole proprietorship, partnership, LLC.

Find a suitable location
Register your desired business name
Register with the IRS
You need to Register your business with state and local agencies
Apply your business for licenses and necessary permits.
We have written a comprehensive article about How to Start and Register a Business In Canada, I recommend you check it out.
You can also check out our post about complete Australian Visa Application Guide.
How to buy a business in USA from UK in 2023?
Follow the highlighted steps below:
Ensure that you organize your business as a legal entity

Register your business name with an LLC
Ensure that you get your federal tax ID from the US Internal Revenue Service
Register your business with your state revenue agency
Acquire the necessary licenses and permits to start your business
How to Apply for USA Business Visa: What to Avoid in 2023
This brings us to the end of this article about How to Apply for a USA Business Visa, the Requirements, Fees and different Types of America visas via Afrokonnect.