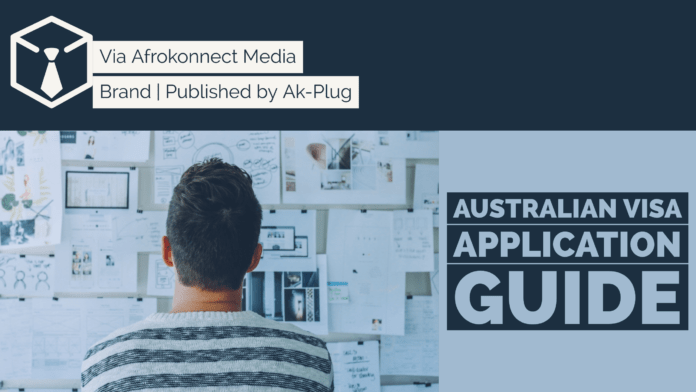 This article contains information about Australian Visa Application, Types of Visas, Fees and Requirements to get into Australia in 2023 via Afrokonnect.
We are going to start with introduction about Australian Visa, which will enable us explore the types of Visa accessible and the requirement involved.
An Australian visa is a permit that grants you the opportunity to travel to Australia for a limited period of time.
Australian visa is peculiar to the other types of visas like the Canadian visa and American Visa because it doesn't issue visa stamps or labels on your passport,
Instead, your visa privileges are recorded on an electronic database and upon arrival at Australia the immigration officer will check their database to confirm if you have a visa.
The authority that accesses and approves all visa applications to Australia is the Australian Department of Home Affairs.
Types of Australian Visas in 2023
Basically, we have 5 major types of Australian visas and they are:
1. Visitor Visas:
This type of visa is issued to short-term travelers who don't intend to settle there and they possess the following travel authorizations:
Tourist Visa (Subclass 600)
Electronic Travel Authority (Subclass 601)
eVisitor (Subclass 651)
Medical Treatment Visa (Subclass 602)
2. Study and training visas:
A study visa is a type of visa for international students, trainees as well as the guardians of underage international students and it includes the following travel authorizations:
Student Visa (Subclass 500)
Training Visa (Subclass 407)
Student Guardian Visa (Subclass 590)
3. Parent Visa:
This type of visa is issued to parents of Australian citizens, permanent residents or Eligible New Zealand citizens, and they are divided into the following types:
Parent Visa (Subclass 103)
Aged Parent Visa (Subclass 804)
Contributory Aged Parent Visa (Subclass 884 & Subclass 864)
The Contributory Parent Visa (Subclass 173)- Temporary
Contributory Parent Visa (Subclass 143)
4) Humanitarian Visas:
Australian humanitarian visa is issued to refugees from other countries who fulfill Australian protection obligations and they are divided into:
Refugee Visa (Subclass 200, 201, 203, and 204)
Global Special Humanitarian (Subclass 202)
Protection Visa (Subclass 866)
Temporary Protection Visa (Subclass 785)
Safe Haven Enterprise Visa (Subclass 790)
5. Work Visas:
The Australian work visa is granted to those who work in Australia legally. Depending on the type of work, They are divided into:
Global Talent Visa (Subclass 858)
Employer Nomination Scheme (Subclass 186)
Permanent Residence Visa (Subclass 191) – Skilled Regional
Regional Sponsored Migration Scheme (Subclass 187)
Skilled Employer- Sponsored Regional Visa (Subclass 494) – Provisional
Skilled Independent Visa (Subclass 189)
The Skilled Nominated Visa (Subclass 190)
Skilled Recognized- Graduate Visa (Subclass 476)
Skilled Regional Visa (Subclass 887)
The Skilled Work Regional Visa (Subclass 491) – Provisional
Temporary Activity Visa (Subclass 408)
We have a Temporary Graduate Visa (Subclass 485)
We have a Temporary Work Visa (Subclass 403) – International Relations
Temporary Work Visa (Subclass 400) – Short Stay Specialist
Temporary Skill Shortage Visa (Subclass 482)
Australia Entry Requirements – How to get an Australian Visa in 2023
Just like other European countries around the world, you cannot just pack your luggage and travel into the country,
You will need to have some important documents that will prove you are coming in legally and you are not going to become a threat to their economy and other citizens.
To obtain an Australian Visa, You must possess the following documents:
First of all, you must hold a valid passport (at least 6 months before the expiration date) when you apply for an Australian visa.
When you want to apply, submit copies of your colored and scanned passport pages as well.
Get your Australian Visa Application Form:
All Visa applicants have to get an Australian Visa Application Form. The form can be gotten either online or physically.
If you are getting the form online, Go to your Immi Account, download the form, fill it and submit.
And, if you are getting yours physically, then head to the Australian embassy in your country, get your form, fill it and submit it.
Your Identity Picture and Biometrics Collection:
The next thing is your application photo, which must have a white background and your entire face must be fully visible.
In some peculiar cases, you may need to submit your biometrics details along with your visa photo.
Note: The number of pictures may differ depending on the visa subclass that you applied for.
Yes, you also need your National identity card ready, for those who possess a national ID card, provide a scanned copy of it alongside some other documents.
If you possess multiple national ID cards then provide the ID card of the country you are residing in presently.
Note: Some visa types or your country of residence may not require you to provide a national identity card,
So, ensure that you check with the nearest Australian embassy if it is necessary.
Australian Visa Requirement in 2023
Certificate of Good Character:
You must provide a proof of your good character which means that you shouldn't have any criminal record.
This certificate will be used to measure if you fulfill the requirements of the Australian Immigration Office at the Department of Home Affairs.
You will need a family certificate during verification, you must show valid copies of documents like: birth certificate, marriage licenses, divorce papers, adoption papers (If you are adopted) etc.
You should also include certificate in the case where you may have changed your name legally.
Australian Visa Requirements in 2023
Evidence of Financial Means:
The Australian government doesn't want you to come and become a liability in their country, so to travel to Australia you have to prove that you can finance the trip on your own by providing documents such as:
Bank Statements
Pay Slips
Audited Accounts
Taxation Records
Credit Card limit
Evidence of support from family members (For student visas and family visas)

Payment of Visa Fee:
You cannot step this step because verification of payment on your visa application ensures that your application is reviewed.
You can pay the visa fee online through an ImmI Account or go to the nearest Australian embassy in your country to make your payment;
Payment of visa fees differs according to the type of visa that you are applying for.
Australian Visa Application guide: Fees and Requirements in 2023
Evidence of Temporary Stay:
Evidence has to be provided that once your visa expires you will leave Australian.
Documents that can be used to provide as an evidence includes: A valid work contract, real estate commitments and a letter from your employer.
Note: This is not a requirement for long-term visas or continuous work visas.
Detailed Itinerary – Australian Visa Application guide:
You must attach documents of all your travel agendas like dates of your visits, the places you plan to visit, proof of the tickets that you have purchased and how long you will be staying.
How to get Australian Permanent Resident Permit in 2023
Step 1: Find the Right Visa for you
Presently, we have over 40 Australian visas that allows you to work and live in Australia on a permanent basis:
1. Family-Based Permanent Residency:
Permanent visas are available for these various categories of people:
Partners
Fiancé (e)s
Children
Dependent Relatives
2. Work-Based Permanent Residency:
These various categories can obtain permanent residency and they include:
A) Employer Sponsored Workers:
When a foreign worker is employed by an Australian to work in the country.
B) General Skilled Migration:
These are for people who possesses skills which are valuable to Australia but aren't employed by an Australian national.
C) Skill Select:
These are given to people who possess certain skills which is useful to Australia.
D) Doctors and Nurses:
Permanent Residency is given to these set of people only on a need-only basis.
The Second Step (2): Check if you meet the Visa Requirements
The Australian department of Home Affairs (DHA) outlines the requirements for you to apply for permanent residency in Australia.
Make sure you fulfill all the visa requirements and then move to the next step.
How to obtain an Australian work permit in 2023
Third Step (3): Apply for an Australian Migrant Visa
After making sure that you fulfill all the visa requirements, ensure that you apply for the visa on the DHA website or go to the nearest embassy to pick up the form.
RECOMMENDED:
Fourth Step (4): Await the Decision
Depending on the type of visa that you applied for, you may have to wait for several weeks or months in order to get your visa approval or rejection.
How to get an Australian Visa in 2023
Fifth Step (5): Get your Visa
Once your Visa application is approved, you will receive a migrant visa which will enable you to live and work permanently in Australia, this entails that you may soon be eligible for citizenship.
The visa must be renewed every 5 years and as long as it is valid you will enjoy the following benefits:
Right to work
Right to apply for an Australian citizenship
The Right to public education
Right to sponsor relatives to Australia
And, Right to travel freely between New Zealand and Australia without a visa.
(FAQs)
What are the top 5 Visas to work in Australia in 2023?
Which visa allows one to work and study in Australia?
To work and study in Australia, you would need to apply for a Student Visa. It entitles a person to 40 hrs. per fortnight (Two weeks) during your studies, and full-time during your school breaks.
How to obtain an Australian Visa as an US citizen?
American citizens that are travelling to Australia are eligible to apply for an Electronic Travel Authorization (ETA) through Australia's Online Visa Website or physically through Australian airlines, Travel agents, and Australian visa officers.
To qualify for the Australian visa, you must:
Possess a valid passport which has an expiration date from the date of arrival in Australia
Be free from any disease that may be a health risk to other Australian citizens
Must have a clean criminal record
How to travel from Australia to the USA in 2023?
Here are the documents required to get a USA visa from Australia:
An online non-immigrant DS-160 application form
A valid passport
One photograph
A receipt which confirms that you have paid for the non-immigrant US Visa application
Social Media details
Conclusion
While we have so many types of Australian Visas, in this article we tried to list and explain the most popular and easiest visas to Australia,
Before your move it is imperative you know the Cost of living in Australia, especially in cities like Sydney, Melbourne, Brisbane, Canberra and Perth.
Make sure you consider the type of visa you need and what fits into your qualifications first, before you apply for any visa.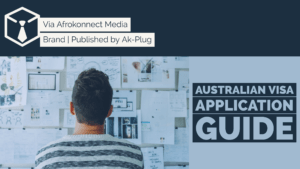 This brings us to the end of this article about Australian Visa Application, Types of Visas, Fees and Requirements to get into Australia via Afrokonnect.