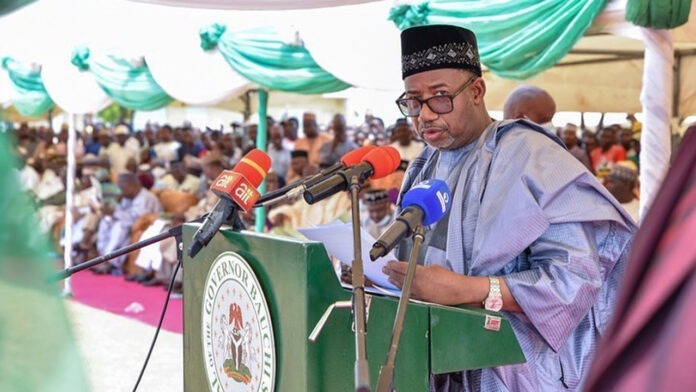 Welcome to this publication about Governor Bala Abdulkadir Mohammed Biography, Net worth in 2023 and Political journey via Afrokonnect.
In this article we will be revealing interesting and motivating information about the former Minister of Federal Capital Territory and the former lawmaker that represented the Bauchi South Senatorial District.
Bala Mohammed is a well respected Nigerian politician who is also a Presidential aspirant in the country, he is also the 16th Governor of Bauchi State.
Governor Bala Abdulkadir Mohammed Biography, Net Worth in 2023 and Political Journey
Bala Abdulkadir Mohammed is the full legal name though he is popularly known as Bala A. Mohammed or just JAM.
He was Born on October 5th in 1958 and he is a native of Duguri Town in Alkaleri Local Government Area of Bauchi State.
While growing up Bala Mohammed started his basic primary education in his hometown in Bauchi state from 1965 to 1971,
Precisely, he attended the famous Duguri Primary School, before he went on to secure his WASSCE from Government Secondary School in 1976.
After securing his WASSCE, Bala Mohammed proceeded to obtained an Advanced Level Certificate from the North-East College of Art and Science in 1979,
By 1982 he has already bagged his B.A degree in English at the prestigious University of Maiduguri.
Political Career
After his education he decided to start a career in Journalism.
From 1982 down to 1984 Bala Mohammed worked as an Editor for The Democrat, a Kaduna State based Newspaper.
During that same period he shuffled along with  the Mirage Newspaper in Jos.
By the end of 1984 Bala Mohammed decided to quit journalism,
He started a new career in the civil service where he worked as an Administrative Officer at the Federal Ministry of Internal Affairs.
He served with the Nigerian Civil Service up until 1994 before he was redeployed as a Principal Administrative Officer in the Cabinet Secretariat of the Presidency.
Bala Mohammed has a track record of transparency and accountability which contributed to his rise in the civil service,
He held several administrative leadership position including the Chief Supplies Officer at the Federal Ministry of Solid Minerals from 1995- 1997.
In the same year he became the Assistant Director at the Federal Ministry of Power and Steel before he got promoted to Deputy Director/Special Assistant to the Honorable Minister at the Federal Ministry of Transport, where he served from 1999 to 2003.
That is not all, Bala Mohammed also served as the Director of Administration at the Nigerian Railway Corporations in 2003,
He worked with the cooperation and also held the position of Special Assistant to the Honorable  Minister of Aviation.

In 2005 BAM became the Director of Administration and Supplies at the Nigerian Meteorological Agency,
Before he finally resigned as  as a civil servant and decided to join politics.
Governor Bala Abdulkadir Mohammed Biography, Net Worth in 2023 and Political Journey
Political Career
After working for several years and holding multiple crucial positions in the civil service,
Bala Mohammed has always wanted to give back to the people so he joined politics to achieve his long time passion.
In 2007 Bala Mohammed declared his intentions and he got massive support when he picked up the nomination to be elected as the Senator,
He declared his intention to represent Bauchi South Senatorial District under the platform of the All-Nigerian People's Party (ANPP).
To further prove the love and support from his people Bala Abdulkadir contested and won on his first attempt,
He went on to serve the people of Bauchi South Senatorial zone from 2007-2010.
During his time at the Senate Chamber, he became one of the most outspoken legislators.
Most notably, his excellency Mr Bala Abdulkadir Mohammed is recognised and remembered for his role in the execution of the 'Doctrine of Necessity'.
The same bill that lead to emergence of the then Vice President Goodluck Jonathan as Acting President.
Bala Abdulkadir Mohammed Biography, Net Worth in 2023 and Political Journey
Senator Bala Abdulkadir Mohammed also served as an FCT Minister in 2010 and he had so much impact during his time,
For instance, one of his reforms addressed the issues facing waste management in FCT,
He was responsible for installation of solar panel traffic lights, expansion of major road networks within the FCT and he completed the Usama Dam Water project,
Which in turn addressed the lack of portable water within the FCT and its environs.
Other projects credited to his portfolio includes the employment opportunities he created such as, the FCT Internal Revenue Board, the Outdoor Advertising (Signage) Agency and the FCTA Emergency Services.
The biggest breakthrough in his political career came in 2019 when his Excellency Bala Mohammed got elected as the governor of Bauchi State under the Peoples Democratic Party (PDP).
His administration has streamlined government processes and protocols in recovering lost stolen government properties and funds,
While at the same time getting rid of ghost workers within the Bauchi State Civil Service.
Governor Bala A. Mohammed has done a lot for the betterment of Bauchi State,
He has transformed and revamped Bauchi state, thereby attracting investors and foreign direct investments.
Almost every sector was improved through his giant strides and rolling plan policies, especially in education and health sectors.

For example, most Primary health centers in Bauchi were either renovated or have been built and equipped with drugs at subsidized rates.
He also reconstructed several Local Government Councils Secretariats and over 4,000 schools were built to ensure the average citizens have access to affordable and top notch education.
Presidential Intentions
After proving he is the man for the job with backing facts, in early 2022 Governor Bala Mohammed declared his intention to run for Presidency under the imprint of PDP.
The segregation in Nigeria is visible to the blind and audible to the deaf, BAM is Charged with the mandate to bring about Unity in Nigeria.

His major priority is to put Nigeria and Nigerians first in a knowledge-driven administration, void of bias and division, where all tribes are recognized.
There's no doubt that his government would focus on giving equal opportunities to people with knowledge on how to re-invent the country irrespective of cultural and religious affiliation because he has done it before.
Bala Abdulkadir Mohammed Net Worth in 2023 – Bauchi State Governor
During his time as the Bauchi State Governor, BAM has proven that he is a wealth creator and a multiplier,
His empowerment program called the Kaura Economic and Empowerment programme (KEEP) was one of the most successful programs in Bauchi's history.
The program was targeted as empowering the youth and women by providing soft loans for traders and artisans of the state.
At the moment Bala Abdulkadir Mohammed is said to have an estimated Net worth of $5.8 million.
RECOMMENDED:
Profile Summary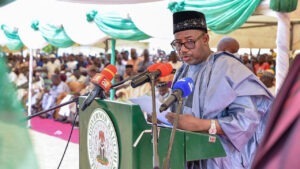 | | |
| --- | --- |
| Real Name | Bala Abdulkadir Mohammed |
| Date of Birth | 15th October 1958 |
| State of Origin | Bauchi State |
| Nationality | Nigerian |
| Religion | Muslim |
| Wife | Hajiya Aisha Bala Mohammed |
| Occupation | Politician, Businessman |
| Net worth | $5.8 million |

This brings us to the end of this publication about Governor Bala Abdulkadir Mohammed Biography, Net worth and Political journey via Afrokonnect.
Let us know what you think via the comment section.