Complete step by step guide of how to apply for any UAE Dubai Visa: requirements, time frame, visa fees, types of visa i.e Dubai Golden visa, Student visa and everything you need to know about traveling to Dubai.
If you want to travel to Dubai anytime soon and you don't know the steps or the right visa to apply for then you're in the right article.
You might be wondering what is so special about Dubai,
Well, Dubai is currently one of the most sought-after Asia's destinations,
It offers scenic views and thrilling experiences that are vastly different from the rest of Asia's exotic nature.
A lot of people love to travel to Dubai for different reasons,
Many people visit Dubai for tourism sake, others for vacation, business purposes and some for academic reasons.
Whatever your reason might be for traveling to Dubai you will find the requirements, cost and more information about;
Dubai Tourist visa, travel Requirements, online visa, visa cost and fees, Dubai Golden Visa, Dubai student visa, visa application form, Dubai entry visa and lots more.
So without further ado let's begin this article already.
How To Apply for a Dubai/UAE Visa in 2023 (Tourist, Student, Freelance)
1. Financial Sponsorship and Funding
This is literally one of the most important stages when applying for a Dubai visa,
One of the reasons is because traveling to Dubai definitely involves money and you need to put that into consideration.
You can choose to sponsor yourself or look for a sponsor which can be a relative, friend, Airlines, Travel agency, Hotel or your government,
But you need to remember that before you start applying for a Dubai Visa, you need a sponsor or source of funding,
Without a sponsor there's no guarantee you'll get a dubai visa or your applications might not be processed.
Etihad and Emirates are the major airlines you should consider while seeking for Sponsorship,
For Travel Agencies, you can only apply under agencies based in Dubai,
We recommend Drift Travels and Tours based in Dubai (+971552776538).
2. Figure out what kind of UAE Visa you need
After you sorted out sponsorship and funding you need to decide on which UAE/Dubai visa you'll be needing,
The type of visa you secure will determine your entry and what you can do while in Dubai,
It also has a significant impact on your stay duration in Dubai.
There are several types of Dubai visas to choose from including:
Dubai Golden Visa

Dubai student visa

The Dubai transit visa or Dubai Tourist visa

Freelance visa

Dubai express visa

Dubai work visa

The Dubai business visa etc
In the latter part of this article we will be elaborating on some of the major types of dubai visa,
In the meantime, let's continue with the steps in securing your next Dubai visa.
3. Required Documents
Dubai is not a country you'll just book a flight to,
You need some important documents to be able to secure a visa to Dubai.
Haven decided the best type of visa to Dubai that fits into your need, it's time to source out for the required documentation,
Fortunately, unlike countries like the UK, Canada and USA where a whole lot of documents are required before you get a visa,
When applying for a Dubai visa there aren't too much required documents.
However, depending on who your sponsor is, more requirements may be asked of you for verification sake,
For instance, if say Emirates or Etihad Airways will sponsor your visa, you will be required to present your flight details along with the rest of your application.
More so, the basic important documents mostly required while applying for UAE / Dubai Visa according to visitdubai are;
Scanned copy of your passport
While scanning your Passport bio remember to scan page 2 and the last page as well,
You need to make sure Passport is valid for 6 more months from the date of intended travel,
Also, Make sure that your travelers signature is indicated at the back.
This should be valid means of Identification issued by the government of your country,
A Colored passport-sized photo with white background is also needed when applying for UAE or Dubai visa,
Make sure you indicate your name at the back then scan as well.
Accomplished application form
Note that your Dubai visa application form might be different from other depending on who your sponsor may be,
So no need for panic when you see different Dubai visa application forms online,
Just to emphasize on the first point, make sure to get a sponsor before proceeding with the rest of your application,
Another reason is because, some parts of your Dubai application form must be filled and signed by your sponsor.
Like previously mentioned, the format for the applications forms per sponsor may differ.
As you might have known, you need to pay for your visa and processing fee,
Again, depending on the sponsor you've chosen, the visa fee will vary,
You may check the websites of various hotels in Dubai, airlines and travel agencies to compare prices.
Dubai Visa Cost and Fees 
On a general scale you can find the range of different types of Dubai visa fees and cost below;
Types of Dubai Visa

Fees

96-hour visa

$ 38.10
$ 59.75 (Express Visa Fees)

14 days Single entry short-term visa

$ 76.06
$ 97.72 (Express Visa Fees)

30 days Single entry short-term visa

$ 76.06
$ 97.72
(Express Visa Fees)

90 days visit visa

$ 188.48

Multi entry long-term visa

$ 458.51

Multi entry short-term visa

$ 181.53

SEE ALSO:
Kindly take Note that visa fees are non-refundable under any circumstances.
Dubai travel Requirements in 2023
4. Prepare the supporting documents for your UAE Visa
If you are traveling to Dubai as a tourist you should Note that sponsors often ask for certain documents to process your application,
Normally, the documents sponsors require includes the following, so get them ready;
It's only natural for any airline sponsor to ask you for a booking under their airline,
Given the fact that they'll also help you in processing your visa.
Accommodation/Hotel bookings
Hotel sponsors will typically ask you for a booking under their accommodation so make sure you don't complicate your reservation.
 Work Contract
 NSO Birth Certificate
If you're traveling with minors Birth certificates is usually a top priority.
Original Bank Certificate
Copy of ITR (Income Tax Return)
Submit application
Haven gotten all your Dubai travel Requirements in check the next thing to do is submit them,
Send the required documents to your sponsor to take care of the rest of your application, and all you have to do now is wait.
Dubai Visa Processing Time
The Dubai visa processing time doesn't take too much time like other European countries,
Without any issues normally Processing time for UAE visa takes around 3-4 working days from the date of submission,
Also note that it excludes Friday, Saturday and any UAE holiday.
Dubai Golden Visa Application and Requirements in 2023
For readers that are thinking about applying for the Golden Visa in Dubai, UAE this section is made for you,
Incase you don't know what the Dubai Golden visa means, in this section you will learn about the requirements and who qualifies for the Visa.
Long story short, in 2019 the United Arab Emirates known as the UAE implemented a residential visa system that allows foreign business owners to work, live and study in the UAE without the need for a national sponsor,
What this means is that Business owners entering UAE using the Golden Visa will be allowed to work and own 100% of their business and profits.
However, the Dubai Golden visa is not for everyone,
That is why the UAE government has set a criteria for eligibility,
Mostly, the beneficiaries of this system are professionals i.e entrepreneurs, investors, students, scientists, medical practitioners etc.
If you fall under any of the categories above you can apply for the Golden visa to to live, work, conduct business, and study in the Emirates without the need for a local sponsor,
But how do you apply for the golden visa?, let's move.
How to Apply for Dubai Golden Visa in 2023
The world is already a global village and Dubai is among the pioneers of several technological advancements,
Fortunately, you can apply for the UAE Golden visa online through the FAIC (Federal Authority for Identity and Citizenship), the ICA,
Or you can even apply for the Golden visa through the General Directorate of Residency and Foreign Affairs (GDRFA).
You can follow the steps below to apply for your UAE Golden visa;
The first thing you need to do when you want to apply for Golden visa is to apply for a nomination in a particular field,
Let's assume you are applying under the student category,
Your application will be processed, reviewed and approved by an authorized governmental authority within 30 days if you're qualified.
After this period, you will receive an email detailing their decision.
Haven applied for nomination, if your nomination was approved, you will be emailed a link to submit all the appropriate documentation for your visa and complete the process.
The third stage is to submit the documents requested,
After submitting your documents, your application will be processed and verified by the FAIC.
If you qualify for the system, you'll receive your Golden Visa to start enjoying all the benefits that comes with it,
Like freedom to take up residence, start your new business, or choose your institution of study.
Required Documents for Dubai Golden Visa
The required documents and paperwork to complete your UAE golden visa application includes;
Passport copy – featuring passport-sized photo

Bank statements from the past six months

Any additional documentation related to your or your business purpose,

Copy of Partnership Contract

The ID's of any additional partners or investors

Memorandum of Association

Proof of accreditation from a relevant UAE authority for those with specialized talents

Proof of patent for investors
The Cost of Applying for a Golden Visa in 2023
The 5-year UAE golden visa will cost you AED 650,
Note: AED 150 surcharge for the application and the remaining AED 500 for issuance = AED 650,
The 10-year application is in similar fashion, AED 1,150.
MUST READ:
Dubai Student Visa – Requirements
There are a lot of amazing Universities in Dubai you can choose to study, their standard of education cannot be overemphasized,
However, you still need to pass the requirements to gain admission into any of those colleges and universities.
In an event that you were able to secure admission into any university in Dubai,
It is important for you to note that all foreign students require a Study Visa to study in Dubai if you do not belong to any of the 5 GCC countries, i.e., Bahrain, Kuwait, Oman, Qatar, Saudi Arabia.
To receive the student visa all applying students must complete the screening process,
The following are 10 documents required to apply for Dubai Student Visa:
A valid passport.

Four Passport copies.

Recent twelve passport-sized photographs with white background.

Admission Offer Letter received from UAE university.

Students Bank statement for the verification of funds.

A tenancy agreement.

Copy of tuition fee receipt for the current year of the study program.

Copy of visa fee receipt for the current year of the study program

Post-graduate students need to show proof of their undergraduate degree

Medical check up from an authorized medical center UAE after arrival.
Freelance Visa for Dubai in 2023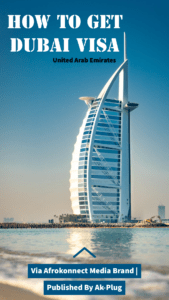 The Freelance visa is a UAE residency visa which allows you to live in the country,
This type of visa allows you to travel to Dubai even without a company or sponsor, more like a self visa in UAE.
Dubai Freelance visa is issued based on a freelance permit – a work permit for a freelancer,
Only specific authorities are licensed to grant the work permit in UAE, mainly free zones.
The freelancervisa looks like a normal UAE residency visa – a pink stamp in the passport, valid for 2 to 3 years.
How much is the cheapest Dubai freelance visa?
When you're applying for the freelance Dubai visa you'll need to pay some fees,
Basically you'll pay for the freelance permit cost and the actual visa fees.
The cheapest Dubai freelance permit currently cost 7,500 AED,
Freelance visa under this permit is 2,000 AED for Establishment card, and 5,000 AED for the resident visa.
BENEFITS OF UAE FREELANCE PERMIT
After securing the Freelance visa you will enjoy some benefits including;
Resident Permit – Getting UAE residency

Right to Operate a business – Doing your professional activity legally

Getting UAE bank account easily
FAQ
If you're a Nigerian planning to relocate to Dubai or you just want to visit the UAE then I recommend you watch the video below;
Can I apply Dubai visa online in 2023?
Interestingly, Yes, you can apply for Dubai visa online,
UAE Visa or Dubai Online visa is another easy way to secure a travel visa into Dubai,
The good thing is everything can be done online from the comfort of your home.
There are two different ways to apply for Dubai Visa online which are;
OTA (Online Travel Agency)

Dubai Visa Processing Centre (DVPC)
According to Emirates, in an instance where you are travelling to or stopping over in Dubai with Emirates,
You can submit an application and receive your UAE visa entirely online.
The sweetest part of it all is you can do this without having to submit your passport for stamping.
Also, after booking any Emirates flight you can apply for Dubai visa Online through their "Manage your booking" feature, VFS processing fees apply.
Everything can be done online via emirates.com.
Important Tips to Note while Applying for a Dubai Visa:
Double check all your Documents before submitting

Research online for new updates

Provide only Original documents not forged documents
What are the popular types of visa to UAE, Dubai?
The visit Visa can be sponsored by your relatives or friends residing in the UAE already,
And, with this visa you can stay in Dubai for as long as 30 days to 90 days.
Tourist can stay in UAE for a maximum of 30 days, under sponsorship from UAE airlines, hotels and travel agencies,
If you're a tourist or you're planning to visit Dubai for Tourism then you can apply for this type of visa.
With the Transit visa you can stay in Dubai for 96 hours to 14 days from the date of issuance,
With this type of visa travelers must leave the UAE within 96 hours of arrival or 14 days after the visa has been issues.
This type of visa allows you to study in Dubai for a specific period,
After your education you are expected to go back to your host country, if you wan to continue staying in UAE you'll need to apply for another type of visa.
Congratulations you've made it to the end of this article about the Complete step by step guide of how to apply for any UAE Dubai Visa: requirements, time frame, visa fees, types of visa and everything you need to know about traveling to Dubai.
Enjoy Dubai!