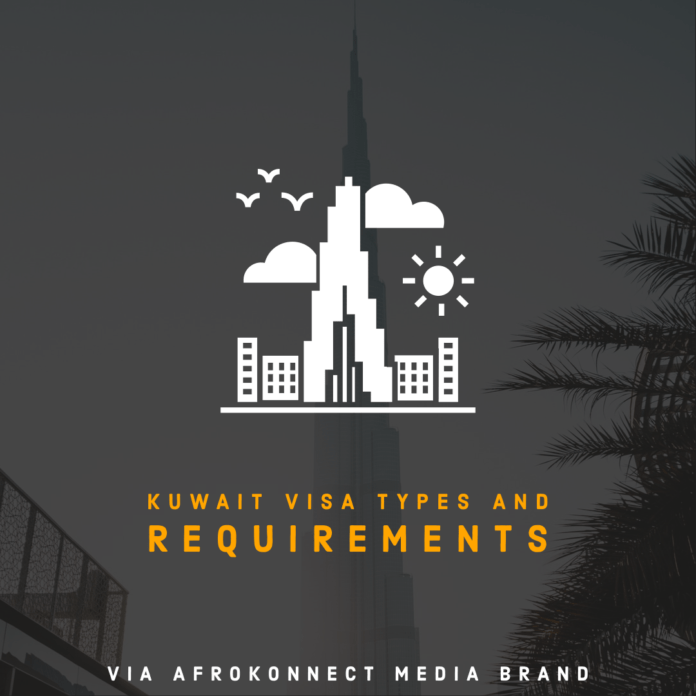 This page contains information about Kuwait Visa types, eVisa Requirements and applications guides for Nigerians and everyone traveling to Kuwait.
Here is a guide that will perhaps assist you in making the most of your time in the "Hollywood of the Gulf."
If you wish to enter the country of Kuwait, you will be required to have a visa.
Just like when you want to enter any other country like Canada, USA, Australia, etc.
This is the case regardless of whether you intend to enter the country for the purpose of studying there, starting a business,
Or even traveling to tourist landmarks such as the Grand Mosque.
The visa comes with a variety of different conditions and instructions,
We have compiled a full list of them for you right here so read on.
KUWAIT VISA TYPES AND THEIR REQUIREMENTS FOR NIGERIANS
KUWAIT E-VISA
Travelers of a variety of nationalities can obtain a visa for the state of Kuwait in the form of an electronic visa (eVisa).
You won't have to go through the hassle of filling out lengthy paperwork and submitting an excessive number of papers if you apply for this type of visa.
You also won't have to wait an excessive amount of time to get feedback on your submission.
The eVisa for Kuwait is unfortunately not currently accessible to citizens of Nigeria at this time.
The holder of a Kuwait eVisa is only permitted one entry into the nation during the validity duration of their visa, which is for a period of ninety days.
Visitor must respond to a series of questions and submit certain fundamental information,
Such as their contact information and passport number in order to receive this visa.
The tourist will not be required to make an appointment at a Kuwaiti embassy in order to acquire the visa,
Nor will it take more than a few minutes for them to finish filling out the necessary forms for the visa.
The electronic visa for Kuwait can take up to three business days to process,
After it has been accepted, it will be provided to the visitor by email.
Below is a list of countries allowed to use the Kuwait e-Visa system:
| | | |
| --- | --- | --- |
| | | |
| ANDORRA | AUSTRALIA | AUSTRIA |
| BELGIUM | BHUTAN | BRUNEI |
| BULGARIA | CAMBODIA | CANADA |
| CROATIA | CYPRUS | CZECH |
| DENMARK | ESTONIA | FINLAND |
| FRANCE | GEORGIA | GERMANY |
| GREECE | HUNGARY | ICELAND |
| IRELAND | ITALY | JAPAN |
| LAOS | LATVIA | LIECHTENSTEIN |
| LITHUANIA | LUXEMBOURG | MALAYSIA |
| MALTA | MONACO | NETHERLANDS |
| NEW ZEALAND | NORWAY | POLAND |
| PORTUGAL | ROMANIA | SAN MARINO |
| SERBIA | SINGAPORE | SLOVAKIA |
| SLOVENIA | SOUTH KOREA | SPAIN |
| SWEDEN | SWITZERLAND | The People's Republic of China – HONGKONG |
| TURKEY | UKRAINE | UNITED KINGDOM |
| UNITED STATES | VATICAN | |
Is your country among eligible for the eVisa system listed above?,
Continue reading to discover other types of Kuwait visas.
KUWAIT VISIT VISA
Only a Kuwaiti firm or a relative of a non-Kuwaiti citizen who is legally permitted to live and work in Kuwait can sponsor an individual for this type of visa.
In order for the applicant to be granted permission to remain in Kuwait,
His/her visa application and passport will need to be stamped.
The process of obtaining a visit visa for Kuwait should take no more than two working days;
However, the approval process for visit visas for business could take up to seven working days.
Kuwait Visit Visa For Business – Requirements For Nigerians
To be eligible for a business visit visa to Kuwait, you need to have a Kuwaiti sponsor or company.
Application for a Kuwait visit visa and a security form, both of which must be filled out and signed by the sponsor and a copy of your Nigerian passport
A duplicate of the sponsor's signature that has been registered for official business use
A reproduction of the letter of invitation to the company that was written by the sponsor.
This is where the reason of the visit should be stated.
VISIT VISA FOR RELATIVES
If you have immediate family members and other relatives who live in other countries but wish to visit you in Kuwait,
They will not be required to meet any criterion;
Nonetheless, they will be required to present confirmation of their relationship with you.
Generally speaking, they will be required to hand over the following documents:
Observable evidence of a connection
A copy of the travel document from Nigeria
A photocopy of the civil identification document for each member of the family or individual who resides in Kuwait
Certificate of most recent compensation (if it is a foreign sponsor)
KUWAIT MULTIPLE ENTRY VISIT VISA
You are permitted to enter Kuwait an unlimited number of times within a single calendar year if you have a multiple entry visa.
Foreign nationals who are sponsored by businesses typically receive approval for this category of visa.
KUWAIT RESIDENCE VISA
If you plan on making Kuwait your permanent home, you will be required to get a visa known as an iqama.
Work visas, dependent visas, and domestic visas are the three primary categories of residence visas that are made available to non-Kuwaiti citizens by the Kuwaiti government.
The approval of a sponsor is necessary for each of them.
If the expatriate has been living in Kuwait for an extended period of time and maintains substantial sources of income,
Then he is eligible to sponsor his own residency visa.
FAMILY VISA OR DEPENDENT VISA
You are eligible to apply for this kind of Kuwait visa if you already have a job in Kuwait,
And you want to bring your spouse or any children with you to reside there permanently.
In order for you to be accepted, it is necessary for you to make at least the appropriate amount of money.
If you live in Kuwait with your wife and you want to bring your children with you,
You will need to have an income that is at least as high as the minimal criteria.
However, a wife is not permitted to sponsor her husband, nor can parents sponsor their sons who are beyond the age of 21.
It is imperative that the family members obtain work visas before they attempt to find employment in Kuwait.
To obtain a dependant visa for a member of your family,
You will need to submit an application form written in Arabic and the following documents:
Copy of the dependent's Nigerian passport and a copy of his civil identification document
Your employment verification document
Certificate of birth or marriage that has been validated by the embassy of the sponsor's nation in the individual's country of origin.
At the time of the dependent's entry into the country,
They will be required to submit to a medical examination as well as present their biometric details.
KUWAIT WORK VISA
Employees in the public and commercial sectors who are interested in finding work in the country can apply for work visas.
Accepting a job offer is the first step in the process of obtaining this category of visa.
A work visa must be applied for and received from the Ministry of Social Affairs and Labour by an employer sponsor in Kuwait.
The provision of the employee's passport and the receipt of a certificate of no objection from the General Administration of Criminal Investigation,
Within the Ministry of Interior are both necessary steps in the application process for this type of visa.
It is the responsibility of the company to provide the worker with a copy of the work permit,
It is the permit that they may then provide to the Kuwaiti embassy when applying.
RECOMMENDED:
DOMESTIC SERVANTS VISA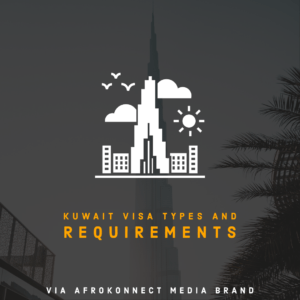 The full-time domestic workers of resident expatriates who are brought in from other countries are eligible to apply for domestic worker visas.
This category of visa requires complete sponsorship from the resident.
It's possible that you have a wife who lives with you, if you're a male sponsor looking to hire a female servant.
The age requirement for household staff ranges from 20 to 50 years old.
A photocopy of the lease for the residence is required.
Passports of the sponsor and the sponsor's wife, photocopied.
Proof of the children's ages must be provided in the form of a birth certificate or passport.
A photocopy of the sponsor's and his wife's civil identification is also required.
TRANSIT VISA
The consulate that is affiliated with the port authority in Kuwait is the place to go to get the Kuwait transit visa.
If your application is successful, you will have seven days to put the visa to use before it becomes invalid and you will need to start the process over again.
Additionally, an online application can be submitted for this category of visa.
You will be required to fill out the visa application in its entirety,
Including providing details on your personal information, travel document, and passport.
The visa can only be used for a period of ninety days.
Kuwait Visa Types, eVisa Requirements and Applications Guide
The video below contents everything you need to know before applying for any type of Kuwait visa;
If at anytime you feel Kuwait is not for you then you should consider other options like getting a Dubai Visa or even the Singapore visa.
This brings us to the end of this publication, don't forget to share.