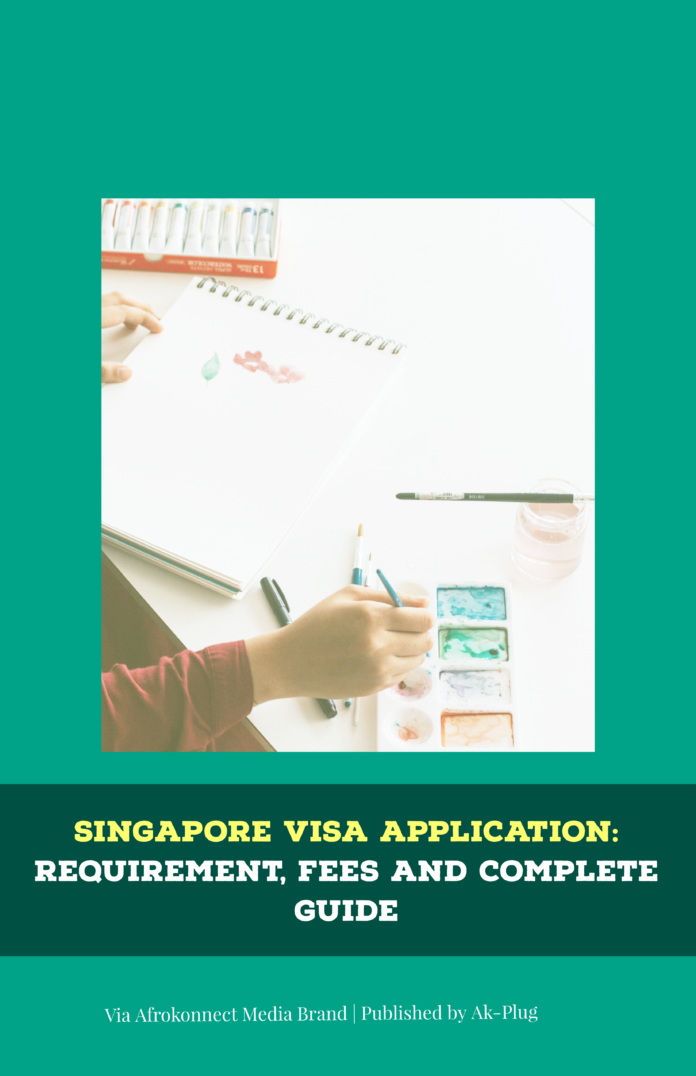 Welcome to this article about Singapore Visa Application process, the Requirements involved and Fees that comes with it via Afrokonnect.
The holder of a Singapore visa is granted permission to enter a point of entry in Singapore,
Where they will be subject to inspection by personnel from the Immigration and Checkpoints Authority (ICA).
The decision as to whether or not the visitor satisfies the criteria for entry into the nation is made by the ICA.
You have to submit your visa application for Singapore at least 30 days before you are scheduled to arrive in the country.
However, it is important to remember that the Singapore visa is only a permission to enter the country before you arrive,
It is not a guarantee that you will be granted admission,
If you are able to demonstrate that you satisfy the prerequisites for admission,
You will be granted a pass that enables you to enter Singapore and remain there for the period of time that the pass is valid.
For instance, if you apply for a tourist visa in Singapore,
You will be granted a Visit Pass, which is typically valid for a maximum of 30 days within a period of 90 days.
Singapore Visa Application and Requirements
The vast majority of nations in the globe don't require visitors to obtain a visa in order to enter Singapore.
The application process has been streamlined for those people who are required to have visas,
Since Singapore adopted the use of the e-Visa, the application process can now be completed online at any time.
Two groups have been established for the nations whose nationals are required to have a visa to enter Singapore.
The nations that fall under Assessment Level I (1) and those that fall under Assessment Level II (2),
Application procedure and amount of time necessary to process visas is determined by the level that your country is now in.
How Should an Application for a Singapore Visa Be Submitted?
Both assessment levels countries above are eligible to submit an application to Singapore for one of the following positions:
ICA's e-Service can be accessed either online, through a local Singaporean contact, or through a strategic partner.
Applicants are responsible for gathering the required documents and filling out the visa application form on their own,
Though you can't submit an application for a Singapore visa on your own.
You will need to search for an authorized visa agent, strategic partner, or local contact in Singapore,
In order to have someone else submit your application for a Singapore visa on your behalf.
Singapore Visa Application and Requirements
Travel companies that the Singaporean government has designated as "approved visa agents",
As well as "strategic partners" are permitted to submit visa applications on behalf of their customers.
They have the ability to submit an application on your behalf via the SAVE (Submission of Application for Visa Electronically) system,
Which can be found on the website of the Immigration and Checkpoints Authority (ICA).
If you need help locating a Singaporean diplomatic mission near you,
The best place to start is through the Singaporean Embassy Locator.
Singapore SingPass
You can apply for a SingPass through a local contact.
If you know someone in Singapore who is a citizen or permanent resident, they can sign up for the service on your behalf,
Kindly note that there is a minimum age requirement of 21 years for them to be eligible.
If you want to apply through a Singaporean diplomatic post,
You will need to get in touch with that mission in order to find out more about the requirements they have and the application method they use.
You will also be required to pay a charge for the processing of your Singapore visa.
Required Documents when applying for a Singapore Visa
Gather the necessary papers and information before you start applying for the Singapore visa.
You will be questioned about your personal information, marital status, where you will be staying in Singapore, your address in your home country,
The reason for your visit, how long you intend to stay, the purpose of your visit, and other similar topics.
The following must be fulfilled before applying for a visa to enter Singapore,
You are the only person authorized to sign this document.
Your passport/travel document.
It must have a validity that extends beyond the expiration date of your visa by at least six months.
A photocopy of the biographical data page from your passport
A photocopy of the itinerary or the purchased plane ticket is required
Photo of yourself in the appropriate size for a passport
Attaching a signed copy of this document to your application requires your local contact or strategic partner to provide their signature.
You will pay the Singapore visa processing cost with the card, the card can either be a Visa or MasterCard.
Immunization against yellow fever (If applicable).
You will need to present an International Certificate of Vaccination for Yellow Fever to the ICA officers at the entry point in Singapore,
If you have visited any of the countries listed in the table below within the previous six days prior to your trip to Singapore.
List of nations that have to provide evidence that their citizens have been vaccinated against yellow fever
Angola
Central African Republic
Ethiopia
Kenya
Sierra Leone
Argentina
Chad
French Guiana Liberia
Sudan (Southern)
Benin
Congo
Guyana
Mali
Sudan
Burkina Faso
Cote d'ivoire
Gabon
Mauritania
Suriname
Burundi
Colombia
Gambia
Niger
Trinidad and Tobago
The Democratic Republic of the Congo and Cameroon
Ghana
Nigeria
Togo
Bolivia
Ecuador
Guinea
Peru
Uganda
Brazil
Equatorial Guinea
Guinea-Bissau
Senegal
The processing of your Singapore visa will typically take about one day, if you are coming from a country that is assessed as a Level I risk.
If you are coming from a country that has been given an Assessment Level II,
Then the processing of your visa will take no more than three days.
In either scenario, the processing of particular applications can take longer than usual.
After you have obtained your visa, the next step is to go to Singapore,
Where the officers of the Immigration and Checkpoints Authority (ICA) will decide at the entrance points,
They will decide whether or not you should be permitted to enter and will then issue you a Pass if you pass their checks.
Singapore Tourist Visa
You are required to submit an application for a Singapore tourist visa if your travel plans include a visit to the country for recreational purposes.
The application process for a tourist visa in Singapore is the same as what was described above.
If the immigration officers at the checkpoint determine that you meet the requirements for admission,
They will issue you an Entry Pass after you have arrived there.
A Visit Pass is what's known in Singapore as an admission pass,
It's good for anywhere between 14 and 30 days if you have a Singapore tourist visa.
You will be subject to punishment if you overstay your visa, thus it is in your best interest to avoid doing so.
Singapore Visa Application and Requirements
You will need to submit an application for a Singapore tourist visa extension well in advance of the expiration date of your present visa,
In the event that you intend to remain in the country for a period of time that is longer than that which is authorized.
The application for a visa extension can be submitted in person at ICA's offices in Singapore,
Or it can be done easily online through the ICA's website.
If you enter the country using a tourist visa, you are not authorized to accept any kind of paid employment while you are there.
RECOMMENDED:
Main difference between a Single Journey visa and a Multiple Entry visa
You are only allowed to utilize the Single Journey Visa once,
You are not permitted to enter Singapore again with that visa after you have left the country,
Regardless of the number of days that are still on it.
The Many Entry Visa allows its holder to enter and leave the country multiple times throughout it's validity period.
Different Passes and Visas Available for Travel to Singapore
Singapore visas do not provide entry but rather merely permission to travel to the country.
Consequently, because there are only two types of Singapore visas,
Namely the Multiple Journey Visa and the Single Journey Visa, there are a variety of Passes including;
Short Term Visit Pass
This pass grants the holder permission to enter Singapore for the purpose of a short social visit,
For instance, for the purpose of tourism, or for the purpose of medical treatment.
Work permits and access passes.
In any other context, this would be referred to as a work visa for Singapore.
In Singapore, working lawfully requires either a work permit or an employment pass,
Which can be obtained from the relevant authorities in Singapore.
The Dependent's Pass is an option for those who have an Employment Pass for their family members.
It gives the holder the ability to stay in Singapore for as long as the EP holder does in that country.
A Long-Stay Visit Pass is a pass that is made accessible to family members of E Pass holders who do not meet the requirements to get a Dependent Pass.
Student Pass and Visa Free Transit Facility – (Singapore Visa Application and Requirements)
Those from outside of Singapore who wish to enroll in an accredited educational institution can apply for a student visa to study in the country.
The Visa-Free Transit Facility is a type of transit visa that is only made accessible to citizens of specific countries,
Because of this, they are permitted to leave the transit area of the airport and wait for their connecting aircraft in Singapore for a period of up to 96 hours.
What exactly is an eIACS?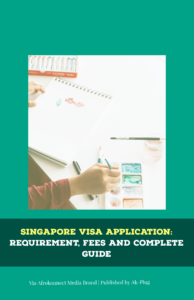 You may be qualified for the Singapore enhanced-Immigration Automated Clearance System,
If your passport has a machine-readable passport (biometric passport) that fulfills the requirements established by the International Civil Aviation Organization (ICAO) (eIACS).
eIACS makes it possible for you to breeze through immigration checks at the ICA more quickly.
You must be in possession of an ICAO passport in addition to satisfying one of the following prerequisites in order to be eligible for eIACS:
You must either be a citizen of Singapore, a permanent resident, or the bearer of a Long-Term Pass card.
Be at least six years old and have your fingerprints registered with the ICA in order to participate.
If you meet the prerequisites above then you can sign up for eIACS and start using it right away,
When you apply, your passport must have at least another half a year of validity remaining on it.
You can check out How to Apply for Singapore Tourist, Visit or Business Visa in Nigeria if you're applying as a Nigerian.
Several Important Facts Regarding Singapore
Despite it's size, Singapore is often ranked among the world's most sought-after vacation spots by travelers.
It has an estimated 5.6 million citizens on an area of only 278.6 square miles (721.5 square kilometers),
Making it one of the world's most densely inhabited countries.
The other two existing city-states are Monaco and Vatican City.
Only 3.4 million people in Singapore's total population are actually citizens of the country;
The rest are either permanent residents or international students and workers.
Singapore receives millions of tourists every year due to the fact that its streets are lined with lush vegetation.
Singapore Visa Application: Requirements, Fees and Complete Guide
The video below is about to fill the Singapore visa application form otherwise known as the 14A form:
This brings us to the end of this publication about Singapore Visa Application process, the Requirements and Fees via Afrokonnect.