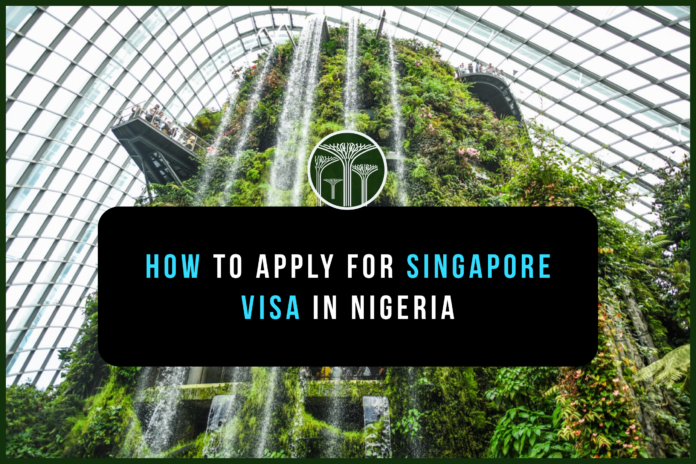 Welcome to this article about How to Apply for a Singapore Tourist, Visit or Business Visa in Nigeria for Nigerian Citizens via Afrokonnect.
As a Nigerian or not there is a wide variety of possible motivations for visiting Singapore,
The purposes of tourism, visits, and business trips are examples of such reasons.
However, the process of applying for a visa can be very nerve-wracking,
Especially if you're not sure of what to do, when to do it or or even how to do it.
A visa is required for entry into Singapore if you are a citizen of Nigeria using the green card.
This article will guide you through the process of obtaining a visa for Singapore if you are traveling from Nigeria.
How to get a Singapore Visa as a Nigerian (What you need to do)
The Republic of Singapore has an Honorary Consulate-General in Lagos where visa applications can be submitted,
Your application can also be submitted by a friend or acquaintance of yours who lives in Singapore, which is the second alternative.
Before you submit any visa application you need to know exactly the type of visa you need.
There are two different sorts of Singapore visas that you can apply for,
Each of these visas is determined by the reason for your trip to Singapore.
Let's take a look at some of the Singapore visas available for Nigerians to apply;
Short term visa:
There are two subcategories that fall under the umbrella of the short-term visa: social and business.
Singapore short-term visa has a validity duration of one month,
During which the bearer of this visa is prohibited from participating in any kind of paid work activity.
The Singapore visa for short stays is only valid for tourist or leisure purposes.
When planning a trip to Singapore to see loved ones or friends,
You will need to apply for a Singapore visit visa in order to enter the country legally.
A letter of invitation from your host (Family/Friends) is required in order to apply for a visit visa to Singapore.
It is the responsibility of the host to demonstrate, by means of letter, that there is a connection between themselves and the individual who wants to come visit.
How to Apply for Singapore Visa in Nigeria
If you are traveling to Singapore for business purposes, such as product inspections, attending a conference,
Or even other similar activities, then you are required to have a Singapore business visa.
An invitation letter is required in order to obtain a Singapore business visa,
The letter can be sent by either a business partner or the organizers of the conference.
Other supporting documents, such as those that verify the commercial link between yourself and the organization's partner in Singapore, are also required.
You can also check out How to Apply for USA Business Visa: the requirements, types and fees.
How to Apply for Singapore Visa in Nigeria
The Singapore Tourist visa is a type of visa that is issued for a shorter period of time,
It is a visa required in order to visit Singapore for tourism or sight seeing.
The Singapore tourist visa, visit visa, and the Singapore business visa all fall within the category of short-term visas.
After a period of three months, these type of visas will become invalid.
It is the sort of visa that you need to obtain if you wish to go to Singapore for a short period of time,
Short stays such as a winter/Summer holiday, vacation, or visit, needs short-term visa.
Your stay in Singapore is limited to a maximum of one month if you have a short-term visa.
Once you have obtained a tourist visa for Singapore,
You are only permitted to utilize it for the purpose of traveling to Singapore for tourism or holiday.
You do not require a letter of invitation from a host in order to obtain a tourist visa for Singapore as Nigerian citizen.
Still, a confirmed hotel booking is required to prove that you're actually traveling as a tourist or for holidays.
To enter Singapore, a visiting Nigerian or any other foreigner must have the appropriate permits, one of which is a short-term visa.
However, this visa is just one of several methods available for Nigerians traveling to Singapore.
How to Apply for Singapore Visa in Nigeria
Permanent Resident Visa:
You also have the option of applying for a Singapore long-term visa, which will allow you to remain in Singapore indefinitely.
With a Singapore short-term visa, you won't be able to work, study, or even immigrate,
But, with a Singapore long-term visa, you'll be able to do all of those things in addition to a longer stay.
One will need to submit an application for a long-term visa in order to reside in Singapore indefinitely.
Studying and working are examples of activities that call for a visa valid for a longer period of time.
One of the greatest merit of a Singapore Permanent Visa is the granted permission to remain in the country for an extended period of time,
Usually in order to pursue full-time job or education in the country.
Singapore Visa Processing Time
The procedure for submitting an application for a visa to visit Singapore might usually take three to four days,
Please be aware that the review of some submissions may require more time.
While the Singapore visa application process only takes a few days,
It is still advisable to submit your application at least 30 days before your scheduled departure to account for any delays that may occur.
That way, you won't have to worry about anything that isn't necessary because of this.
RECOMMENDED:
Singapore Visa Requirements and Fees for Nigerian Citizens
Payments made with either Visa or MasterCard are accepted at the Honorary Consulate-General of the Republic of Singapore.
The Singapore Immigration and Checkpoints Authority will also accept payments made using Visa or Mastercard for transactions completed online (ICA).
You need to demonstrate that you meet the financial requirements in order to submit an application in Nigeria for a tourist visa to Singapore.
After that, in order to hand in your application, you will have to make a trip to the Singaporean Embassy in Nigeria.
When you apply for a visa to enter Singapore,
You will also be required to provide other documents in support of your application.
How to Apply for Singapore Tourist, Visit or Business Visa in Nigeria
The following items must be included with your application request in order to be considered complete.
14A form that has been filled out and signed by you.
Two current, passport-sized photographs (35mm x 45mm): these passport photos should not be more than three months old.
It is mandatory to have a passport that is valid for at least six months after your intended date of entry into Singapore.
A photocopy of the biodata page from your passport
Evidence of no criminal record
Document certifying that all taxes have been paid
Statement of your bank account during the past half year, properly authorized and signed by your bank.
Documentation proving that lodging has been reserved or obtained, specifying the location and arrival date
Documentation stating the dates of departure and arrival on the flight booked
Evidence of sufficient funds to support one's full stay in Singapore, including their baseline travel allowance
A letter from one's employer introducing them to the role they have at the company and detailing their leave dates
Identification cards for the company
The visa application requires a letter of introduction, also known as a V39A form, and this form must be filled out.
Where to Apply for Singapore Visa in Nigeria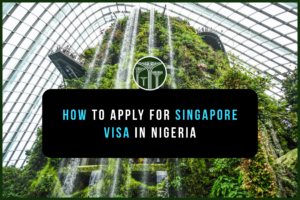 You can submit your application for a visa to Singapore at the Honorary Consulate-General of the Republic of Singapore in Lagos state.
There address and contact details can be found below;
Email: singapore.consulate@tolaram.com
Address: No. 81-A, Younis Bashorun Street, off Ajose Adeogun street, Victoria Island, Lagos state, Nigeria
Telephone: 001-234-1-4610818/ 001-234-1-4619088
The hours of operation for the Singapore Consulate in Nigeria are from 9:00 am to 4:00 pm, Monday through Friday.
While the time for receipt of submissions: 9:00 a.m. to 11:00 a.m. and the collection period is from 3:00 to 4:00 p.m.
How to Submit an Application for your Visa to Singapore Embassy from Nigeria
The following is a list of the actions that you need to perform in order to apply for a visa to enter Singapore from Nigeria:
Print all of your Documents and get your photos taken at the same time.
Complete both of the application form with valid information.
Please Submit your documents and pay the application fee to the honorary consul-general of the Republic of Singapore (Located in Lagos State, Nigeria)
Make sure to grab your receipt and any other documentation that were handed to you after filing your application at the Singapore consulate-general.
Study in Singapore as an International Student
If you're interested in Studying in Singapore as an International student then the video below is made for you,
This brings us to the end of this article about How to Apply for Singapore Tourist, Visit or Business Visa in Nigeria via Afrokonnect.
Thank you for reading, let me know what you think via the comment section.