Top 10 Best companies in the world, The Most Valuable company to work for in 2023 via Afrokonnect.
With the world gradually recovering from the corona virus pandemic,
Companies around the world are slowly but surely picking up.
If you're looking to invest in these companies by buying their stocks,
Or you're seeking information about the best companies to work for,
Maybe you're probably just on a research about the biggest companies, this article is made for you.
Without taking too much of your time let's dive into the main article and discover the Most valuable company in the world.
Top 10 Best companies in the world – Most Valuable Company in 2023
10. Meta Platforms – Facebook
This company was formally known as Facebook then it was changed to Meta,
Meta platform is a social networking company that operates worldwide,
The company was co-founded in 2004 by Mark Zuckerberg, Eduardo Saverin, Dustin Moskovitz, Chris Hughes and Andrew McCollum in United States of America.
Meta's Headquarters is located in Menlo Park, California, USA,
Though there are other co-founders, Mark Elliot Zuckerberg is often regarded as the founder, chairman and CEO of the company,
Mostly because Mark Zuckerberg is the Controlling shareholder of the company.
Meta formally known as Facebook is a company that engages in development of social media applications,
Their appreciation is used to connect people and it allows users to share contents like photos, videos, texts among others using mobile phones, tablets and computers.
Aside Facebook, Meta owns variety of products including Instagram, Messenger, WhatsApp and Oculus,
It's no surprise that the company has over 70,000 active employees,
Meta formerly known as Facebook is worth $517.96B according to Forbes,
While Mark Zuckerberg who's the Cofounder has an estimated net worth of $68.3B.
Currently, Facebook's has over 2.4 billion users which makes up around 31% of the world's population,
According to this statistics only companies like Coca Cola and McDonald's can match up this worldwide reach,
Additionally, non of these companies generate Facebook's ad revenue,
Facebook now Meta has a net worth of $517.96B.
9. Taiwan Semiconductor – (TSMC)
Taiwan Semiconductor Manufacturing Company Limited is known popularly as TSMC or just Taiwan Semiconductor,
At the moment the number of active employees working at this company is recorded to be over 56,831.
Morris Chang founded the Taiwan Semiconductor in 1987,
Other key people in TSMC includes "Mark Liu" the Chairman and "C.C. Wei" the President and CEO.
TSMC went on to become one of the world's first dedicated semiconductor foundry,
They also boost of over $48.1B in sales, Morris Chang who's the founder of TSMC has a Net worth of $2.6B according to Forbes,
While his company "Taiwan Semiconductor" recorded a market cap of $558.1B.
Unlike Ali Baba, Amazon and the rest, TSMC may not be a popular name,
However, their products are widely distributed and used around the world,
They make semiconductors for big corporations like apple, Intel among others,
Taiwan Semiconductor is currently worth $558.1B according to Forbes.
8. Ali Baba –
Alibaba Group Holding Limited
On this list Alibaba Group Holding Limited takes the 8th spot,
You have probably heard about this company, their services or you've even used one of their services before.
Alibaba Group Holding Limited known popularly as Alibaba is a Chinese multinational technology company,
It is multinational because it has branches and operate in more than one country.
The Alibaba company was founded in 1999 by Jack Ma,
Basically, they are specialized in e-commerce, internet and technology related services like electronic payments, Shopping search engines etc,
This company has been in operation for over 20 years, making Ali Baba another massive conglomerate trusted by many around the world.
Over 251,462 employees currently work for Ali Baba,
The company recorded a net income of CN¥143.284 billion which equals around US$21.869 billion,
Taking the company into the category of one of the top 10 most valuable corporations,
According to Forbes Ali Baba current market cap is worth $657.5 billion,
Alibaba's CEO is a charismatic man popularly known as Jack ma,
Jack Ma on the other hand has a net worth of $23.9 billion according to Forbes.
Best and Most Valuable Companies in the World
7. Tencent Holdings 

Technology

Tencent Holdings Technology was founded in 1998,

It is located in China with their headquarters in Shenzhen. 

It is an investment company, which engages in the provision of value-added services and online advertising services,

Tencent is arguably one of the biggest companies in china and a leading conglomerates in the world.

Ma Huateng who was born on October 29, 1971 is also known as Pony Ma,

He is the Chairman And CEO of Tencent Holdings Technology.

Tencent Holdings operates majorly in the informational & technology industry,

Also, they offer services in e-commerce retail, video games, real estate, software, virtual reality ride sharing, banking and financial services among many others.

When Pony Ma taught about starting Tencent, China had an average of just 1 computer for every 100 persons,

As a result, his company became one of the pioneers in the IT industry,

His investments paid off because at the moment Pony Ma has an estimated net worth of $38.8B,

Over 51,350 employees currently work for Tencent Holdings Technology and the company records sales of about $70B with a market cap of $773.8B.
6. Tesla, Inc. (TSLA)
The company was founded in July, 2003, in San Carlos, California, United States,
Tesla is an American electric vehicle company based in Austin, Texas, America,
In 2021 Tesla recorded one of it's best year in terms of net income and sales,
With the gradual adoption of electronic cars around the world the company's worth is expected to continue rising in the future.
Basically, Tesla designs and manufactures electronic cars and other products like energy storage, Solar panels, Solar roof tiles among others,
The company operates majorly through the Automotive and Energy Generation and Storage sector.
Aside from their vehicle service centers and supercharger station,
They also offer self-driving capability.
At the moment Tesla is one of the best and most valuable companies in the world,
Tesla has a total of 655 retail stores/galleries and service centers around the world with a market cap of $852.02B.
Elon Musk who's currently the CEO of Tesla is an entrepreneur and a business mogul,
Recent achievements of Tesla has been largely credited to Musk,
Musk is also the founder, CEO and Chief Engineer at SpaceX,
According to Forbes Elon Musk has a net worth of $225.8B while Tesla is worth $852.02B.
Needless to say that Tesla is a relative newcomer on the list of most valuable companies in the world,
However, with world moving towards more energy driven direction it is most likely that Tesla is here to stay.
Most Valuable Companies in the World in 2023
5. Saudi Aramco –
Saudi Arabian Oil Company
Saudi Aramco is one of the biggest and most valuable oil and gas companies in the world,
The company was founded in 1933 and their headquarters is currently located in Dhahran, Saudi Arabia.
Some of the key people in this company includes their President & CEO in person of Amin H. Nasser,
Yasir Al-Rumayyan is the chairman of this prestigious company,
While the Government of Saudi Arabia owns 98.5% shares of the Saudi Aramco.
Saudi Aramco operates the world's largest single hydrocarbon network,
They have a total number of 66,800 employees and constantly upgrading.
It is difficult to give the exact worth of Saudi Aramco because of several reasons like;
Firstly, majority of the company is owned by the Saudi Royal family and the government,
Secondly, the company operates in the oil and gas industry and the fuel price fluctuations in global markets makes it unpredictable.
However, Forbes estimates that the value of Saudi Aramco is close to $1.2 trillion,
According to Wikipedia Saudi Aramco is one of the largest companies in the world by revenue.
Best and Most Valuable Companies in the World
4. Amazon (AMZN)
The name Amazon is very popular, especially if you're familiar with the retailing industry,
Amazon was founded in 1994 by Jeff Bezos who's currently the company's executive chairman,
While Andy Jassy is the President and CEO of the company.
Amazon is based in the United States of America with their headquarters located in Seattle, Washington,
However, their services is consumed worldwide with over 1,298,000 employees cut across the world.
Initially, the company only serves as an online book market,
Today Amazon has expanded to the provision of online retail shopping services.
As one of the best and most valuable companies in the world,
Amazon has recorded over $386.1B in sales.
Currently Amazon is worth $1.38T while Jeff Bezos who is their CEO has an estimated net worth of $164.4B according to Forbes,
Jeff Bezos has been the richest man in the world for sometime now.
ALSO READ:
3. Google LLC (Alphabet) – 

Most valuable company in the world

Google was founded in 1998 and since then the company has never seized to operate,

In fact the company has grown bigger and is now one of the best and most valuable companies in the world.

It is an American multinational company who's services are used all over the world,

Google LLC is currently the world's biggest search engine.

The company is focused on improving the ways people connect with information,

Just like Facebook, Google also offers a variety of services and tools for advertisers of all sizes,

They offer simple text ads and display ads to mobile advertisers as well as publishers.

The Chief Executive Officer of Google LLC is a business mogul known popularly as Sundar Pichai,

Sundar Pichai has an estimated net worth of $1.46 billion dollars,

While (Alphabet) Google LLC has a net worth of $1.68T according to Forbes.
Most Valuable Companies in the World 2023
2. Microsoft Corporation
(MSFT)
When most people hear the name Microsoft, the first thing they think of is Bill Gates,
That is because Bill Gates is the Cofounder alongside Paul Allen.
Microsoft Corporation is an American based Multinational technology cooperation,
Microsoft Corporation engages in the development and support of software, services, devices and solutions.
They offer variety of services and their products are being used all over the world,
Popular brands like Microsoft Windows, Microsoft Office, Xbox, Microsoft Visual Studio are all subsidiaries of the company,
That's not all, Azure, Bing, LinkedIn, MSDN, OneDrive, Outlook among others are some of their services.
Microsoft recorded a revenue of US$161 billion in 2021 and this figure is expected to keep rising,
Literally everybody uses some of their programs i.e Microsoft word and Excel.
Bill gates has a net worth of $129.5B according to Forbes,
While Microsoft is estimated to worth $2.07T (MARKET CAP),
Though Bill Gates is a huge philanthropist who spends most of his money on humanitarian activities,
He is still in the top five wealthiest people on earth.
RECOMMENDATION:
Best and Most Valuable Companies in the World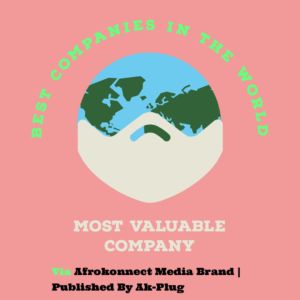 1. Apple (AAPL) – 

Best Company in the World

Apple is officially the best and most valuable company in the world based on our research for this list,

The giant American multinational company was founded in 1976,

It operates majorly in  the Technology Hardware & Equipment industry.

Apple sells expensive luxury items, devices and accessories on a massive scale,

Apple also engages in the design, manufacture and sale of smartphones, personal computers, tablets and other variety of related services.

Tim Cook is currently the Chief Executive Officer of Apple and he has an estimated net worth of $2B,

While Apple Inc has an estimated net worth of $2.57T (MARKET CAP) according to Forbes.

The company has made over $294B sales with with over 147,000 employees,

Making Apple the most valuable company in the world.
Conclusion
The video below is about top 10 high-paying world's best companies to work for;
And on that note, above is the list of top 10 most valuable companies in the world,
Let us know which company you think will be the most valuable company in the world in 2023 via the comments section down below,
And if you enjoyed this article, don't forget to share it with somebody.