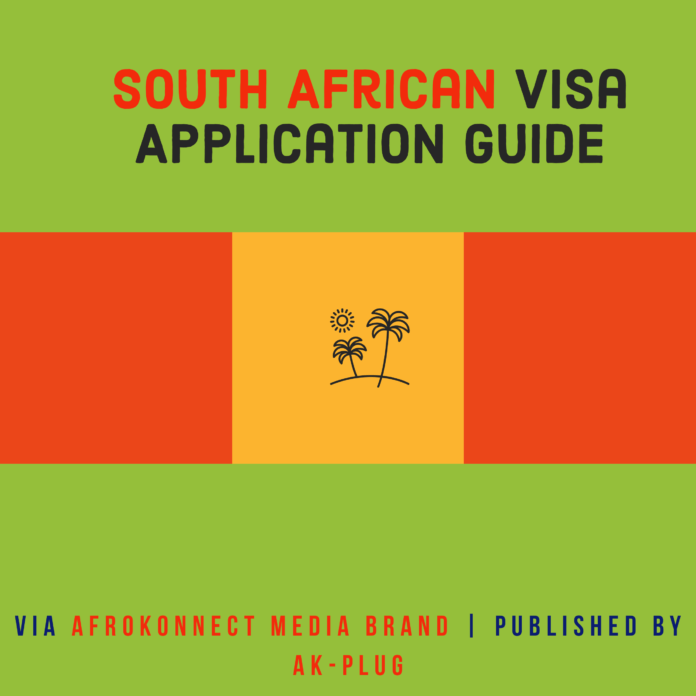 Welcome to this article about a Step by Step Guide for South African Visa Application and Requirements via Afrokonnect.
South Africa is a wonderful destination to spend the summer or even the holidays because of its breathtaking landscapes, diverse wildlife, and abundance of tourist attractions.
The fact that South Africa is visited by travelers from a significant number of different countries each year is evidence of the country's potential as a destination for vacationers.
In this article we will explore the legal ways to obtain a visa to South Africa,
This is a country listed among the top 10 Best Travel Destinations to visit in Africa for Tourist Attractions.
Before we proceed, let's take a close look at the Electronic Visa program brought in by the South African Government.
South African Visa Application and Requirements (Guide)
South African eVisa Form
It is now possible to apply for an electronic visa to enter South Africa.
Beginning in February 2022, citizens of 14 different nations will be able to submit an application for an electronic visa to South Africa online.
Because of the newly implemented electronic visa, qualified visitors no longer have to physically present themselves at an embassy or consulate in order to obtain a visa.
The application is simple and can be completed in a short amount of time,
Making a trip to South Africa much more convenient.
How to Apply for a South African Visa Online
Travelers from 14 different countries are eligible to use the eVisa system,
Which streamlines the process of getting a visa.
Obtaining an eVisa currently only requires the following simple procedures for citizens of eligible countries:
To apply for a South African eVisa, you will need to fill out the application form in it's entirety.
Please upload any supporting paperwork that may be useful (if applicable)
Use a credit or debit card to pay the eVisa fee.
You will get the electronic visa sent to your email.
The electronic visa application for South Africa can be submitted and processed in a matter of minutes,
Afterwards the applicant will receive an email with the approved eVisa attached to it.
Necessary documents to submit an application for an eVisa
In order to submit an online application for a South African visa,
Visitors need to be in possession of a current passport from one of the 14 countries that qualify.
To be allowed entry into South Africa, a passport must have at least 30 days remaining on it after the date that the traveler plans to leave the country.
There must be at least two blank pages in a passport in order to receive an admission stamp.
It is possible that further documents will be required of the visitor based on the particulars of their situation.
Before departing, it is essential for travelers to double confirm that they have fulfilled all visa requirements.
South Africa eVisa Application Form
Even though the application for a South African eVisa can be finished in a short amount of time and with little difficulty,
It is imperative that the form should be filled out with information that is both comprehensive and correct.
Incomplete or erroneous information could cause a delay in processing or possibly a rejection of the application.
The following types of questions could appear on the online visa application form for South Africa:
Information fundamental to your person: Name, birth date, and nationality are required.
Details pertaining to passports: Number, issuance date, and expiration date of the passport.
Contact details: Home as well as electronic mail address, telephone number.
Questions pertaining to your health and safety are examples of additional information that may be requested (if applicable)
After an application has been made, reviewed, and accepted, an eVisa for South Africa will be delivered to the applicant through email.
The eVisa, together with the traveler's valid passport, is required in order for visitors to be allowed entry into South Africa.
Since the eVisa and passport are electronically connected,
The applicant must travel with the same passport that was used to apply for the visa.
How to Apply for a South African Visa at an Embassy
Before departing South Africa, visitors who are not citizens of one of the 14 countries that are eligible for visa exemptions are required to obtain a visa in person,
This can be done at an embassy or consulate of the South African government.
Due to the higher wait periods and the fees associated with traveling to the embassy,
This process may take longer and cost more than applying online because of the expected expenditures associated.
For the time being, the following are examples of what can be included in a paper application:
Schedule a meeting at the embassy.
Paying a visit to the embassy accompanied by the necessary supplementary materials in order to submit the application.
Making the required payment for the application.
Upon receiving notification that the visa has been approved, the applicant must then visit the embassy again.
The preceding information may not be applicable to all applications;
The particular procedure is determined by the kind of visa being sought,
As well as the conditions under which the traveller will be conducting the intended trip.
South African Visa Application and Requirements (Guide)
Documents necessary for South African paper visa applications
You will find a list of supporting papers that may be necessary to get a visitor visa from an embassy or consulate of South Africa below.
These documents includes but not limited to the following:
A passport or other travel document that is still valid for at least thirty days after the departure date from the nation (passport must have 2 unused pages for stamps)
A finished copy of Form BI-84 (application for a visa)
Documentation demonstrating that the application cost has been paid
A certificate of immunization against yellow fever (if applicable)
Records attesting to both the nature and length of the visit should be produced.
2 colour passport photographs
An airline ticket for either the return flight or the next leg of the journey
Documentation attesting to the applicant's ability to support themselves for their whole stay in South Africa is required,
This can include a bank statements, salary advances, bursary, cash or credit cards, etc.
Guests from other countries who are traveling with children are required to present the following supplementary documentation:
Evidence of guardianship or custody, or both
In the event that the child is traveling without an adult, permission must be obtained from the legal guardian.
Please take note that the required documents can vary widely depending on the type of visa as well as the circumstances of the petitioner.
South African Visa Application in Nigeria: Step by Step Guide
If you are a Nigerian citizen and do not hold a diplomatic passport,
You will need to apply for a visa in advance or upon arrival in South Africa.
Applicants must have a valid visa issued by the South African embassy in Nigeria before you can book a ticket to South Africa.
You may apply for a visa to visit South Africa from Nigeria by following the instructions in this concise yet comprehensive guide,
Which will walk you through each stage of the process, so let's start with the available South African visas for Nigerians.
RECOMMENDED:
Types of South African Visas and Documents Required
Transit Visa
You will require a transit visa if you are traveling to a nearby nation and will only be stopping over in South Africa temporarily.
Your ultimate destination will be one of the other African nations.
The following are requirements that must be met before you can submit an application for a South African Transit Visa:
A current and valid visa for the country that shares a border with your primary destination.
The possession of a passport that is currently valid.
Copies of all previously issued and currently active visas, in addition to copies of the data pages from your current passport.
Two (2) pictures at the appropriate size for a passport.
A B1-84 application form that has been completely filled out and signed in black ink.
A letter of introduction to the author personally (introducing yourself, what you do, your address, phone number and your reason for visiting South Africa)
Bookings for accommodations (must be verifiable)
Proof of the flight reservation.
Photocopy of your yellow fever vaccination certificate that bears the original signature of a licensed medical professional.
Documentation that verifies your ability to support yourself financially (This might be a bank statement from your work)
A visa application fee of N8,600 and a service fee of N9,000, both of which are non-refundable.
Medical Visa
In order to receive medical care in South Africa, you can also submit a visa application.
In order to apply for a medical visa, you will need all of the documents stated above, as well as the additional documents indicated below:
A letter of recommendation: written by the physician in Nigeria who is treating you for your condition.
Letter confirming your appointment with a hospital in South Africa: containing the facility's address and contact information (land line of the hospital).
Business Visa
You can also submit an application for a South African business visa in order to engage in commercial operations in the country,
All of the documents that are specified in the section on transit visas can also be considered necessary for this, along with the following documents:
A letter of invitation from a company with its headquarters in South Africa
You might want to consider Canada Business Visa or How to Apply for USA Business Visa.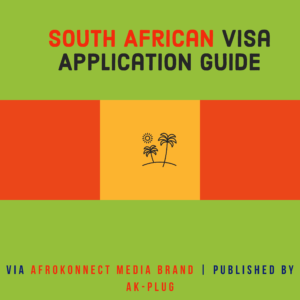 Visit/Tourist Visa
You can submit a South African visa application in order to pay a visit to your loved ones in South Africa,
Whether it be friends or family, or in order to simply travel across the country for tourism.
The necessary documentation for this can be found up above in the section on transit visas.
South African Visa Application and Requirements
A detailed instructions on the South African Visa Process has been explained in the video below;
Conclusion Guide
You can begin the application procedure as soon as you have gathered the necessary materials.
You have the option of submitting your application either at the South African High Commission in Abuja, Nigeria,
Which is located at Plot 371, Diplomatic Zone, Central Business, District,
Or at the VFSA worldwide offices in Lagos, which are located at 3rd floor, 16 Billings Way, Oregun Industrial Area, Ikeja, Lagos.
The submission of applications can be done Monday through Friday between the hours of 11 am and 3 pm.
If you prefer, you can dial 01-46122067 to reach the Lagos office, or +234-9-462-4200-1 to reach the Abuja office.
Because the embassy only accepts 200 applications each day,
You need to ensure that you arrive there early on the day that you intend to submit your application.
You are obligated to hand in your application in person, and after you have done so, you will be able to monitor the status of your visas online.