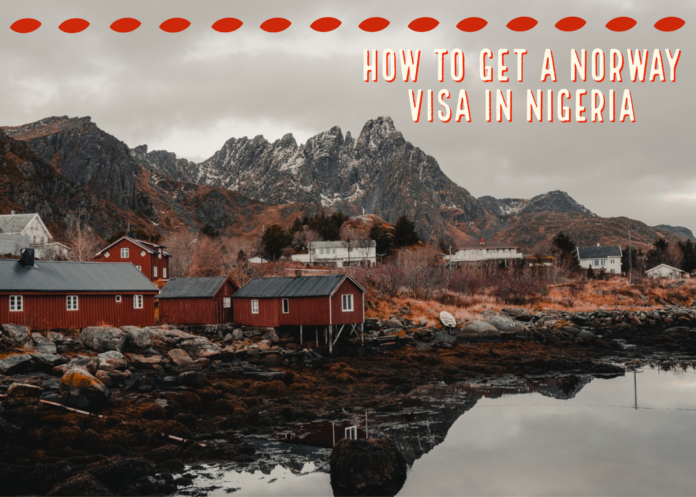 Welcome to this article about how to get a Norway Visa from Nigeria, we will talk about the requirement and fees for a Norwegian Schengen visa and the application guide via Afrokonnect.
If you are planning a trip to Norway, you will need to secure one of the several specific types of visas available, which are determined by the reason for your trip.
You are permitted to remain in Norway or any other country within the Schengen area for a maximum of ninety days during a term of one hundred and eighty days if you have a visitor's visa.
If you want to attend school in Norway, you are eligible to apply for a residence permit designated specifically for students.
This page will give you with all of the information you need to obtain a Norway Visa from Nigeria,
Including the procedures and the documentation that is required to obtain a Norwegian Schengen visa.
How to Get Norway Visa from Nigeria (Requirement and Fees)
The requirements for a Nigerian to apply for a visa to Norway are as follows:
You need to be a citizen of Nigeria or have the right to lawfully reside in the country in order to submit an application for a visa to visit Norway in Nigeria.
The only exception to this rule is if you are traveling to Nigeria from one of its neighboring countries.
As an additional convenience, applications can be submitted up to six months in advance of the applicant's intended departure date.
Prior to submitting the necessary paperwork, you must first register online.
When you turn in your application, you will be needed to supply your fingerprints, unless you have already had your fingerprints taken within the previous 59 months, in which case you will not be required to provide them.
Wait until your visa has been approved before purchasing your plane ticket.
Norway Visa For Nigerians: Required Documentation
Your visa application cannot begin until you get the following materials ready and available;
It is imperative that you provide a copy of your cover letter and receipt for your application fees.
A copy of the completed Application form that was printed from the online Application portal.
One photograph for the passport with a white backdrop that is no more than three months old.
A copy of all previously used pages in your passport or other valid official travel document.
The passport must have a validity date that is at least three months after the date that you are scheduled to depart.
Additionally, it must contain at least two pages that are blank.
A valid resident permit, in the event that you live in a country other than Nigeria.
Documentation attesting that you will have a place to stay throughout the entirety of your trip to Norway i.e Hotel reservation or Private arrangements
A copy of any documentation that can be used for personal identity, such as a driver's license or a birth certificate.
Paperwork attesting to one's marital or cohabitational status i.e Single, married, divorced or widowed
Verification of one's current financial condition.
This is to demonstrate that you have the ability to support yourself while you are in Norway.
Checking account statements from the previous three months.
You can use either your own or the company's, demonstrating a positive cash flow.
Required Documentation for Employees
Similarly, you are required to do the following if you have a job:
Show your three most recent paychecks
Reference: Your current employment agreement or a recent statement from your employer.
The consent of one's employer about vacation time.
A copy of the company's official registration certificate.
A record of the amount of taxes you've paid if you're retired.
If you're retired or you've resigned then you'll need to Pension statements.
Other documents, such as those listed below, could also be submitted.
Money sent from abroad, savings accounts at banks, and credit cards.
Recurring earnings derived from the ownership of property like contract of rent, certificate of land use right, etc
Verified confirmation of the purchase of the round-trip airline ticket, including all applicable travel dates
Insurance against medical emergencies while traveling, it must be valid for the entirety of the trip
NORWAY VISA FROM NIGERIA: POWER OF ATTORNEY
To have someone else handle your Norway visa application on your behalf, you must fill out a form,
You are required to grant authorization to the person before they may proceed.
It might be a member of your family, your workplace, or another someone who has earned your trust.
You can check out a comprehensive guide about How to Migrate to Norway and Become a Permanent Resident.
PARENTAL CONSENT
In the case of a child who is younger than 18 years old, you are required to provide proof that both parents or legal guardians have given their permission in writing,
You need to submit that together with copies of their identification and a marriage certificate for both sets of parents if you are traveling alone.
You are required to provide written permission from your other parent or guardian together with a copy of his or her photo identification if you are traveling with only one of your parents.
Both parents or guardians must fill out and sign a form in order for an application to be processed.
Additionally, the candidate is required to present a copy of his or her birth certificate.
The applicant's legal guardian is responsible for submitting proof of guardianship along with the application.
SPONSORS
You will also need to send the following requirement to the sponsors in other to obtain your Norwegian visa:
A request for participation from the Sponsor (If a Norwegian)
Guarantee Paperwork (If he or she guarantees your stay)
How to Get Norway Visa from Nigeria: Online Registration and Payment
After you have finished registering for the visa online, you will get a confirmation e-mail,
As well as a hard copy of the application form and a cover letter, all sent to your mail.
It is necessary to include a cover letter as proof that the application cost has been paid.
Additionally, you will be asked to print the attachment that was emailed to you and hand it in along with the other documents that are necessary.
Norwegian Visa Application Fee
There is a charge of 80 Euros associated with the visa for Nigerian who wish to obtain one.
Children who are younger than six years old do not have to pay for a visa.
Though a charge of 40 Euros must be paid for a child's visa if they are between the ages of six and 12 years old.
VFS Global, an outside service provider, handles application submissions in Nigeria.
This organization levies a one-time service fee of thirty (30) euros for every application that is submitted.
Exemption from Norwegian Visa Fees
When applying for a visa with a family member who is a citizen of the EU or the EEA, both applicants do not need to pay the application cost.
A visa fee is not required to be paid by pupils, students, or teachers who are traveling to Norway for the purposes of educational or training purposes.
Researchers who are embarking on trips for the sake of conducting scientific research also don't need to pay,
More reason why you should consider any of these Best Universities in New Zealand for International Students,
Alternatively, here are the 10 Best Universities in Australia for international students.
Norway Visa Processing Time: (Norwegian Schengen visa for Nigerians)
After the embassy in Norway has been provided with a completed application form, the standard amount of time required to process the form is up to fifteen calendar days.
There are some circumstances in which the application must be submitted to the Directorate of Immigration (UDI),
Which can cause the processing period to take up to 45 calendar days.
Should you choose to entrust this matter to VSF Global, expect a processing time of up to four weeks.
When your application has been processed, you will receive a notification in the form of an email, text message, letter, or phone call.
The outcome can be collected from either the Visa Application Centre or the embassy itself, depending on your preference.
Norway Visa Application Centers in Nigeria, Cameroon and Ghana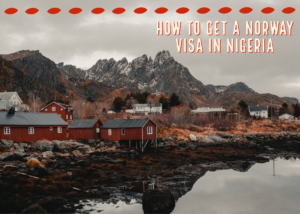 The following is a list of locations in which you can submit your application for a visa to enter Norway, as well as the relevant documents, and have them processed there:
VFS' APPLICATION CENTERS
Abuja
The meeting will take place in the Sterling Bank Plaza on the third floor, at Plot 1083 Mohammadu Buhari Way.
Specifically, the heart of Abuja, Nigeria's commercial district
Lagos state
The Center for Submitting Applications for Visas to Norway in Lagos can be located at;
Plot 110, Admiral, Ayinla way, Opposite Treasure Garden Estate, The Third Roundabout, Lekki Phase 1 in Lagos, Nigeria.
Accra, Ghana
If you're in Ghana the you can locate the office at the 1st floor, Atlantic Towers (behind Marina Mall), Accra, Airport City, Ghana
Yaounde, Cameroon
If you are currently located in Cameroon but still wish to submit an application for a visa to visit Norway, you must do so at the Belgian Embassy.
RECOMMENDED:
How to Get Norway Visa from Nigeria
The video below is about the total cost of moving to Norway from Nigeria,
A complete breakdown of visa, passport, Covid 19 test and ticket cost;
This brings us to the end of this publication about how to get a Norway Visa from Nigeria,
So far we have talked about the requirement and fees for a Norwegian Schengen visa and the application guide via Afrokonnect.
Hopefully you found the information you were looking for when you landed on this page,
Kindly let us know what you think via the comment section. Good luck