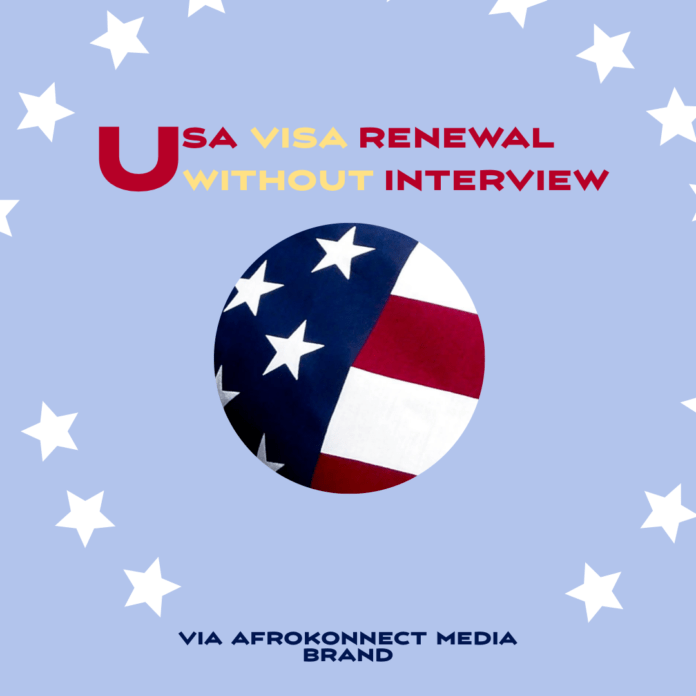 Welcome to this article about USA Visa Renewal in Nigeria without interview,
A complete step by step guide on how to renew your USA visa in Nigeria via Afrokonnect.
Before we proceed, do you have any idea what the income criteria are for a K1 visa?
Do you have a visa for the United States that has since expired?
If so, you're probably wondering how to go about renewing it in Nigeria.
The process of renewing your United States visa is outlined in the following steps.
How to Renew your USA visa in Nigeria
To begin, it is imperative that you determine whether or not you are qualified to receive a visa renewal for the United States, as well as the timeline for such eligibility.
You are only eligible for visa renewal if you are applying for a visa that falls under the same category as your previous visa that has since expired.
For instance, if your H-1 work visa has already expired, you will not be able to extend it in order to obtain a visit visa.
If you want to renew your visa, it must be in the same category as the original visa.
In addition, if you have an expired passport but still possess a visa that is still valid, you do not need to renew your visa.
You are still permitted to travel to the United States using the visa that was printed on your expired passport as long as you also have a new passport that is valid.
RECOMMENDED:
USA Visa Renewal without interview
A Nigerian citizen who is in possession of a Nigerian passport and who has been granted a US visa,
Or, a long-term resident of Nigeria who has been granted a valid US visa in the past, is required to meet another qualifying condition in order to be eligible for the renewal of a US visa.
The following categories of individuals are not permitted to have their US visas renewed:
People who are making their initial application for a visa to enter the United States.
Those whose visas have been expired for more than a year and a half.
Individuals that have had their visas revoked or cancelled for one reason or another.
Applicants who seek to submit their visa applications under a different classification than the one they now have.
Individuals who are required to submit an application for more than one category of visa at the same time.
People whose passports have been lost, stolen, or expired who are in possession of valid US visas.
Individuals who are required to submit applications for skilled worker visas.
Required Paperwork to Renew a United States Visa
To renew your visa for entry into the United States as a Nigerian, you will need the following documents:
A Valid Passport:
You are need to present additional documentation if you are in possession of a passport that has expired and contains a visa that has also expired.
Also, you will need the form for the renewal of the visa that has been completely filled out.
Procedure for Renewing a United States Visa in Nigeria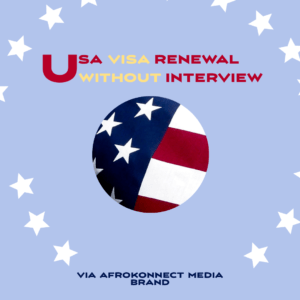 The recently launched Dropbox USA Visa renewal service is the quickest and most convenient way to accomplish this goal.
By using this service, you can avoid having to go through the hassle of attending an interview in order to get your visa renewed.
However, the service is restricted to people with BI/B2 visas, as well as those with F, H, or L visas.
To apply, simply pay the necessary costs for the type of Machine Readable Visa you want to renew at the GTB branch that is closest to you and visit that bank to submit your application.
Visit the website of the United States Embassy in order to complete the DS160 Visa Application Form,
After which you will be able to download and print the Application Confirmation Page.
Make sure that you save both the receipt and the print-out of the confirmation page.
Go to the website for the Consular General Information Service visa appointment for the United States Mission in Nigeria,
And then click the "Apply Now" option that is located at the top right corner of the screen.
After you have responded to all of the questions, you will be given the opportunity to print off a confirmation document for your application.
On this sheet, you will find information regarding when you should bring your completed application to one of the DHL facilities in Lagos or Abuja.
Choose the location where you would like to pick up your passport in the event that you are eligible for this service.
You should make sure that all of the information you supply is accurate,
Including the numbers of your passports, the email addresses, and the telephone numbers,
Your visa will be returned to the place you selected within seven to ten business days.
What is the procedure for US visa renewal?
The video below is about US VISA renewal without an interview;
This brings us to the end of this article about USA Visa Renewal in Nigeria without interview,
A complete step by step guide on how to renew your USA visa in Nigeria via Afrokonnect.
Hope you found what you were looking for in this article, kindly let us know what you think via the comment section below.