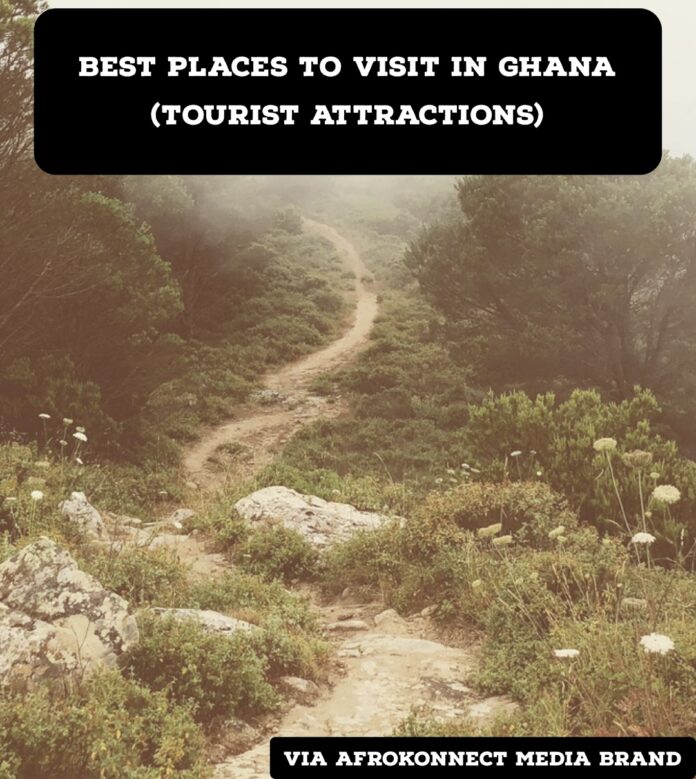 Welcome to this article about 10 Best Places to visit in Ghana and the most exciting  Tourist Attractions in 2023 via Afrokonnect.
So, are you a daring person who relishes the opportunity to discover some of the most breathtaking natural settings on earth?
You should go to Ghana if you ever get the chance to visit Africa and if you're in Africa already, lucky you.
In this article, we will take a close look at the top 10 tourist attractions in Ghana,
When people want to go on vacation, they search for places to visit in London or the best places to visit in Paris.
Both of these cities are popular holiday destinations,
However, a lot of Tourist Destinations in Africa are not bad either considering the fact that you will even spend less.
Best Places to visit in Ghana (Popular Tourist Attraction) 2023
Africa is a blessed continent naturally, countries like Nigeria, Ghana, and South Africa, among others, have such stunning natural landscapes to enjoy on Vacations.
Ghana happens to be widely regarded as one of Africa's most valuable countries,
The nation has had significant growth over the course of it's history and currently possesses a functioning democracy.
Let's not forget that Ghana is breathtakingly gorgeous, and the nation's culture and history are both incredibly diverse and well-preserved.
All of these things, in addition to many others, make the country an incredible destination for holidays and vacations.
Ghana is broken up into 14 areas, yet each of these regions offers it's own unique opportunities for sightseeing, travel, and other outdoor pursuits.
The capital and largest city of Ghana is Accra, the same time Ghana's administrative center, commercial center, and largest city is Accra.
Basically, Accra is the most populous city in Ghana, with a population that is greater than 2 million people.
If you don't make it to Accra during your time in Ghana, your trip will be lacking something important.
Accra's neighboring beaches, National Theatre, National Museum, Independence Square, and Kwame Nkrumah memorial are must-sees.
And so, let's have a look at the best 10 tourist destinations in Ghana.
10 Most Popular Tourist Destinations in Ghana – Best Places to visit in Ghana (Tourist Attractions) 2023
Kakum National Park
Everyone who goes to Ghana absolutely needs to spend some time exploring Kakum National Park.
Kakum National park can be found in the southern part of Ghana near the shore (Central Region of Ghana).
There is a substantial amount of land there, measuring up to 145 square meters in total.
There are a large number of endangered creatures, including elephants and antelopes, that may be found in Kakum National Park.
Interestingly, canopy walk in the park is hung around 30 meters above the ground and gives visitors a sense of adventure,
Particularly those who have a healthy respect for heights.
You may get a good look at the surrounding forest and nature from that vantage point.
Labadi Beach
The coastline of Accra is home to a large number of well-known beaches,
Which collectively make for some fantastic spots to have some fun and unwind.
Labadi Beach, commonly referred to as La Pleasure Beach, is one example of one of these beaches.
On the coast of Ghana, one of the beaches that sees the most foot traffic is called Labadi Beach.
Both the La Palm Royal Beach Hotel and the Labadi Beach Hotel are responsible for the upkeep of the beach,
That is where you find the Best Hotels and Resorts in Ghana as well.
During the weekends, it is not unusual to encounter a large number of people congregating at the Beach.
Best Places to Visit in Ghana (Popular Tourist Attraction) 2023
Labadi Beach, which is one of the top 10 tourist spots in Ghana, is popular not just with Ghanaians but also with foreign tourists.
This is because Ghanaians value leisure and entertainment highly.
On the beach, some of the things you can participate in include dancing to music coming from loudspeakers, playing games, and riding horses.
If you would want to have some time to yourself at the beach, the weekdays are the best time to go to Labadi Beach because it is less crowded.
Cape Coast – Best Tourist Places in Ghana
The Portuguese originally referred to Cape Coast as Cabo Corso in the past.
It was once the capital of a European colony in this area.
A number of years ago, the town was the most important center for the trade of slaves in all of West Africa.
Slaves were purchased in this town and then held captive within the castles until they were ready to be sent to the western world via ship.
Without a shadow of a doubt, Cape Coast is one of the most culturally significant locations in all of Africa.
The town of Cape Coast as it exists now is mostly a fishing village,
And it's streets are lined with historic colonial structures.
Cape Coast is ideal for strolling thanks to the creative atmosphere that it exudes.
You can make Cape Coast your home base while you go to other destinations like as Kakum National Park, Elmina, and Anomabu.
Elmina Castle
Elmina Castle, like Cape Coast Castle, is steeped in history and preserves important memories.
The first European trading center for slaves to be established on African soil was located in the Elmina Castle.
During the 15th century, the Portuguese constructed the stronghold.
It was under the hands of the British and Dutch when it served as the pathway for slave traffickers traveling between the Caribbean and Brazil.
The architecture of the castles places the opulent living quarters for the Europeans on the upper levels,
While the dungeons that housed the slaves (with approximately 200 people housed in each cell) are situated on the lower levels.
The Elmina Coast is a beautiful setting in which to reflect on the past and present of Africa.
These grounds would be a dream come true for African history writers.
A "UNESCO World Heritage Monument" label has been bestowed upon the castle,
Which is housed within the country's network of national museums.
Best Places to visit in Ghana (Popular Tourist Attraction) 2023
Lake Bosomtwe
Lake Bosomtwe is only around 32 kilometers away from Kumasi, Ghana's second-largest city,
So, finding it won't be difficult even if you've never been there before, Kumasi is located in the middle of Ghana.
The lake, which has a depth of over 90 meters, was brought into existence when a big meteorite collided with our planet.
Because the inhabitants of the Ashanti kingdom consider the crater lake to be a sacred site,
It attracts the attention not just of tourists but also of the natives who live in the area.
Lake Bosomtwe is definitely one of the top 10 best places to visit for tourists in Ghana,
It is surrounded by trails that can be used for bicycling, hiking, and even horseback riding.
If you are looking for a place to unwind by the water on the weekend, it would make a great destination for you to visit.
Wli Waterfalls
The peace and quiet that waterfalls provide is perfect for unwinding and having a good time by oneself or with someone you care about.
Fortunately, the Wli waterfalls in Ghana provide such a peaceful environment.
This waterfall is consistently ranked as one of the best tourist attractions in Ghana.
Volta is one of Ghana's regions, and the capital city of "Accra" is only approximately a five-hour drive away from this destination, which can be found in Volta.
The Wli Waterfalls, commonly referred to as Agumatsa Fall, is the location of the highest waterfall in Ghana and all of West Africa combined.
Hiking at the top of the falls with your companions is an excellent way to add some excitement to your visit.
Having said that, you should make sure to follow a guide.
RECOMMENDED:
Lakeside Marina Park – Tourist Sites in Ghana
In Ghana, notably in Accra, one may find a variety of parks designed for leisure purposes.
For example, Lakeside Marina Park, one of the most popular destinations for tourists in Ghana.
This location has a soothing vibe and the amenities are kept in excellent condition,
Lakeside Marina Park has seen a consistent influx of guests from all parts of the world over the years,
It has become an excellent location to visit if you would want to take your children on a tour.
The park has a variety of games and play-sets for children, such as swings and slides, among other activities.
In addition, the adult and couple's recreation park offers the opportunity to participate in water activities such as paddling a canoe or a boat.
Best Places to Visit in Ghana (Popular Tourist Attraction) 2023
The Royal Palace of Manhyia
It would be a shame to pass up the opportunity to see the traditional ways of life practiced in Ghana, notably in the Ashanti Region.
The Ashanti Region is rather proud of its many chiefs,
One of the many positive aspects of this region is that it's people still show a great deal of respect for those leaders.
Additionally, the chiefs play significant responsibilities in the development of the nation.
The Manhyia Palace is home to the Asantehene of Asanteman,
He is considered to be one of the most powerful chieftains in all of the Ashanti Region.
Kwame Nkrumah Memorial Park and Mausoleum
Surely you are familiar with the name Dr. Kwame Nkrumah,
He is widely recognized as one of Africa's most influential leaders.
On March 6, 1957, under Kwame Nkrumah's leadership, Ghana won it's independence from the British.
After Dr. Kwame Nkrumah passed away in 1992,
The Kwame Nkrumah Memorial Park was established in his honor to commemorate his life,
And, the contributions he made to the advancement of Ghanaian society.
Among the top 10 tourist attractions in Ghana we have Kwame Nkrumah's memorial park and mausoleum,
It was built in Accra for the purpose of housing the remains of Dr. Kwame Nkrumah and his wife.
The Kwame Nkrumah Memorial Park should be at the top of your list of things to see in Ghana,
Especially if you are interested in learning more about the history of Ghana's fight for independence,
While at the same time having a good moment touring the country.
In addition to that, it has a number of unique artifacts that are connected to the fight for Ghana's independence.
Kumasi Zoological Gardens – Tourist Attraction Ghana
Kumasi is yet another beautiful and vibrant city in Accra, Ghana,
One of the best locations to visit in Ghana is the Kumasi Zoological Gardens.
The zoo first opened its doors in 1951 and eventually occupied an area of land that was equivalent to 1.5 square kilometers.
The Kumasi Zoo is between the Centre for National Culture and the former racecourse.
Due to the fact that it was designed to serve as a conservation center for various forms of species that were in risk of extinction,
This zoo in Kumasi is the ideal location to visit if you are interested in observing or learning more about the wildlife of Africa.
In addition to baboons, lions, and camels, this zoo is home to a variety of bird species, including eagles, parrots, and ostriches.
10 Most Popular Tourist Destinations in Ghana – Best Places to Visit in Ghana (Tourist Attractions) 2023
Kakum National Park
Labadi Beach
Cape Coast
Elmina Castle
Lake Bosomtwe
Wli Waterfalls
Lakeside Marina Park
The Palace of the Manhyias
Kwame Nkrumah Memorial Park and Mausoleum
Kumasi Zoological Gardens
Conclusion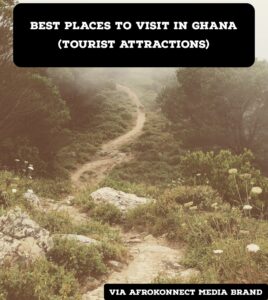 In Ghana, you'll find welcoming locals, mouthwatering cuisine, fantastic music, and exciting hangout locations around every corner.
Try and explore some of the most popular tourist destinations in Ghana listed in this article,
It is recommended that you spend some time in Accra, Ghana's capital city, during your next trip to the country.
The city of Accra exudes an air of warmth and friendliness,
There is a delightful experience waiting for you in Accra, regardless of whether you are there for business, for pleasure, by yourself or with your family.
Congratulations, you've made it to the end of this article about 10 Best Places to visit in Ghana and the most exciting  Tourist Attractions in 2023 via Afrokonnect.