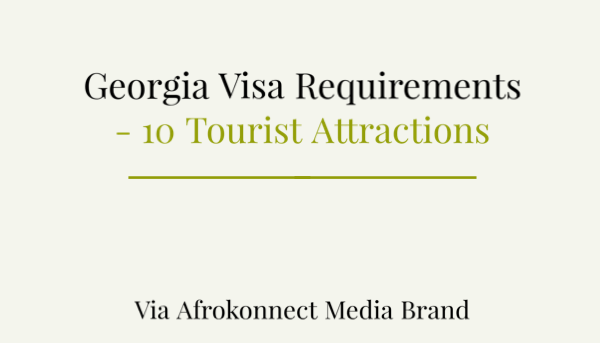 Welcome to this publication about Georgia Visa Requirements and 10 Best Tourist Attractions to Visit in Georgia via Afrokonnect.
The country of Georgia can be found in the Caucasus area, which is located between Eastern Europe and Western Asia.
Before allowing foreigners (Nigerians, Ghanaians, South Africans, Kenyans etc) to enter it's borders,
The sovereign state demands that all visitors have a valid visa in their possession.
If you are interested in relocating or visiting Georgia then you can choose from among numerous different visa options.
The requirements and costs of obtaining a visa are both going to be determined by its category.
If you are able to demonstrate that you are qualified in every respect, obtaining a visa to Georgia shouldn't present you with any challenges.
Different types of visas come with different levels of difficulties.
In this article, we will discuss all of the Georgia visa requirements for Nigerians, including the requirements for each type of visa,
This applies to everyone traveling to the country, regardless of what country you are coming from.
GEORGIA VISA REQUIREMENTS FOR NIGERIANS
You will be required to fulfill a number of stipulations in order to be eligible for a tourist visa for the country of Georgia.
You will be required to be in possession of a valid passport that is valid for travel to more than one country and has not expired for at least six months.
The application for a Georgian visa needs to be filled out and signed by you.
Make sure that the form is filled out accurately, as any errors in the information will cause the processing of the visa to be delayed or even rejected.
There is no exception to the requirement that you pay the visa processing cost.
Before you may move on with the application process, you are required to pay the visa processing cost.
It is necessary to bring a photocopy of the information page found in the Nigerian passport.
This should clearly display the applicant's photograph, the applicant's passport number, and any biodata pages that are currently present.
Two different versions of the same photograph for the passport.
Georgia Visa Requirements
In addition, you will need to provide images that are passport-sized and were taken in accordance with the requirements.
It is required that proof of accommodation be given. This refers to evidence that demonstrates where the applicant plans to reside after they arrive in Georgia.
There is a possibility that this is a genuine hotel reservation; but, if the host (Georgia) is willing to accommodate you, you won't need this.
You are need to demonstrate that you are capable of meeting your financial obligations by submitting three months bank statements.
Basically, all the Georgia visa requirements highlighted above also applies to every international traveler not only Nigerians,
So if you're reading this and you're not a Nigerian, make sure you have all the above in check before you start applying.
HOW TO APPLY FOR A GEORGIA VISA
Get all of the necessary documentation ready. The documentation that you will need to provide will be different depending on the type of visa that you are applying for.
Go to the website of the Georgian embassy in your country to download and fill out the application for a Georgia visa.
When submitting the required documents, you will also need to include the completed visa application form.
Make sure you pay the application fee for the visa.
It is important to keep in mind that the fee will vary depending on the type of visa that you apply for.
You can choose to either submit the visa application form and the supporting papers online or in person at the visa application center.
When submitting an application for a visa online, both the application form and the supporting documents will need to be scanned.
When you submit your application in person, you are required to present a photocopy of all of your supporting documents,
As well as the visa application form that you filled out by hand.
After everything has been turned in, you will need to wait for your visa to be processed.
Depending on the kind of visa you requested, you could have to wait anywhere from two to fifteen days for a response.
You could also submit an application for an electronic visa, which would help you save time.
The Georgian e-portal is where you'll want to go to complete this task.
TOURIST ATTRACTION IN GEORGIA 2023
It is recommended that you visit these locations before departing Georgia and returning to your home country if you are planning to apply for a Georgia tourist visa.
During your time in Georgia, be sure to pay a visit to at least a few of these fantastic landmarks and museums.
1. Ushguli
A cluster of settlements that make up Ushguli can be found in the mountainous region of Svaneti in the Caucasus.
This is without a doubt one of the most breathtaking locations in all of Georgia that tourists may go to.
The region, which is protected as a UNESCO World Heritage Site, is dotted with a large number of historic watchtowers that stand guard at the entrance.
In addition, the Svan families that live in the villages will provide you with some delicious home-cooked meals.
2. Lake Ritsa
Lake Ritsa is found in Abkhazia, which is regarded to be a part of Georgia;
Nonetheless, Russia maintains a significant amount of authority over the territory's borders.
You should be aware of the risks involved with this journey if you plan on going to this destination because they come with the adventure.
There are some breathtaking sights to be had near Lake Ritsa,
Including some derelict structures that will send shivers down your spine at the mere sight of them.
If you are interested in taking part in this eerie journey, you need maintain a close proximity to the tour guide.
You can also consider these 10 Best Travel Destinations to visit in Africa or even these 15 Best Places to Visit in Luxembourg (Tourist Attraction).
Top Sights in Georgia 2023 – Visa Requirements
3. Cave city of Uplistsikhe
The cave-dwelling community of Uplistsikhe is not only one of the oldest towns in Georgia,
But also one of the most popular tourist destinations throughout the entire nation.
You could begin your exploration of this location in Tbilisi, and then go on to Uplistsikhe and Gori along the way.
Both the stronghold and the house where Joseph Stalin was born are open to the public there.
RECOMMENDED:
4. Kakheti
The breathtaking Kakheti region of Georgia is not only well-known for producing some of the world's finest wine,
But is also home to several of the country's most picturesque tourist destinations.
You will have the opportunity to tour the region's many wineries and sample some of the world's most excellent wines at prices that are surprisingly accessible.
After you have finished touring the vineyards in the area, you may take in the breathtaking scenery that the region has to offer.
The David Gareja monastery complex, which dates back to the sixth century, will prove to be quite fascinating to you.
Georgia Visa Requirements and 10 Tourist Attractions to Visit in 2023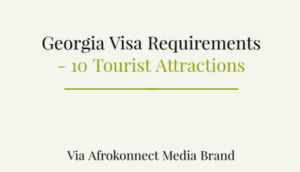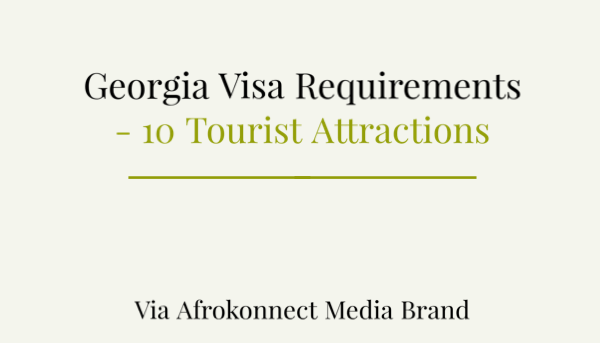 5. Kutaisi
Since Kutaisi is one of the largest cities in Georgia, it is one of the greatest sites to learn more about the art and culture of the native people who once lived there.
When you take in the sights of monasteries, restaurants, and churches, you will have the opportunity to gain historical knowledge.
You will also have the opportunity to experience day trips to magnificent sites such as the Martvil Canyon.
Remember to bring your camera with you on this one,
As there will be many memorable moments that you won't want to miss while you're on your trip.
Tourist Attractions in Georgia 2023
6. Tbilisi
Here's another tourist attraction in Georgia, Tbilisi is often regarded as one of the most desirable destinations for vacationers;
Hence, you can never go wrong by going there to enjoy your time with loved ones or alone.
The city is home to a picturesque ancient town that is perched precariously on the edge of a steep cliff and provides views that are simply spectacular.
Also the city has a variety of first-rate dining establishments with rates that are reasonable,
It offers accommodations of a high standard, and a large number of historical places to visit.
When you explore the Kura River, you will come across other exciting opportunities.
There is a cable car that will carry you above the river and provide you with some breathtaking views of the scenery below.
7. Mestia
Mestia is one of those locations that can only be reached by putting in a significant amount of work,
But once there, travelers will realize that the journey was well worth it.
The town is situated in a desolate mountainous location,
Additionally, it is in this place that you will discover a distinct culture that has persisted for countless generations.
Georgia Visa Requirements and 10 Tourist Attractions to Visit IN 2023
10 Best Places to visit in Georgia (Country)
The video below is about 10 things and places to visit in The country of Georgia;
This brings us to the end of this article about Georgia Visa Requirements and 10 best Tourist Attractions to Visit in Georgia.