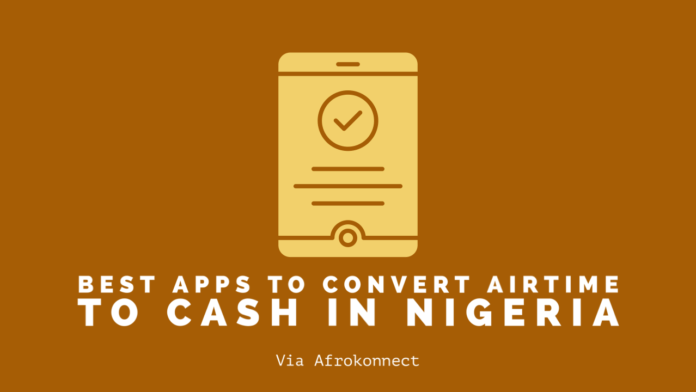 Welcome to this post about Best Apps To Convert Airtime To Cash in Nigeria, via Afrokonnect.
It is a common occurrence for customers to be overcharged while buying airtime from banks via the usual USSD method or Internet banking.
If you've ever accidentally overcharged for airtime on your phone,
You can get your money back in a hurry by using one of several websites or apps that allow you to turn unused airtime into cash.
Here, we'll discuss some of the best apps in Nigeria for changing your airtime into cash.
There are also similar platforms in Nigeria where you can trade in your gift cards for cash.
In the digital age, where smartphones have become an integral part of our lives, airtime has emerged as a valuable currency.
Whether it's prepaid phone plans, gift cards, or mobile data, we often find ourselves with unused airtime that goes to waste.
However, a solution has emerged to unlock the potential of these overlooked assets.
With the advent of innovative mobile applications, converting airtime to cash has never been easier.
Best Apps To Convert Airtime To Cash in Nigeria
In this article, we delve into the world of airtime conversion apps and highlight the best options available to turn your unused airtime into tangible funds.
These apps have revolutionized the way individuals can leverage their excess airtime, offering a simple and efficient means of reclaiming its value.
Gone are the days of letting your airtime expire or giving away unused minutes and data to friends and family.
These cutting-edge apps provide a practical solution, ensuring that your airtime investments yield a return,
Empowering you to make the most of every penny spent on your mobile plan.
We'll explore the features, functionality, and user experiences of the leading airtime conversion apps,
Helping you make an informed decision on which one best suits your needs.
From user-friendly interfaces to secure transactions, these apps prioritize convenience and security to provide a seamless experience for users.
Furthermore, we'll discuss the potential benefits of converting airtime to cash,
Such as unlocking additional purchasing power, supplementing your income, or even contributing to worthy causes.
By highlighting the advantages, we aim to inspire readers to explore the possibilities and seize the opportunity to turn their idle airtime into something meaningful.
Whether you're a frequent traveler, a student on a tight budget or simply someone looking to optimize their mobile expenses,
The ability to convert airtime to cash is a game-changer.
Join us as we embark on this journey through the best apps available, demystifying the process and guiding you towards maximizing the value of your unused airtime.
Best Apps To Convert Airtime To Cash in Nigeria
1. Recharge2Cash
Recharge2Cash makes it easy for people in Nigeria to convert their unused airtime into cash, and the process only requires a few easy steps to complete.
This app is widely considered to be among the best available in Nigeria.
At the moment, the only thing you can do with it is sell your unused airtime, and the proceeds will be deposited into your bank account in a matter of minutes.
They buy a significant quantity of airtime and make their payments on time.
You can also buy data via Recharge2cash, where you will earn a significant discount on your order.
They offer one of the easiest-to-use apps in Nigeria for converting airtime to cash, and the quality of their services is exceptional.
With Recharge2Cash, you can easily exchange unused airtime for a bank transfer.
It claims to be one of Nigeria's quickest airtime converters, and it handles 99% of its transactions automatically. 
2. Patricia
When it comes to buying and trading cryptocurrencies as well as gift cards,
Patricia is undeniably one of the best websites in Nigeria.
On the other hand, this cryptocurrency trading website features a function that enables customers to trade their unused airtime for cash at any moment.
Patricia offers one of the most advantageous exchange rates out of all of the other programs that convert airtime into cash that are detailed on our page.
For every N1,000 in airtime that you sell, for instance, you should expect to receive N800 in cash that is sent into your Patricia Bitcoin Wallet.
This application is available for download from the app stores for both Android and iOS, and it features a user interface that is both beautiful and intuitive.
Best Apps To Convert Airtime To Cash in Nigeria
3. AirtimeFlip
Another helpful piece of software that enables you to turn your unused airtime into cash in Nigeria is called AirtimeFlip.
Even if this program can only convert airtime to cash unlike other platforms that combine several functionalities,
You can still rely on it to be your go-to airtime converter for the time being because it is one of the best out there and even though it is the only option it provides.
You can also read an article that explains how to use AirtimeFlip to convert airtime to cash if you are interested in learning more about how to use this app.
AirtimeFlip is pretty easy to use and has a simple design that makes using the apps extremely straightforward and simple.
Despite the fact that this software has received a large number of negative reviews,
It is still quite good and is considered to be among the best applications available in Nigeria for converting airtime to cash.
They make it simple to exchange your sim's airtime for cash, make immediate airtime and data purchases, and settle up any outstanding payments.
All bases are covered here. You won't find a better airtime payment processing method than Airtimeflip, which is also a one-stop shop for airtime, data, and bills.
4. Aimtoget
Aimtoget is widely regarded as one of the greatest apps in Nigeria for converting airtime to cash.
In fact, they were one of the first, and they've since expanded the range of services they offer via their app.
They will purchase your airtime from you at a price that is extremely fair, should you choose to sell it to them.
Not only can you exchange your airtime for cash with the Aimtoget app,
But you can also use it to pay bills, buy data, top up your airtime, transfer money, and more.
You don't need to search any further if you're looking for a good app to convert your Nigerian airtime to cash;
They have taken great effort in developing the platform on the most secure data networks possible.
5. Gosub.ng
Gosub.ng is a fast and reliable airtime-to-cash marketplace in Nigeria.
After you have sent them enough airtime, they will process the money to your bank account as quickly as possible.
This firm takes great satisfaction in how quickly they can do this.
If you utilize the website to turn your airtime into cash, you should have the money within five minutes of using the website.
In addition to exchanging unused airtime for cash,
The company also provides reasonably priced data plans, airtime, and bill payment services.
Also, the website features a customer service department that is both knowledgeable and courteous.
You can reach them by either calling them or messaging them on WhatsApp,
Last but not least, the website in question has received favorable comments on Twitter and a rating of 5.0 out of 5 stars on Google,
Showing that the vast majority of people who have made use of their service have nothing but good things to say about it.
Digital payments and services are made available to people and businesses in Nigeria through Gosub.ng.
Anyone can use their service to acquire telecom products and services like data plans, airtime, transfer or convert airtime to cash, and pay bills.
Their cutting-edge automated system ensures your complete contentment, confidentiality, and safety.
6. Prestmit
On this trading network known as Prestmit, users are able to purchase and sell a variety of digital assets, including cryptocurrencies and gift cards.
This platform has established itself as one of the most successful app in Nigeria for buying and selling airtime for cash.
This is because it has an innovative user interface, which is both straightforward and secure when exchanging airtime for cash.
Additionally, it has great customer service, which ensures that your transaction goes through without a hitch.
Because of this, all you need to do to sell your airtime for cash is open a Prestmit account, and the entire process will take you less than five minutes.
The most competitive airtime rates on the market, without any sneaky extra charges, is one of the primary aspects that sets Prestmit apart from its rivals.
In addition, Prestmit has developed into a popular payment platform in Nigeria,
Which enables users to pay a variety of services,
Including electricity bills, cable TV subscriptions, betting account financing, and airtime and data purchases.
With Prestmit you can buy and sell digital assets like as gift cards, bitcoin, tether, litecoin, dogecoin, airtime, and data topup on this user-focused marketplace.
Taking payments in Naira, Cedis, Bitcoin, and US Dollars Tender.
RECOMMENDED:
Best Apps To Convert Airtime To Cash in Nigeria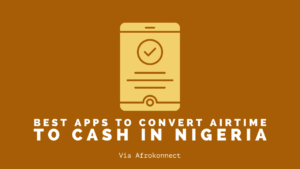 Conclusion
In a world where mobile technology reigns supreme,
The ability to convert unused airtime into cash has become a valuable asset.
Through the exploration of various apps designed specifically for this purpose,
We have discovered a range of powerful tools that enable individuals to reclaim the value of their idle airtime.
These apps have revolutionized the way we view and utilize our mobile plans,
Offering a convenient and efficient means of converting airtime to real cash.
By utilizing these apps, users can unlock additional purchasing power, supplement their income,
Or contribute to worthy causes, all by simply tapping into their unused airtime reserves.
The convenience, security, and user-friendly interfaces of these apps ensure a seamless experience,
Making the process accessible to anyone with a smartphone.
However, it is crucial to exercise caution when selecting an airtime conversion app.
Prioritize platforms that prioritize security and privacy,
Be sure to read user reviews and understand the terms and conditions before proceeding with any transactions.
In conclusion, the best apps to convert airtime to cash have opened up a new realm of possibilities for mobile users.
By harnessing the potential of these innovative platforms, individuals can transform their neglected airtime into something meaningful and impactful.
So, don't let your airtime go to waste any longer—embrace the power of these apps and unlock the true value of your mobile experience.
Disclaimer: While airtime conversion apps offer convenient solutions,
It's important to exercise caution and choose reputable platforms to ensure the security of your personal information and transactions.
Always read user reviews, check the app's credibility, and understand the terms and conditions before proceeding with any transactions.