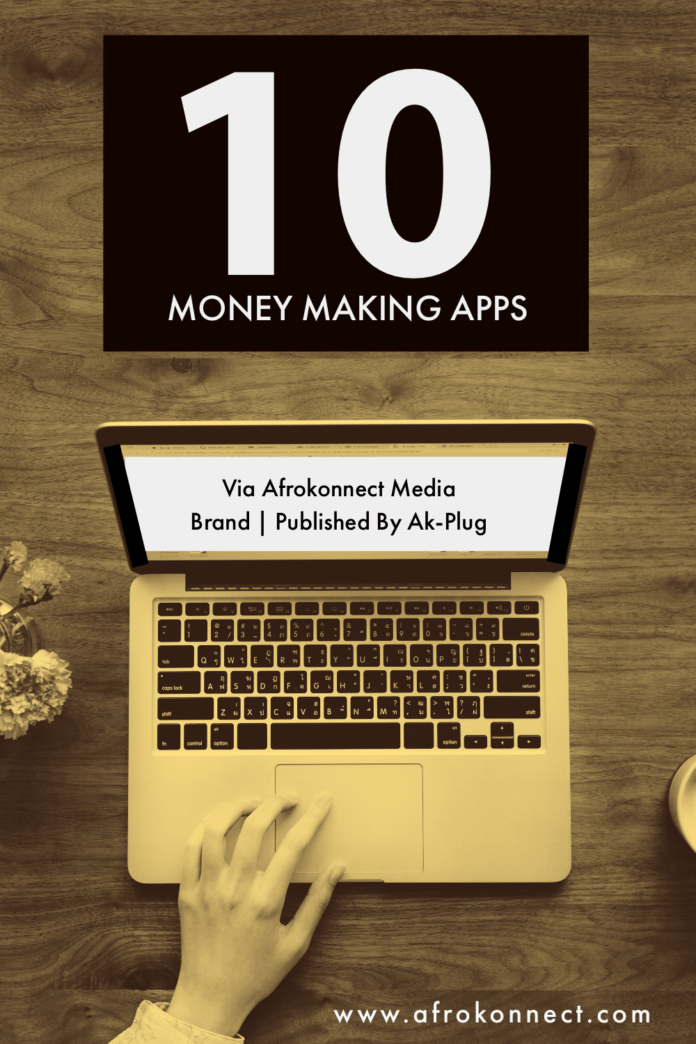 Top 10 Money Making Apps, Legit Paying App in 2023 via Afrokonnect.
Nowadays, a lot of people are glued to their smartphones for hours on end,
Their smartphones are used for a variety of things; playing games, messaging family and friends, running their businesses,
Or even simply scrolling through social media.
With the amount of hours in a day our smartphone spends in our hands,
It is not unheard of to research ways to earn money with our smartphones and this is where this article comes in.
In this article, the best apps for money making, games that pay real money, getting paid to watch videos and refer and earn apps will be discussed,
Keep reading to find out the best legit paying apps out there.
Best App for Money Making in 2023
1. FIVERR
Fiverr is a marketplace for freelancers with expertise in over 200 categories to advertise their services and the cost of such services,
The advantage of using this app is that buyers come to you and not the other way round.

Once you complete a task you have been given, you get paid and Fiverr takes just 20% of your earnings which is a fair price considering the fact that a platform has been created for you to advertise yourself and wait till clients come to you.
Payments are made either through PayPal, directly to your bank account or credited to a Fiverr Revenue Card.
2. UPWORK
How upwork works is identical to the way Fiverr works in that it also connects freelancers to clients who offer projects like writing, design, marketing and so many other categories.

The only difference being that while Fiverr charges a fixed 20% service fee, Upwork service fee varies from 5-20% of your earnings depending on how much you've earned.
This implies that the more you earn, the more you get to keep,
Payments are made through a variety of options and this includes; wire transfer, PayPal, Payoneer, directly to your bank account or directly to a US bank.
3. STEADY – 

Money Making Apps: Legit Paying Apps

Steady is a popular app that exposes users to various job offers and money making opportunities.


They offer the aforementioned opportunities in 4 classes;

recently added, part-time and full-time work, work from home and finally, gigs.

Statistics has shown that after joining, the app's users make an average of $5,500 per year.
4. RAKUTEN
How Rakuten works is that it gives shoppers up to 40% cash back on purchases from popular restaurants, food delivery services and retailers.

Besides that, through the Rakuten app, users can also earn cash back on gift cards, travel and many more.
The app is pretty simple to use. All you have to do is download the app, create an account, click on the store you want to shop at and then complete the transaction.

Your debit or credit card can be linked to the app and payments are made through paypal or check.
Money Making Apps: Legit Paying App in 2023
5. POSHMARK
The Poshmark app functions as a marketplace for selling mainly clothes and accessories and sometimes, home decorations.

Selling items with the app is a seamless process as all you have to do is sign up and then upload pictures of the item you want to sell,
Poshmark is in charge of the entire process from selling down to shipping so you don't have to go through stress,
In return, they charge $2.95 commission on sales less than $15 and on sales of $15 and above, they charge a 20% commission.
Payments are made through check or through direct deposit to your bank account.
6. IBOTTA
Regarded by many as one of the most trusted Money Making App,
Ibotta works just like Rakuten in that you can earn cash back on in-store and even online purchases when you buy from any one of their over 2000 supported retailers.

Though it was originally for groceries, it has now broadened to include clothing, entertainment and the likes.
Payment is made through PayPal, gift cards or to a bank account.
ALSO READ:
7. OFFERUP – 

Legit Money Making apps

OfferUp works as a marketplace where sellers can sell their stuff especially if they are targetting a wider audience,

All you have to do is create an account with them and take pictures of whatever it is you want to sell,

Be it a car or laptop or even a washing machine.

You can talk with prospective buyers through the app and when negotiations are done with,

You can either ship the item [s] to the buyer or arrange a meeting with them.

Payments are made either in cash or deposited to your bank account.

OfferUp charges only a 12.9% service fee which is fair for a Money Making App that offers so much.
8. SURVEY JUNKIE
Survey junkie is one of the highest paying survey apps.
Through survey junkie, you get to give your opinions to survey junkie's partner brands and get paid to give such opinions.

They offer popular gift cards and cash via PayPal.
9. INBOX DOLLARS
Inbox Dollars is an app that offers users real money to complete surveys, watch TV, shop or complete offers through the app.
You also get a free $5 welcome bonus.
10. TASK RABBIT
Task rabbit is one of the biggest platforms that connect people who can do economy jobs to people who need their services.

The pay can be anywhere between $15-$100 per hour but this depends on the task you are completing.
RECOMMENDED:
Top 5 Games that Pay Real Money – Legit 

Money Making apps

in 2023
1. BLACKOUT BINGO
Blackout bingo is a popular game described as "fun and addicting" by its players,
With a 4.5 star rating on the app store, the game app is a slight deviation from classic bingo in that it is a game of skill and speed and not luck,
From playing the game, players have the opportunity to earn real-world reward and cash prices.
Note that as with all bingo games, you have to put in some money first to stand a chance of winning more cash so you should never put more at stake than you can afford to lose.
2. CASHYY
Cashyy is an app [only available on androids] that allows users to play various free games and accomplish missions in exchange for a reward,
With a 4-star rating on the app store, the app enables users earn coins which can be exchanged for gift cards or cash through PayPal.
3. REWARDED PLAY
This is an app also similar to cashyy,
You can choose whatever you want to play from an array of games and then earn rewards in form of gift cards when you play.
4. MISTPLAY
Mistplay is also a popular app that allows users earn rewards called "units" for discovering and playing new games.

These units can eventually be cashed in for gift cards to various stores.
5. SWAGBUCKS – 

Money Making apps

Swagbucks is a cash-back and rewards app,

When you play selected games on this app, you earn points called "SB" and with a certain number of these points,

You can redeem them for gift cards or get cash sent into your PayPal account.


Besides games, Swagbucks also allows users earn points which can eventually be converted into money by shopping, watching videos, taking polls or fulfilling other tasks.
GET PAID TO WATCH VIDEOS
There are legitimate websites that pay users to watch videos and this can serve as an extra source of income.

Some of these websites include;
Official website: www.fusioncash.net
Official website: www.swagbucks.com
Official website: www.vindale.com
Official website: www.adwallet.com
Unlike the above mentioned websites, slidejoy is an app and can be downloaded through the app store.
Other notable ways of making money through watching videos includes these top 7 proven ways below;
Trailer checks

Open checks
Blind checks
Advertisement checks
Sneak checks
Write subtitles
Review movies and tv shows
Top 3 Refer and Earn Apps in 2023 – Money Making Apps
Refer and earn apps are also a good way to earn extra income,
How most of these apps work is that you generate a personal link which you'll send to whomever you're referring.

When the person registers with your link, you are paid your referral bonus.
Another way is through referral codes that are specially generated for you and when whomever you've referred inputs your referral code into the apprpriate quarters, you get paid your referral bonus.

3 notable refer and earn apps include;
1. PIGGYVEST
With piggyvest, you can refer your friend by sending them a referral link and when they register through your link,
You get NGN 1000 referral bonus and they also get NGN 1000 for registering with your link which equals about $3 for each referral.
2. COWRYWISE
Cowrywise allows both you and the person you've referred earn NGN 250 each as long as the person registers with your link or referral code and saves or invests NGN 5000 and above.
3. JUMIAPAY – 

Money Making apps

JumiaPay is an app that allows you earn NGN 1000 per referral you make,


This means that if you refer 1 person per day, you'll have a minimum of NGN 30,000 at the end of the month which equals around $72.

Some other apps that pay you bonuses for referring people include;
Umba

Chipper
Opay
Fairmoney
Abeg
Kuda and many more.
In conclusion, while there are so many legitimate websites to make money from,
The process can be time consuming especially when it involves watching videos or taking surveys.

So, make sure to go for options that fit into your schedule and won't disturb your regular or everyday source of income.
According to Queen Magomani these 5 apps makes $100 per week for her,
Watch the video below to learn more about the best Money making apps that actually pay;
FAQ on Money Making apps
What apps pay you instantly in 2023?
Trove
Luno
Chaka
Payoneer
Bamboo
READ ALSO:
Which app gives real money for free?
The best ways to get real money for free is through the apps mentioned above for referral,
You get money for referral bonus without having to invest your own money,
Example of these Legit paying apps are;
RiseVest
Cowrywise
Barter by Flutterwave
Bundle Africa
Refer Wallet
Congratulations you've made it to the end of this article about Top 10 Money Making Apps, Legit Paying Apps in 2023 via Afrokonnect.
We hope this article was helpful, Cheers!