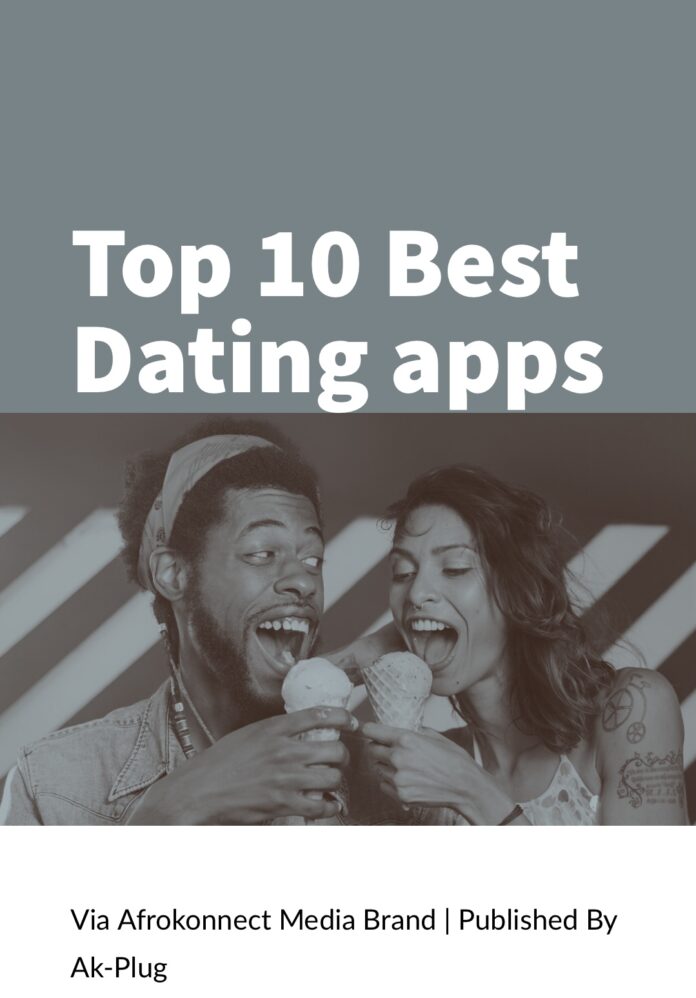 Top 10 Best Free Dating Apps and Sites in 2023 via Afrokonnect.
Let's be honest, every once in a while, we all need a companion, we all need someone to talk to,
Some people prefer to meet new friends online before they meet in real life,
A lot of people have met true love online, some have gotten married,
Bottom line is if it's meant to be then it will happen regardless of where you meet new friends.
You will agree with me that dating apps have reduced the rate of physical interaction and communication, especially free dating apps,
These top dating apps allows you to communicate faster, cheaper and securely, in some cases anonymous.
Best dating apps – Top Dating site in 2023
In this article I will be sharing some applications with you,
This apps or sites allows you to connect with new people all over the world,
All you need is your mobile phone or computer and internet connection,
Thanks to several social media platforms like whatsapp that allows private communications,
However, connecting with new people on social media isn't as straight forward as you think,
Not everybody on social media is open for dating or relationships,
Some people are on social media for business, politics, sports and so on.
Now, this is where free dating apps come into play,
Dating apps allows you to reconnect, meet new people with similar interest and ultimately date in a private neutral medium.
We have numerous dating apps but, in this list, we have compiled a list of the top 10 best free dating apps in 2023.
These dating apps have countless advantages,
For example, it comes handy for people that are very busy with work or shy, also it has the ability to curate matches.
You can literally input the specifications and characteristics you are looking for in your partner,
The app then uses your location to match you up with several suggestions.
Please note that some of the dating apps in this list are country-specific, and therefore, potential users could be restricted due to locations,
So, without further ado, let's check the list out.
Top 10 best free Dating apps and Sites in 2023
10. Snack
On our 10th spot comes the Snack dating app, snack is one of the leading dating apps currently operating in the digital world,
Over the years of their existence, snack has raised the bar in terms of compatibility match,
While other dating apps allows users to upload only pictures, Snack allows users to exchange videos,
This feature gives room for interaction, reaction and expression.
To say the least, it uses Tiktok's FYP endless scrolling feature to increase user experience,
After matching is done, snack allows users to message each other,
At the moment, users can only access the Snack app from iOS devices.
9. Coffee Meet Bagel
This top dating app for serious relationship was founded and established by 3 amazing sisters,
Coffee Meet Bagel was founded in the United States, precisely in New York and it was lunched officially in 2012,
The Coffee Meet Bagel is also known as CMD, which is an abbreviation from the name.
Their unique and classic approach to online dating has kept them in the game for years now,
One thing Coffee Meet Bagel (CMB) is known for is privacy, CMB takes their users privacy very important as everything is done securely and discreetly.
In case you are wondering how the app works, so, after registration, the CMB app sends a limited number of female profiles to men,
Also it sends male profiles to females based on their preferences,
Basically, CMB would later show women profiles of men that have shown interest in them and do same for men,
That way both genders get what they are looking for.
After a perfect match is completed, CMB dating app gives a 7-day window to interact with each other,
Each completed match is called Bagels, also, the updated version of CMB app allows users to comment and like users profiles which also boost interaction.
Best Dating apps in 2023
8. Hinge
Hinge is one of the most straightforward dating app and site to use,
Everything is self-explanatory and the platform is user friendly.
There is a reason why Hinge has been rated by many reviews as one of the best dating apps to use in 2023,
One thing that makes Hinge stands out among other dating apps and sites is that it discourages cheating in relationship,
It claims and promote the end goal for users is to delete the app – presumably, after they have found true love on their platform.
Not everyone has the confidence to start a conversation with strangers in real life,
This app gives you an opportunity to meet the people you might like in real life,
Unlike most dating apps that have popularized swipe to select prospective matches,
Hinge app allows reactions, direct messages and comments to encourage connections between users.
The apps basically operate and serve the purpose of recommending users with the profiles of prospective partners,
While users scroll through their feeds on their dating site, they can easily view, comment or react to other profiles as they scroll.
The good thing here is you can even message other users without necessarily being matched,
This is because Hinge claims they are focusing more on conversation, personal traits and less on physical appearances.
Everybody has an equal chance of finding true love using the hinge dating app,
Lastly, the dating sites allows users to filter and search prospective partners based on location, religion, height, etc. 
7. Facebook Dating
Let me take a guess, if you are reading this, you probably have an active or abandoned Facebook account,
But did you know about Facebook dating? Well, the popular social media platform also offers dating services through its in-app feature.
There is a lot you can do on social media;
We have written a comprehensive article about 5 smart ways to make legit money on social media.
I don't need to tell you that Facebook is one of the most used social networks and among the most valuable companies in the world,
The platform already has audience from all over the world, which makes connection very easy on their dating site. 
The company thrive in data collection and artificial intelligence,
Facebook dating officially ventured into dating services in September 2019,
The dating services is one of the in-app functions within the Facebook app,
Similarly, the Facebook dating utilizes the massive data owned by Facebook to develop a matching algorithm,
The cross match is done based on factors like location, Facebook click event, etc.
To start using the Facebook dating site all you have to do is set up new profiles and upload new pictures,
Facebook dating also permits users to choose if they wish to be matched with Facebook friends or the outside circle,
Which I think is a good idea because not everyone will want to use same profile on both platforms.
Best Dating Sites for over 50 years old in 2023
6. OurTime
This dating site has a well-developed app for users to use all over the world to make new friends and find serious relationship,
Based on online reviews, OurTime deserves to take the 6th spot best dating apps this year,
One of the reasons is because of the features and unique business model associated with the Dating app.
So, the OurTime dating site gives the opportunity to old people to find love again,
It claims to understand the needs and wants of the elderly and they are on a mission to deliver,
It is a dating site that lobbies the interests of individuals of 50 years and above.
Though this dating was initially developed for the older people, it is also used by young people from all over the world,
In fact, the dating app is also very ideal for young people who prefer to date older individuals; OurTime accommodates a variety of age groups.
Their sign-up process is made seamlessly easy so that older clients who are not too familiar with gadgets can also create an account on their own,
The onboarding process lets users choose profiles of people they admire as well,
The algorithm uses these preferences to make suitable suggestions when you start scrolling through feeds.
Even though this dating site is a premium platform,
I feel it should be added to this list because it offers what not many does,
OurTime dating app has over 21 million users on its platform which makes matching very easy.
Best Dating apps in 2023
5. eHarmony
eHarmony is the 5th best dating app based on this ranking and reviews by users online,
It is one of the oldest dating sites and they pride themselves as the best,
eHarmony was founded in 2000 by clinical psychologist Neil Clark Warren and his son-in-law Greg Forgatch.
Since then, it has been in existence operating at the very top level,
They also claim to be the first dating app in the market to develop a proprietary algorithm for matching instead of a random-based pairing of partners.
eHarmony uses questionnaires about beliefs, emotional health, values and skills to formulate a matching model,
The algorithm uses the data to recommend partners with similar interests and preferences.
According research 20% of applicants have been rejected by eHarmony due to marital status, age, inconsistent answers or failing their dysthymia scale test,
Which is a good sign that shows the platform is doing their best to keep their platform as safe as possible.
Best Dating apps and Sites for serious Relationships in 2023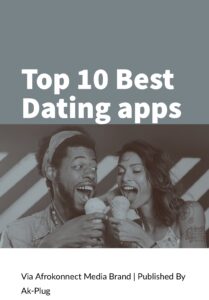 4.
Match.com
Here comes another legit app to meet new people online,
Just like name suggest, Match.com is an app that help users get matched to people they might find interesting.
This online dating app has been in existence for over a decade, it was founded since 1995,
Match.com is an online dating website and application that has been trusted by millions of users around the world to find love,
The Match Group owns the official mobile dating service, a service which has perfected an algorithm that helps users get matched with people that meet their standards.
Match.com is a premium dating app because users cannot access most features after the trial period,
The online dating app also has android and iOS applications.
Best Dating Sites – Top Dating apps in 2023
3. OkCupid
This list of top 10 best dating apps cannot be completed without including OkCupid,
OkCupid was acquired by the Match group in 2011, since then it has been in full operations,
The dating app support mainly messaging features, which allows users to communicate regularly, faster and securely.
Their algorithm works with psychological and search analysis tests on its dating app to deduce what users wants and interest,
This research helps the software company develop a matching algorithm that will likely produce positive results as you begin to use their dating site or app.
To sign-up on the app, prospective users are expected to take a quiz which gives the systems information about you,
The information is then use to find other users that have similar likes, interest and traits.
Best apps to meet people online in 2023
2. Bumble
I hope you are not surprise that Bumble is the 2nd best dating app in the world this year,
Bumble is owned by a publicly-traded company, Bumble incorporation.
Let's be honest, this dating app went literally viral during the pandemic,
Before the pandemic, in 2017 Forbes valued the Bumble dating app at 1 billion USD,
In February 2021 the company released its annual statistics, which shows Bumble recording over 40 million users,
Making them one of the most used dating platforms in the world.
The app was founded by Whitney Wolfe Herd,
Whitney Wolfe Herd used to work with Tinder and she started Bumble after she left Tinder,
Bumble uses the swiping method for matching profiles together,
However, male users cannot initiate the conversation,
The dating app gives female users the prerogative to make the first move within 24hrs else the matched profile will disappear.
Bumble was the first US dating app to integrate photo verification to help prevent fraud, scam and identity theft,
Before you get verified you will need to send a selfie to a staff, real human being.
Most popular dating apps – Best dating apps in 2023
1. Tinder is the best dating app/site
Did you know that Tinder gets over 1 billion swipes per day? well, this is the most any dating apps has ever recorded,
The Tinder dating company was founded by Sean Rad in 2012 to provide an online dating platform for users that need it.
Tinder is regarded as the best online dating app because it was able to integrate some unique and important features,
Features like video calls, Instagram profiles syncing and a panic button for emergency assistance are some of the feature's tinder has taken to next level.
The app also has a feature called "Tinder plus one" which is an add-on feature that allows users to connect and arrange a date for weddings or private meetings,
Their Premium subscriptions like Tinder Gold gives users more profile controls, unlimited likes, rewind and super likes.
The fact is Tinder remains the number one most popular and most used dating apps in the year 2022,
Similarly, Tinder has over 75 million monthly active users which is more than any of their competitors has managed to generate so far.
Best Dating apps and Sites in 2023
MUST READ: How to Develop Communication skills – Top skills you need to learn.
Conclusion
There you have it, your top 10 best dating apps and sites in 2023 via Afrokonnect,
Please note that though the main objectives of this apps are to help people connect, find new friends and true love,
That is not always the case as some of this dating apps are used by scammers and impersonators,
You can read more about how to Protect Your Social media accounts.
It's very unfortunate that we still have dishonest people out there who are ready to do anything for their selfish interest.
In that regard, we urge you to make your findings, necessarily verification before you take any step,
Lastly, we discourage any form of financial transactions on these platforms,
Aside that, dating apps are fun and have led to successful marriages in the past.
Good luck.