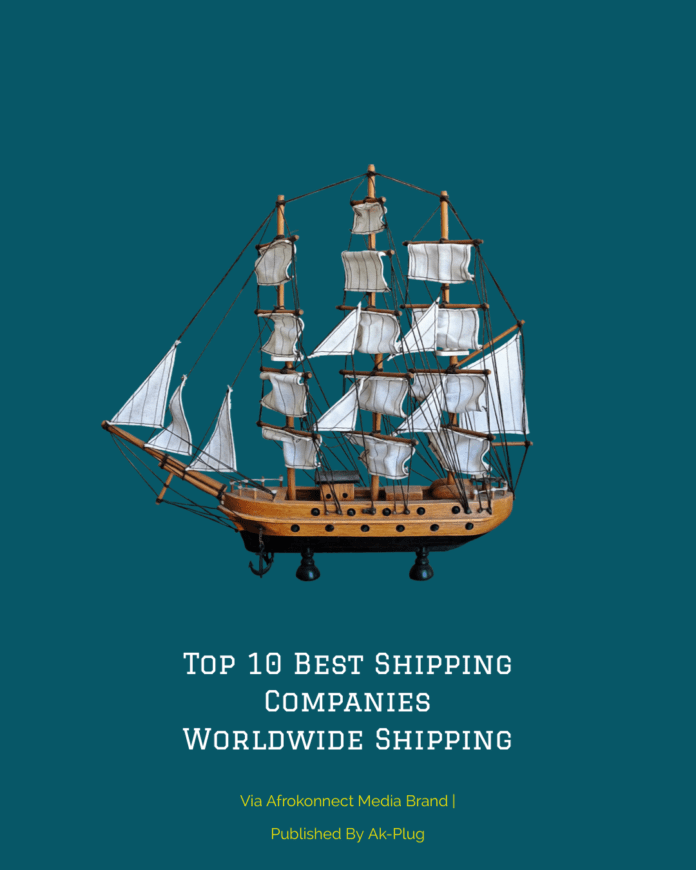 Top 10 Best Shipping Companies, Worldwide Shipping companies with the most affordable rates via Afrokonnect.
The shipping industries are one of the biggest industries all over the world,
And they play a vital role in helping the world economy,
Presently, there are over 55,000 cargo ships that are presently active in the international trade market,
With over 1.5 million sailors working around the world.
Several cargoes are being transported all over the world,
Ranging from food stuff, raw materials, cars, fuel and many more things.
So, a shipping company or shipping line is a company that deals with the operation of ships all over the world,
A shipping agency or agent is the individual or agency liable for handling shipment or cargo, interest  of clients at ports and harbors all over the world on behalf of the management and ship owners.
Top 10 Best Shipping Companies in The World
Read through to know the top 10 best shipping companies around the world.
1.
A.P Moller-Maersk Group
These shipping line is popularly known as Maersk, or Maersk line,
The shipping lines was founded in 1904 in Copenhagen, Denmark,
It has a gigantic fleet of over 708 vessels and a total capacity of about 4.2 million TEU (17.7% market share).
A.P Maersk business conglomerate is the world's largest container shipping company with over 76,000 employees across 130 countries over the world.
The shipping line has been on top since 1996 and has been maintaining their position ever since then,
And also, they are known for their value which is  humbleness – Listen, Learn, share and give other space to others.
If you want to learn more you can click on this link
2.
Mediterranean Shipping Company (MSC)
MSC is a Geneva-based Italian shipping company,
The shipping line is known across the globe for a container shipping heavyweight and cruise line operator (MSC cruises),
MSC was founded in 1970 but became a privately-owned organization in 1978.
The conglomerate has grown over the years from one vessel called Patricia to over 600 vessels,
With more than 100,000 staff around the world.
The Aponte Family's shipping passion for the sea has been reaffirmed with the formation of crosses and further investment in passenger ferries,
MSC has over 480 offices in over 159 countries around the globe,
They have over 100,000 staff and a total capacity of about 3.8 Million TEU(16% Market Share). 
3.

COSCO: Chinese Ocean Shipping Company – 

Best Shipping Companies

COSCO is an acronym for China Ocean Shipping (group) Company,

It was formerly owned by the Chinese government with the headquarters located in Beijing,

The COSCO Company merged with the shipping group (OOCL) in July 2018 to become the third world largest carrier,


She has over 503 containers vessels with a total capacity of 1.9 million TEU,

Ranking 4th in the whole world and 1st in Asia,

COSCO shipping is dedicated to international or local container shipping and related services, 

It has different business sectors which are:
Shipping Industrial Clusters.

Logistics Industrial Clusters.
Digital Innovation Industrial Clusters.
Shipping Finance Industrial Clusters.
Value-Added services Industrial Clusters.
Ports Industrial Clusters.
Equipment Manufacturing Industrial Clusters.
4. 

CMA CGM Group – 

Bilk Carrier

CMA CGM group is a french transportation and shipping company founded in 1996,

It came following the merger of Maritime d'Affrètement (CMA) and Conpagnie Gènèrale Maritime (CGM),

Owned by the billionaire Saade Family,

The CMA & CGM has some key values which made it grow so rapidly in past years,

This values include Customer service, Integrity and Innovative ability to adapt to change. 

CMA & CGM has 420 ports in 160 different countries of the world, 

With over 492 vessels and more than 110,000 employees,

They have a total capacity of about 2.7 million TEU (11.4% Market share).
Best Shipping Companies in The World
5.
Hapag-Lloyd
Hapag-Lloyd was formed following the merger of Amerikanische Packetfahrt-Action-Gesellschaff (HAPAG) and Norddeutscher Lloyd(NDL),

It also merged with Conpañía Sudamericana De vapors(SAV) in 2014 to become a German-Chilean owned conglomerate,
Hapag-Llyod has over 250 vessels and a capacity of 1.7 million TEU(7.4%market share).
6.
Ocean Network Express (ONE)
ONE is a Japanese company that was founded with the merger of Nippon Yusen Kaisha (38% of stakes), K-Line (31% stake) and Mitsui O.S.K. Lines (31% stakes) on the 7th July 2017,
Their main headquarters is located in Singapore.
As a company ONE has a market value of 1.6 million (6.7% market share), over 222 vessels and more than 14,000 employees,
They also operate with ports in over 100 countries across the globe.
7.
Evergreen Marine Corporations
The Evergreen marine corporations were founded in 1968, located in Taipei City, Taiwan.
Evergreen Marine is the 7th largest shipping company in the world and has a capacity of over 1.3 Million TEU (5.4%market share) with over 150 ships and over 260 containers.
Best Car Shipping Company
8.
Yang Ming Marine Transport Corporations
Yang Ming was established on the 28th of December 1972 and is based in Keelung, Taiwan,
The Yang Ming administers a fleet of 94 vessels with a 5.0-million-D.W.T,
Of which Containers ships are the fundamental service force,
She also has a capacity of 646,347 TEU (2.7% Market share) and over 100 containers ship,
They are often regarded as one of the best car shipping companies in the world.
9

. Pacific International Line (PIL) – 

Best Shipping Companies

The PIL is a privately owned organization founded in 1967 by a Singaporean business tycoon Chang Yun Ching,

PIL has over 18 000  employees, operates at over 40 ports in Africa,

Also, with over 120 employees and a TEU capacity of 392,410 (1.7% market share)
10.
Hyundai M.M
Hyundai M.M was founded in 1976 and is based in South Korea and is Korea's biggest container carrier,
The company has grown to become the world's tenth-largest shipping company in the world.
Hyundai M.M has a capacity of 391,403 TEU (1.7% market share) with over 67 container ships.
RECOMMENDED:
Best Nigerian Shipping Companies
There are various shipping companies in Nigeria but there are ones that are very reliable and affordable,
You would agree with me when I say shipping as a means of transportation is one of the cheapest means of transporting goods and services,
For example check out the cost of Shipping a car from USA and compare it with another means of transportation.,
Do you want to send some stuff across the country or outside the country,
But, you are confused on which shipping company is best for you?
Join me as I list the top best 5 shipping companies in Nigeria for you;
This is a global and reliable company that has it's branch in Nigeria,
Maersk company has several branches in over 130 countries of the world and over 76,000 employees across the globe.
The company has 786 shares with a total capacity of 4.1 Million TEU,
Also, the headquarters is located in Copenhagen, Denmark.
They offer various services ranging from shipping and cargo services, supply chain services, freight forwarding, and so on.
Best Shipping Companies – Car Shipping Company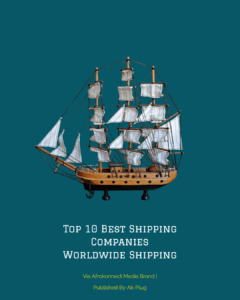 This is a Nigeria-owned company incorporated in 2006 and reaching over 100 countries of the world with over 200 employees,
Fortune global's main headquarters is located in Lagos, Nigeria. 
Their Specialties includes;
International Freight forwarding, Logistics, Management and services, Drilling logistics, ship agency services, husbands services, Advisory and consulting services, sea freight, Airfreight services, and so on.
Mediterranean shipping company Nigeria (MSC)
This is a company owned by the Aponte family,
It was founded in 1970 and has over 100,000 staff around the world.
Their Specialties are:
Freight forwarding, Air freight forwarding, Land freight, sea freight, ship agency services, and so on.
Best Shipping Companies – Worldwide Shipping
This company is known for it's rapid growth in the freight and forward industry,
It was established in 1988 with it's headquarters located in Lagos, Nigeria,
Sifax Nigeria Limited is a subsidiary of the Sifax group.
Services offered range from Freight Forwarding (Sea & Air), Ports Operations, Haulage & Logistics, Group-age and Cargo Consolidation,
They also offer Warehousing, Ship Agency, Ship Chartering, Stevedoring, Off-Dock Services, Airport Ground Operations, Packing & Removal as well as Marine Services,
Ultimately, importation & Sales of Crude oil and soon on.
This is a Nigeria-owned shipping company officially based in Lagos, Nigeria,
Delex company was established in 2008 and has been rapidly developing since then.
They offer various services such as oil and gas services, Maritime services, and so on.
FedEx Shipping rates or Ups Shipping rates
Most shipping companies including FedEx use Dim Weight to calculate shipping prices,
It is called dim/dimensional weight pricing.
You might be wondering what Dim weight is all about,
Dimensional weight also known as Volumetric weight is a technique used for determining the costs of packages sent across for commercial freight transport.
It is calculated through the length, height, and width of the package.
UPS international shipping also uses dim weight to calculate their shipping prices. 
Which is Cheaper FedEx or UPS
UPS and FedEx packages shipping cost is almost the Same but UPS flat rate pricing is barely more inexpensive than FedEx,
FedEx is normally cheaper for packages that are small but get more costly for larger and heavier shipments or packages.
Some factors also determine if the rates will be expensive either with FedEx or UPS; 
How fast do you want the package
Box weight of the package
Package size
How many packages do you want to send across
What you are shipping
Best Shipping Companies in the World
You can watch the videos below about Top 10 Successful Shipping Companies:
Best Shipping Companies in Nigeria – Worldwide Shipping:
Conclusion
We hope with this article you can get the best of shipping companies and know the suitable one for you,
Before you leave you can glance through the 10 Best UK/USA Online Shopping Sites that Ships to Nigeria,
Let us know what you think via the comment section.