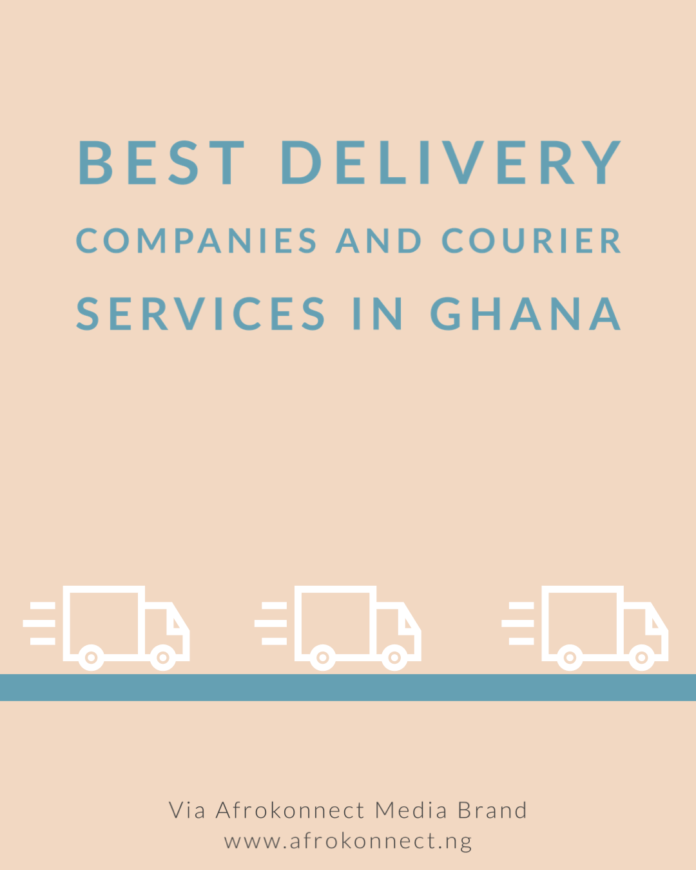 Welcome to this article about the Best Delivery Companies and Courier Services in Ghana for the year 2023 via Afrokonnect.
In Ghana, there is a large number of excellent delivery services that are able to manage your products and shipments without causing any harm or loss.
Are you looking for Ghana's most reliable and reputable delivery service?
We have invested a lot of time and effort into compiling a list of various names of Ghana-based international delivery firms that provide exceptional services.
Similar to the list we've created about the top 10 Best Courier Services in Nigeria.
What does Delivery Companies do?
Delivery firms are businesses that specialize in transporting items or goods,
Such as parcels and supplies, from one area to another within or outside one's country of residence.
These services are also known as courier services in certain circles,
These businesses, depending on their criteria, both transport things at a fast rate of speed and provide consumers with secure services,
By enabling them to trace the movement of their own goods before it arrives.
In addition, there are a great number of these international delivery companies located in Ghana,
You may get in touch with any one of them to convey your items.
Some of them are well-known not only in Ghana but also in a variety of other places all over the world,
In fact, they are even among the best shipping companies in the world.
As an example, FedEx is recognized as being among the top delivery corporations in Nigeria,
As well as in Ghana and a great number of other nations throughout the world.
So, without further ado, let's dive in and explore the best delivery companies in Ghana.
Top 10 Best Delivery Companies in Ghana – Reliable Ghanaian Courier Services in 2023
1. DHL Express Ghana
DHL Express Ghana is among the most reputable firms in Ghana that provide international delivery services.
The firm had its beginnings in the United States in 1969,
Since then it has expanded to include multiple branches in a wide variety of nations, one of which is Ghana.
Now let's examine the following for information on the DHL Offices:
Addresses, Contact Numbers, Price Lists, and Tracking Procedures.
The services provided by DHL Express Ghana are unparalleled in the industry.
You may access any of their services by traveling to their headquarters in Ghana,
Which is located at C913/3 North Ridge Crescent Road, North Ridge, P.O Box 207, Accra,
You can also reach them. by dialing the number +233302213090-7.
2. FedEx Ghana
FedEx Ghana is yet another international delivery company in Ghana that provides exceptional services,
It operates in a manner comparable to that of DHL Express Ghana.
FedEx has earned the respect and business of a large number of customers all over the globe,
Thanks to more than 40 years of consistently offering high-quality service.
FedEx Ghana is a wholly owned subsidiary of the global logistics provider FedEx,
Which currently operates in more than 200 countries across the globe.
Make sure you view the FedEx Ghana Rates, Tracking Information, and Contact Address and Phone Number Here.
Do you need the services of a delivery business to manage your parcels and goods?
You may contact them at +233501605000 or go to their headquarters in Ghana,
Which is located at 138 Airport West Residential Area, Accra.
3. Street Express
Another Ghanaian delivery service with years of expertise and a track record of success is known as Street Express,
Street Express provides many different kinds of delivery services,
Such as local pickup, door-to-door delivery, deliveries of goods and parcels for businesses and people, worldwide delivery, and many more.
These are just some of the services that are offered by them,
If you want more information about the services that Street Express Ghana provides,
You can either go to their headquarters at C135 Olusegun Obasanjo Road, Roman Ridge, Accra, or phone them at 0302201417.
4. United Parcel Service (UPS)
Do you know who UPS is? It has an established track record and has provided high-quality services for many years,
Making it one of the best delivery companies in Ghana.
UPS, like many of the other delivery businesses in Ghana that we've included on our list,
Is an international delivery corporation that operates under a number of different brand names.
The American corporation known as UPS provides a variety of services under a variety of various brand names,
Including UPS airplanes, UPS Supply Chain Stores, UPS Logistics, and UPS I-Parcel, among others.
Their Ghana headquarter is located at the Kotoka International Airport, Cargo D in Accra, where you may get any of their services.
5. The IAS Ghana Limited Company
IAS Ghana Limited is a well-known shipping and delivery company in Ghana that has more than 25 collection stations.
They can be found in a variety of Ghanaian cities and towns via their many branches.
They have been a Franchise of FedEx since 1993, and they provide delivery services that are both safe and secure.
For more information about the services that IAS Ghana Limited provides,
You can get in touch with them by calling 233501631000,
Or by going to their head location at 138 Airport West, Airport Residential Area, Accra.
Best Courier Services in Ghana 2023
6. Eagle Express
Eagle Express must be included on the list of the most reputable shipping companies in Ghana for the ranking to be considered complete.
This is because Eagle Express has been providing consumers with delivery services that are both quick and dependable ever since the company was founded in 2008.
They have attracted a large number of clients from a wide variety of industries,
Including banking and finance, manufacturing, and a great many others,
As a direct consequence of the high quality of the services that they provide.
The administrative offices of Eagle Express Ghana can be located at 138C Doris A. Obodai Avenue, Rasta Park, Tantra Hill Accra.
You can also get more information by calling them at +233302422086 or going to their website.
7. The OAK Express Company, Limited
OAK Express Limited provides delivery services of a high quality that are up to international standards,
Despite the fact that it is a local delivery company in Ghana.
They deliver undamaged items, papers, parcels, and packages to their patrons. Packages may also include parcels.
They enable customers to trace the flow of products from one area to another,
Which makes the process simpler, just like every other top best courier business in Ghana.
8. Apex Shipping
Apex Shipping is recognized as one of the leading companies in Ghana for providing a variety of valuable services,
Including straightforward customs clearance and efficient delivery of packages.
Apex Shipping has been one of Ghana's most well-known and successful international freight forwarding firms ever since it was founded in 1997.
The company now ranks among the very best in the country.
In Ghana, several branches may be found strewn over the country's numerous entrances and exits.
As a result, it is undoubtedly one of the top courier companies in Ghana that is able to ensure the safety of your cargo.
RECOMMENDED:
9. Kasi Express
Has anybody ever told you about Kasi Express?
It is widely considered to be one of the best delivery and courier services in Ghana.
Kasi Express provides a variety of services, ranging from haulage and logistics to dispatch services and a host of other options.
Their Same-Day Express services are in high demand because customers know they can depend on them to be prompt and accurate.
Are you the owner of a company or a private person that needs to move items or shipments from one area to another?
To get started, you may begin by going to the Kasi Express Ghana offices located at 43, Ring road central, Accra, or by calling +233577619444.
10. Mediterranean Shipping Company (Med Shipping)
Another international delivery company operating in Ghana and providing excellent services is known as Med Shipping.
The Mediterranean Shipping Company has established local operations in 155 countries throughout the globe, one of which is Nigeria.
Consequently, using them is close for risk-free and super fast.
Most Reliable Shipping Companies in Ghana & Nigeria in 2023
McDan Shipping Company
In addition to our previously mentioned Ghanaian courier service, we now recommend this one.
It is well knowledge that McDan Shipping Company handles chartered cargo flights in addition to providing delivery services in Ghana,
The firm operates at more than 2400 airports and seaports throughout the whole globe.
You may reach McDan at this number, +233302762280, to ask questions or for further information about the services they provide.
Best Delivery companies and Courier services in Ghana
Shield Runner
Shield Runner is another company that can be added to the list of delivery services operating in Ghana.
Their services are known for being reliable, safe, and quick.
For people, corporations, and organizations, they deliver and convey commodities, packages, papers, and parcels.
Visit the Shield Runner Ghana Headquarters at 20 Atta Mills Street, Ofankor, Greater Accra,
In order to get further information on the company's services.
Best Delivery and Shipping Companies in Ghana in 2023
Meet the young Ghanaian making shipping from USA to Ghana smoothly;
In addition to Aramex Ghana and OMA Ghana Limited, plus the aforementioned companies,
There are many more courier businesses operating in Ghana,
Such as Cosmic Delivery Express and a great deal of others.
More so, we have taken the effort to compile a list of the top ten finest delivery businesses in Ghana,
Together with the address and phone number of their headquarters.
Best Delivery Companies in Ghana 2023
In no order of priority, below is the list of the top and best delivery companies in Ghana:
DHL Express Ghana
FedEx Ghana
Street Express
United Parcel Delivery (UPS)
IAS Ghana Limited
Kasi Express
Eagle Express
OAK Express Limited
McDan Shipping Company
Mediterranean Shipping Company
Apex Shipping
Shield Runner
We hope you find this article helpful and quite insightful to your quest.
On that note, this brings us to the end of this article about the Best Delivery Companies and Courier Services in Ghana for the year 2023 via Afrokonnect.