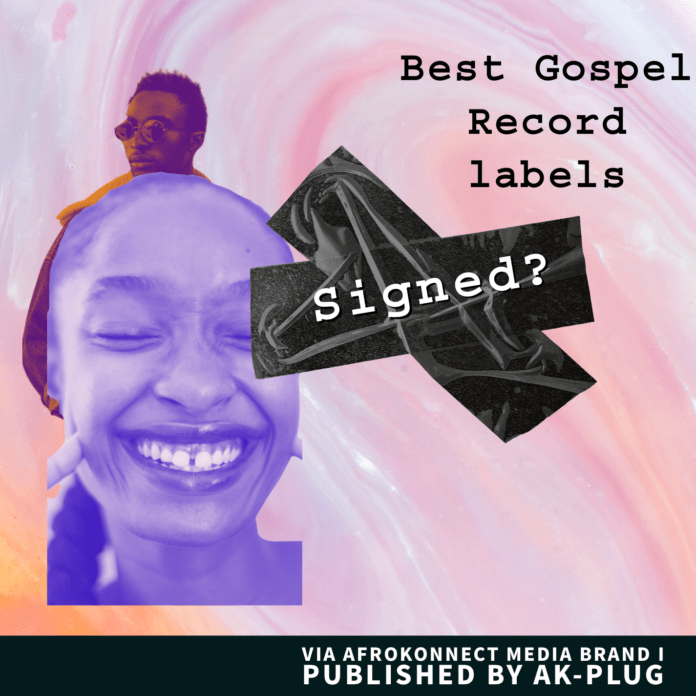 This post is about the top 10 Best Gospel record labels in Nigeria in 2023 via Afrokonnect.
This list is based on track records, popularity, Influence and Performance over the years,
As you may have known, Nigeria has some Gospel artists that have gone international,
What people don't know is their record labels are also part of the success these artists enjoy.
A record label can handle your music distribution properly and serves as a buffer between the artist and important people in the music industry,
Currently, the music industry is flooded with over a million and one record labels,
However, we've done a research and compiled a list of 10 best gospel music record labels,
A number of these labels are excellent in what they do and they are well-structured,
Similarly, you can check out Top 10 Best Music Record labels in Nigeria for secular artist.
Top 10 Best Gospel record labels in Nigeria in 2023
Please kindly note that this list is not attended based on Hierarchy,
Literally, the 10th on this list can be the best gospel label.
1. Eezee Conceptz
This is arguably one of the biggest gospel record labels in Nigeria at the moment,
Eezee Conceptz owned by EeZee is a label well managed and excellently structured for artists to grow,
The label is home to some of the most talented gospel musicians,
In 2017 the label signed talented singers Preye Odede and Mercy Chinwo,
They signed them as parts of the forerunners of the label and both went on to achieve great height in the industry.
Other artist managed by them includes the likes of Chioma Jesus and Chris Morgan,
The same label has built and managed singers such as Judikay and GUC.
2. Rockanation
Rockanation is one of the best record labels for upcoming gospel artists in Nigeria,
On that note, I highly recommend you check our previous article about How to Succeed as an Upcoming Artist in Gospel Music.
This label is home to one of the biggest gospel producers in Nigeria, Florocka,
Florocka was cemented into the industry through the imprint of Rockanation.
The good news here is you don't have to be Nigerian to get signed to this label,
For example, Sensational Ghanaian rappers Esaias and Rose have been linked with the label,
Similarly, in 2016 they unveiled talented singer and songwriter Oluwarotimi Awonbiogbon, popularly known as Rotimi.
Best Gospel record Labels in 2023
3. Azusa World Records
Even if you haven't heard the name Azusa World Records, it is very likely that you've heard about their artists,
Azusa World Records broke into the industry in late 2018,
They went on to become one of the biggest Christian label talent incubators in Africa.
Most of their creative developments and works have largely been credited to renowned sound engineer Bro D's Azusa,
Though they haven't put out too much contents lately, when they do, they put out Quality.
They have a talent management section for grooming up and coming artist,
Azusa kick-started its projects by signing 2 prominent artists,
Also, Chioma Odimba, currently known as Chioma Gabriel was also brought on board,
Chioma and another Afro gospel artiste known as Olatunji Opeyemi Yemi TPX were unveiled by the label.
In 2020 Chioma released her debut album titled "Calvary" under the label, they were able to get her on huge platforms afterwards.
4. Rock Town Records
Yes, Rock Town and Rockanation Record label are two different labels in Nigeria,
Rock Town Records is home to popular Nigerian gospel musician "Frank Edwards",
To some extent, Frank Edwards was a huge promoter of this label, a lot of people knew about the label because of him,
On the other hand, the label gave him a platform to showcase his God's given talent.
Rock Town is far bigger than just one person, it has given a platform to artists like Nkay and Gil Joe.
They signed their first female artiste "Divine", though the partnership never lasted,
Grammy-nominated artiste Nicole Mullen was also linked with Rock Town Records in 2018,
Some of the artistes that have been affiliated to Rock Town Records includes the like of Da Music, Nina Shezz, and Victor Ike,
Rock Town Records is certainly one of the best record labels for upcoming artist in gospel music in Nigeria.
Best Gospel record Labels in Nigeria in 2023
5. Republic Of Xtreme Nation ROX Nation
This label is one of the most versatile record labels in the industry at the moment,
It houses Afro-gospel, Hip-hop, Reggae and all genres you can imagine.
Another thing that makes them special and unique is that they organize concerts,
They have a musical talent show tagged SoundCheck and a yearly event Concert called Fearless,
During such events, they invite both international and local artists,
All these contributed to making the record label one of the most distinct in the country.
Republic Of Xtreme Nation also known as ROX Nation was created in March 2018 by Nara crooner, Tim Godfrey,
ROX Nation also means Republic of Xtreme Nation,
They have one of the best gospel artists in Africa in person of "Tim Godfrey",
Also, arguably one of the best music producers in Nigeria "SMJ" is affiliated to the same imprint,
Other artists that have been housed by this label includes two of the strongest female vocalists "IBK" and ROX nation First Lady, Blessyn.
6. Kadosh Records
Kadosh Records is owned by one of Nigeria's most renowned Worshippers,
She is well known for her ability of opening the gate to Paradise when she sings with her breathtaking voice.
Victoria Orenze is the co-founder of this magnificent gospel record label that has given a lot of gospel musicians a platform,
Very few gospel record labels are owned by musicians, at least this gives an avenue for upcoming artist to relate on same frequency with a co-founder.
The label owned a fully equipped and standard recoding studio in Victoria Island, Lagos, "Kadosh Studios",
They handle professional Music Production and Recording Audio/Video,
Also, they handle Live Music, Sound (Events) film score, sound design (jingles) Pro-audio designing, acoustic engineering & soundProofing (churches, halls event centers).
Kadosh Studios is arguably one of the most equipped studios in Lagos, in fact not many studios in Africa are better.
7. Tehilah Records
Tehilah Records is another gospel record label doing pretty well for unsigned artists,
It was founded and currently headed by Tim Ogboruche, who's the company's CEO.
Just like ROX Nation, Tehilah Records gives international and local talents a stage to minister,
For instance, Alabanza Concert is one event that brings musicians from all over the world.
Tehilah Records is one of Nigeria's most significant gospel record labels currently promoting and grooming gospel musicians both nationally and internationally,
Some of the artists signed to the record label includes the likes of Enkay, Chiika100% and the Tehila Crew,
Enkay, who happens to be the wife of the owner had a good spell with the label,
In 2018 Enkay released a single titled Salute which went on to become a significant hit in the industry,
This record label is highly recommended for upcoming gospel artist in Nigeria and beyond.
Best Gospel record Labels in Nigeria in 2023
8. Hammer House Records
Hammer House Records is also known as HHR, it is another record label for upcoming artist in gospel music,
This label is very huge, financially stable, highly connected and diversified into different sections,
Hammer House records has a business arm called the Hammer House Ventures,
They are specialized in video and music production, event management and interior decoration.
Though they haven't done too much of signing since their inception,
Award-winning gospel and inspirational Singer "Eben" and his wife "Jahdiel" are signed to this incredible label,
The couples are constantly building names for themselves and the label at the same time.
9. One Hallelujah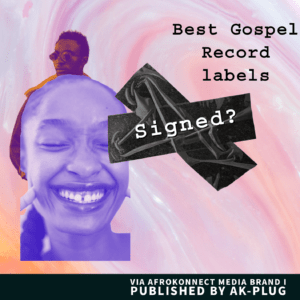 On the 9th spot of best gospel record labels in Nigeria, we have the "One Hallelujah",
We can't talk about One Hallelujah without bringing Redeemed Christian Church of God into the conversation.
One Hallelujah Records is the official record label and talent management brand of Redeemed Christian Church of God,
Redeemed is arguably the church with the most registered members in Africa,
Same goes to the amount of talents they've established so far,
Some of the artists affiliated to the imprint includes the likes of Pastor Kunle Ajayi, Funke Akinokun, Tosin Bee, Moses Onofeghara (MOZ), Michael Akingbala, Rebecca Ogolo, Adeyemi Bamike (OBA) etc,
Also, popular ministers affiliated to the label includes 2017 AFRIMMA artiste of the Year "Nathaniel Bassey", Femi Okanuga, South African based James Okon and Funke Akiokun.
With all these talents incubated under the imprint, the label is definitely among the best record labels for upcoming artist in gospel music.
10. LoveWorld Records
Just like we've stated in the beginning of this article, the 10th on this list doesn't mean it's the last on the count down.
LoveWorld Record was founded in 2019 by one of the richest pastors in Africa "Pastor Chris Oyakhilome"
Since it's establishment the label has discovered some of the best gospel musicians in Africa,
The label is independent which means their is a flexible structure to accommodate both established and upcoming musician,
On that note, here is an Upcoming Artist Guide – Advice to all Upcoming Artists.
According to Pastor Chris Oyakhilome the sole aim of LoveWorld Records is to discover and develop gospel artists,
So far the record label has discovered and groomed notable gospel musicians worldwide including the likes Sinach, Frank Edwards, Eben, Joe Praize among others.
If you're an upcoming artist then this is another one you should consider on your radar.
Conclusion
If you're looking for ways to get signed by a record label then watch this video below by Burstimo about his 8 tips that Major labels are looking for;
READ ALSO:
List of Best & Popular Gospel Record labels in Nigeria in 2023
LoveWorld Record

One Hallelujah

Hammer House Records

Tehilah Records

Kadosh Records

Republic Of Xtreme Nation ROX Nation

Rock Town Records

Azusa World Records

Rockanation

Eezee Concepts
Other Gospel record label that deserved Mention
AllBaze Media

Spaghetti Records

TWC Media Limited

Lakelight entertainment

The Gratitude

SonsHub Media

One more Soul: Home to Na Dodge crooner "Mallam Razphil"
This brings us to the end of this article about Top 10 Gospel record labels in Nigeria via Afrokonnect.