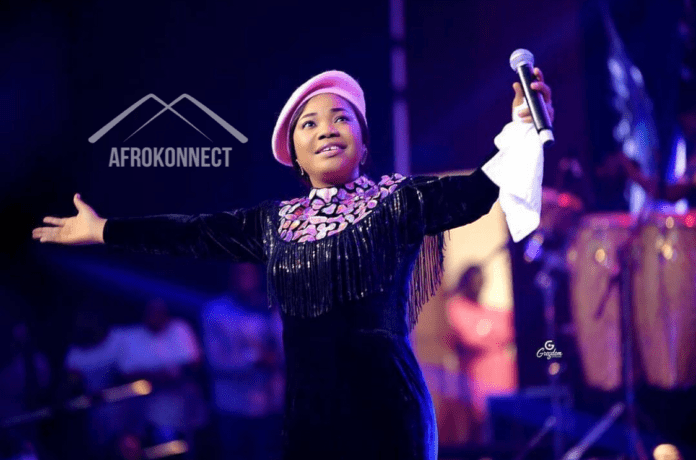 Welcome to this post about Mercy Chinwo Net worth in 2023, Biography, Songs, Age, Relationship and Professional Career so far via Afrokonnect.
In this post we will reveal the interesting information we've covered about one of your favorite celebrities,
This article is about a popular Nigerian female gospel artist known as Mercy Chinwo,
Mercy Chinwo is not just making waves in the gospel music circle but her numbers compete with other popular circular artists,
In fact some of her project are not just the most streamed gospel projects in Nigeria but also dominating the chart across Africa.
Without too much introduction let us look at Mercy Chinwo's Biography, Age, relationship life, Awards, Net worth and her Career,
Aside from the fact that her songs are currently dominating most churches in Nigeria and beyond,
Her background information and biography will inspire you,
This is largely because Mercy Chinwo is a unique gospel artist with a unique type of grace and style of music,
There's no doubt that she has gone global with her songs and has definitely made an impact in the gospel music industry,
We are going to start with her biography to enable us know where she is coming from and where she is today in terms of worth.
Mercy Chinwo Biography, Songs, Age, Relationship and Net Worth 2023
Incase you don't know Mercy Chinwo's full legal name is Mercy Nnenda Chinwo,
And Mercy Chinwo was born on 5th September in 1990 into a family of 6 children,
Among the 6 children her parents gave birth to, Mercy is the first child and the first daughter.
Mercy Chinwo is an indigene of Port Harcourt, Rivers State, a state in the Niger Delta region of southern Nigeria.
Unfortunately, Mercy Chinwo lost her dad when she was still very young,
As a result of that, Mercy was brought up by a single mother,
While growing up Mercy Chinwo started music in the church just like many others,
However, the good thing here is Mercy never left or ran away from the church like many others do,
She started from children's choir to the adult's choir and today Mercy Chinwo is one of the biggest Nigerian gospel musician and songwriter,
She's also an actress and a business woman so you can see her versatility is top notch.
Now that we've seen a bit about Mercy's background Information, let's dive into her music career.
Mercy Chinwo Career, Songs, Awards and Net worth 2023
Like we've previously said, Mercy Chinwo started her musical career at a very early age,
Though she choose to focus full time on music, Mercy Chinwo is also a good actress,
She came into the limelight in 2012 after winning Season 2 of a popular talent show known as Nigerian Idol.
Many people regarded and still regard that as the beginning of her amazing career,
In 2013, she landed her first film role in Yvonne Nelson's film titled "House of Gold",
In the movie other popular talented stars were also featured including the likes of Yvonne Nelson, Majid Michel and Omawumi featured.
Professional Music Career
While she was still in the choir, Mercy was busy learning more about her voice by scoring and constantly rehearsing other songs,
Then she started by voicing to musical projects by top Nigerian gospel music artistes,
Mercy Chinwo admitted the likes of Sammie Okposo, Joe Praize, Buchi and Chris Morgan are some of the ministers that inspires her.
She kept pushing until in 2017 when Mercy Chinwo landed her first record deal,
This big move came after EeZee Concepts, a gospel music label owned by Mr. Ezekiel ThankGod signed her,
This is the same label responsible for releasing her 2020 solo Album titled Satisfied.
Before then, Mercy Chinwo released her first single titled "Testimony" in 2015,
She followed up with another single "Igwe" in 2016.
In 2018 she released an album "The cross my Gaze",
The album has some amazing soul-uplifting songs which further cemented her position and grace,
Mercy Chinwo went on to collaborate with both local and international artists over the years,
She released a remix of one of her viral song, "Excess love" with JJ Hairston, Youthful Praise and The Gratitude,
Excess love is one of her songs that became nationwide,
The song earned her a spot as one of the best female vocalists in the Nigerian Gospel music industry.
In the interview below with EeZee Concept Mercy Chinwo revealed a lot about her Album Satisfied, Her career and more;
Mercy Chinwo Songs
Mercy Chinwo Biography cannot be complete without her discography,
This songs are part of her career and one of the reasons she's popular today,
Some the songs she has released so far include but not limited to;
Trust – 2017

Love Expression – 2018
Eze (Feat. Preye Odede) – 2018
No more pain – 2018
Chinedum – 2018
Power belong to Jesus – 2019
Oh Jesus – 2019
Akamdinelu – 2019
Obinasom – 2020
Omekanaya (Live) – 2020
Incredible God (Live) – 2020
XX (Excess) Love – 2021
Yahweh – 2021
Suddenly + Amazing God (Double Single) – 2021
Beyond Me (Live at Yalic, Abuja) – 2022
Mercy Chinwo Awards and Recognition 
Awards are like motivation and prove that people recognize what you do,
Fortunately for Mercy Chinwo, her talent has been recognized by some of the most prestigious organizations both locally and internationally,
She has bagged various notable awards since the beginning of her career in 2012,
In 2020 Mercy Chinwo was nominated for an award at Maranatha Awards USA Awards,
Some of the award won by Mercy Chinwo includes;
2012 – Nigerian Idols winner 

CLIMAX Awards – Best Gospel Artiste of 2018

In 2019 Africa Gospel Awards Festival (AGAFEST) – Africa Gospel Female Artiste of the Year
Africa Gospel New Artiste of the Year – 2019
In 2019 again she won Africa Gospel Song of the Year with "Excess Love" at Africa Gospel Awards Festival (AGAFEST)
African Entertainment awards USA (AEAUSA) – Best Gospel artist 2021
Mercy Chinwo Husband and Relationship
As at the time of this publication the popular female Nigerian gospel artist is not married or in any open relationship,
Visit this page often as we'll be updating this as soon as we have a reliable report.
ALSO READ:
Mercy Chinwo Net worth in Naira and Dollar – 2023
Mercy Chinwo has released a ton of singles and she makes money through royalties from those songs,
Her song "Excess love" has over 80 million views on YouTube, while her song "Chinedum" has over 30 million views on YouTube.
Mercy Chinwo also makes money through free will gifts, Personal business and appearance fee,
She is also the Owner of MECEMPIRE, an online store that sells Berets and more,
At the moment Mercy Chinwo is said to have an estimated Net worth of $200,000 which equals around 83,064,000 Nigerian Naira.
Profile Summary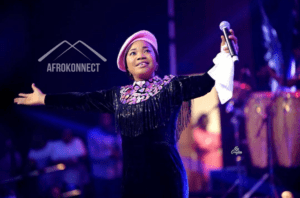 | | |
| --- | --- |
| Full name | Mercy Nnenda Chinwo |
| Origin | Port Harcourt, Rivers State |
| Date of Birth | 5th September in 1990 |
| Occupation | Musician, Entrepreneur, Actress |
| Genre | Soul gospel |
| Nationality | Nigerian |
| Relationship | Nil |
| Net worth | $200,000 which equals around 83,064,000 Nigerian Naira. |

Congratulations you've made it to the end of this article about Mercy Chinwo Net worth in 2023, Biography, Songs, Age, Relationship and Professional Career so far via Afrokonnect,
Let us know what you think via the comment section.