Top 10 Best Restaurants in London, Affordable Vegan, African restaurants and most beautiful places to eat in London, United Kingdom via Afrokonnect.
People eat out in restaurants for several reasons,
Some eat out because they don't have the time to prepare food,
While others eat outside on dates with their loved ones,
Similarly, some travelers prefer to eat in restaurants when they find themselves in a new location.
Whatever your reasons might be, in this article we have compile a list of some of the best restaurants in London.
The list is based on general ratings online, customer relationship, online reviews, affordability, variety and general settings.
Most of the best restaurants in London are situated outside of the central London,
They offer delicious variety of food, from continental African dishes to middle Eastern Mediterranean dishes,
And also offer you a conducive environment for dinners.
Here are some of our recommendations of London restaurants situated in the central, north, east, south and west London.
Please note that this list is in no particular order.
Top 10 Best places to eat in London in 2023
1. SKETCH, MAYFAIR
This restaurant is located at 9 Conduit St, London W1S 2XG,
You can book their gallery for Brasserie, afternoon tea/dinner,
You can also check their east bar and pods for space bar/eggloos.
They also have other private spaces you can reserve,
For example you can enjoy their parlor for all day dinning while the glades offer breakfast, lunch and cocktail.
Sketch is known for serving one of the best Michelin-starred food,
This restaurant is beautiful and absolutely breathtaking.
Instagram handle: @sketchlondon
Official Website: sketch.london
Rating: 10/10
Price Range: Depends on your booking and reservations
2. AMAZONICO, MAYFAIR
Amazonico is located at 10 Berkeley Square, London W1J 6BR,
It is mostly patronized by Latin Americans, so, if you are Latin or loves Latin flavours & sushi then this one is for you.
This restaurant is a home away from home,
Amazonico is a journey, a trip down the Amazon River through Brazil, Colombia, Peru.
Some of the eye-catching features at Amazonico includes their amazingly lush foliage hanging from the ceiling,
Their exotic animals stalking the undergrowth and a plush green-and-gold colour scheme.
Arguably, Amazonico is one of the most beautiful restaurants in the London.
Instagram handle: @amazonicolondon
Official Website: amazonicorestaurant.com
Rating: 8/10
Price Range: Expensive
3. SAINT AYMES, MARYLEBONE – 

Best Restaurants in London in 2023

You can locate the Saint Aymes restaurant using google map by just searching for "59 Connaught Street W2 2BB",

According to Google map and reviews the restaurant is not hard to find.

The restaurant is operated by a black family, founded by two siblings "Lois and Michela Wilson".

This beautifully black owned luxury cafe is loved by most Africans in London, especially Nigerians.

In fact, most Ghanaians, South Africans, Kenyans and other Africans prefer to go to Saint Aymes than any other place in Marylebone.

Please note that Saint Aymes is loved by everyone not just blacks,

Their customer service is top notch and the good thing is you don't have book or make reservation before coming,

You can just walk into the restaurant and order for what you want and you will get served almost immediately.

Another thing that stands them out is they offer a wide variety of sweet and savoury treats,

As well as signature beverages that are each crowned with 24ct of edible gold.

When you visit Saint Aymes, every hour feels like Golden Hour,

You can choose from their wonderful selection of afternoon tea, brunch and birthday packages that taste as good as they look.

Let's assume you want or prefer something a little stronger,

Saint Aymes have a Happy Hour that runs from Monday to Friday from 4pm until close. 

Instagram handle: @saintaymes

Official Website: https://www.saintaymes.com/

Rating: 10/10

Price Range: Affordable
4. PEGGY PORSCHEN
If you are looking for luxury, or perhaps you are an instagrammer looking for cool spots to hangout with good food and exquisite environment to take pictures,
Then worry no more as Peggy Porschen has got you covered on that.
Location: 116 Ebury Street, Belgravia, London SW1W 9QQ & 219 King's Road, Chelsea, London SW3 5EJ 
Instagram Handle: @peggyporschenofficial
Official Website: www.peggyporschen.com/
Rating: 8 out 10
Price Range: expensive
5. TIFFANY BLUE BOX CAFE, KNIGHTSBRIDGE – 

Best Restaurants in London

Tiffany blue box café can easily be located at Lower Ground Floor, 87-135 Brompton Road, Knightsbridge, SW1X 7XL.

It is a luxury restaurant that offers variety of dishes for all kinds of people,

Every girl will want to visit this restaurant with that special somebody,

And every guy will want to take his special company to this restaurant.

Official Website: TiffanyBlueBoxCafe

Rating: 9 out 10

Price Range: Luxe
6. Goddard & Gibbs, Shoreditch – Best Restaurants in London
This restaurant is one of the restaurants that suffered the most in London during the pandemic,
It is patronized by tourist travelers a lot and the travel restrictions caused a lot of loss as to many businesses,
Fortunately, with the world is gradually opening up and the restaurant is picking up too.
Even though Goddard and Gibbs is miles from the British shoreline,
The team has been inspired by England's most charming fishing villages, using sustainably sourced ingredients,
Which is one of the reasons why the restaurant is loved by seafood lovers,
If you're a seafood lover then is is where you can soak up the sunny vibes,
The good thing here is there are a couple of non-fish options,
Incase you're not a seafood lover then you can try their chicken, baked aubergine or a juicy burger etc.
Price range: Fair
Address: Goddard & Gibbs, 100 Shoreditch High Street, London E1 6JN
Best places to eat in London 2023
7. Evelyn's Table, Soho
The official address of Evelyn's Table is  "Blue Posts, Cellar, 28 Rupert St, London W1D 6DJ",
You can search that on Google map in case you get lost.

Just so you know, Evelyn's Table was awarded 1 Michelin star in the 2022 Michelin Guide Great Britain & Ireland,
Evelyn's Table is open for two sittings daily, Tuesday through to Saturday, at 6pm then again at 8:45pm.
Their menu is priced at £95 per person for 5 courses with an optional wine pairing available at £80 per person,
Which equals around $125 or $105 per person respectively.
At Evelyn's Table payment validate Reservations,
They operate strictly by pre-payment system because they get a lot of reservations online.
So if you want to make a reservation, make sure you're are paying immediately to avoid sold out slots,
The total amount will be deducted from your bill on the night.
You are free to make any cancellations 7 days in advance of the reservation to receive a full refund.
Price range: Affordable
8. Sessions Arts Club, Farringdon – 

Best Restaurants in London

First of all, please be aware that Sessions Arts Club is located on the fourth floor of a historic listed building,

And they are only able to welcome guests over eighteen years old, no babies or children.

Secondly, Sessions Arts Club is open WEDNESDAY to SATURDAY for lunch and dinner,

OPENING TIMES:

Lunch: 12:00 – 14:30

Dinner: 17:30 – 22:00

You can make reservations thirty days ahead of your visit for a maximum of six guests.

Lastly, please note that in the event that a booking is cancelled with less than 24 hours notice,

A cancellation fee of £50 per person will be charged to the card provided.

Additionally, they accept card payments and not cash.

Their official Address: Sessions Arts Club, Old Sessions House, 24 Clerkenwell Green, London EC1R 0NA.

ALSO READ:
African Restaurant in London – Best 

Vegan Restaurants in UK 2023
9. Akoko, Fitzrovia
Akoko is a restaurant founded by British Nigerian Aji Akokomi and MasterChef,
It is another restaurant you can actually enjoy some African dishes while you're still in London.
Notably, the word Akoko means "Time" in Yoruba language,
It is a reimagining of the traditional dishes found in Nigeria, Senegal and Ghana in particular.
Their approach to cooking is inventive, centred around a trilogy of live fire cooking, umami and spices,
Which comes as no surprise that a lot of Africans loves Akoko, Most especially Nigerians.
Akoko restaurant significantly draws inspiration from the Aji Akokomi's West African heritage,
This is a perfect place for families to visit because their culinary teams are skillful in creating family recipes,
They are also able to combine the finest seasonal British produce with specially sourced African spices,
Creating a perfect blend for everyone that will love to try both separately or together.
Best African Restaurant in London in 2023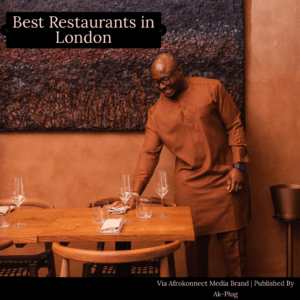 This restaurant reflects creativity and imagination inspired by the traditions, art and culture of West Africa,
As soon as you walk in you will see the walls are covered in earthy terracotta clay with glassware on the wooden tables,
All crafted by a Nigerian artist "Niyi Olagunju".
Akoko is special restaurant bringing a whole new unique experience of West African food to London,
With a variety of menu influenced by recipes passed down through generations alongside forward thinking dishes creatively put together.
Booking or making reservations at Akoko is seemingly very easy, you can book a table online,
After booking allow at lease 3 hours, remember all bookings require every guest to order a menu.
Interestingly, Akoko is available for exclusive hire throughout the week, subject to availability.
Opening times:
12pm -4pm (Last Sitting 2pm)
6pm – 11pm (Last Sitting 9pm)
Akoko is open every Saturday for lunch and Tuesday to Saturday for dinner.
Adress: Akoko, 21 Berners Street, London W1T 3LP
10. Hide, Mayfair – Best Restaurants in London
Hide consist of 3 different Venues to suit any and every occasion,
That means you have 3 different options to choose from.
Based on online ratings their steamed ikejime turbot is the best,
It is cooked to glistening perfection and served in a sauce made from bones, tail-to-gill cooking at its best.
Other highlights include the roasted king crab with camomile honey, slow-roasted goose with birch sap and barbecued Herdwick lamb.
Hide, Mayfair is located at no85 Piccadilly, London, W1J 7NB.
Best food in London in 2023
The video below is about top 10 things to eat in London, watch and enjoy;
This brings us to the end of this article about Top 10 Best Restaurants in London, Affordable Vegan, African restaurants and most beautiful places to eat in London, United Kingdom via Afrokonnect.