Welcome to this post about Morravey Biography, Net worth in 2023, Career, Songs and Record Label, via Afrokonnect.
A talented singer, composer, and performer, Daniella Daniel is better known by her stage name, Morravey.
Morravey is among of the musicians that Davido has signed to his newest record company, which is also known as "DMW 2.0."
This article contains all the information you want on Morravey's biography,
Including her age, real name, education, songs, and so on.
Morravey Biography, Net worth in 2023, Career, Songs and Record Label
Early Life and Background Information
Morravey, whose given name is Daniella Daniel, is an up-and-coming brilliant Nigerian singer, composer, and performer.
She was born in the country of Nigeria in March of 2004.
Morravey was born in Port Harcourt, in the state of Rivers, and was raised there by her parents.
This is her place of origin and she proudly represent the state as their musical ambassador.
Moreavey has had a passion for singing and performing ever since she was a very little child.
She took part in school singing contests and talent showcases while she was there.
Morravey participated in a variety of singing challenges and trends on different social media platforms because of her passion for the art.
After posting a freestyle of herself singing the Ayra Star hit song "Rush" on Tiktok,
Which led to Davido's discovery of her,
Her love for music ultimately led to her getting signed by Davido.
After posting her cover on TikTok over 500,000 people on the platform watched the video, making it viral on other social platform.
Morravey Biography, Net worth in 2023, Career, Songs and Record Label
Morravey Educational Background
In addition to her career as a singer, Morravey is now pursuing a degree in medicine at Rivers State University.
She is still in the process of obtaining her medical degree,
Despite the fact that she has just joined DMW 2.0 recently.
Morravey Biography, Net worth, Career, Songs and Record Label
As a result of Morravey's recent signing with DMW 2.0, she was featured on Davido's sophomore album, "Timeless,"
Which was released on the 31st of March, 2023 and now breaking grounds and new boundaries all over the world.
SONG BY MORRAVEY ENTITLED "IN THE GARDEN"
The track "In the Garden" from of Davido's album "Timeless" has a guest appearance by Morravey.
Morravey has decided to make her debut with this recording and she showed her vocal prowess.
In addition, Morravey has a number of freestyles and songs uploaded on her social media sites,
It is anticipated that she will release her debut single before the year is out.
Morravey Biography, Net worth, Career, Songs and Record Label
As an artist under Davido's wing, Morravey has access to valuable resources, industry connections, and guidance that can propel her career to new heights.
The association with DMW 2.0 provides Morravey with the platform to showcase her distinct musical style, captivate audiences, and leave a lasting impact on the music scene.
With Morravey's soulful voice, passion for music, and the backing of Davido and DMW 2.0,
Her future in the music industry looks incredibly promising.
Fans eagerly anticipate her upcoming releases, eagerly awaiting the opportunity to witness her artistic growth and the impact she will make with her music.
Morravey's journey is a testament to the potential for growth and success within the Nigerian music industry,
Where talented individuals like her can thrive under the guidance of established artists and record labels.
As Morravey continues to develop her craft and make her mark,
Her story serves as an inspiration to aspiring musicians who strive to achieve their dreams in the world of music.
Morravey Estimated Net worth in 2023
Beyond her musical accomplishments, Morravey has also achieved a commendable net worth, currently estimated at $30,000.
With an estimated net worth of $30,000, Morravey's financial success is a testament to her hard work and talent.
Her net worth encompasses earnings from music sales, performances, brand partnerships, and endorsements.
Morravey's growing popularity and recognition in the industry have likely led to increased revenue streams and lucrative opportunities.
In this section, we delve into Morravey's journey, her contributions to the music scene, and how her net worth reflects her growing success.
RECOMMENDED:
Morravey's Musical Achievements:
With her captivating vocals and unique musical style,
Morravey has captured the attention of both local and international audiences.
Her ability to infuse different genres, including Afrobeat and contemporary sounds, has contributed to her rising popularity.
Through consistent performances and releases,
Morravey has steadily built a loyal fanbase, further enhancing her reputation in the industry.
The Impact of DMW 2.0 and Davido:
Morravey's association with DMW 2.0, Davido's record label, has undoubtedly played a significant role in her career progression.
The support, resources, and mentorship provided by DMW 2.0 have allowed Morravey to reach a wider audience and establish herself as a prominent artist.
Davido's influence and guidance have helped propel Morravey's career,
Opening doors for collaborations and opportunities that have contributed to her growing net worth.
Future Prospects and Continued Success:
Morravey's current net worth of $30,000 is a reflection of her early success,
It is expected to rise as she further establishes herself as a prominent artist.
With her talent, unique style, and the continued support of DMW 2.0,
Morravey has the potential to expand her fanbase, explore new collaborations, and secure more lucrative projects in the future.
As Morravey continues to evolve as an artist and releases new music, her net worth is likely to grow alongside her career achievements.
WHAT IS MORRAVEY'S AGE?
The up-and-coming artist from Nigeria known as Morravey was born in March of 2004. They put her age as 19.
RECOMMENDED:
SOCIAL MEDIA HANDLE
You are able to follow the singer Morravey on many social media sites such as Facebook, Instagram, Twitter, and Tiktok by using the handle @Morravey.
Morravey Biography, Net worth, Career, Songs and Record Label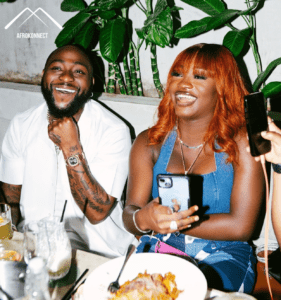 PROFILE SUMMARY & WIKI
| | |
| --- | --- |
| Real Name: | Daniella Daniel |
| Stage Name: | Morravey |
| Born: | March 2004 |
| Age: | 19 |
| Place of Birth: | Port Harcourt |
| State of Origin: | Rivers State |
| Education: | Rivers State University |
| Occupation: | Singer, Songwriter, Medical Student |
| Zodiac Sign: | Pisces |
| Record Label: | Davido Music Worldwide (DMW 2.0) |
Morravey Biography, Net worth, Career, Songs and Record Label
Summary
In conclusion, Morravey, also known as Daniella Daniel, stands as a promising and talented singer who has emerged under the guidance of the renowned artist Davido and his record label, DMW 2.0.
With her exceptional musical abilities and the support of Davido's influential platform,
Morravey has been given a unique opportunity to shine in the music industry.
Morravey's journey is an inspiration to aspiring artists, as she exemplifies the power of talent, hard work, and strategic collaborations.
Being signed to DMW 2.0, a label known for nurturing exceptional talent, signifies that Morravey possesses immense potential and is on the path to musical success.
On that note, this brings us to the end of this post about Morravey Biography, Net worth in 2023, Career, Songs and Record Label, via Afrokonnect.
So, are a fan of Morravey? We will like to hear your thoughts about the singer via the comment section below.