Welcome to this post about Shallipopi Biography, Net worth in 2023, Untold Story and Career via Afrokonnect.
Shallipopi is the stage name of Nigerian artist Crown Uzama, who was born on December 14, 2000.
He is best known by his stage name, shallipopi, and catapulted to stardom with the release of his hit tune "Elon musk."
Shallipopi has established himself as a significant figure in the Nigerian music business,
Largely because of the combination of his distinctive musical style and his magnetic personality.
It resulted in him earning his maiden chart entry on the Nigeria TurnTable Top 100 single chart on the 8th of July 2023 at position number sixty-seven.
Shallipopi Biography, Net worth in 2023, Untold Story and Music Career
Background Information and Early Life
Benin is the location where Shallipopi spent his whole childhood.
At an early age, he demonstrated a profound love for music and started polishing his abilities as a singer and composer.
He is now one of the most successful upcoming musicians in Nigeria and his music is fast spreading across Africa and the whole world.
Shallipopi created his own unique kind of music by drawing influence from a variety of musical sub-genres, such as pop, hip hop, and electronic music.
His music frequently combines appealing melodies with addictive rhythms with deep Nigerian slangs.
Shallipopi Biography, Net worth in 2023, Untold Story and Music Career
Professional Music Career
After facing numerous challenges, Shallipopi eventually released a freestyle of his popular tune "Elon Musk" on TikTok.
As a result of this, he received notoriety, and Apple Music named Shallipopi the Apple Music Up Next for Nigeria.
Shallipopi started freestyling at a young age, and he shared his early works on his social media platforms like Instagram and Twitter,
He used to get a little buzz from his follower before his smash hit dropped,
Shallipopi debuted his breakthrough track, titled "Elon Musk," in 2023,
The song was an instant hit and enthralled fans all over the globe.
Shallipopi was catapulted into the limelight as a direct result of the contagious energy, brilliant lyrics, and catchy melodies that were included inside the song.
His rapidly expanding audience was further solidified when the accompanying music video received millions of views across a variety of streaming platforms.
Impact in Nigerian Music Industry
The music of Shallipopi is characterised by its lively and energising feel,
Which is achieved by blending elements of pop music, rap music, and electronic music.
Fans of all ages have responded positively to the catchy melodies and accessible words that he uses in his songs.
Shallipopi draws influence from well-known musicians like as Zlatan and Fireboy Dml,
But he also incorporates his own distinctive personality and life experiences into his music,
Which results in a sound that is distinctive and easy to remember.
Shallipopi went on to feature Zlatan and Fireboy DML on the remix of his hit single "Elon Musk" to further cement his place on the music charts.
Furthermore, Shallipopi's impact extends beyond the music industry.
As a young Nigerian artist, he serves as an inspiration to aspiring musicians, proving that dreams can be achieved with talent, hard work, and unwavering determination.
His success story showcases the potential that lies within the Nigerian music scene and highlights the immense talent waiting to be discovered.
Shallipopi Biography, Net worth in 2023, Untold Story and Music Career
Partnerships and Joint Efforts
Shallipopi has established himself as a versatile musician throughout the course of his career,
Obviously by working with a wide variety of famous musicians, both as a collaborator and as a producer.
The artists with whom he's worked have helped him achieve more success and widened his musical horizons.
In addition to this, Shallipopi has been active in a number of other philanthropic endeavours,
Utilising his platform to lend support to humanitarian organisations and have a beneficial effect on society.
Legacy and Repercussions
The success that Shallipopi had with the song "Elon Musk" was a crucial turning point in his career and catapulted him to the status of a well-known figure in the field of music.
As a result of his engaging songs and mesmerising live shows, he has a global following of devoted fans.
Beyond the realm of music, Shallipopi's impact can be seen in the way that he continues to motivate up-and-coming artists,
With his singular aesthetic, tireless work ethic, and unwavering dedication to his craft.
Shallipopi Biography, Net worth in 2023, Untold Story and Music Career
Gra Gra – 2021
Shaka – 2022
Power – 2022
Wait – 2023
Elon Musk – 2023
Sharpiru – 2023
Elon Musk Remix (feat. Zlatan & Fireboy DML) – 2023
Ex Convict – 2023
Planet Pluto EP – 2023
Shallipopi Net worth in 2023 in Naira and Dollar
Shallipopi's net worth reflects his burgeoning success.
His increasing popularity and commercial success have opened doors to various opportunities,
Including brand endorsements and collaborations with renowned artists.
These ventures, combined with his streaming numbers and live performances, have contributed significantly to his financial standing.
As of the year 2023, it is projected that Shallipopi will have a net worth of around one hundred thousand dollars ($100,000),
Which equals around 77,481,000 in the Nigerian currency, the Naira.
Because of his ever-increasing fame and his continued success in the music business,
It is quite possible that his net worth will keep expanding over the course of the next few years.
In a nutshell, Shallipopi is quickly becoming a prominent figure in the Nigerian music business because to his one-of-a-kind style and infectious lingo.
As a result of his expanding fan base and his professional accomplishments,
He is rapidly ascending the ranks to become one of the most well-known hip-hop musicians in Nigeria.
Shallipopi has a big fan base, and we're excited to watch where his career goes from here.
RECOMMENDED:
Shallipopi Biography, Net worth in 2023, Untold Story and Music Career
Profile Summary
| | |
| --- | --- |
| Stage Name | Shallipopi |
| Birth name | Crown Uzama |
| Born | December 14, 2000 (age 22) |
| Genres | Afro-fusion, Afro-pop |
| Occupation (s) | Rapper and songwriter |
| Instrument (s) | Vocals |
| Years active | 2019–present |
Summary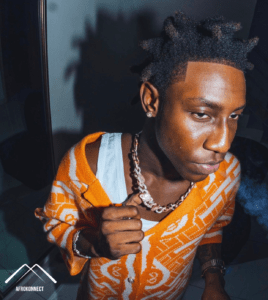 In conclusion, Shallipopi has proven himself to be an exceptional Nigerian artist whose talent and hard work have propelled him to great heights in the music industry.
Born on December 14, 2000, Shallipopi has captivated audiences with his unique style and infectious tunes.
However, it was his 2023 hit song "Elon Musk" that truly skyrocketed his popularity and cemented his position as a rising star.
Shallipopi's journey to success has been marked by perseverance, determination, and a deep passion for music.
From humble beginnings, he honed his skills and tirelessly worked on his craft, ultimately catching the attention of music lovers across Nigeria and beyond.
His catchy melodies and catchy lyrics have resonated with listeners, earning him a dedicated fan base and widespread acclaim.
Looking ahead, Shallipopi's future prospects are promising.
With his exceptional musical talent and the support of his ever-growing fan base, he has the potential to make a lasting mark on the industry.
As he continues to evolve as an artist, we eagerly anticipate the new heights he will reach and the remarkable music he will create.
In conclusion, Shallipopi's biography and net worth in 2023 demonstrate a rising star,
Who has captured the hearts of music enthusiasts through his unique style and chart-topping hits.
With his talent, determination, and ever-increasing popularity,
Shallipopi is poised to leave a lasting legacy in the Nigerian music industry and beyond.