Welcome to this post about Hotkid Biography, Net Worth, Albums, Age and Career via Afrokonnect.
It's safe to say that you've probably heard of Hotkid if you're familiar with Nigerian music.
Hotkid was born in Nigeria on January 13, 1999, and his real name is Moshood Adeola.
At the moment, he is widely regarded as one of the best Nigerian musician of his young generation.
Hotkid Biography, Net Worth, Albums, Age and Career
Early Life and Background Information
Hotkid is the stage name given to Nigerian hip-hop rapper Moshood Adeola, who is also an Afrobeats singer, composer, performer, and recording artist.
Like previously stated in the introduction, Hotkid was born on January 13, 1999, and he was raised in Ebute-Meta, Lagos.
He currently resides in this neighborhood with his parents, siblings, and other family members.
His secondary schooling took place at Kings College in Lagos, and he graduated with great honors.
At the tender age of nine, Hotkid discovered that he had a love for music and was immediately influenced by musicians such as Patoranking and Teni Makanaki.
Hotkid Biography, Net Worth, Albums, Age and Career
Professional Career as a Musician
A video of Hotkid rapping that went viral on Instagram led to the discovery of the artist by the chief executive officer of Dr. Dolor Entertainment.
This led to the launch of Hotkid's successful music career,
After he performed a cover of Teni's song "Case" for Dr. Dolor on November 4, 2019, he was offered a contract by the record company and he accepted it.
Before entering into a contract with Dr. Dolor Entertainment,
Hotkid had previously recorded a few tracks and collaborated with other musicians such as Zinolesky and Lil Frosh.
The first release from Hotkid, an EP titled "Honorable," was a big success,
The EP featured the smash hit "Ozana," which was included on the EP.
Since then, he has published a number of additional tracks, and he never ceases to wow audiences with his one-of-a-kind style of rapping, which fuses Yoruba and English.
Hotkid Biography, Net Worth, Albums, Age and Career
Achievements and Recognition
Hotkid has been recognized for his talent and has been the subject of a number of interviews,
Including the one that was broadcast on the "Me, Myself, and I" show on NaijaLoaded.
In addition to this, he has won the support of prominent Nigerian celebrities like Naira Marley.
His freestyle videos on Instagram attracted a lot of people's attention, which was a significant contributor to his career breakthrough as a musician.
Hotkid Biography, Net Worth, Albums, Age and Career
Discography and official Projects
There are many well-known songs by Hotkid, including "Ozana",
Hotkid has released several tracks and EPs, which include but not limited to:
Honorable EP – (2019)
Folake – (2020)
Prayer – (2021)
Freaky – (2021)
Mandem featuring Kwesi Arthur & DTG) – (2021)
Adrenaline EP – (2022)
Abena – (2022)
Verified – (2022)
Ayinda featuring MohBad – (2022)
Otilo (Izz Gone) X Poco Lee – (2022)
Oga Mi Sir – (2023)
His first extended play, titled "Honorable," was released in 2019, and it was met with positive feedback from audiences and garnered significant airtime.
The talented Hotkid is a prolific musician who keeps putting out new tracks and is undeniably an artist in the Nigerian music industry who deserves your attention.
Hotkid Current Estimated Net Worth in Dollar and Naira
At the moment, Hotkid is currently one of the most successful and well-known young musicians in Nigeria.
His professional endeavors have afforded him the opportunity to amass a sizable fortune,
It is estimated that Hotkid is currently worth $50,000, which equals around 23,011,350 Naira.
RECOMMENDED:
Hotkid Biography, Net Worth, Albums, Age and Career
Relationship and Private Life
Hotkid is still in his early years, and to our knowledge, he has not discussed his romantic life anywhere on the internet.
In the meantime, you can check out this page on a regular basis as we will be updating it with any revenant stories about his love life.
Hotkid Biography, Net Worth, Albums, Age and Career
Profile Summary
| | |
| --- | --- |
| Birth Name | Moshood Adeola |
| Nicknames | Hotkid |
| Date of Birth | January 13, 1999, |
| Religion | Muslim |
| Record label | Dr Dolor |
| Nationality | Nigeria |
| Tribe | Yoruba |
| Age | – |
| Instagram | @hotkidfire |
| Active | 2008 – Present |
| Net worth | $50,000 – $60,000 |
Social Media and Handles
You may get the latest information on Hotkid's music and other things by following him on Instagram under the handle @hotkidfire,
He is an active user of the social space and you can also get entertained by the contents he puts out regularly.
FAQs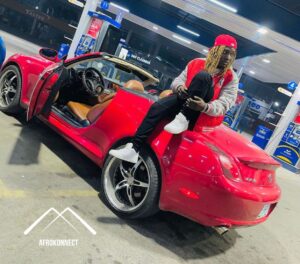 Which part of the world does Hotkid call home?
Hotkid was born in Nigeria and currently makes his home in the state of Lagos.
So How old is Hotkid now?
Hotkid, also commonly referred to as "Makanaki" is still in his mid-twenties and as a result result referred to as a youth.
Which recording label signed Hotkid?
The band Hotkid is now officially affiliated with the Dr. Dolor record label. The label is one of the best music record label in Nigeria at the moment.
On that note, this brings us to the end to this post about Hotkid Biography, Net Worth, Albums, Age and Career via Afrokonnect.
So, are you rooting for Hotkid? What are your thoughts? We will love to hear from you via the comment section below.