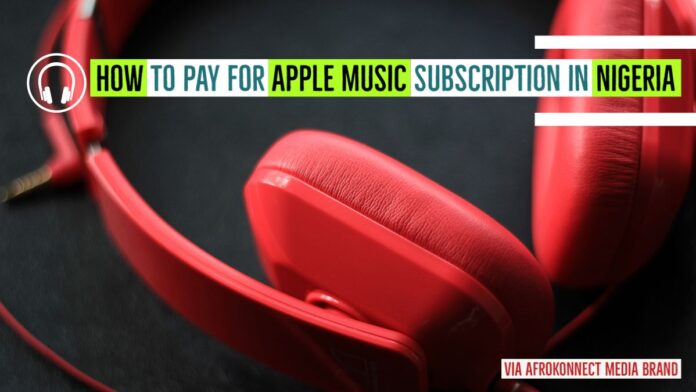 In this post you will find Solution for Apple Music Subscription Problem in Nigeria, the accepted cards, why Nigerian Payment Cards Don't Work on Apple Music and more alternatives via afrokonnect.
The article is divided into three section, first we will explore why Nigerian Payment Cards Don't Work on Apple Music,
In the second section we will explore how to pay for Apple Music Subscription then in the third section we will reveal the debit and credit cards you can use for Apple music in Nigeria, Ghana, South Africa and virtually most African countries.
So, without further ado, lets dive into the main business of the day and get your "Payment Declined" problems solved.
Why Nigerian Credit and Debit Cards Don't Work on Apple Music
Firstly, apple music might decline your Nigerian card for several reasons, it's possible that you have an unpaid order or insufficient funds.
However, even if you have enough money on your card, Apple Music may still reject your payment method for one of the following reasons:
You are trying to use a Naira card
The country listed on your card is different from the country listed on iTunes
Address listed on your Apple ID is different from the address listed on your card's billing statement.
If you want to use your debit or credit card for purchases made in other countries,
You might need to inquire about this with your bank first.
Before you jump to the conclusion, make sure to verify the your card balance is sufficient,
The address associated with your Apple ID is the same as the one used to charge your card.
How To Pay For Apple Music Subscription in Nigeria
You can try any of these approaches, we have outlined 4 options for paying your Apple Music subscription below.
Get A Virtual Dollar Card
Even though you've heard it a million times, it still holds true.
You can pay in US dollars for Apple Music with a virtual card from a number of fintechs companies in Nigeria,
Including the likes of Chipper, Grey, Payday, GoMoney, and Fundall.
Get a domiciliary account
Domicile accounts in Nigeria can be opened at any of the country's financial institutions.
After the account has been setup and funded, it can be used to make online purchases in USD.
Upon completion of the necessary steps to create a Dom account, you will be set to go.
The refrain of "payment rejected" will no longer be heard.
How to Pay for Apple Music Subscription in Nigeria
Use Apple or iTunes gift cards
If you want to subscribe to Apple Music, this is the simplest method of doing so.
To achieve this, you simply only acquire an Apple gift card and add the funds to your account.
An Apple gift card can be purchased from virtually any reputable retailer.
Order a Payoneer card
Do you want to work from home for companies in other countries? Do you have a legal means of identifying yourself?
The next step is to sign up for a Payoneer account and wait for your USD prepaid card to arrive or make do with the online equivalent of their Virtual Dollar card.
The Payoneer Prepaid Virtual Mastercard can be used for any online purchase in US Dollars (and offline).
Now, this brings us to the end of this section, brace yourself for the next Section.
Top 5 Best Virtual Dollar Cards in Nigeria (Apps and Providers)
Since using a Naira-based debit card for online purchases is restricted,
We've compiled a list of the top virtual dollar cards in Nigeria, along with the best apps and websites on which to use them.
It's likely that you've stumbled upon this article after realizing that your Naira debit card has some restrictions.
There have been restrictions placed on the total amount that can be spent at once using a debit card in Nigeria.
"Beginning in March 2022, the monthly card International Spend Limit for online transactions has been reduced from $100 to $20."
Since most Nigerian Debit Cards are denominated in the local currency, the Naira,
Getting a Dollar Virtual Card is typically the only way to avoid the International Spending Limit.
Digital banking has simplified the process of applying for and receiving a Virtual Credit Card.
List of the Best Platforms and Apps to Get Virtual Dollar Cards in Nigeria
1. ALAT By Wema
Wema Bank, the parent company of ALAT, is a well-established digital bank in Nigeria that facilitates quick payments for all its customers.
With ALAT, you can open a bank account or settle payments between individuals and businesses without ever setting foot inside a physical bank branch.
You'll have no trouble making payments when utilizing services like Uber, Netflix, Spotify, Google Play, Apple Music, Asos, Udemy, Coursera, AliExpress, Google, and Facebook when you have an ALAT virtual dollar card.
After your first digital card is issued, there will be a monthly maintenance cost of 525 Naira ($1) levied to keep it active.
It's simple to apply for an ALAT card, but you'll need to provide some essential data before you can receive your virtual credit card.
You can quickly load Naira into the ALAT By Wema virtual card, making it one of the most cost-effective payment options available in Nigeria.
How to get an ALAT Virtual Dollars Card
Visit https://alat.ng or You can get the ALAT by Wema mobile application from the Play Store or the Apple Store.
The first step is to register and then log in.
Choose "Card" from the drop-down menu on the homepage.
Simply select "ALAT Virtual Dollar Cards" and then enter your PIN when prompted.
Then, create a new card by clicking on the "Create Dollar Card" button (the Naira to Dollar exchange rate will be revealed).
Please provide the required information before continuing.
Gomoney
If you're a Nigerian resident or business owner looking to accept payments online from overseas customers,
You can benefit from using Gomoney, a Nigerian digital bank and one of the country's few Virtual Credit Card providers.
Gomoney facilitates quick and simple money transfers in Nigeria.
It's also simple to get a Gomoney virtual card by signing up for an account and then upgrading to the second level.
You can link your Gomoney virtual card to your PayPal account, use it to make purchases in U.S. dollars, and make local purchases in Nigeria.
When it comes to Nigerian virtual credit cards, Gomoney virtual card is a top choice.
How to Get a GoMoney Virtual Dollars Card
Install the Gomoney app on your mobile device, whether it's an Android or an iOS device.
The registration process only requires your phone number and the OTP code.
Next, enter your BVN and confirm the code sent to your BVN registered number to complete the BVN verification process.
The second tier of access is required for obtaining a Gomoney dollar card, but this is easily accomplished by submitting a government-issued photo ID.
How to Pay for Apple Music Subscription in Nigeria
Barter By Flutterwave
For the convenience of its customers and all Nigerians, Flutterwave has developed a virtual card called Barter.
If you want to make purchases on websites that decline your Naira credit card, get a Barter virtual dollar card instead.
Barter allows for straightforward monetary exchange using US Dollars as payment.
Barter Cards can be loaded with Naira, and your physical card can be linked to your online account.
Whether or not a card is currently being used, a monthly maintenance fee of $1 will be charged.
To make purchases online or in-app, all you need to do is load money onto your Barter virtual credit card.
You can get a Barter card by downloading the app, signing up, and verifying with your BVN.
How to get a Barter Virtual Dollars Card
Register using your BVN and then confirm your phone number with the OTP code supplied to it.
Deposit cash into the bartering account.
Generating a fresh Dollar Card.
Load up your virtual dollar card.
Chipper Cash
Like other online banks in Nigeria, Chipper Cash provides you with all the features you need for hassle-free financial dealings.
As a result, it's much simpler to pay bills and send money to friends and family in Nigeria.
Chipper Cash offers virtual cards that may be loaded with either Naira or dollars and used to make purchases online.
Chipper Cash allows users to utilize their virtual credit cards on a variety of websites and mobile applications.
In case you're having trouble making Netflix or Apple Music payments, you can use your Chipper Cash Visa card instead.
Sending money to business partners is convenient and quick with a Chipper Cash card.
How to get a Chipper Cash Virtual Dollars Card
Get the Chipper Cash app today on play store or App Store if you use iOS device.
Create an account and validate it with the required information.
Make a deposit into your account.
Simply by tapping on the cards, you can generate a brand new digital card.
Load up your prepaid electronic card and start making purchases online.
Join me on Chipper Cash, an app that has saved me so many fees sending money instantly to anyone in Nigeria, Ghana, Kenya, South Africa, Uganda, Tanzania, Rwanda, United States and United Kingdom!
We both get a referral bonus when you join using my link.
How to Pay for Apple Music Subscription in Nigeria
Eversend
Because of its adaptability in facilitating the transfer of funds between countries,
The digital banking app known as Eversend makes dealing with financial transactions simple and stress-free.
This software allows you to pay bills quickly and conveniently from the convenience of your own home, transfer and receive money in real time,
And even use a virtual credit card in the amount of one US dollar to make purchases on international websites and applications.
Cards will have an initial cost of one dollar and a maintenance price of the same amount each month.
With the Visa dollar debit card that Eversend provides, you may shop online at retailers like AliExpress and Amazon, as well as subscribe to services like Netflix, Apple Music and others.
For those in Nigeria looking for a virtual dollar card, Eversend is a top choice.
Step-by-Step Guide to Obtaining an Eversend Virtual Dollar Card
Install the Eversend app on your device, and then register for an account.
Confirm using the necessary specifics.
To make a new card, you can do so by selecting Cards from the bottom of the app's homepage.
Put in the maximum amount that you want the card to be able to hold.
To create a card, you need at least one dollar in your account. To finish the purchase, enter your personal identification number (PIN).
Make a purchase using your virtual card by adding money to it through the "add money" button included in the app.
How to Pay for Apple Music Subscription in Nigeria: Accepted Payment Method
Wrapping up
The restrictions on your spending power while using a debit or credit card issued in Nigeria might make online shopping a real pain.
As a result of the CBN imposing a $20 cap on Naira cards, making payments on websites that require US Dollars is incredibly tough (or its equivalent in foreign currencies).
The barrier erected by the government can be bypassed by just being aware of the advantages that come with acquiring any of the aforementioned virtual dollar cards.
FAQs – How To Pay For Apple Music In Nigeria: Payment Declined Problem Solved
Why is Apple Declining My Card When I Have Money?
If you try to pay for Apple Music subscription with a Nigerian credit card, they will still reject your payment no matter how much money you have.
That's because most Nigerian banks aren't compatible with Apple's payment processor.
If your card has sufficient funds, but Apple Music still declines payment, the following may be the case.
You have presented a Naira card for processing.
Your iTunes account's country does not match the country listed on your card.
The billing address on your credit card is likely to be different from the address associated with your Apple ID.
Which Nigerian Card Works For Apple Music?
From my own personal experience, the Naira Debit Mastercard is not compatible with Apple music,
But certain prepaid Visa cards do work properly with the service.
I attempted to use a UBA prepaid Visa card, and to my amazement, the transaction was successful.
However, after some time it stopped processing, you are free to use any Visa card you have available to you if it works.
Additionally, the Zenith and Access-Diamond Visa card functions very well according to some users review.
Does Apple Music Accept Kuda Card?
In a nutshell: No. To answer your question in detail, Kuda's virtual card is not capable of handling international transactions.
Transactions can only be made in the naira currency and that is same with Trove virtual card.
How do I pay for Apple services in Nigeria?
You can pay for Apple services in Nigeria using a Nigerian digital bank virtual dollar debit card or through a third-party payment provider like PayPal.
Why is Apple Music rejecting my card?
There could be several reasons why Apple Music is rejecting your card, including insufficient funds, incorrect card details, or a technical issue.
You may want to contact your bank to ensure there are no issues with your account.
How to Pay for Apple Music Subscription in Nigeria: Payment Declined Solved
Conclusion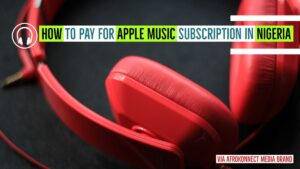 Since you've made it this far, the annoying message "payment declined" shouldn't be something you have to worry about anymore.
Now that you know how to sign up for Apple Music, you can subscribe using any method that your bank or credit card supports.
At this point, nothing can stand in your way. If you have tried making a purchase using one of the above-mentioned providers of virtual dollar cards,
We would very appreciate hearing about your experience. If you're an upcoming artist you can check out our guide for up and coming artists.
You may use the comment box below to share your thoughts and experiences on their mobile application.