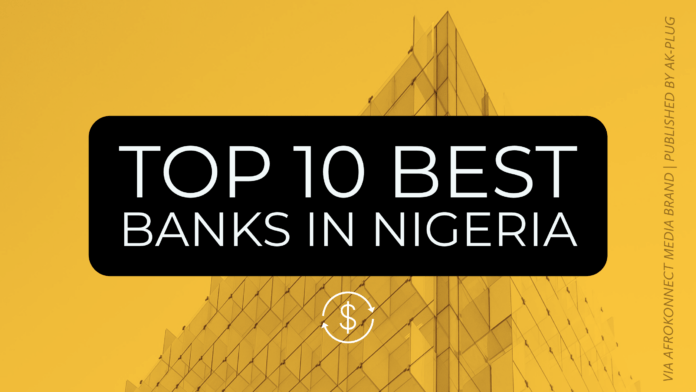 Top 10 Best Banks in Nigeria, keystone and first bank USSD transfer codes, most valuable and largest bank in 2023 via Afrokonnect.
There is a wide variety of banks in Nigeria, each bank with its own features, advantages and disadvantages,

Banks offer various financial services especially offering a safe way to save money seamlessly.
Still, there are so many banks to pick from and its no wonder that a lot of people carry out extensive research before opening an account with a bank.
As someone who is looking for a bank to open an account with,
You need to watch out for some quirks which includes interest rate on savings, customer service, service charges, maintenance fees etc.
So, if you're looking for a list of the best, safest, valuable, dependable and trustworthy banks in Nigeria, you have come to the right place.
Continue reading to discover more on top 10 best banks in Nigeria.
Top 10 Best Banks in Nigeria: Most Valuable Bank in 2023
1. FIRST BANK NIGERIA PLC
First Bank was established in 1894 but did not become a public company until 1970 after which it joined the Nigerian Stock Exchange in 1971,
This makes First Bank the oldest bank in Nigeria.
First Bank employs over 8300 staff and has over 800 branches in Nigeria,
It also has subsidiaries in some West African countries as well as in the UK, Abu Dhabi, Johannesburg and Beijing.
First Bank operates through four major strategic business units which are corporate banking, retail banking, commercial banking and public sector banking.
The bank recorded a net income of NGN87.99 billion in 2020 and NGN 7.84 trillion assets were declared in March of 2021,
First Bank was recognized as The Best Bank Brand in Nigeria in the years 2011, 2012, 2013, 2014 and 2015 by the banker magazine of the financial times group.
2. ACCESS BANK NIGERIA PLC
Access bank was given a commercial banking license in 1988 but eventually became a privately owned commercial bank in 1989,
In 2019, Diamond bank fully merged with Access Bank and after this merger, it became the largest bank in Africa in terms of assets, loans, deposits and branch networks.
Currently, Access Bank has about 6781 employees and 600 branches in Nigeria.
As at March 2021, the bank had a total asset of NGN 9.05 trillion,
There are four major segments through which the bank operates and these segments are;
Commercial banking

Corporate and investment banking
Personal banking and
Business banking
3. GUARANTY TRUST BANK PLC – Best banks in Nigeria
Popularly referred to as GT Bank or simply GTB,
The Guaranty Trust Bank was founded in 1990 but started it's operations in 1991.
Like other banks, they offer a wide range of financial services which includes online banking, asset management, investment banking and so on.
GTB has a customer strength of over 8 million and a staff strength of almost 6500 individuals,
They have numerous branches in Nigeria and also in other African countries and in the UK.
As at 2020, GTB's net income was estimated to be NGN 194.96 billion and a total asset of NGN 4.99 trillion was declared in March of 2021.
The GTB app is seen as number 1 in the ten best mobile banking apps in Nigeria,
And the bank itself has been named the Most Innovative African Bank by The African Banker Magazine.
Best Banks in Nigeria: Most Valuable Bank
4. ZENITH BANK PLC
Zenith Bank is a bank that was incorporated in 1990 and offers a multitude of financial services which includes;
Foreign exchange, SME banking, investment banking, treasury, trade services etc.
It became a public liability company in 2004 and was added to the Nigerian Stock Exchange list.
Currently, the bank has over 1.5 million registered customers and has a staff strength of about 7500,
Zenith bank currently has 436 branches all over Nigeria and has some repesentative offices in other countries like Ghana, Sierra Leone, the United Kingdom, Dubai, Gambia and South A frica.
As at March 2021, the total assests declared for Zenith bank was NGN 8.68 trillion,
Zenith Bank has had a great influence in Nigerian and African banking such that Euromoney named it the Best Bank in Nigeria and The Best Digital Bank in Africa.
5. ECOBANK
Ecobank is a subsidiary of the pan-African banking group called Ecobank Transnational Incorporation and the bank was established in 1986,

The bank offers to customers, an array of banking services under three major units which are Retail banking, Treasury and financial institutions and Wholesale banking.
They have over 600 branches and in 2019, a net income of NGN 1.26 billion and total assets of NGN 1.99 trillion were recorded.
6. UNITED BANK FOR AFRICA – Best banks in Nigeria
Simply known as UBA bank, the bank was established in 1948,
United Bank for Africa is one of the oldest banks in Nigeria and also the first Nigerian bank to have it's shares listed in the Nigerian Stock Exchange (1970),

It is seen as one of the most flexible banking groups in Africa.
UBA has a staff strength of about 10,500 staff and has a customer base of over 14 million all around the world,
With over 1000 branches in Africa, UBA has recorded a net income of NGN 109.33 billion (2020) and a total asset of NGN 7.89 trillion (March 2021).
RECOMMENDED:
Best Banks in Nigeria: Most Valuable Bank in 2023
7. UNION BANK OF NIGERIA
Formerly called Colonial bank, Union Bank of Nigeria was founded in 1917,
Union Bank is a bank that employs over 2400 people and has a customer base of about 4.3 million.
The current name; "Union Bank" was adopted only after it became a completely-owned Nigerian bank,
The bank offers a host of financial services to various classes and categories of people,
Union Bank has a net income of about NGN 18.54 billion (2020) and declared assets worth NGN 2.16 trillion as at March 2021.
8. STANBIC IBTC BANK
Stanbic IBTC bank is seen as one of the best banks in Nigeria in terms of assets value, reach and earnings,
It has activities in 20 African nations and 13 nations outside Africa.

The bank has a base number of workers of 2,926 individuals and as at December 2019,
The revenue made by the bank was over NGN 152.3 billion and had assets worth over NGN 1.42 trillion.
9. FIDELITY BANK
Fidelity bank was incorporated in 1987, started banking operations as a merchant bank in 1988 but became a commercial bank 11 years after this in 1999,
There are a variety of financial products offered to customers but with a focus mainly on corporate banking, SMEs and Retail and electronic banking.
Fidelity bank has over 250 offices with 774 ATMs and 4,046 POS terminals serving about 4 million clients that have account(s) with the bank,
The bank had a net income of NGN 26.65 billion.
Best Banks in Nigeria: Most Valuable Bank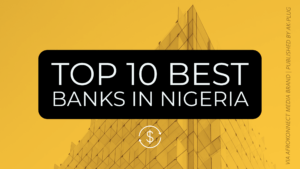 10. STERLING BANK
Headquartered in Marina, Lagos, Sterling Bank is one of the best banks in Nigeria with operations divided into 4 major groups;
Consumer banking

Commercial banking
Retail banking and
Corporate banking
In Nigeria, Sterling Bank has over 170 branches with 847 ATMs and over 7500 POS terminals.
KEYSTONE BANK USSD TRANSFER CODES
The USSD transfer code for keystone bank is *7111#,
Keystone USSD transfer codes is a convenient and fast way to perform transactions without the need for internet connection.
The USSD service is available all the time and can only be used with a phone number registered with a keystone bank account.
FIRST BANK ONLINE NIGERIA – USSD TRANSFER CODES
The USSD code for firstbank is *894# and it is a safe, quick and easy way to perform your banking transactions which includes but not limited to money transfer, airtime recharge, pay bills and checking account balance.
ALSO READ: Access Bank USSD Transfer Codes (Access-Diamond)
iBank FirstBank Nigeria – Best banks in Nigeria
Ibank means internet banking or online banking,
First Bank online banking service is known as FirstOnline and this app has features that promotes payment efficiency and productivity in customers day to day transactions.

Users of the app can buy airtime, pay bills, transfer funds and do much more through their digital devices.
STANDARD CHARTERED IBANK
Standard Chartered Ibank is an online banking service that offers customers a modern banking experience,
Through the use of the app, customers can pay bills, buy airtime, transfer funds and view account details and balance with their smartphones.
BVN CODE CHECK – How to Check BVN 
BVN means Bank Verification Number, it is a unique 11-digit number used to verify your financial information.
Now, let's talk about how to check your Bank Verification Number (BVN),
To check your BVN, you need to first make sure that you have at least 20.00NGN on your sim card as this service is not free.
Once you have confirmed that you have up to this amount on your sim card, all you have to do is dial *565*0# and your 11-digit number will be displayed on the screen of your device.
MEANING OF AN OTP
OTP means One-Time Password and can also be called Dynamic Password or One-Time Authorization Code,
It is a password that is valid for just one login or transaction on a digital device,
OTPs are randomly generated and thus, your accounts, applications and internet connection are protected from cyber attacks.
HOW TO USE AN OTP
OTPs can be used in various ways and here are some of them;
To secure payment and verify transactions

To reset passwords
Authorize upgrades
Secure online documents
Reactivation of users
Used in syncing multiple devices to one account and so on
Conclusion – Best banks in Nigeria
The video below is about the top 10 largest and most valuable African banks and what they worth;
In conclusion, each financial institution discussed in this article has various features designed to suit specific financial needs,

You have to choose a bank that caters to your personal, business or investment financial needs.
We wish you the very best of luck as you make your decision.
On that note, we are ending this article about the top 10 Best Banks in Nigeria, keystone and first bank USSD transfer codes, most valuable and largest bank in 2023 via Afrokonnect.
Cheers!