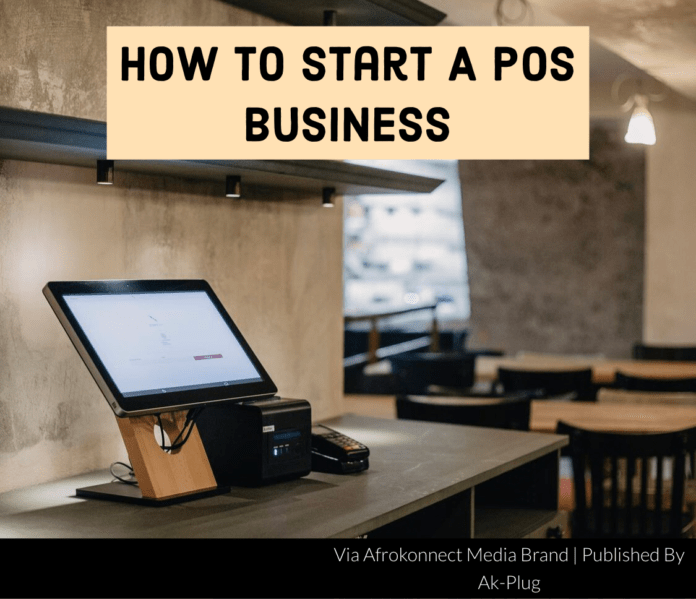 How To Start a successful POS Business in Nigeria or anywhere else in the world with little capital, Best Point of sale Systems for Small Business via Afrokonnect.
Have you been willing to start a POS business in Nigeria, South Africa, Ghana or even in Europe, Asia etc?
If yes, we have got you covered on everything which you need to know in this article, 
The POS business remains relevant among the businesses that can fetch you millions in a short time,
And many people are already taking advantage of these modern-day business offers.

Hence, this article aims to walk you through how to get started with this business. 
Nevertheless, before we proceed further,
We need to be sure you understand what this POS business is all about.
What Is POS Business?
POS is an acronym for Point of sale, which empowers an individual to exchange cash for the service rendered.

Many supermarkets and big companies now use POS to receive payment for purchased goods and services,
Some individuals take pos business as a means of traditional ATM,
These set of People exchange cash for cash but with a percentage increase, often a %0.58 increase.
This implies if you want to withdraw #1000, you will be charged #100 for #1000,

Imagine being able to have just 100 customers daily.

That's an average of #10,000 profit daily, and an average of #300,000 Monthly.
If you could stay in an area that's populated, then you are likely to make a million in a month with POS business.
Having known this, let us consider some of the services you can offer with a pos machine:
You can use a POS machine to withdraw some money,
This will be way easier than going to the bank or using an ATM.
You can use a POS to deposit some money into any account,
All you have to do is to give your cash to the POS business owner,
And the cash will be directly deposited into the cash which you want.
Buying and selling airtime

:
You can use a POS business to buy and sell airtime. 
You can use a POS system to open an account,

Nevertheless, the bank will be the POS provider you are using.
This indicates that if an access bank provides the POS machine, you will only open an access bank account.
Enroll for BVN verification:
You can use the POS system to enroll for bvn verification,
This will be way easier than going to the bank for verification.
You will be able to use details such as NIN to register for bvn verification at a POS stand,
Which can sometimes come for free or at a penny amount.
Best POS System For Small Business (Retail, Restaurants etc)
As a small business owner, you shouldn't just go into any POS business that comes your way,
This is for no other reason than different banks having different rates and interest on their pos charges.
The cost of acquiring a POS machine differs by different banks,
And these are things you should consider,
As you are just starting and for you not to go beyond your budget and plan.
Briefly, let us consider some of the best POS system for businesses in Nigeria.
1. 
Access Bank POS System
This is one of the best POS systems highly recommended for small business owners,
The Access bank POS system is straightforward and has many functionalities to make transactions much more manageable.
2. 
Opay POS System 
Opay is one of the financial industries in Nigeria that is licensed by CBN,
Which makes it reliable when it comes to your funds.
It is among the POS systems in Nigeria that has remained relevant among the pos systems recommended for small businesses.
To learn more about applying for this POS system, kindly checkout opay.ng.
3. 
Kolomoni POS
Kolomoni is one of the POS systems that small business owners should consider,
It offers affordable interest, there are terms and conditions which you need to adhere to to be able to obtain the kolomoni POS, which you can look upon their official website.
Many companies and business owners have found Kolomoni to be one of their desired POS systems due to several functionalities the POS system has.
To learn more about the kolomoni POS system, kindly visit their website.
Point of sale systems for small business
4. 
Paga – POS Store 
Paga is one of the long-term POS systems in Nigeria,
The POS system has a user-friendly interface.

The POS system has many functionalities that go beyond using it for everyday cash transactions,  
You can use the POS system for other transactions such as buying and selling recharge cards, online payments, etc.
You can also make a lot of money via the Paga POS business if you are in a good area.
5. 
Moneypoint – POS Store 
Moniepoint is one of the POS system systems in Nigeria, which has affordable interest for charges.

If you are starting a particular business, this is the type of pos system which you should consider.
How to Become A POS Agent
If you want to become a POS agent, there are a few criteria that you need to meet,
As provided by the central bank of Nigeria, such as having a business that has been in existence for at least 12 months.
Raising capital to start

:
Before you can start a POS business or become a POS agent, you must have the capital to start.

Also, different POS providers have their minimum capital before you can obtain their POS system.
I strongly recommend you read our article about How to raise Capital for a start up business.
To be a pos Agent, you must be in a good area.
Meet all the needed Requirements:
Before you can become a POS agent, you need to meet some required requirements.

Each bank has its condition as provided by the central bank of Nigeria,
So you should ensure you meet all these requirements to become a POS agent.
You must have a valid means of Identification

:
You must have a valid means of identification before any POS provider releases their POS machine to you,

The accepted means of identification for POS agents in Nigeria include;
Voters card

NIN (National Identification Number)
International passport.
You must provide a clear passport photograph to become a POS agent.
Minimum capital of #50,000:
You are required to have a minimum capital of #50,000 before you are given a POS system which is around $120. 
Decide on the bank you would like to use, and walk-in there to apply for their POS machine.

You can choose from the list of best pos devices we have mentioned above.
Once you have chosen a bank you would like to apply for their ATM,
You will be given the forms to fill and the requirements you need to fulfill to obtain their ATM.
POS Business In Nigeria
POS business has been one of the lucrative businesses with little capital in Nigeria,
You can start a POS business in Nigeria with as minor as N50,000 without running into losses, which is equal to around $120.
However, before you start a POS business in Nigeria,
There are a few factors that you are urged to consider, and some of them include,
Before you start a business in Nigeria, you should ensure you are in a good location that needs the service of a POS,
It would be best if you didn't run a POS business in an area with less population or an area where there is already an ATM,
As people aren't going to substitute a POS machine for an ATM.
of course, you need to consider the capital you have before starting.

If you do not have enough capital, you won't make enough return of investment from the business.
The video below is about a guide on how to start your own POS business (Mobile Money) and make up to 300k monthly;
SEE ALSO:
Clover credit card machine – Review & Rating
Clover as a company was founded by Leonard Speiser and John Beatty in 2011,
The company is based in Sunnyvale, California, United States of America.
8 years later it was purchased by First Data Corporation, which was acquired by Fiserv, an international financial technology firm,
At the moment Clover offers POS services, payment processing, customer engagement and employee management tools.
One of the advantages of using Clover is that they allow their customers to choose from a variety of POS devices and accessories,
They can also allow customers to use their special features "Clover's virtual terminal" to take and make payments without hardware device.
Clover has successfully processed over 400 million unique credit cards,
At the moment Clover Credit cards are available in countries outside the United States including the United Kingdom, Austria, Germany, Ireland, Argentina, and Canada.
Point of sale for small business (POS Business) 
Clover Credit Card Machine Review
According to USNEWS clover is Ranked number 11th in list of best credit card processing companies,
Clover is recommended for:
Small and growing businesses

Customers who want intuitive software

Restaurant owners and Retailers

Not Recommended For:
Companies that want to use other POS systems

Large companies that might benefit from interchange-plus pricing
How Much Does Clover Credit card Machine Cost – POS Business 
Their Credit Card Processing Fees varies and depends on the type of machine you're acquiring,
They offers a variety of POS systems based on your business needs,
It is important to note that with Clover you'll be charged for hardware, software, credit card processing fees and maybe apps and LTE service too,
More so, purchasing directly from Clover has proven to be cost effective.
Below is a list of some the available devices and price;
GO
It is their cheapest and most portable device, sold for N28,699 which equals around $69 if you buy it directly from Clover.
Powerful Station PRO
This device is sold for $1,649 which equals around N 685,885. Payment plans may be available.
On a scale of 5 we'll rate Clover Credit card machine with 4 Star ratings.
POS for small Business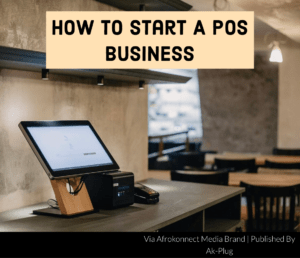 Conclusion
Above, you have learned all you needed to know regarding the POS business,
Such as the requirement to get one, making money from it, and the best POS system you should consider.
Above, we also consider things you need to ensure if you want to make fast money from POS,
Such as being in a good environment,  having enough capital, and meeting the requirements of your pos provider.
If there are more questions you would like to ask, kindly ask them in the comment box.