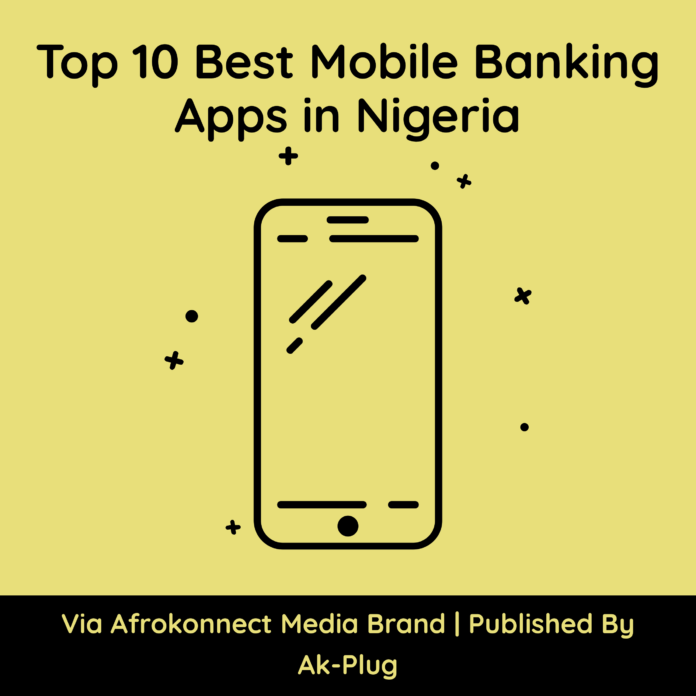 Top 10 Best Mobile Banking Apps in Nigeria for the year 2023 via Afrokonnect.
Technology has simplified a lot of things, from the way we communicate to the way we interact,
You don't need go to the bank to make transactions anymore, no more long queues.
With your mobile banking app you can send money to anyone as long as you have their account number,
Aside from transfers, you can pay your bills like DSTV subscription, Airtime top up, book flights, invest and a lot of other benefits,
You can also view your account balances, deposit checks and contact customer support with your banking app,
In this article we will be revealing the rankings of the current top 10 best mobile banking apps in Nigeria,
This list is based on different factors like online rating, number of downloads  and general user reviews.
Every bank has it's different mobile bank app and they all have different user interface,
Some are user friendly while others are not too friendly or might require a bit of computer knowledge to use,
In essence, choosing a bank with a reliable and strong banking app is a crucial choice.
Before we proceed you can check out our previous article about the Top 10 Best Banks in Nigeria,
Virtually all the mobile banking apps in this list can be downloaded via App Store for IOS or Google Play store for android,
After downloading the app all you need to do is create a username and password to start enjoying all the benefits.
Top 10 Best Mobile Banking Apps in 2023
10. KeyMobile – Keystone Bank
The Keystone mobile banking app makes it very easy to bank on the go 24/7,
KeyMobile is a secured app available on App Store and Google play store for iOS and Android users respectively.
You can register and start using the app in two simple ways,
Firstly you can use your Account number and the second method is to use your debit card,
An Otp code will be sent to your mail and SMS to the registered number, input the correct code and proceed.
KeyMobile is the official digital banking app by Keystone bank,
The app is designed with exciting features which offer users the freedom to bank without limits.
Most importantly, the KeyMobile is supper clean and it's user-friendly interface allows users to easily navigate the app with no hassle.
If you use a device that has fingerprint or Face ID then you can use that as your preferred authentication method,
This makes it easy and faster to login and make transactions on the app,
Remember Biometrics-based security system has constantly proven to be more secure and convenient than passwords.
The KeyMobile gives you an option to invest your money right in the app with full control over your money,
You can use their investment option to embark on targeted investment plans for specific projects like buying a car, Rent or anything at all,
You can also use that opportunity to begin making investments in foreign currency.
With the same app users can pay light bills, cable and internet bills, water bills, etc,
Other benefits of the app include cashless withdrawal, loan application, airtime top-up and so much more.
At the moment the KeyMobile app has a 3.7 rating on App Store which is not bad at all.
Best Mobile Banking Apps In Nigeria in 2023
9. Opay App
Opay is the first CashBack wallet in Nigeria, with this app you will enjoy free bank transfer to other banks,
They have a virtual card you can use to make payment and online purchases,
The Virtual cards protect your information online, especially from random and individual merchants,
So, if you prefer or enjoy shopping online then this one is for you as you'll need your privacy in check,
The app allows users to make online payments safely and securely through the virtual card.
Users have the option to hide their account balance on the app, this helps in preventing third party from peeping your account balance,
Opay app also supports payment of bills, fingerprint recognition, account reviews and lots more,
You can use the Opay app to request for instant loans and overdrafts.
At the moment the Opay app has a 3.0 and 4.3 stars rating on App Store and Google play store respectively,
The app has recorded over 10 million users on all platforms which is one of the reasons why it has made it into the list of best banking apps in Nigeria.
With the Opay savings feature you get to enjoy 20% interest rate annually,
One of their features "Owealth" gives you at least 15% rate of return per annum and can be withdrawn with no extra charges.
8. Zenith Bank App – Best Mobile Banking Apps In Nigeria
You can achieve a lot with the Zenith bank mobile app, for example, it offers the latest market news,
This news usually help users make the best investment decisions from the comfort of their living room,
Similarly, they also have an investment feature on the app which allows users to pick from a wide range of investment plans that suit their income.
Zenith Bank Mobile app is one of the best mobile banking apps in Nigeria at the moment,
The app was designed in such a way that literally anybody can use it and complete task easily,
With the Zenith app you can manage your account, Check balance, make transfers, pay bills and lots more.
Zenith bank app also has the QR feature which can be used for payments,
You can activate and deactivate your card via the application,
The app was designed to give you seamless banking experience with your privacy a priority.
Best Mobile Banking Apps In Nigeria in 2023
7. UBA Mobile Banking App – United Bank for Africa
United Bank for Africa is one of the oldest banks in Nigeria, it has several branches within and outside the country,
The UBA Mobile app allows users to easily send money to family and friends across the world,
It gives you the option to view forex rates before every transaction and you can link your Domiciliary account to the app.
The mobile banking app for UBA is arguably one of the best mobile banking apps in Nigeria,
You can use your fingerprint to authorize login and transactions if your device supports the features,
If your device supports fingerprint or Face ID then you can login in split seconds unlike other apps that take forever to log in.
UBA Mobile app allows you to make transfers with ease, request a statement and review your account all without having to leave your comfort zone,
They have bot named "Leo" and you can also chat live with their customer care service,
The UBA banking app has over 23,000 downloads,
It also has a 3.8 and 4.0 star rating on iOS App Store and Google Play store respectively.
They have added a new QR feature that allows customers to scan and pay at designated merchants,
And you can use the app to locate their ATM and and branches closer to you.
ALSO READ:
6. FCMB Mobile Banking App – First City Monument Bank
On the 6th spot we have the FCMB Mobile App, FCMB is an abbreviation of "First City Monument Bank",
This bank usually takes their customers needs, convenience and privacy as a top priority,
In 2015 the bank won the award of "The Most Customer Friendly Bank" in Nigeria,
FCMB Mobile app is all you need for all your personal or business financial services,
With the FCMB Mobile App you can achieve a lot very fast and easily from anywhere and anytime,
The interface is user friendly and the simple layout also helps with easy navigation.
You can use the FCMB mobile app to make payments for foods and buy tickets,
Also, you can make transfers, open a new accounts, access the QR and Cardless operations among other features on the app.
FCMB is a reliable bank with several branches providing financial services to millions of customers in Nigeria,
Their mobile banking app currently has over 500,000 downloads on Google Play store,
It has 3.4 and 4.1 star rating on IOS App Store and Google play store respectively.
Best Mobile Banking Apps In Nigeria In 2023
5. Alat by Wema
I don't think we can talk about Alat by Wema without giving Davido credit for their recent commercial success,
ALAT by Wema became the Number One trending online banking apps in Nigeria's apps store,
Davido gave them over 800,000 customers in less than 6 hours,
He also raised over 200 million Naira for a charity cause via the bank on his birthday.
Alat by Wema is the first Nigerian fully digital bank designed to help you save more,
With their mobile banking app you can save, schedule transfers and pay bills automatically from anywhere.
Their mobile app is one of the fastest mobile banking apps in the game,
This award-winning banking app gives you a free debit card upon request and up to 4% annual interest,
Alat also gives you access to exclusive group and personal savings,
Their virtual Dollar card for online payments comes handy, especially with the new CBN dollar transactions restrictions.
You can open an account free, after using the app for couple of transactions you can also request for loans via the app with no collateral,
Read our previous post about Quick Online Loan apps in Nigeria without Collateral.
ALAT is relatively new to the game but it has achieved so much in its few years of existence,
It has won several awards including 'Best Mobile Banking App' and 'Best Digital Bank' in 2017 at the World Finance Digital Banking Awards;
Again, in 2019 they won the award for 'Best Digital Bank in Africa' at 2018 Asian Banker Awards.
Most importantly this app helps you control your finances by allowing you track your savings goals.
What is the best app for mobile deposit?
4. Kuda Bank – Bank of the Free
Just like how Davido was able influence millions of Nigerians to open an account with Wema bank,
FireBoy is also at the forefront of the commercial success KUDA has being enjoying lately.
KUDA mobile banking app is one of the most popular online digital banks in Nigeria among the youths,
They pride themselves as the bank of the free because with KUDA you don't need to pay for Card maintenance or any maintenance fee,
You can open an account within minutes, Plan your spending with improved budget and enjoy overdraft with KUDA.
When it comes to security, KUDA is also on top of their game,
All deposit are insured by the Nigeria Deposit Insurance Corporation [NDIC],
KUDA is a free mobile bank with a microfinance banking license from the Central Bank of Nigeria,
In a case where your debit card gets missing or stolen you can deactivate the card immediately via the app.
You can easily get a kuda account by downloading the app and signing up for free,
The app currently has 4.7 and 4.5 star rating on iOS App Store and Google Play Store.
Which mobile banking app is safe?
3. First Mobile – First Bank
FirstMobile is the official mobile banking application from one of the oldest banks in Nigeria, First Bank,
Credit to this bank for standing the taste of time and keeping up with latest technological advancements.
The FirstMobile app is one of the best mobile banking apps in Nigeria because of many reasons,
The App is sleek, user friendly and convenient to use for both amateurs and professionals,
It gives first bank account holders opportunity to perform both financial and non-financial transactions via the application,
Some of the features and benefits you will get from using the app includes card management, account overview, bill payments and cash transfer.
First Mobile has a rating of 4.0 on Google Play store with over 1000 positive ratings on iOS App Store.
2. Access Bank Mobile App
Access bank has merged with Diamond bank and since then their services has been very efficient,
They are one of the most reliable and trusted banks used by millions of Nigerians, especially youths.
Access bank Mobile app is one of the best mobile banking apps in Nigeria,
Their access more app can be used in Ghana, Zambia, Kenya, South Africa and host of other African countries.
You can login to this app with your fingerprint or Face ID depending on your device capabilities,
The app works perfectly on all Apple and Android mobile devices,
It is an innovative mobile payment application that gives you more banking experience.
Some of the unique features of the access bank mobile banking app includes quick account opening, Scan QR for payment, Payday Loan, Dubai Visa Application, Movie ticket purchase, airtime top-up, Card service and so much more,
You can also check your account balances, transfer funds, pay different bills and deposit checks,
With the app you can make complaints and chat with customers support team without necessarily visiting the bank physically.
Access More app by access bank has a 4.7 star user rating on iOS App Store and it has a rating of 4.1 on Google Play store.
ALSO READ:
Which mobile banking app is best in 2023?
1. GTWorld – Guarantee Trust Bank Mobile app
For many years GT Bank has been in the Top 3 best banks in Nigeria,
Their services are top notch and very reliable, plus this bank is one of the most innovative in the country,
Most of the time they set the pace and other banks follow their footsteps,
Similarly, their mobile banking app "GTWorld" has been ranked as the best mobile banking app in Nigeria.
The bank focuses on customer satisfaction so also the app is designed to cater for all that's important to you,
Their face recognition feature means you now have a mobile bank app that can easily recognize you and adapt to how you prefer to bank on the go,
You can use the GTBank mobile app to complete numerous task smoothly without any lagging,
GTWorld is also ideal for business owners because of it gives you access to GAPS,
This lets you monitor and complete all your business transactions from anywhere in the world within minutes.
You can use 3 methods to authorize transactions on your accounts,
Either you use your fingerprint, your face or any four digits of your choice.
To download the official GT world app visit the official website of Guaranty trust bank,
You can as well visit Google Play Store or the App Store if you're an iOS user.
Best Mobile Banking Apps In Nigeria – Digital Banks in 2023
The video below is about the top 10 best Digital banks in Nigeria by SproutsTv, watch and enjoy;
Conclusion
So, there you have it, we have covered the top 10 best mobile banking apps in Nigeria,
Though we still have other mobile banking apps, these are the most used banking apps by Nigerians,
These apps are very easy to use, user friendly and it has maximum security,
With these apps you can make your payments, send and receive money in Nigeria without going through stress,
Everything becomes very easy with digital banking apps.
Top 10 Best Mobile Banking Apps In Nigeria in 2023 –

 

Best Digital Banks in Naija
| | |
| --- | --- |
| Rank | Bank name |
| 1 | GT World |
| 2 | Access Bank Mobile App |
| 3 | First Mobile App |
| 4 | Kuda Bank App |
| 5 | Alat by Wema Bank |
| 6 | FCMB Mobile App |
| 7 | UBA Mobile App |
| 8 | Zenith Bank App |
| 9 | Opay App |
| 10 | KeyMobile (Keystone Bank) |
FAQ – Best Mobile Banking Apps In Nigeria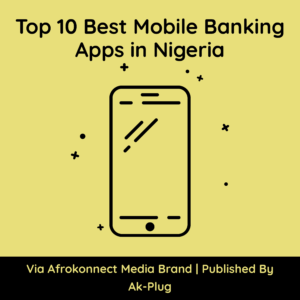 Is it safe to use mobile app for banking?
The straight answer is YES, it is absolutely safe to use mobile app for banking,
The banks listed in this article have adequate security and encryption, tested and trusted by millions, 
An Otp (one time password) will be sent to your mobile phone for all actions and transactions done from your account,
On that note I advise you to read our previous post about The Best Ways To Protect Your Accounts from Scammers.
This brings us to the end of this article about Top 10 Best Mobile Banking Apps In Nigeria 2023 via Afrokonnect,
If there is anything you think we've missed out here, let us know via the comment section.