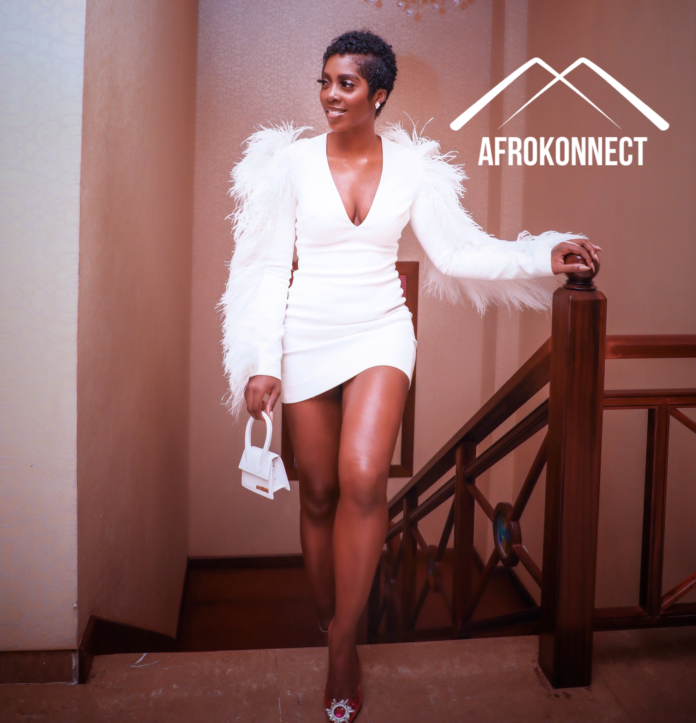 In this article we'll talk about Tiwa Savage Biography, Net Worth, Music Career, Endorsement deals and More via Afrokonnect.
Tiwa savage known legally as Tiwatope Savage Balogun is a Nigerian Singer, Song writer, an actress and a fashion enthusiast,
The self proclaimed number one African bad girl is one of the biggest female entertainers in Africa and arguably the biggest in Nigeria,
That's if we're talking based off record sales, Streams and general worth recognition,
Even with the emergence of young talented Nigerian female artists like Tems, Ayra Starr among others,
Tiwa savage has been able  to remain relevant in the Nigerian entertainment industry,
So in this article we will reveal to you more about Tiwa Savage a.k.a Mummy Jam Jam (Jamal Tiwa Savage Son).
Tiwa Savage Biography and Net Worth 2023
Tiwatope Savage Balogun was born in February 1980 in Lagos, Nigeria,
She moved to London at the age 11 and at the age of 16 Tiwa Savage fell in love with music,
So decided that she was going into Music as a professional Career.
After making that decision, Tiwa Savage went into Music full-time and started by backing up vocals  for musicians Such as George Michael and Mary J. Blige,
By the time Tiwa Savage finished her high-school in the United Kingdom, she went ahead to study Business Administration in Kent University,
During this period, Tiwa attended and graduated Berklee College of Music where she improved on her abilities musically,
For the records, Tiwa Savage has also participated in the UK edition of X Factor in 2006.
SEE ALSO:
In 2009 Tiwa Savage singed a publishing deal with Sony/ATV Music Publishing,
She recoded couple of good music under the imprint before the certified African breed met Don Jazzy,
Tiwa Savage decided to go back to Nigeria and continue making music with the mogul,
A new chapter started for Tiwa Savage when she finally moved back to Nigeria and signed a record deal with MAVINS in 2012.
Tiwa Savage Biography, Music Career and Net Worth 2023
Shortly after graduating from Berklee College of Music and securing a record deal with Mavin Record,
Tiwa Savage came back to Nigeria and started working with the whole Mavin crew,
Where she also worked with the likes of Reekado Banks, Dija, D'prince, Dr Sid among others.
She rose up to prominence in the Nigerian industry with her single "Kele Kele love" followed by "Love Me",
Since then, it has been back to back hits for Tiwa Savage.
During her stay in the abroad, she had her share of experience in Berklee College of Music,
Tiwa Savage backed up for Chaka Khan, Blu Cantrell, Emma Bunton, Kelly Clarkson, Mary J. Blige among others,
So when she came back she already had all the experience she needed musically and with Don Jazzy by her side tiwa went on to achieve great height.
It's worthy of notice that Tiwa Savage once played trombone at her school,
In a way, playing for her school's orchestra band all of that contributed in molding the superstar we see in Tiwa Savage today.
During one of her chat about growing into spotlight Tiwa Savage said:
"You have to always realize that people are watching.
When I got the bad news that I wasn't getting through [to the final 12] it was a really painful time.
But you still have to learn how to hold that until you get home.
Because you don't want to just let everything out.
People admire you and want to see that you're strong; they don't want to see you breaking down."
Tiwa Savage is a fantastic songwriter and have been credited for writing for Babyface, Kat Deluna, Fantasia, Monica, Mýa and more.
Over the years Tiwa Savage has put out Studio albums and EPs which includes:
Once Upon a Time

(2013)

R.E.D

(2015)

Sugarcane

(2017)

Celia (2020)

Water and Garri (2021)
Tiwa Savage Biography, Net Worth and Endorsement Deals in 2023
Aside from the fact that Tiwa Savage is one of the biggest in the Nigerian music industry, She is also one of the richest,
She has secured couple of Endorsement deals with some of the major brands within and outside Nigeria,
Pepsi, Forte Oil, MTN, Konga, Maggi are some of the brand Tiwa Savage endorses with contacts running into millions,
She is also involved in several humanitarian and youth empowerment works.
How much is Tiwa Savage Net worth in 2023?
Apart from singing, Tiwa Savage is a song writer, entrepreneur who owns assets and investments that makes tuns of millions for her,
If you'll want to see how rich tiwa Savage is then watch the video below;
When she was under Marvin Record Label she Tiwa Savage released a lot of interesting projects sold worldwide,
Tiwa's albums till date sells not only in Nigeria but also selling internationally,
Tiwa savage is currently the Forbes richest female singer in Nigeria with an estimated financial worth of $9 million.
Some of her brand endorsements include: Maggi, Forte Oil, Pepsi and Konga.
She recently signed a contract with Jay-z worth millions of dollars.
FAQ
Is Tiwa Savage still married to her husband?
Tiwa Savage got married to Tunji Balogun also known as Tee Billz On 23 November 2013,
After their traditional marriage at the Ark in Lekki, The couple have had their ups and downs in the media,
Particularly, Tee Billz accused Tiwa Savage of infidelity in their marriage though she debunked all claims.
In addition, Tiwa Savage had also accused Tee Billz of Lavish spending, drug addiction, abandonment and not contributing in the marriage.
Following their last outburst on the media which lead to Tee Billz threatening to commit suicid,
Tiwa Savage Announced that her marriage with Tee Billz has ended and they're officially divorced.
Is wizkid in a relationship with Tiwa Savage?
Over the years a lot of rumors have been carried about the relationship between Tiwa Savage and Wizkid.
Maybe because of the fact that the two have been seen continuously together almost like couples,
However, even with this rumors and sexy pictures of them flying on the Internet,
neither Tiwa Savage or Wizkid have come out to confirm they're dating or in any form of romantic relationship together.
Who is the father and husband of Tiwa Savage baby?
Tiwa Savage and her Ex husband Tunji Balogun also known as Tee Billz have a lovely male child who was born On 22 July 2015 and his name is Jamil Balogun.
We hope you enjoyed our content about Tiwa Savage net Worth and Biography,
Don't forget to kindly share and drop a comment below.