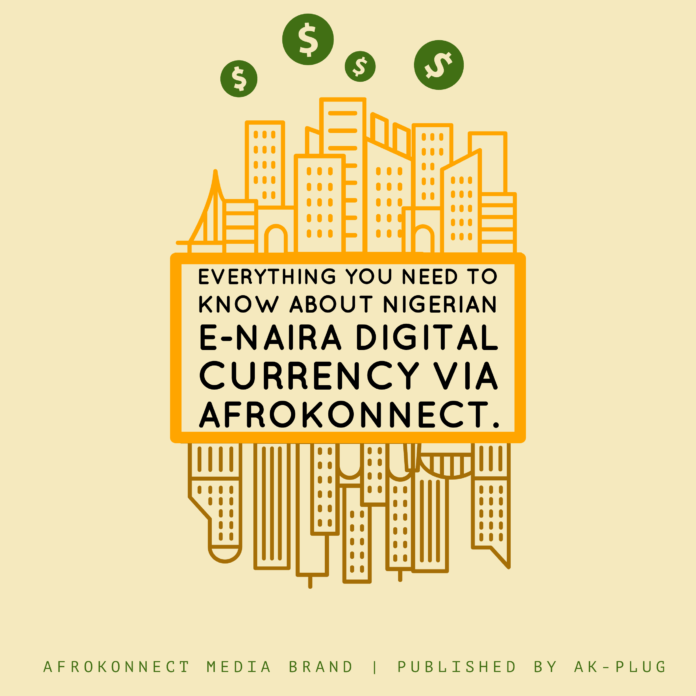 Everything you need to know about Nigerian Digital Currency eNAIRA (E-Naira), via Afrokonnect.
There's no doubt that the E-Naira is the future of digital currency in Nigeria,
Personally, I am among the people that were affected by the Ban imposed On the 5th day of February 2021,
That was when the Central Bank of Nigeria (CBN) instructed banks and other financial institutions to refrain from dealing with cryptocurrency (a digital currency),
Now, that decision sparked a lot of tension  among international business investors, Crypto traders/miners,
Even small businesses started shutting down too as a result of that decision by CBN.
From personal point of view: I sold all my cryptocurrencies because I was perplexed and unsure of what might happen later as a result of the ban.
Nigerian banks stopped facilitating payment for cryptocurrency exchanges, 
With this, various crypto-based companies were frustrated out of the Nigerian market,
Gradually the growth of other digital and virtual currencies in Nigeria decelerated.
Nigerian Digital Currency eNAIRA
Cryptocurrency exchanges like Patricia couldn't operate in Nigeria as the commercial banks have been told to shut down any account connected to bitcoin, Ethereum or any other unregulated digital currency,
Following that ban the CBN launched a project titled "Project Giant" on June 24, 2021,
This project was supposed to solve the problem on ground and fill the vacuum created by the ban of cryptocurrency transaction in Nigeria,
With the goal and mission of the Project Giant is to produce and issue a government-controlled digital currency in Nigeria known as "eNaira",
It will enable the government to track all transactions, reduce fraudulent activities,
and also generate revenue to the government through VAT on all international transactions.
Special For You: How To Retrieve Your Money After You've Been Scammed
So on the August 27, 2021, the CBN officially circulated a presentation to licensed Financial Institutions (FI),
They released guidelines on the issuance and operation of eNaira in Nigeria (Presentation).
In this article, you'll discover Everything you need to know about Nigerian Digital Currency eNAIRA,
We have highlighted the pertinent features of eNaira and its prospective operations in Nigeria.
Nigerian Digital Currency eNAIRA (E-Naira) 
1. What is eNaira?
A lot of people are currently not aware of what the eNaira means talk more of using it,
Well, the eNaira is a digital currency to be issued by the Nigerian government with the same value as fiat naira (i.e. physical naira notes).
Unlike other cryptocurrencies like Bitcoin which are owned by foreign investors and regulated through third parties,
The eNaira is owned and regulated by the Nigerian government through financial institutions,
E-Naira can be purchased by the general public through any licensed financial institution,
After purchasing it, you can transfer it into your e-wallets maintained by customers just like Luno,
Basically, the systematic process is the same but the methods are different.
You can make purchase online, transfer funds and do same thing any digital currency in the world can do with your E-Naira,
It is similar to the Chinese digital renminbi and the Swedish e-krona.
2. Differences between Nigerian Digital currency 

eNaira and cryptocurrency

The use of banknotes and coins is declining in the world and Nigeria doesn't want to be left behind,

At the same time, technological advances with regard to electronic money and payment methods are proceeding rapidly.

The Nigerian government realized this fact and are currently on the path to join countries like Sweden, USA, China among others where digital payments are operated securely,

They realized after banning cryptocurrencies in Nigeria there's a need to introduce at least one similar secured means of making transaction online domestically or internationally,

Since a lot of businesses, individuals and even cooperate bodies depend on that means to pay their staffs abroad or to pay for goods and services.

So, how is the Nigerian eNaira different from normal cryptocurrency?,

While Cryptocurrency is a decentralised form of encrypted digital currency based on blockchain technology,

Nigerian eNaira is a government-controlled digital currency envisaged to be more stable than cryptocurrency,

More stable in the sense that it's value is to be at parity with the country's official currency,

Unlike the regular cryptocurrencies where the value and rates are determined by too many invisible hands.

Another instance where the eNaira differs from cryptocurrency is in the case of tracking transactions and online payments,

All Bitcoin transactions are public, traceable and permanently stored in the Bitcoin network which means Anyone can see the balance and all transactions of any address,

While in the case of E-Naira the Government track transactions of correct eNaira users,

Licensed Nigerian financial institutions will also record KYC, identify and AML compliance capability across their branches,

The government will also process digital payments between citizens and businesses.

MUST READ: How to Sign up and Fund CBN eNaira Wallet
Nigerian Digital Currency eNAIRA
Cryptocurrencies like Bitcoin have the ability to appreciate but the eNaira is more of a payment option like a prepaid card,
Which means it's not as lucrative as the regular cryptocurrency which can be mined or traded,
Because the amount you deposit in your E-Naira e-wallet is the same amount that will remain in the wallet.
3. Benefit of E-Naira over regular digital banking
The eNaira is a new payment option that can be used by everyone with or without a bank account,
Unlike the traditional digital banking method which involves customers transacting with money maintained by them in a bank,
eNaira is actual money earned and maintained by customers via their e-wallets.
Consequently, customers will be able to transact with it like fiat currency without the involvement of intermediaries as is the case with digital banking,
The elimination of the intermediaries is expected to reduce the cost and time of transactions.
Furthermore, cross-border transactions are expected to become easier,
I remember when I wanted to transfer some funds to a client in India from Nigeria via PayPal,
Honestly, I couldn't because of some new policies implemented by the CBN, I tried other methods too but still to no avail,
So, I went to the bank and I was told I can't send money internationally via my mobile banking app,
They even said I need to get a prepaid card to make payment abroad online,
All efforts were fruitless, I had to use a friend in Ghana to help me send the funds to my client in India,
The E-Naira is set to solve this type of problems and also provides an opportunity for unbanked Nigerians to transact with eNaira without a private bank account.
Nigerian Digital Currency eNAIRA
Another benefit the eNaira will come with is the non-interest rate features,
The Central Bank of Nigeria said Nigerians won't be charged by the financial institution for the utilisation of the eNaira through POS,
Also, customers registered by the banks will not be charged for user-to-merchant transactions and peer-to-peer wallet transactions.
MUST READ:
4. How eNaira will operate in practice
eNaira will be supplied by the CBN (from their Stock Wallet) to intermediaries (licensed FIs) for onward supply to individuals,
Consequently, FIs will maintain a treasury wallet to receive eNaira from the CBN.
eNaira transactions will operate on new and existing systems including the Nigerian central switch i.e. the Nigeria Inter-Bank Settlement System Plc (NIBSS).
There are to be four major parties in the operating model of eNaira;
(i) The CBN;
According to the eNaira guidelines, the first stage of the Central Bank Digital Currency (CBDC) implementation is the Monetary Authority Suite,
Which instructs that the CBN is the sole issuer and distributor of the eNaira – it also states that the CBN can redeem and destroy the currency.
(ii) the licensed FIs (responsible for issuing eNaira to Customers, monitoring digital transactions under their institution;
The second stage is the Financial Institution Suite which states the eNaira currency request or issuance of stablecoins and its management will be done by the licensed financial institution.
(iii) Businesses and Merchants (responsible for complying with the CBN regulation on KYC and AML/CFT);
(iv) Customers (responsible for maintaining an eNaira Wallet).
Types of eNaira Wallet, Transfer limits and KYC requirements
The Central Band Nigeria will provide an interim e-wallet (the Spead Wallet) for customers,
Subsequently, financial institutions will develop and launch their individual wallets.
Below are the three tiers/type of wallets, Transfer limits and KYC requirements;
| | | | |
| --- | --- | --- | --- |
| Types of wallet | Cumulative balance Limit | Transfer Limit | KYC Requirement |
| Tier 1 | 300,000 | 50,000 | No existing bank account, phone number validated by NIN |
| Tier 2 | 500,000 | 200,000 | Existing Bank account and Bank Verification Number (BVN) |
| Tier 3 | 5,000,000 | 1,000,000 | Existing Bank account and BVN |
| Merchant | No limit | 1,000,000 | Full KYC requirement and Anti-money laundering and counterfeit terrorism regulation of the CBN |

MUST READ:  List of Online Jobs you can start from Home with very little capital.
Conclusion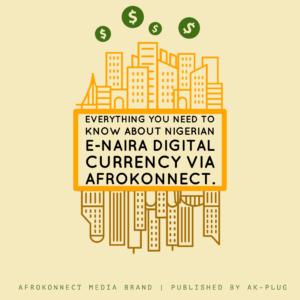 The Project Giant introducing Nigerian E-Naira is a positive initiative by the CBN and Nigerian government,
More so, there's need for a good number of Nigerians (including companies and government agencies) to start operating with the digital currency in their dealings,
There's need also to be transparent and avoid fraudulent activities by all means if we want this to last and compete in the digital world.
Nevertheless, eNaira will be faced by different challenges currently slowing down the country,
Issues like illiteracy, lack of steady power supply, lack of internet coverage, malicious accounts creation and the volatility of the Nigerian currency are things the government needs to tackle to make this project a successful one.
FAQ
What is the Highest naira note?
The highest Naira note domination in Nigeria currently used is the 1,000 Naira note,
Aside Merchants accounts which have no limit, the highest accounts type for eNaira e-wallet is the tier 3 wallet which allows you have a cumulative balance of 5,000,000 and transfer limit of 1,000,000 via the wallet.
Who can use Nigeria's digital currency, eNaira?
E-Naira will be available to every Nigerian, regardless of class or social status, as long as you have a bank account.
CBN stated that banks can onboard their existing or potential customers through pre-generated codes, while some selected customers will be sent an invitation code.
Can Government track transactions of eNaira users securely?
The answer is Yes, all eNaira transactions will be regulated by the government including tracking all transactions to avoid fraud,
Also, data will be stored on a cloud server by CBN, which will lead to monitoring and analysis of the currency transactions by Nigerians.
Is the eNaira lucrative or profitable like Bitcoin and other cryptocurrencies?
Unlike Bitcoin where users can mine coins or trade crypto and make lucrative pay,
The eNaira is literally just another payment option like PayPal where you can store funds, purchase online and send money abroad,
It is not a means of earning money, eNaira is more of a payment option than a store of value.
I recommend you visit our previously published article about: 5 smart ways to Make Money From Social Media.
Good news here is that Nigerian government are backing its volatility so they'll be little to no currency fluctuations,
Though the value movement will be base on the government's ability to control it through supply.
Also, the Nigerian digital currency will be non-interest-bearing, hence, users will not be making a dime from eNaira unlike its contemporary in the United States, USDC.
In essence, the eNaira can't be used as a hedge against inflation as cryptocurrencies have been in the last 12 years since Satoshi Nakamoto created bitcoin in 2008.
Watch the video below to discover everything you need to know about the Nigerian digital currency as explained by Fisayo Fosudo:
eNaira Website
The verified eNaira Website is https://enaira.gov.ng and basically what you'll find there are informations about eNaira, eNaira Wallet, eNaira news and download options.
eNaira App Download
For Individuals
Download the eNaira Speed Wallet app on Google Play or Apple Store.

Click on Sign up and select your bank.

Complete the registration process with the following details- Name, State of Origin, BVN, Account Number, Email address and other information required.
For Merchants
Download the eNaira Speed Merchant Wallet app on Google Play or Apple Store.

Click on Sign up and select your bank.

Complete the registration process with the following details- Name, State of Origin, BVN, Account Number, Email address and other information required.
For APPLE USERS eNaira Download IOS app is here
For ANDROID USERS eNaira Download Apk app is here
Features and Benefits of eNaira
It's a fast and secure payment channel.

Send, receive and spend with ease.

A digital storage for accessing and holding cash.

Can be connected to bank accounts to enable more transactions.

Enables affordable remittances and diaspora payments.

Secured with cryptographic techniques against counterfeiting, cloning, and other forms of fraud attack.

The eNaira feature will be available on the Internet Banking for transfers to and from the eNaira wallets.
eNaira Price
Just like the Naira the eNaira also has its own price, value and exchange rate,
At the moment, the value of eNaira hasn't really been measured up by international monetary organizations,
The currency is still circulating and hopefully we will update this page with more details soon.
This brings us to the end of this article about Everything you need to know about Nigerian Digital Currency eNAIRA, via Afrokonnect.