Welcome to this publication about Mr Macaroni Biography, Net Worth in 2023, Activist work and Career via Afrokonnect.
Mr Macaroni is a comedian, actor, and also an MC (Master of Ceremony),
He is very popular on the social media platform "Instagram" especially in Nigeria.
Macaroni is presently among the most popular Instagram comedians in Nigeria,
And his catchphrases include "Ooin," "Freaky Freaky," "Fantabulous," and "You are doing great."
In addition, he is widely recognized for his use of the word "Fantabulous."
Information such as Mr. Macaroni's wealth, full biography, education, pictures, profession, and comedic sketches are all detailed right here in this post so let's dive in.
Mr Macaroni Biography, Net Worth, Activist work and Career 2023
His true and legal name is Adebowale Adebayo, but he goes by the stage name Mr Macaroni.
Professionally he is a comedian, MC, content creator, actor/producer for television, film, stage, radio, and online media.
It is well known to the general public that he was born on May 3rd, in 1993,
Even though Mr Macaroni's parents brought him up in Ojota, Lagos, he has a birth certificate from Ogun State.
Both of his parents worked in the field of journalism, and together they had a total of ten children:
Specifically, six daughters and four sons. His mother worked in education, while his father worked in journalism.
Mr Macaroni is the youngest of the family's remaining offspring.
Mr Macaroni Biography, Net Worth in 2023, Activist work and Career
Professional Career and Early Beginning
Mr Macaroni began his career as an actor at a very early age,
As shown by the fact that he appeared in a production of William Shakespeare's "The Merchant of Venice" while he was still in primary 6.
He was also extremely skilled in mimicry right from time,
As seen by the fact that he enjoyed imitating Pastor Chris Oyakhilome, which he does accurately.
While he was not enrolled in any classes at the time,
He decided to enroll in the PEFTI film institution in 2014 so that he could further his acting profession.
Eventually, after several unsuccessful attempts,
He was cast in the Ifeanyi Ogbonna–directed and Halima Abubakar–produced film Mistresses.
Before Mr Macaroni became successful on Instagram and Twitter,
He had previously been in a number of well-known films and soap operas, including Wale Adenuga's Super Story, Papa Ajasco, Family Ties, Jenifa's Diary, House 31, Royal Outlaw, and Face 2 Face.
The Yoruba film named "Oba Ara" was both written by and directed by Mr Macaroni as well.
Career as an Actor to Instagram comedian
Mr. Macaroni had a career as an actor before to jumping on the bandwagon of comedians on Instagram who do comedy skits,
He has always maintained that he has no intention of ever participating in Instagram comedy skits,
Owing to the fact that he has a high degree of education in Creative Arts,
And the fact that he has previously been featured in movies and soap operas.
Seeing the positive response from followers of other Instagram comedians and realizing that movie jobs weren't coming in as often prompted,
Mr. Macaroni to get over his pride and start promoting his own comedy on Instagram.
Due to the fact that he has a number of traits that are incomparably unique,
The comedic manner in which Mr. Macaroni performs is not one that is readily replicable or replaceable.
His signature brown agbada, eyeglasses, and his signature expressions of shock and astonishment,
Including "Ooin," "Freaky Freaky," "Fantabulous," and "You are doing well"—have made him a household name.
He never stops trying to depict himself as the wealthy and racy guy who is able to satisfy the desires of any well-off woman.
How he got the name Mr Macaroni
Just after he graduated from Houdegbe North American University,
He had an appearance on the comedy 'Face 2 Face,' where he was given the nickname 'Mr. Macaroni.'
The director wanted a name for his character, and Mr. Macaroni came up with the name.
He was cast in an additional part, and the director asked Mr. Macaroni to come up with a name for his character.
Mr Macaroni Biography, Net Worth in 2023, Activist work and Career
Educational Background
Mr. Macaroni's path to higher education was more arduous than that of most young people;
The fact that he persevered and earned his first degree is a testament to his determination and fortitude.
After completing his elementary schooling at Tendercare School in Ojota,
He went on to complete his senior education at Babcock University High School, from which he graduated in 2009.
After finishing his secondary education, he enrolled at Lead City University to study law.
However, while he was in the 200 level of his program,
Mr Macaroni discovered that the legal department in the institution was not authorized, and he was forced to withdraw from the university.
He had an insatiable appetite for legal education and managed to get admission to Houdegbe North American University in Coutono, Benin,
So that he could pursue his legal education there.
Because of an altercation that he had with one of the school's professors that came dangerously close to becoming violent,
The administration decided to expel him from the institution.
In spite of the fact that he had a strong interest in performing,
He chose to pursue a career in law because he abhors the idea of other people being dishonest.
However, as he progressed through his legal studies, he found that he was getting more combative, extremely opinionated, and even somewhat aggressive.
As a result, Mr Macaroni made the decision to abandon his legal studies and return to his first love, theater.
This time around, he made the decision to pursue a degree in Creative Arts and registered at Afe Babalola University in Ekiti State to pursue a degree in Creative Arts.
In the midst of his time at the university, the Dean of Studies broke the news to him that the department hadn't yet begun providing Creative Arts,
But that he could still study English if he wanted to.
He had a strong aversion to the concept of learning English, and as a result, he stormed out of the school in an irate mood once again.
Mr Macaroni Biography, Net Worth in 2023, Activist work and Career
After several failed attempts, he was granted entry once again into Redeemer's University in Osun State, where he planned to major in theater arts.
While at Redeemers University, he excelled academically and led the Student Association as president, making his time there a success.
Mr. Macaroni turned to Facebook only a few days before his graduation to make some remarks regarding various members of the school's faculty and staff.
Unfortunately, Mr Macaroni was kicked out of the university just a few days before he was scheduled to graduate,
The school felt that the comment cast a negative light on the institution in the eyes of the general public.
His parents took legal action against the university because they disagreed with the decision to dismiss their son from the institution.
Later on, they came to an agreement to settle the dispute outside of court.
As a result, the school withdrew her statement, and Mr Macaroni ultimately received a grade of second-class upper in theater arts.
In addition, he finished his service in the National Youth Service Corps (NYSC) in the year 2020,
And the completion of his higher education took him a total of ten years.
Mr Macaroni Net Worth in 2023
Mr Macaroni used to make his living as an MC, anchoring events, and appearing in Nigerian films before he became an internet star.
As a result of his rise to prominence on Instagram, he now has access to other sources of revenue.
For example, he now makes money by collaborating with companies and brands to create comedic skits,
And he also makes money through his videos on YouTube and Facebook.
It is estimated that Mr Macaroni has a net worth of $300,000 in the year 2023, which equals around 128,220,000 Nigerian Naira.
RECOMMENDED:
Mr Macaroni Biography, Net Worth in 2023, Activist work and Career
Profile Summary
| | |
| --- | --- |
| Real Name: | Adebowale Adebayo |
| Stage Name: | Mr Macaroni |
| Date of Birth: | 03/05/1993 |
| Nationality: | Nigerian |
| Occupation: | MC, Comedian & Actor |
| Net worth: | $300,000 |
Social Media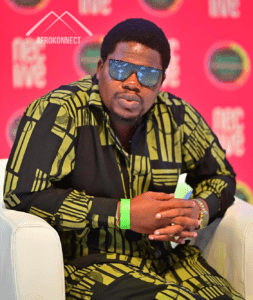 You can stay connected with Mr Macaroni via the handles below;
Instagram: @mrmacaroni1
Twitter: @mrmacaronii
Facebook: Mr. Macaroni
Youtube: Macaroni
This brings us to the end of this article about Mr Macaroni Biography, Net Worth in 2023, Activist work and Career via Afrokonnect.