Welcome to this publication about Dino Melaye Biography, Age, Net Worth, Wife and Political Career, via Afrokonnect.
Dino Melaye is a prominent Nigerian politician, a former senator, and a successful businessman. He was born on January 7, 1974.
In 2015, he was elected as a senator representing Kogi West Senatorial District under the APC.
During his time in the Senate, Melaye gained attention for his outspokenness, theatrical antics, and sometimes controversial statements.
He was known for using social media to communicate his opinions and engage with the public.
Melaye's political career took a turn when he had a falling-out with the leadership of the APC in Kogi State.
He alleged that there were injustices within the party and criticized the governor of Kogi State, Yahaya Bello. He subsequently defected back to the PDP.
In addition to that, he served during the 8th Nigerian National Assembly as a representative for the Kogi State West Senatorial constituency.
This article contains information about Dino Maleye's life story, including his political career, age, and Net worth, as well as his wife, children, and social media handles.
Before delving deeper into the Senator Dino Melaye biography, below is a concise summary of the politician's background and early accomplishments.
Dino Melaye Biography, Age, Net Worth, Wife and Political Career
Early Life and Background Information
On January 7, 1974 in the state of Kano, Dino Melaye was born into the family of his parents, Mr. Jonah Melaye and Mrs. Comfort Melaye.
After completing his primary schooling at Okene, he continued his secondary schooling at Abdulaziz Attah Memorial College.
After that, he earned his degree in geography from Ahmadu Bello University Zaria in the year 2000 and thereafter graduated.
Dino served as the president of the National Association of Nigerian Students (NANS) during his time as a student at the university.
Subsequently, he held the position of Secretary-General for the Commonwealth Youth Council and the African Youth Council.
He also serves as the head of the Presidential Advisory Council on Youths, a position he was given by President Olusegun Obasanjo.
Dino Melaye, a senator from Nigeria, comes originally from the community of Ayetoro Gbede, which is located in the Ijumu Local Government Area of Kogi State.
Dino Melaye Biography, Age, Net Worth, Wife and Political Career
Career in Politics and Public Service
During the general elections that took place in 2011, Dino won a seat in the House of Representatives as a member of the People's Democratic Party (PDP),
Where he would represent the Kabba/Bunu/Ijumu Federal Constituency.
Maleye, on the other hand, rose to prominence as a result of his criticism of the administration of former President Goodluck Jonathan while he was serving in the Lower House.
Dino successfully ran for the Senate seat representing Kogi West Federal Constituency in 2015 elections, representing the Peoples Democratic Party (PDP).
He ran for reelection as a senator for the kogi-West seat and was successful, returning him to the 9th Senate in late February 2019.
But Senator Adeyemi of the APC challenged him, filing a petition with the Election Petition Tribunal to overturn Melaye's election.
On the 23rd of August 2019, the tribunal dismissed Melaye from his position and ordered a new election to be held.
Because of this, Dino found himself in a number of altercations with both the federal government and the government of his state.
On October 11, 2019, Senator Melaye was unsuccessful in appealing the decision to remove him from his position in the Senate.
However, Melaye filed a petition with the Independent National Electoral Commission (INEC) requesting that his rerun election be held on the same day as the poll for governor.
This request was granted, and the rerun election was held on the same day as the governorship election.
This transpired after INEC moved for the election to be performed at a later date separate from the election for governor of the state, which caused this to take place.
After the results of the rerun election were tallied, Senator Dino was defeated by his political opponent, Smart Adeyemi, by a margin of more than 20,000 votes.
Dino Melaye Biography, Age, Net Worth, Wife and Political Career
After that, the Independent National Electoral Commission (INEC) declared the election to be inconclusive because of the violence and electoral irregularities that occurred in over 50 Polling Units inside the senatorial district.
Despite this, a makeup election has been scheduled for November 30, 2019. Senator Smart Adeyemi, on the other hand, was victorious and defeated Senator Dino Melaye.
The Senate President administered the oath of office to Smart Adeyemi so that he could take over for Senator Dino Melaye.
Who is the wife of Dino Melaye?
Despite the fact that Melaye is single at the moment, he had two previous marriages to his name.
Tokunbo Melaye, who was his first wife, and Alero Falope, who was his second wife.
Following the reporting of charges of domestic violence against Dino by Tokunbo, who had been married to Dino for the previous ten years, Tokunbo filed for divorce.
Tokunbo accused him of abusing her and held a gun to her head while pointing it at her.
Nevertheless, they are currently co-parenting their three children as a married couple despite having three kids together.
How many Children does Dino Melaye has?
Destiny Okiki Oluwajomiloju Melaye is the name that Senator Dino Melaye and actress Bisi Ibidapo have given to their daughter together.
After first denying being the child's father, the senator eventually acknowledged his fatherhood and accepted full responsibility for the child many months after she was born.
RECOMMENDED:
Dino Melaye Biography, Age, Net Worth, Wife and Political Career
List of Dino Melaye Children's Name
Isreal Asiwaju is on the list of Dino Melaye's children's names.
Joshua Oluwakimbati, also known as Destiny Ruth Okiki; Destiny Okiki.
Dino Melaye's Parents, Brothers and Sisters
Senator Dino Melaye is the son of Senator Jonah Eseyin and Senator Comfort Melaye.
Senator Jonah Eseyin and Senator Comfort Melaye. On May 3, 2019, his mother, Comfort, passed away.
Alongside his six siblings, he went through childhood together, Samuel and Shade Elizabeth Melaye are two of his siblings who are also named Melaye.
Samuel, Dino's brother, formerly held the position of head of the Legislative Aides Forum of the National Assembly.
Dino Melaye Current Estimated Net Worth in 2023
Unlike majority of Business men in Nigeria, Dino Melaye's net worth is not publicly declared,
Dino Melaye's estimated net worth of around $5 million dollars is believed to be derived from various sources of income.
His prominent role as a former senator in Nigeria afforded him substantial earnings from his political career, including salaries, allowances, and other perks associated with the position.
Additionally, his engagement in various business ventures, investments, and consulting activities might have contributed to his financial standing.
Melaye's public persona and social media presence have also likely opened up opportunities for endorsements and partnerships, further bolstering his income streams.
However, it's important to note that specific details about his financial activities may not be widely available,
Making the exact breakdown of his net worth subject to speculation.
Dino Melaye Biography, Age, Net Worth, Wife and Political Career
Profile Summary
| | |
| --- | --- |
| Born:                       | Dino Melaye |
| Date of Birth:       | January 7, 1974 |
| Place of Birth:       | Kano State |
| State of Origin:      | Kogi State |
| Age:                               | 49 years |
| Political Party: | Peoples Democratic Party (PDP) |
| Alma Mater:       | Ahmadu Bello University |
| In Office:            | June 2015 – 11 October 2019 |
| Consistency:        | Kogi West |
| Spouse: | Tokumbo Maleye (dv), Alero Falope(dv) |
| Net Worth:       | $5million |
Social Media Accounts
Dino Maleye has a strong presence across a number of social media sites. You can keep up with him on each of your favorite platforms;
Follow Dinomaleye on Twitter at @_dinomaleye.
Follow Dino Maléye on Instagram at @Dinomaleye.
Dino Melaye Biography, Age, Net Worth, Wife and Political Career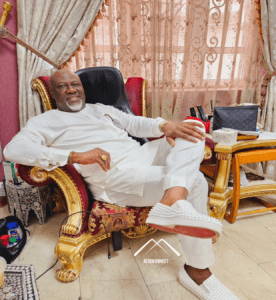 Summary
Dino Melaye is a Nigerian politician, former senator, and prominent public figure. He was born on January 1, 1974, in Kano State, Nigeria.
He is known for his controversial political career, charismatic personality, and active presence on social media.
Melaye started his political journey as a member of the People's Democratic Party (PDP) and was elected to the House of Representatives to represent the Kabba/Ijumu federal constituency in Kogi State in 2007.
He later became a vocal critic of the ruling party and defected to the All Progressives Congress (APC) in 2014.
Throughout his career, Melaye has faced several controversies, legal battles, and accusations.
He has been involved in public disputes with other politicians, law enforcement agencies, and even faced allegations of certificate forgery.
To get the latest information about Dino Melaye, his political activities, and any developments that have occurred after this publication, I recommend checking current news sources and official statements.