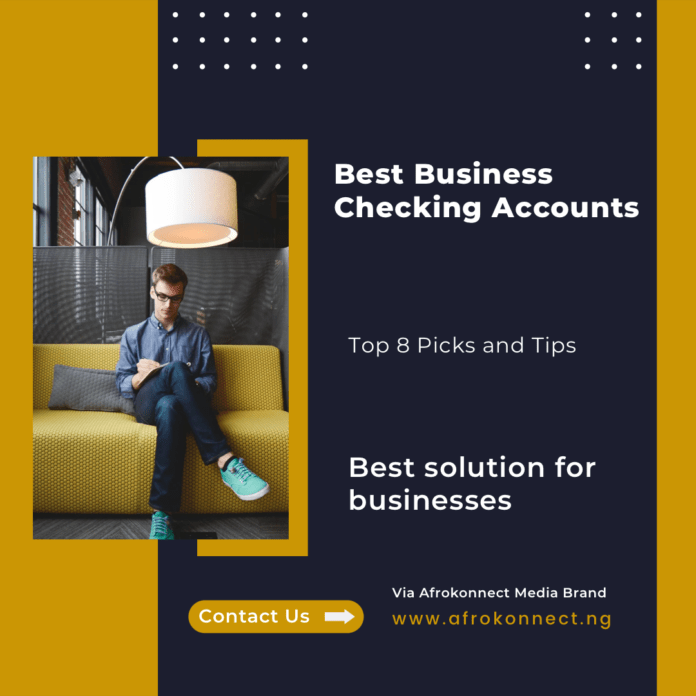 Welcome to this article about the top 8 Best Business Checking Accounts to use for your small or large business company in 2023 via Afrokonnect.
The opinions presented here are solely those of the publisher and do not represent those of any particular financial institution.
Furthermore, none of these institutions have vetted, authorized, or in any other way supported the content presented here.
That being said, it is important that your personal and corporate finances are kept separate.
This is true whether you're running a huge firm or a side hustle.
For this reason, it is imperative that you first identify a bank that suits your business's unique requirements.
In most cases, they're all free checking accounts for small businesses.
There are some that do charge a monthly cost;
But, if you match the qualifications, it is extremely simple to have that amount waived.
Top 8 Best business checking accounts in 2023
Below, you'll find a comprehensive assessment of the best business checking accounts.
We'll go over the most important features, benefits, costs, and any potential negatives.
1. Bluevine – Best Business Checking Account for Small and New Businesses
Bluevine is a great place to start because the monthly fees are completely eliminated.
The account balance interest rate is 1.5 percent, transactions are free and unlimited.
To open an account, there is no minimum balance required.
Business owners can benefit greatly from Bluevine Business Checking, which is specifically designed for them.
Just take a peek at some of the features of Bluevine below:
There aren't any recurring monthly costs.
In order to open an account, there is no required minimum deposit or balance.
No overdraft fees.
There is no limit to the number of free transactions you can make.
You can create one-time or regular payments with ease using their dashboard.
Paying vendors by ACH, wire, or cheque is also simple.
In addition, there are no fees assessed to your account when you receive payment through a wire transfer.
Also included in the Bluevine package are a secure debit MasterCard that can be locked and unlocked for increased security,
You get a simple mobile app for depositing checks and connectors with accounting software like QuickBooks and Freshbooks, and business software like PayPal and Stripe.
Live customer service is offered by Bluevine and is available Monday through Friday, 8 am to 8 pm Eastern time.
Regarding the disadvantages, there aren't so many of them,
As a result of their collaboration with MoneyPass, they have access to a network of 38,000 fee-free ATMs;
However, depending on where you are located, it may be difficult to locate an ATM that is part of this network.
2. Novo – Best Business Checking Account for Freelancers and Entrepreneurs (Only Available Online)
Designed for freelancers and small-company owners, Novo is an online-only business checking account.
They provide pricing that is easy to understand, and there are no additional surprises.
It takes fewer than 10 minutes to open a Novo account by completing an application online.
Novo business checking has a number of noteworthy features, including the following:
There are no minimum balances
Absence of any kind of upkeep costs every month
Transfers made via ACH are always free
There are no restrictions on the number of incoming wires
Free checks sent by mail
With Novo, you can open a business checking account for as little as $50 to get started.
You may combine your Novo account with apps like Zapier, Xero, and Slack in addition to the technologies that your small business is already utilizing.
Novo is a modern and straightforward small business banking platform that is supported by Middlesex Federal Savings, F.A.
When it comes to in-person financial needs, Novo is not the best option,
You are unable to go into a real location to make a purchase because it is only available online.
Although other banks may charge you for using an ATM, Novo will repay such costs.
As a result, you won't have to pay a fee to withdraw money from any ATM.
3. Axos – Best online bank with competitive yields
There are no yearly fees with Axos Business Interest Checking, a great online-only checking option for small businesses.
There are a number of advantages to the Business Interest checking account, including the following:
You could receive an annual percentage yield of up to 1.01%
The minimum deposit is $100
If you keep at least $5,000 in your account on a daily average, you won't be charged a monthly maintenance fee.
The first 100 products are free every month, and each additional item costs $0.50.
For Remote Deposit Anywhere, you can deposit up to 60 items per month
Free of charge refunds for all domestic ATM fees
There aren't any recurring charges.
Using the MoneyPass and AllPoint networks, you can deposit cash.
For a bank that only conducts business online,
Axos web and mobile banking services are simply the most ideal because you can use your mobile device to deposit a check at any time.
Businesses with modest banking requirements might benefit from Axos Business Interest Checking as well.
4. Chase Business – Best Checking Account for Small Business in 2023
Small company owners will appreciate Chase Business Complete BankingSM because of the generous sign-up bonuses, first-rate customer service, and numerous methods to avoid paying monthly fees.
You can also accept payments while you're on the go, thanks to their excellent mobile payment processing solution.
The following are some of the most notable advantages and highlights of utilizing Chase Business Complete BankingSM:
Instant deposits using QuickAcceptSM.
For every new account you open, you'll get an additional $300 in bonus cash.
There are no additional fees for same-day cash deposits, so you can keep your business going forward.
Real time notifications that will assist you in monitoring the activity on your account.
Deposits can be made using ACH, Quick DepositSM, and other electronic methods.
You can avoid paying the Monthly Service Fee in a variety of ways,
Including by keeping a certain minimum daily balance or making transactions using your Chase Ink® Business credit card.
Simple maintenance of your account is possible through Chase Business Online and the Chase Mobile® app,
Easy access to over 4,700 branches and 16,000 automated teller machines (ATMs).
To better serve its clients, Chase provides round-the-clock assistance,
This is a great solution for any problems that may arise unplanned.
As your company grows, so will your needs. This includes the best business credit cards currently available.
According to our research, Chase Business Complete BankingSM is consistently ranked among the top checking accounts available to companies with fewer than 100 employees.
5. Mercury – Best business checking account for tech startups in 2023
With Mercury, tech entrepreneurs may open business checking and savings accounts online.
If you run a tech-focused small business or startup,
Mercury is an excellent choice because it has no fees for domestic and international wire transfers and no minimum balance requirements.
As a result, deposits with Mercury are protected up to $250,000 by the Federal Deposit Insurance Corporation (FDIC).
Mercury features interfaces with a variety of accounting and e-commerce platforms,
Including QuickBooks, Xero, Gisto, Shopify, Stripe, and PayPal, amongst others, to maximize the utility of your online business bank account.
If you have a balance of $250,000, you will be invited to the Mercury Tea Room,
Which will provide you with special benefits such as discounts on various online tools and services,
Including credits for free advertisements, discounts on development tools, the occasional cup of tea, and more.
These are some of the most significant advantages that you will receive,
It also comes with Mercury Treasury, a cash management account that automatically invests money in securities and cash market funds.
Mercury Venture Debt, Mercury Raise DTC, and Mercury Capital are all ways in which startups may develop with Mercury,
Whether it's boosting fundraising with minimally dilutive loans, meeting investors, mentors, and other founders,
Or even getting matched with the best financing choices for your firm.
Mercury has a vast knowledge base and technologies that are well-suited to the needs of digital startups.
6. LendingClub Bank Tailored Checking
For small businesses, LendingClub Bank's Tailored Checking account is a great option because it gives unlimited cash back.
You'll also have the opportunity to instantly begin earning 1% cash back or more on "signature-based" credit transactions made with their debit card,
To get started, all you need to do is sign up for an account,
LendingClub Bank's Tailored Checking is a great alternative for small businesses and entrepreneurs because of it's unlimited transactions and ATM fee reimbursement.
The following is a more in-depth breakdown of their best attributes:
0.01% Annual Percentage Yield
Unlimited withdrawals and deposits at ATMs, with fees waived
In the event that your amount is greater than $5,000, there is no monthly cost.
There is no minimum balance needed.
An easy-to-use smartphone application
Certain credit purchases are eligible for 1% cash back.
In general, LendingClub Bank provides a digital business checking account that is of very high quality.
7. TD Business Convenience Checking Plus
The minimum deposit required to start a TD Business Convenience Checking Plus account is only $100.
If you'd like to avoid paying the $25 monthly maintenance cost, you must keep a balance of $1,500 per day.
To meet the daily minimum balance requirement,
TD Bank considers the total balance of your personal and business checking accounts.
So if you already have a TD Bank account, this is a perfect option for you.
Here are a few advantages of having an account:
A monthly cap of 500 free transactions
Cash deposits of up to $5,000 per cycle
Bank overdraft insurance
e-statements and mobile deposit are available online.
A maximum of four signatures can be included on a document.
TD Business Convenience Checking Plus has a higher monthly service fee, but you get more free transactions as a trade-off for that.
In order to provide a point of comparison, the Chase Total Business Checking account has a monthly charge of $15 and only allows 100 free transactions.
Additionally, you can avoid paying TD's $25 fee by keeping a modest total amount in two different accounts.
In spite of the fact that you can only make free deposits of up to $5,000 every month,
You will only be charged $0.25 for each additional $100 you deposit.
There is an extra charge of $12.50 for each additional $5,000 that you deposit into your account during a given cycle.
Only 0.013 percent of your total deposits are affected by this.
Other TD Bank services include merchant solutions, commercial loans, and lines of credit for small and medium-sized businesses.
8. Huntington Unlimited Business Checking – Best for companies with high cash flow
Checking accounts from Huntington Unlimited are ideal for large businesses.
There are a few accounts on our list that aren't suitable for those with higher transaction volumes.
Huntington's Unlimited Business Checking has a number of notable features and perks, including:
Transactions with no limits
Bank overdraft insurance
Financial services available via the Internet and mobile devices
Provided alerts by SMS/Email/Phone
Deposits of up to $10,000 are allowed each month for free.
If you want to keep this account active, you'll have to pay Huntington $20 a month in fees.
A $10,000 total balance amongst your qualified Huntington Bank accounts is enough to waive the fee.
You have the option of selecting one of the following extra services in addition to having an Unlimited Business Checking account with Huntington Bank:
Payroll services are 10% off for new customers.
A month's worth of free domestic wires
In addition, this financial institution provides business checking account customers with a product referred to as "The Hub."
It includes digital cash placement and forecasting features,
The Hub is an excellent tool for keeping track of your earnings and expenditures.
How to Pick the Best Business Checking Account for Your Company in 2023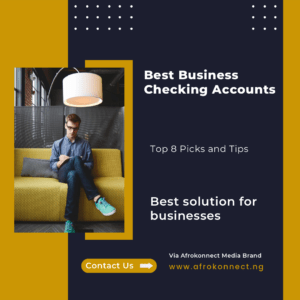 There is no such thing as a universally formed corporate checking account,
There may be better options available for some businesses than for others.
When you're comparing business checking accounts, employ this strategy.
I'll go into more depth about each feature in the next sections.
Fees
It is not unusual for business checking accounts to charge service fees and monthly maintenance costs.
These costs are often between $10 and $50, however, there are still a number of free banking options for small businesses.
You can avoid these fees if you keep your account at a certain minimum balance,
Paying these fees is a waste of money if you can avoid it.
Balance Requirements
Depending on the bank, an initial deposit may be required.
As a result, based on your current financial condition, pick a bank with a manageable initial deposit requirement.
In the early stages of your startup, you may be able to create an account for as low as $50 or $100, depending on your financial situation.
There may be no requirement for an initial deposit at all at some financial institutions.
Additionally, some accounts charge you if your balance drops below a predetermined daily minimum after you've made your initial deposit.
Make certain that your cash flow is sufficient to meet your bare minimum obligations without incurring any penalties.
RECOMMENDED:
Limitations on Transactions
Per-billing-cycle transaction limits on personal checking accounts are quite rare.
Then again, this isn't the situation with most corporate bank accounts.
Whether or not transactions such as deposits, withdrawals, and transfers count toward a monthly limit is dependent on the bank.
Some banks limit the number of in-person transactions you can do,
But allow you to conduct unlimited electronic transactions free of charge.
The majority of free monthly transaction restrictions begin at one hundred transactions.
Monthly transactions are limited to 500 free transactions with TD Business Convenience Checking.
Other financial institutions allow you to do as many transactions as you want, subject to a few restrictions.
Every time you exceed your monthly limit, you'll be charged a price. Typically, this costs between $0.25 and $0.50.
Access to Online and Mobile Banking
Every bank has some kind of internet or mobile app that you may use to access your account.
It's worth noting that not all digital solutions are equal, though.
Pick a checking account for your company that gives you the option to make remote check deposits, enables you to customize alerts for your account, and pays your bills on its own.
The simplicity of doing much of your business banking on a mobile app is something you'll desire, too.
Locations of Branch Offices
Depending on where you live, you may have a local bank or a nationwide bank chain.
If you need to visit a branch for any reason, you should choose a bank that is close to your place of work or home.
A few types of business checking accounts, on the other hand, are only available online.
In a world when everything is done digitally, you may find it more convenient to use an online bank that doesn't have any physical locations.
Banking that is available solely online is becoming an increasingly popular option for freelancers and businesses that operate remotely.
However, not everyone will benefit from these options.
An in-person branch is an absolute necessity for any business that accepts cash payments.
Enhanced Banking Services
Even if you don't need these services right now,
It's comforting to know that your bank will be there for you if and when your company expands.
Existing relationship with a bank makes it much easier to obtain services such as credit card processing merchant services,
And extra accounts as well as company loans and lines of credit.
Always make sure that you look into the other services that a bank provides,
In addition to the checking account that you need right now.
Summary of the Free Best Business Checking Accounts in 2023
Checking accounts are essential for any business owner weather small, growing or established,
Because everyone's banking needs are different, selecting the ideal checking account for your business can be tricky.
Personal checking accounts and business checking accounts are very similar in many ways.
Business checking accounts, on the other hand, may come with additional fees, balance minimums, and transaction limits per month.
Top 8 Picks
Bluevine: Best tool for small and new enterprises to double-check their financials.
Novo: Best online-only checking account for freelancers and entrepreneurs.
Axos Business Interest Checking: An online-exclusive bank that offers competitive returns of up to 0.81 percent APY.
Chase Business Complete BankingSM: Best checking account for small businesses.
Mercury: Best for tech startups and digital marketers.
LendingClub Bank Tailored Checking: Has unlimited cash back and transactions.
TD Business Convenience Checking: 500 free monthly transactions.
Huntington Unlimited Business Checking: Best for firms with substantial cash flow.
Conclusion
If you're still finding it hard to make a decision then the video below should help you;
Congratulations you've made it to the end of this publication. Thank you for reading and Good luck with your business.