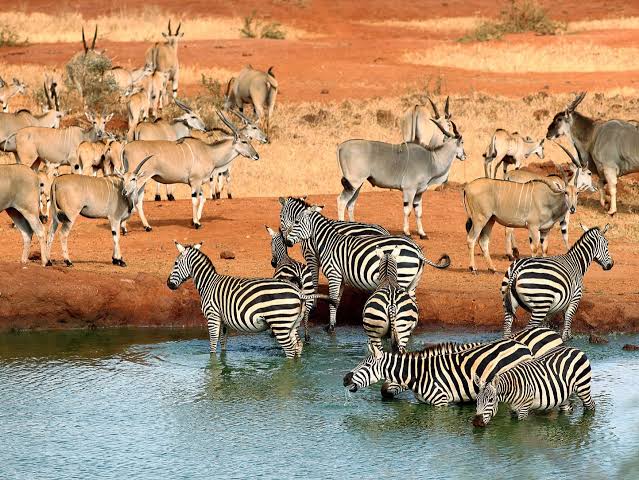 Welcome to this post about the top 10 Tourist destinations in Kenya, via Afrokonnect.
Kenya is a country that possesses breathtaking landscapes and a diverse ecosystem.
The country is renowned as a hub for adventurers and nature enthusiasts.
This article is designed to take readers in a captivating journey through the "Top 10 Tourist Destinations in Kenya".
In this article we will be portraying a unique blend of wildlife, culture, and natural beauty.
We will be exploring various destinations like the Massi Mara, Diani Beach, Samburu National Reserve, Etc.
These top 10 destinations in Kenya offers tourists with various encounters such as the "Big Five", the amazing and ancient architecture of the Lamu Old town.
They also provide adventurers with an immersive and unforgettable Kenyan Experience.
Before we proceed, make sure you secure your Kenya Visa first, we recently published an article about Application Guide: Types, Fees & Requirements.
Top 10 Tourist Destinations in Kenya – Places to Visit and Things to Do for Fun
This section of the article is focusing on the "Top 10 Tourist Destinations in Kenya",
Each of these destinations serve as a testaments to the unique beauty and charm of the country, Kenya.
1) Maasi Mara National Reserve:
Maasi Mara National Reserve is one of the most iconic wildlife destination in Africa.
The national reserve is one of the few in Africa that hosts the Great migration,
Great Migration involves hundreds of thousands of wildebeest and zebras making their way across a river full of crocodiles.
This sight is a spectacle to behold both from a great and far distance.
The reserve is also home to the "Big Five" and various wildlife species,
Which makes the national reserve a paradise to wildlife enthusiasts, adventurers and photographers.
2) Amboseli National Park:
The park is located below the majestic Mount Kilimanjaro, it also has a unique blend of diverse ecosystems.
It is mostly famous for its unusually large herd of elephants.
The park offers a breathtaking view of the snow-capped mountain due to its location below Mountain Kilimanjaro.
The park also offers amazing views of the open grasslands and lush swamps,
It also offers game drives, these enables tourists to view elephants, lions, cheetahs, and an array of bird species.
This view is topped by the backdrop of Africa's highest peak.
3) Tsavo National Parks:
Most times the park is categorized as plural due to its location, it is located in the east and west of Tsavo.
These parks when united forms one of the largest wildlife sanctuaries in the world,
The park also has amazing landscapes such as vast savannahs, rugged hills, and lava flows.
All these features create an amazing scenery for spotting a wide variety of animals.
Notable attractions at this park include:
Mzima Springs: where crocodiles and hippos can be seen underwater
Lugard Falls.
Here are 10 Tourist Attractions In Rwanda you should explore among the beautiful Places to Visit in Africa.
4) Samburu National Reserve: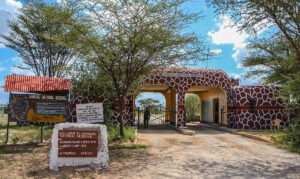 This national reserve serves as home to species that are rarely found worldwide,
Some of the unique animals include the Grevy's zebra, Somali ostrich and the reticulated giraffe.
The Ewaso Ng'iro is also a massive attraction in the park as various wildlife are attracted to its banks.
This provides opportunities to tourists to encounter with these animals in their natural habitat.
5) Lake Nakuru National Park:
The park is one that offers captivating spectacle as it is famous for its vast flocks of pink flamingos.
These flamingoes are mostly seen at the alkaline waters of the park.
Also, the park acts as a sanctuary for rhinos, it provides protection to both black and white rhinoceros.
It is also known for its diverse wildlife, this ensures that the park support a range of wildlife.
The park is also a fantastic destination for watching birds and viewing wildlife.
RECOMMENDED:
6) Diani Beach:
This beach is located on the Kenya Indian Ocean coast. It is a tropical haven and a perfect spot for lovers of the coast.
The beach is filled with powdery white sands and azure waters, it is known as the perfect place for relaxation and water activities.
Tourists especially snorkeling, water sports and diving lovers will love this place,
Adventurers will also explore the vibrant reefs and the diverse marine life that the beach possesses.
7) Lamu Island:
The island is one which is deeply rooted in African history and culture,
This made UNESCO mark the island as an "UNESCO World Heritage Site".
The island portrays extensively the ancient culture of the Swahili people.
Inhabitants of the Island are very friendly and welcoming to visitors. They accommodates visitors to wander its narrow streets.
These streets aren't empty but filled with intricate carved wooden doors and bustling markets.
Also, the island is devoid of cars or any form of transportation,
This ensures that the pace of life there is easy and allows travelers to soak in the unique atmosphere offered by the island.
8) Nairobi National Park:
The park is a combination of both the urban and the wild. It is located outside the capital city of Kenya which is a very busy place.
The park is a very diverse place, it is home to a variety of wildlife such as lions, giraffes, rhinos, Etc.
Nairobi National park offers a backdrop of the amazing Nairobi's skyline. It also offers an amazing view to travelers to experience a safari.
The park is a known paradise to adventurers who want to view a safari without venturing far from the city.
9) Hell's Gate National Park:
Hell's Gate National park is one which is renowned for its amazing and dramatic landscapes,
It has different characteristics such as: towering cliffs, gorges, and geothermal activity.
Visitors can cycle round the round while enjoying wildlife. The park served as an inspiration for the popular Disney movie "The Lion King".
10) Mount Kenya National Park:
The Mt. Kenya is the 2nd highest peak in Africa. The park is a "UNESCO World Heritage Site".
Mount Kenya National park serves as a haven for trekkers and mountaineers,
It has a diverse ecosystem which can only be viewed as you ascend the slopes of the mountain.
The park has certain features such as the giant lobelias and a number of rare animals.
These animals include the bongo antelope amongst others.
More so, the sight of this scenery makes the trek round the park a remarkable experience.
FAQs
We will be happy to answer your most frequently asked questions:
Which city is most visited in Kenya?
The city most visited in Kenya is Nairobi, the capital and largest city of the country.
What kind of tourism is popular in Kenya?
In Kenya, wildlife and safari tourism is extremely popular,
The country's diverse landscapes, including national parks and game reserves, attract tourists who want to experience safaris and witness the abundant wildlife.
What are top 5 tourist attractions?
The top 5 tourist attractions in Kenya are often considered to be Maasai Mara National Reserve, Amboseli National Park, Tsavo National Parks, Lake Nakuru National Park, and the coastal city of Mombasa.
What do tourists come to see in Kenya?
Tourists come to Kenya to experience its rich wildlife, go on safaris to see the "Big Five" (lion, elephant, buffalo, leopard, and rhinoceros), enjoy stunning landscapes, interact with local cultures like the Maasai, and relax on the beautiful coastal beaches.
If you need more information or have additional questions, feel free to ask in the comment section below!
Top 10 Tourist Destinations in Kenya – Places to Visit and Things to Do for Fun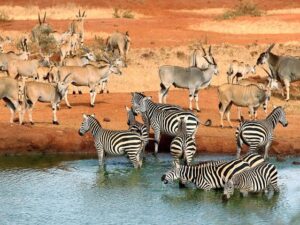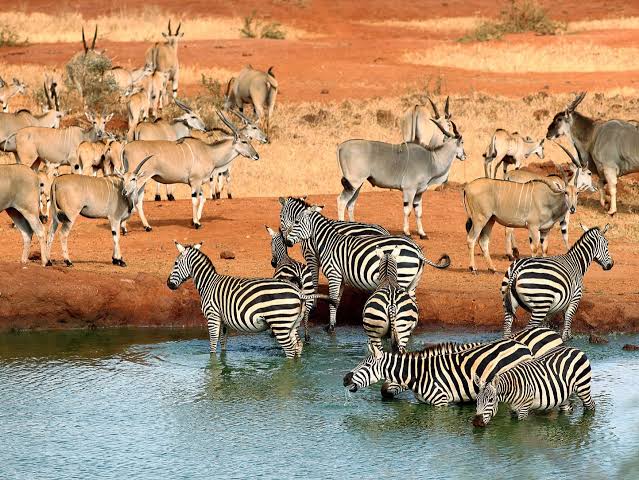 Conclusion
The top 10 tourist destinations in Kenya offer a captivating scenery of natural wonders and various cultural treasures.
Each of these destination has a certain characteristic which attracts travelers to explore and discover.
Kenya's diverse tourist destinations caters to a wide range of interests.
Try to visit these destinations and you will be appreciative of these wildlife and amazing adventurers that Kenya has to offer.
Thanks for reading and I hope to see you another time on Afrokonnect.ng.