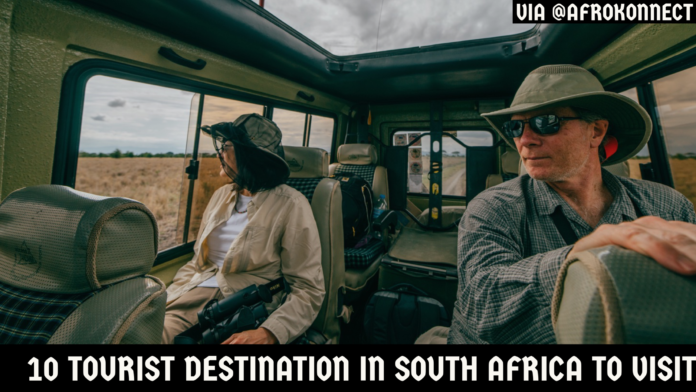 Hi there! You are welcome to this post about the Top 10 Best Tourist Destinations in South Africa to Visit, via Afrokonnect.
Are you thinking of taking a trip to South Africa?
Or you've already made plans to go and you need some beautiful sights to see while you're there?
Well, good news! This article discusses 10 beautiful tourist destinations in South
Africa and also gives an idea of what each spot has to offer.
So, if you need answers to any of the questions below, you'll have them by the time you reach the end of this article.
What is the most visited place in South Africa?
Where is popular in South Africa?
Top 10 tourist attractions in South Africa
Top-rated tourist destinations in South Africa
Beautiful places in South Africa
Without further ado, let's talk about the top 10 tourist attractions in South Africa, in no particular order.
Top 10 Best Tourist Destinations in South Africa to Visit
1. TABLE MOUNTAIN (CAPE TOWN)
On the first spot we have table Mountain in Cape Town, South Africa, it is a super cool spot that tourists love!
It's a massive mountain with a flat top, standing high above the city.
You can reach the tippy-top using a cable car or by hiking on cool trails. Once you're up there, you'll see breathtaking views of the city and the awesome landscape.
But wait, there's more! Table Mountain is home to unique plants and cute creatures
called dassies.
Locals even have cool stories and legends about the mountain that add to its charm.
No matter when you visit, Table Mountain is ready to wow you with its beauty and
adventure.
So, grab your camera and get ready for an unforgettable time in South Africa!
2. CANGO CAVES (OUDTSHOORN)
Cango Caves, located in Oudtshoorn, South Africa, is a fantastic and popular tourist hotspot.
These ancient limestone caves are a mesmerizing wonder that never fails to amaze visitors.
With their mind-blowing stalactite and stalagmite formations, the caves offer a surreal underground experience.
Tourists can choose from two guided tours:
Heritage Tour: which is perfect for
families and covers the main chambers,
Adventure Tour: which offers a thrilling and challenging experience for the more daring explorers.
As you venture deeper into the caves, you'll be awestruck by the stunning rock formations, each with their own fascinating names and stories.
The echoing chambers add an extra touch of magic to the journey.
Cango Caves is a must-visit destination, showcasing the incredible beauty and
geological history of South Africa.
So, if you're up for an unforgettable adventure, make sure to put Cango Caves on your travel itinerary!
What is the most visited place in South Africa?
3. DURBAN'S GOLDEN MILE
Durban's Golden Mile is a vibrant and beloved tourist destination in South Africa.
This iconic strip is approximately 4 miles long, stretches along the city's Indian Ocean coastline and offers an healthy blend of sea, sun and fun.
Most tourists flock to the Golden mile for its fantastic beaches which are perfect for
swimming, sunbathing and water sports.
The inviting warm waters of the ocean
provides an ideal escape for beach lovers.
The land that runs parallel to the beach is a popular spot for leisurely walks, jogging and cycling.
It is also lined with shops, restaurants and a variety of entertainment options, making it a hub of constant activity day and night.
If you are a surfing enthusiast, you will find your paradise here, as Durban is known as the surfing capital of South Africa.
With consistent waves and surf-friendly conditions, it is an adventurer's dream.
So, whether you are relaxing or seeking adventure, Durban's Golden Mile promises an unforgettable experience for every tourist.
Therefore, if you're planning a trip to South Africa soon, don't miss the chance to bask in the thrill this South African gem has to offer.
Also, make sure you have your South African Visa and all the Requirements in check.
4. KRUGER NATIONAL PARK
Kruger National Park is a top tourist destination in South Africa,
Captivating visitors with its incredible wildlife and wallpaper-worthy landscapes.
Kruger is covering a large expanse of land, the park offers diverse opportunities for tourists interested in wildlife.
Tourists have the option of embarking on game drives,
Where they might spot the famous Big Five – lions, elephants, leopards, buffalos and rhinos, among other equally fascinating animals.
Kruger National Park's scenic vistas, ranging from vast savannas to dense woodlands, serve as the perfect backdrop for unforgettable safaris.
Moreover, the park takes pride in its ancient rock art sites and archeological treasures,
which showcase the area's rich cultural heritage.
For tourists who will be staying for a while, there are various accommodation options ranging,
From luxurious lodges to rustic campsites which cater to various preferences, be it maximum comfort or connecting intimately with the African wilderness.
All you need to do is get in touch with any of this Travel agencies in South Africa.
Beautiful places in South Africa – Tourist Destinations in SA
5. GARDEN ROUTE
The Garden Route is a popular tourist spot in South Africa, known for its coastal beauty and diverse attractions.
Stretching about 300 kilometers from Mossel Bay to Storms River, it offers lush forests, beautiful beaches and cute towns.
Visitors can pick from a range of activities like relaxing on Plettenberg Bay's golden sands, hiking in Tsitsikamma Forest or bungee jumping from Bloukrans Bridge.
Lovers of wildlife can spot whales, dolphins and many bird species in the area.
Now talk about Wildlife, here are 10 African Wildlife Reserves you should consider checking,
Each town along the Garden Route has its own charm with art galleries, local markets and cozy cafes, giving tourists a perfect taste of South African coastal life.
If you are traveling for adventure, holiday, honeymoon or just to chill alone,
The Garden Route is the perfect place for you because it guarantees an unforgettable journey through the natural beauty and vibrant culture of South Africa.
Where is popular in South Africa?
6. ROBBEN ISLAND (CAPE TOWN)
Robben Island, located off the coast of Cape Town, South Africa, is a renowned tourist destination steeped in history and significance.
This small island holds a big place in South Africa's heart as the former site of a maximum security prison,
Where political prisoners, including Nelson Mandela, were held during the apartheid era.
Today, Robben Island is a UNESCO World Heritage Site and a living museum that attracts countless visitors who are seeking to understand the country's not-so-rosy past.
Former inmates of the prisons offer guided tours which provide a distinct insight into the harsh realities the apartheid regime came with.
The island's natural beauty is also captivating, with stunning views of Cape
Town's skyline and wildlife, including seals and penguins.
Overall, Robben Island provides a humbling experience that allows tourists to reflect on the doggedness of the human spirit and triumph over oppression.
It acts as a powerful reminder of South Africa's journey towards democracy and
more importantly, equality.
7. DRAKENSBERG MOUNTAINS
The Drakensberg Mountains, a cherished tourist destination in South Africa, beckon travelers with their majestic beauty and adventure opportunities.
These historical mountains, also known as the "Dragon Mountains", offer a stunning
landscape of cliffs, lush valleys and beautiful waterfalls.
Hiking enthusiasts can explore a network of trails that lead to breathtaking views and hidden caves embellished with San rock art,
Providing a glimpse into the region's rich history and serene landscape.
The Drakensberg also has numerous clear rivers and tranquil lakes, perfect for fishing, swimming or even picnicking.
For thrill-seekers, activities like mountain biking, rock climbing and rafting provide an adrenaline-pumping experience that feels out of this world.
In addition to its natural appeal, it also has colorful flora and unique fauna, including the Bearded Vulture.
The Drakensberg Mountains offer a unique blend of cultural experiences, nature and fun, making it a sought after destination for both local and international travelers.
Best Tourist Destinations in South Africa to Visit
8. CAPE WINELANDS
Cape Winelands in South Africa is a popular tourist spot, attracting wine lovers and nature enthusiasts.
The region has beautiful vineyards and mesmerizing towns.
Visitors can taste wine at famous estates and learn about winemaking.
Tourists can also enjoy Cape Dutch architecture, boutique shops and excellent
restaurants with wine-paired dishes.
The area also offers hiking, stunning sunsets and hot air balloon rides.
With its warm climate and dazzling views, it is an ideal spot for relaxation and exploration.
Till date, it remains a must-visit destination for tourists in South Africa.
Top-rated tourist Destinations in South Africa
9. VICTORIA ALFRED WATERFRONT (CAPE TOWN)
The V&A Waterfront in Cape Town, South Africa, is a popular tourist destination with a vibrant atmosphere.
This historic area offers a mix of shopping, entertainment and cultural experiences.
It has something for everyone, from luxury boutiques to craft markets and excellent restaurants that serve mouthwatering meals,
And, if you are a history lover, you can explore historical landmarks like the Clock Tower.
You can also take exciting boat tours and pay a visit to the Two Oceans Aquarium.
The V&A Waterfront is truly a gem of a destination that oozes a hypnotizing
atmosphere,
Making it an irresistible must-see for anyone seeking an unforgettable experience in the enchanting land of South Africa.
Best Tourist Destination in South Africa to Visit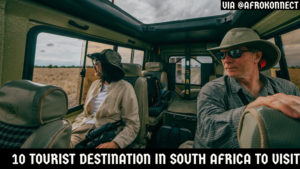 10. ADDO ELEPHANT NATIONAL PARK
Addo Elephant National Park is a must-visit spot for tourists who are fans of wildlife and adventure.
The park, which covers a large area, is home to over 500 elephants, alongside lions, buffaloes and many others.
At this park, you can take exciting safaris, go bird-watching and hike through enchanting forests.
If you are feeling more adventurous, you could hop on a small plane for the Addo Flight and enjoy mesmerizing views from above.
Exploring the nearby coastal areas like Alexandria Dunefield and Woody Cape will also add more excitement to your trip.
With its amazing wildlife population, conservation efforts and stunning landscapes,
The Addo Elephant National Park promises an exciting safari adventure that you will forever hold dear.
Tourist Destination in South Africa to Visit
As you approach the end of this article, we hope you've been able to add some new must-see destinations to your itinerary.
If you're willing to explore more options then you should definitely consider these 10 Best Travel Destinations to visit in Africa.
We wish you the very best of luck and hope you have loads of fun in South Africa.
Don't forget to take pictures while enjoying your trip, so you can relive those memories for a long time.
Cheers!