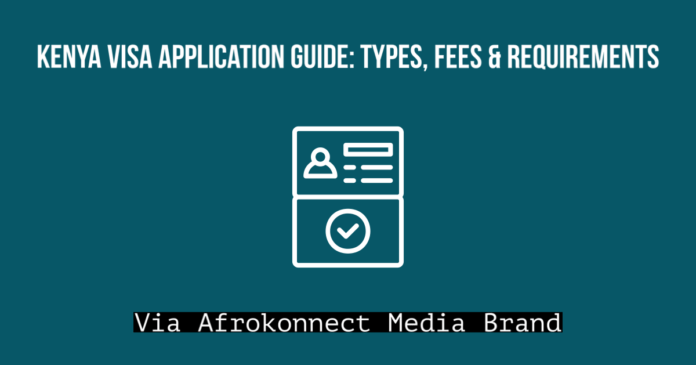 Welcome to this publication about Kenya Visa Application Guide, Requirements, Types of Kenyan Visas and Fees, Via Afrokonnect.
In this easy-to-follow article, we unveiled the key insights to successfully attain your Kenya visa.
Whether you are excited about experiencing Kenya's rich culture or you are going there for business, we've got you covered with a detailed walkthrough.
In this article, you will learn how to smoothly navigate the application process, gather the necessary paperwork and set the stage for an enjoyable, stress-free journey to this beautiful East African nation.
Read on to get a thorough understanding on the visa application process and to also get answers of the following frequently asked questions;
What are the types of Kenya visa

Kenya visa application process
Kenya visa eligibility criteria

How to get

Kenya eVisa

How much does Kenya visa cost
What is the official Kenya eVisa website
What are some important things to note when applying for a Kenya visa?
So, without further ado, let's dive into the basics of types of Kenyan Visas.
TYPES OF KENYA VISA
1.
MEDICAL VISA:
If you require medical procedures or treatment in Kenya, a medical visa allows you to access healthcare services for a specific period.
2.
MISSIONARY VISA:
This is for religious workers involved in missionary or relief projects in Kenya. This visa would support your efforts to engage in community service.
3.
JOURNALIST VISA:
If you are a journalist or media professional that covers events in Kenya, a journalist visa allows you report and document happenings during your time in the country.
4.
REFUGEE VISA:
This visa is for those that are seeking protection due to conflict in their home country.
A refugee visa gives you legal backing and safeguards you from immigration harassment during your stay in Kenya.
5.
STUDENT VISA:
This is the type of visa given to international students that want to study in a Kenyan school.

A student visa permits you to enroll in educational programs during your stay.
6. A
TOURIST VISA:
This is a visa for those that are planning to visit Kenya for fun and to explore its beautiful places.
This visa lets you enjoy your vacation in Kenya for a specified time.
7.
BUSINESS VISA:
So, if you want to travel to Kenya for work-related activities like business deals, conferences  or meetings, you will need a business visa.
8.
TRANSIT VISA:
If Kenya is not your final destination but you have to stop over in Kenya on your way to another destination, you need to get a transit visa.

This visa allows you to stay for a short while until you can take your connecting flight.
9.
DIPLOMATIC VISA:
This visa is strictly for government officials, diplomats or international organizations representatives who are coming to Kenya for official purposes.
KENYA VISA APPLICATION PROCESS
Below are 10 steps to be followed in order to obtain your Kenyan visa successfully in 2023;
Determine the type of visa you need:
Before starting the application process, you have to identify the purpose of your visit to Kenya.

Different types of visas are available, such as tourist or business visas.
Choose the one that aligns with your travel intentions to guarantee a smooth application process.
Check your eligibility for an eVisa:
Kenya offers an electronic visa to multiple countries.
To confirm if your country is eligible, you have to visit Kenya's official eVisa website.
The eVisa eases the process, allowing you to apply online before you travel.
Fill out the online visa application form:
The next step is to access the official eVisa website and fill out the online application form correctly.
You have to provide personal details, travel dates and other necessary information.
Ensure that the information you enter matches that on your passport.
Upload the required documents, including a passport-sized photo:
Next, you have to scan and upload necessary documents, including a recent passport-sized photo.

Make sure the picture meets the requirements for a Kenya visa, such as size and background color to prevent any processing delays.
KENYA VISA APPLICATION PROCESS
Pay the specified visa fee:
On the eVisa platform, there will be secure payment options provided.
Use any of them to process the visa fee payment. Remember to keep a receipt of the payment confirmation for future reference.
Exercise patience while your visa application is processed:
After submitting your appication and paying the specified fee, you should then patiently await the processing of your visa.
The processing time varies, so it is advised that you apply well ahead of your travel dates.
Receive your approved eVisa or prepare to be given a visa upon arrival:
After your visa is approved, you should receive your eVisa via email.
Print a copy of it to be presented at the point of entry in Kenya.
If you are eligible for a visa on arrival, remember to have the required documents and fees ready before embarking on your trip.
Kenya Visa Application Guide: Types, Fees & Requirements
Make sure your passport has not less than 6 months validity from the date of your entry into Kenya:
This is an important step that cannot be overemphasized.
It is important to confirm that your passport is still valid for at least 6 months before your entry into Kenya.
This is a standard requirement to ensure a stress-free entry.
Have proof of return ticket:
At your point of entry into Kenya, immigration officials may ask for proof of travel arrangements.
Ensure you have a copy of your return ticket with you to demonstrate your intention to leave within the authorized period.
Arrive in Kenya and present your visa and documents at the port of entry:
Upon your arrival in Kenya, proceed to the immigration counter at the border crossing or airport and present your passport, your eVisa if available and other documents that you might be asked for.
Remember to answer any questions you may be asked correctly and boldly.
Kenya Visa Eligibility Criteria
To be eligible for a Kenya visa, you have to make sure some requirements are satisfied, this conditions include:
Depending on your visa type, there might be a need for you to submit documents like hotel reservations, financial proof, return flight ticket or an invitation letter.
Some travelers must provide proof of vaccinations, such as yellow fever, covid-19 or others, depending on their travel history.
You have to complete the visa application process, including online submission, required documents and visa fee payment.
Ensure that you correctly give all background information, as certain convictions can affect your eligibility for a visa.
An important factor for visa approval is your demonstration of your intent to return home after your visit.
Some important things to note when applying for a Kenya visa
Before your visa can be approved, you have to show proof of being able to take care of yourself financially during your stay in Kenya.
The length of stay is usually determined by the various visa types so make sure you understand the permitted duration.
Your passport should be valid for at least 6 months from your entry into Kenya.
The reason for your trip, be it tourism, business or transit, determines your required visa type and this in turn, determines your duration of stay.
Your travel history, including your visits to other countries might be considered during your visa application process.
You have to check the official Kenyan government site for a list of eligible countries,
As citizens of specific nations can apply for different visas, including the Kenya eVisa.
Kenya eVisa Application Process and Guide 
The Kenya eVisa is like a digital ticket for visiting Kenya.

It is a special online application for people from certain countries who want to visit Kenya.
When you apply, you have to give them your details and wait for a bit for their decision.
The processing time is usually between 24-72 hours.
If your eVisa is appoved, they will send you an important email with proof of your visa approval.

This should be printed out and presented alongside your passport to the border officers.
You can only stay for a certain time but if you want to extend your stay, you might be allowed an extension after applying for it.
Just make sure you check the official Kenya website to be sure about everything.
RECOMMENDED:
How much does Kenya visa Cost in 2023?
The Kenya visa price ranges from 22 USD to 109 USD. Which equals around 3,159 to 15,655 Kenyan shilling.
The price you will pay depends on the type of visa you're applying for.

Please note that for whatever visa type you apply for, you incur a non-refundable service fee of 29 USD (4,165 KES).
What is the official Kenya eVisa website?
The offiicial Kenya eVisa website is www.evisa.go.ke, that is where you can apply and process anything related to Kenyan eVisa online.
Kenya Visa Application Guide: Types, Fees & Requirements
CONCLUSION
In conclusion, armed with the insights from this article, you are well equipped to smoothly obtain a Kenya visa.
From understanding eligibility to gathering the required documents, you are set to embark on your East African journey.
Keep your eyes on updates and changes to visa requirements, and get ready for an unforgettable experience in Kenya.
We hope this article was helpful. Your adventure awaits- Cheers!
On that note, this brings us to the end of this post about Kenya Visa Application Guide, Requirements, Types of Kenyan Visas and Fees, Via Afrokonnect.
Let us know what you think via the comments section below before you leave.